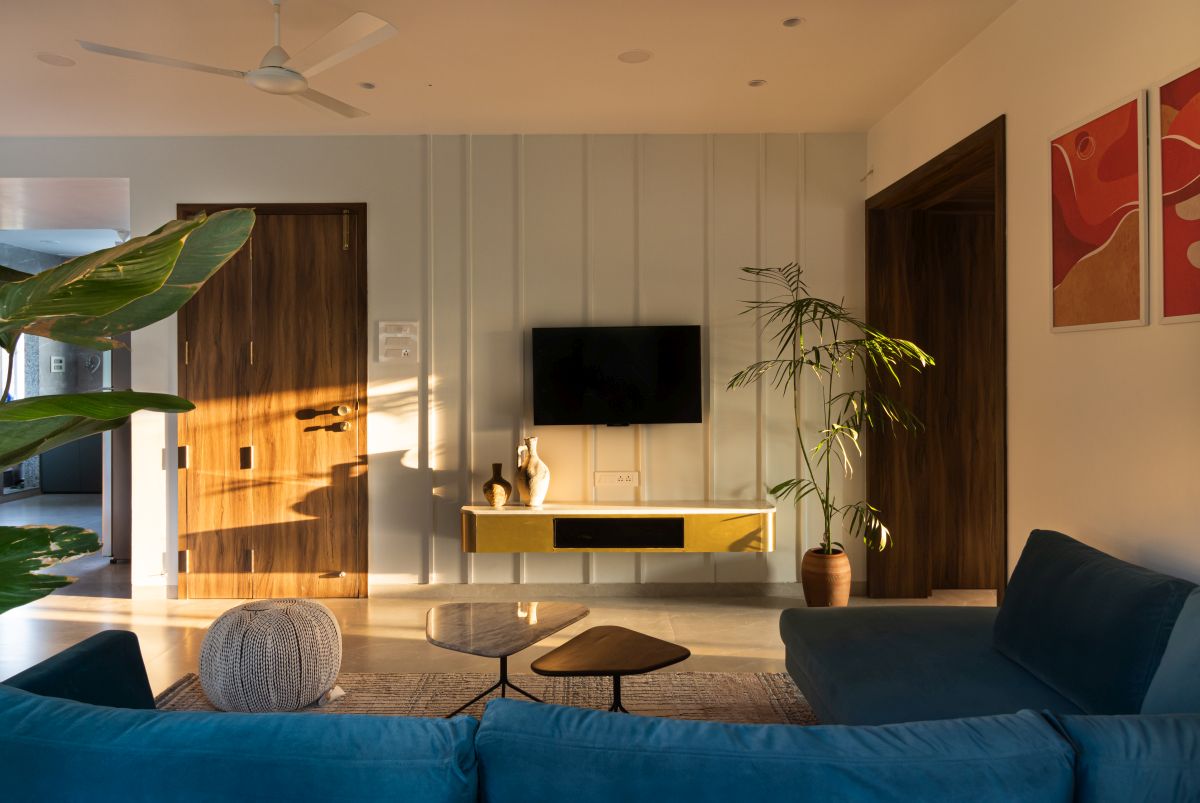 The first interior design project envisioned at LADLAB is a 1600 Sq.ft, 3 bedroom apartment located in a prime residential area of Nashik, Maharashtra. The soul of this house is its location – a top-floor apartment placed right next to a beautiful Gulmohar grove. All the balconies and rooms open up to gorgeous views of this grove, which is certainly a rare find in an urban context.
We like to call it: House by the Grove.
Our motivation was to design interesting spaces considering the human experience and not follow typical design dogma. Clients had a very specific budget and time frame in their minds. Thankfully, we were hired at the right time and offered a shell structure of columns, beams and slab. It helped us adhere to their requirements very well and design every aspect of the project from scratch.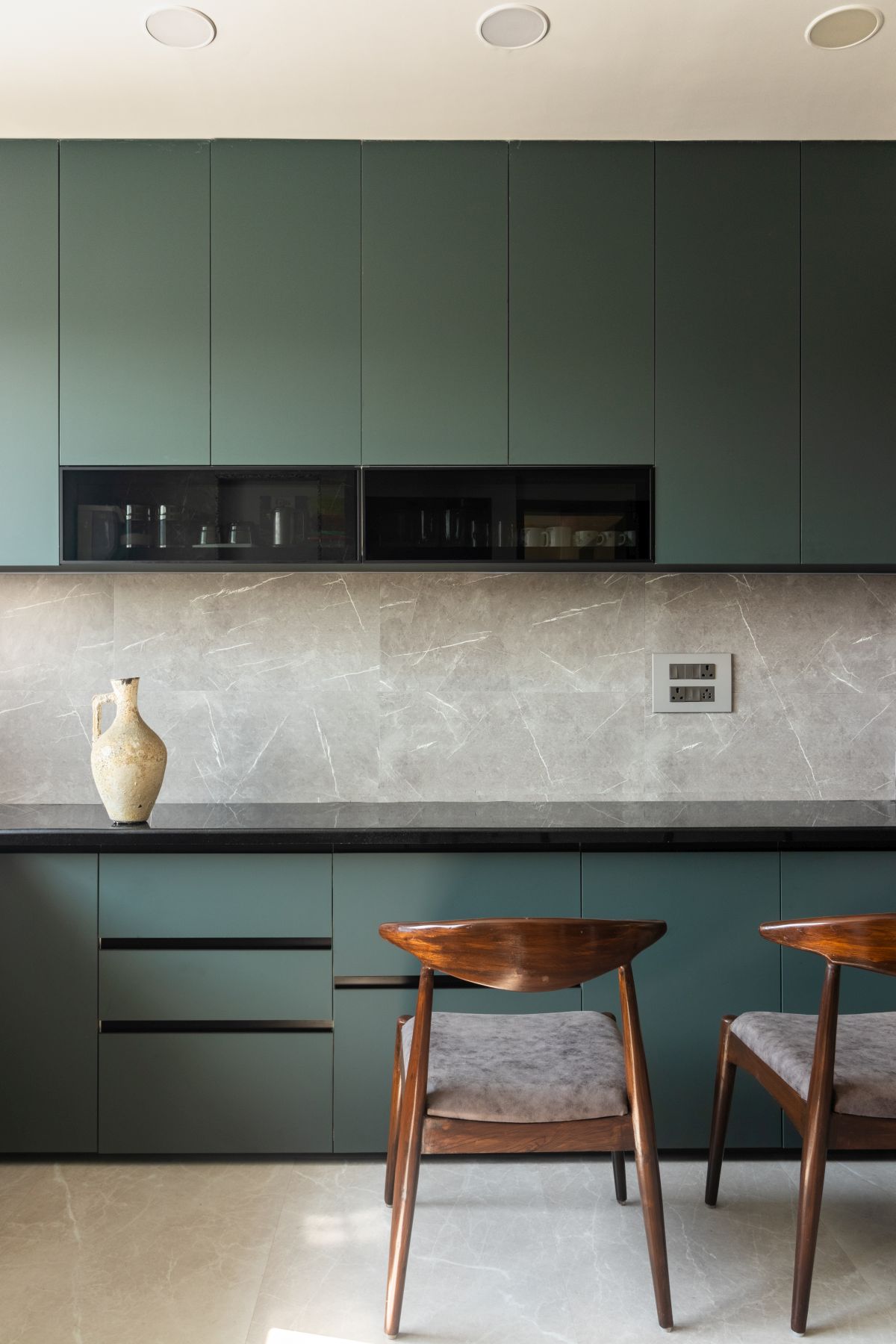 Living, dining and kitchen form a partition-free common space with large french doors opening up in the balconies. The furniture layout was carefully and ergonomically planned considering the circulation strategies. Every furniture piece is custom-made and designed with a sense of subtlety and sophistication. The most intriguing one being the 'coffee table set', it changes its shape according to the requirement; it divides itself into 2 to serve the guests, and gives an interesting mix of cold and warm vibe with its key elements of 'Italian Marble and Teak Wood'.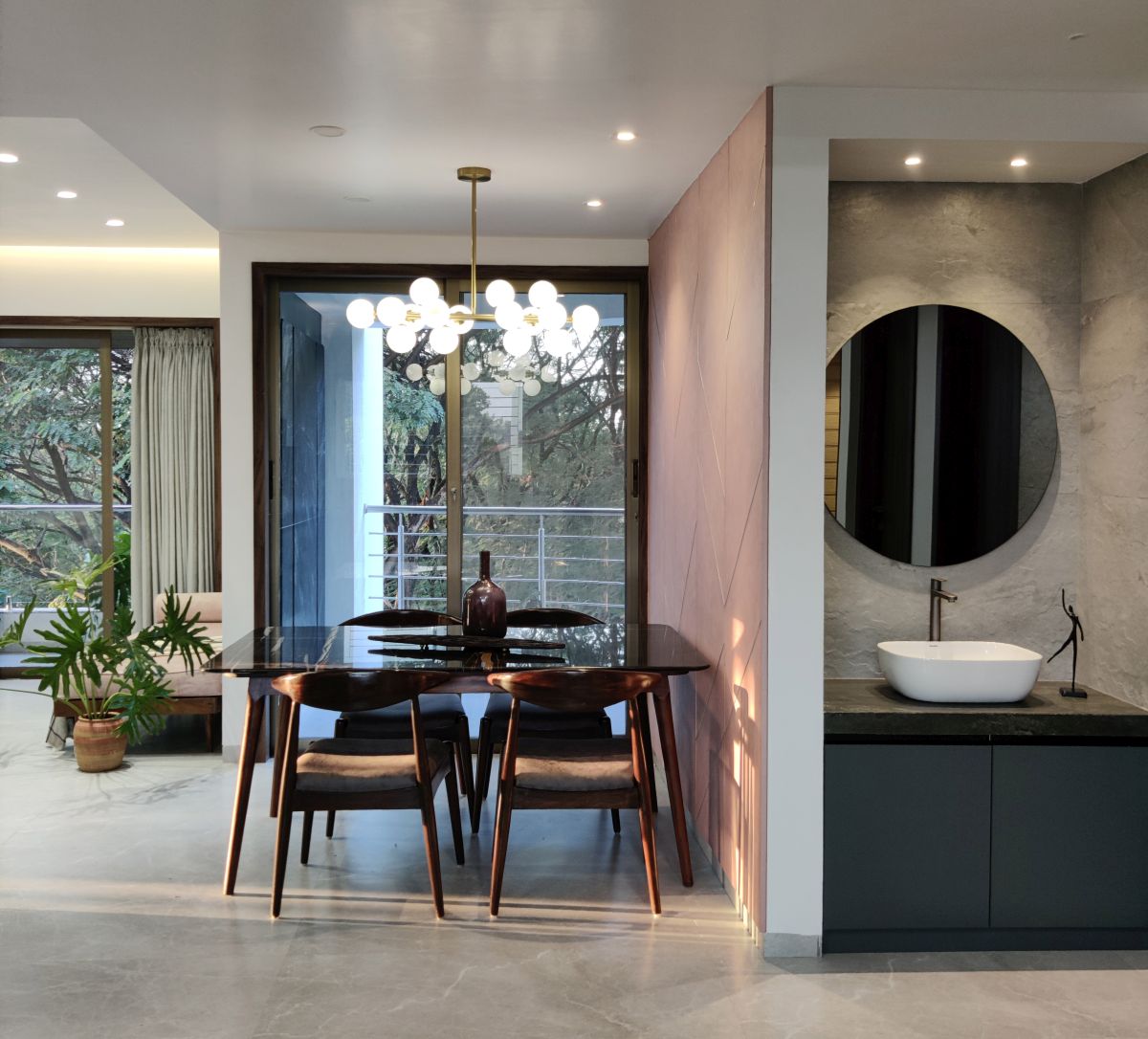 During the golden hour, sunbeams highlight the complete floor plate of the house. Minimalist TV walls and dining walls are set to transform dynamically during this time of the day. Clients being plant lovers, all the balconies are provided with customized planters that were designed on-site. Balconies are treated with textured granite, stone and wooden ceiling; these natural materials connect the outside to the inside and make us feel closer to nature.
Atypical color selections along with ample natural light give every space a character of its own. From 'turquoise blue' sofa to 'forest green' kitchen, from 'pastel pink' dining to 'emerald green' study area; Colours do really dominate the overall aesthetics of this house. A dash of gold is added to the material palette to elegantly glam up space.
Clients are a family of four and expected their bedrooms to have ample storage with a warm and cosy vibe. Wooden flooring and blackout curtains are used to achieve the desired vibe, while all the storages are concealed within the walls. Beds are designed to have in-built benches that could slide in and out as per requirement.
Study niche in children's bedroom is exclusively designed to accommodate concealed storage, library, pin-up board, reading nook and study desk. Clean and linear design language makes the study area look light without compromising on the functionality of the space.
A guest bedroom is the smallest of all rooms. To make it look spacious, a monochromatic and pastel material palette is used. Much like the rest of the apartment, the room comes with a gorgeous view of the grove. A window seat with built-in storage is designed to enjoy the view outside and maximize space utilization in this tiny room.
Keeping in mind the project constraints; we have meticulously worked on every detail and execution process. Adaptable material palettes, innovative solutions and creative aesthetical approach altogether have helped us achieve the right equilibrium between client's expectations and our aspirations.
Drawing –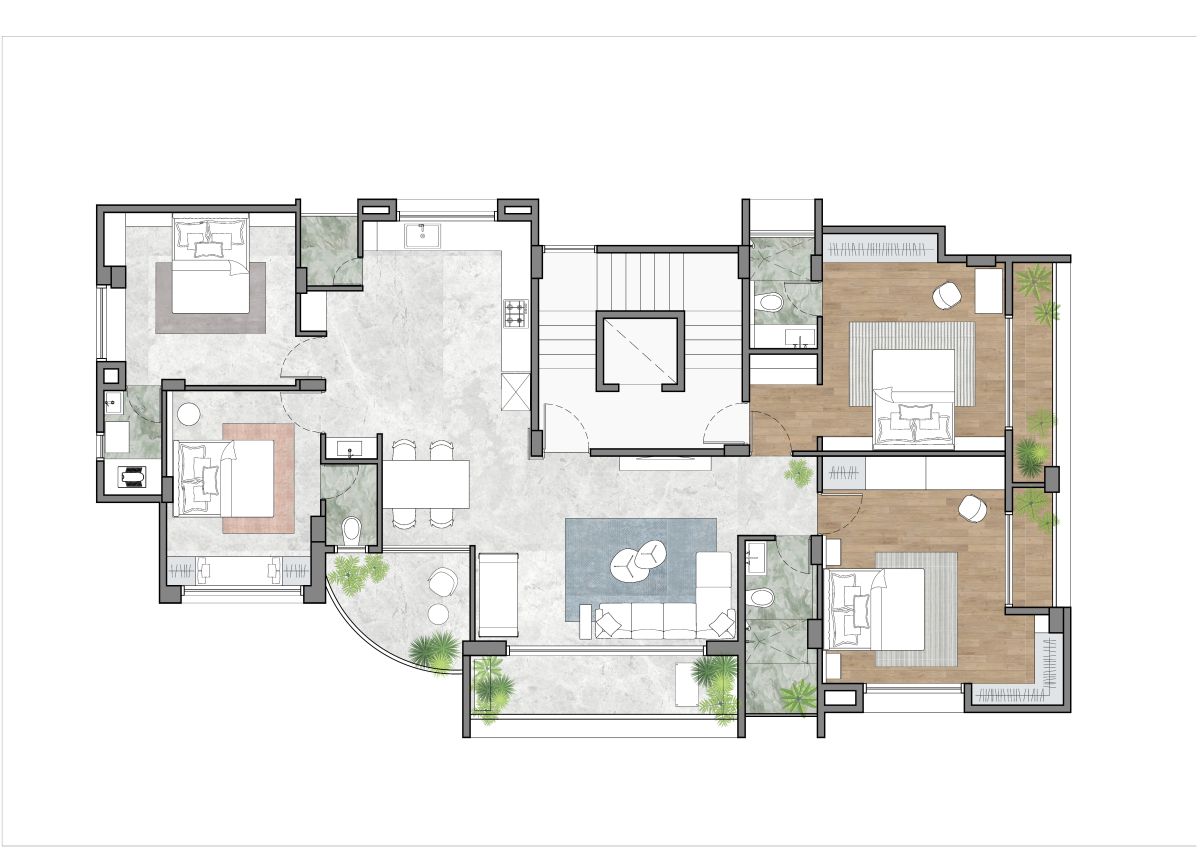 Project Facts –
Name of the Firm: LADLAB
Name of the Principal(s): Sagar Lohar and Saniya Jejani
Title of Your Project.: HOUSE BY THE GROVE
Select project category: Interior Design (all categories)
Project Status: Completed
Project Location: Nashik
Credits
Photographs – Yash Katariya @whatweclick
---
Firm Profile
Ladlab is an architecture and design studio based in Nashik, India. Founded in 2019 by the duo, Sagar Lohar and Saniya Jejani, our investigations occur at multiple scales; from objects and interiors to residential and commercial buildings. Current work includes private residences, residential interiors, and hospitality projects across Maharashtra. As a studio, our motivation is to design soulful and interesting spaces that strike the right balance between aesthetics and functionality – drawing inspiration from site, culture, environment and technology.