Synopsis
Khedbrahma is a small town in Sabarkantha, Gujarat. There is a confluence of three small rivers here. This confluence of river is known as Harnav. The Khedbrahma Municipality decided to develop a public park for the town on one of the edge of river Harnav. This public park site on the river edge was initially used as a dump yard. The park was envisioned as a recreational open space for the people to enjoy, seat and relax.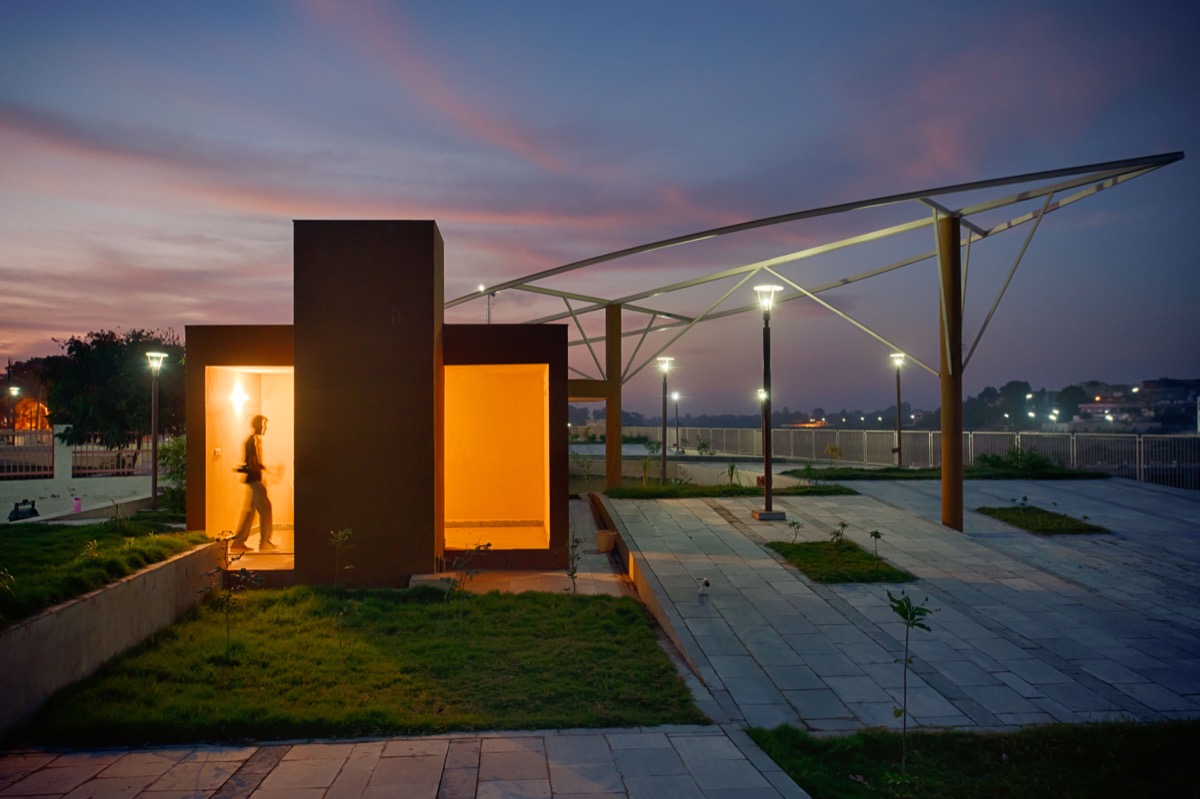 River Harnav is a non-perennial river and water can only be enjoyed during the rainy season. The design focused on creating recreational leisure spaces that would offer variety, continuity and establish multiple connections with the water (seasonal) and the surroundings. Pedestrian, linear pathways parallel to the river edge are designed to enjoy the walk along the edge. These pathways gently move up and down taking inspiration from the water movement.
The experiences and engagement with the surroundings keeps on changing as one moves through these linear continuous pathways. This pathways moving up and down establishes new programmatic connections. At some places it's a walk along the edge, while it gets converted to a low height seating when it moves down. As the pathway moves up again, it becomes a bridge along the lily pond while the same pathway flattens to form a pause for the cafeteria. The linear continuous movement is enjoyed by creating variety of experiences for the visitors. This varied experience provides an opportunity for the children and people under all age group to enjoy the river edge. There are seats and plantation to provide greenery and shade along the edge. The place gives the feeling of constant movement with a leisurely walk similar to the water movement in the river.
The slope for each of these pathways is meticulously designed to channelize the water movement from one pathway to another and then into the river. Each of the pathways meets at the landing that allows the visitor to change the movement course and also provides a run off of the water movement.
More images:
Drawings
Project Facts:
Credits:
This project is designed by the architectural firm
UA Lab (Urban Architectural Collaborative), Ahmedabad + Keyur Shah & Associates, Himatnagar.
The project is successfully completed within given time frame under the sanctioned budget.
Project
Harnav River edge Beautification, Khedbrahma.
Location
Khedbrahma, Gujarat, India
Client
Khedbrahma Municipality, Khedbrahma.
Design team
Krushnakant Parmar, Vishal Sorathiya, Vipuja Parmar, Dhaval Chauhan
Consultants
Keyur Shah & Associates, Himatnagar
Structural Engineer
'Samarthya Abhiyanta' , Ahmedabad
Contractor
Hiral Construction, Khedbrahma
Site Area
3392 Sq Mt
Project completion – March 2015 (8 Months)
Project Cost
120 lacs INR