From an Engineering Aspirant to a Sensitive Architect. From a village in Odisha to contributing to the built environment of a city in Ladakh- in Delhi, we came across a young practising architect and academician- Sheikh Intekhab Alam, the Founder and Principal Architect at Emara Architecture and Urbanism (EAU).
In a conversation at his home office, we discussed with Intekhab the challenges of working in a cold desert environment, working on projects primarily based outside the studio's home city and what remains missing from the curriculum of Architectural Education, especially pertaining to challenging contexts.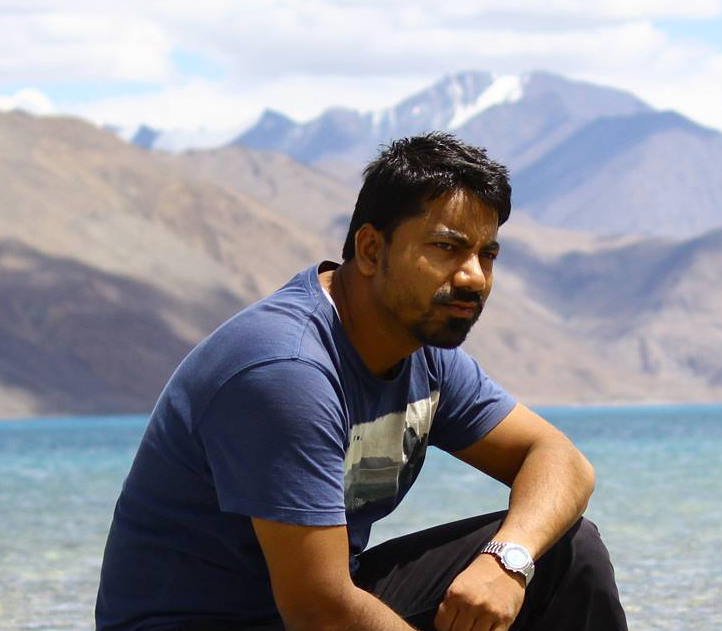 Getting to know: The Face behind the Practice
EAU was established in 2016 by Sheikh Intekhab Alam, a young architect who envisioned architecture as a means to better society. Coming from a family of skill-based professionals and academicians, one would have considered Architecture and Academia a natural inclination for Intekhab. But, it took three years of architectural education for the former engineering aspirant to realize the extent of Architecture's contribution to shaping a better society.
During my third year of Architectural school, I was introduced to the subject of Urban Studies- this was during the year Delhi was hosting the Commonwealth Games and had undergone a visible transformation as a city. This was the first time I could relate to the subject and be witness to the practical implication as it was not limited to books and theory.

Intekhab Alam
As a professional, Intekhab credits this introduction to Urban Design, along with the ecological sensitivity imbibed from having worked with Architect Akshay Kaul, as the foundation of his approach and practice.
But how did an architect based out of Delhi manage to adapt to the unique environment of Leh, where most of EAU's projects are?
In the highlight: Working in Leh
In 2017, EAU was approached for a project undertaken by HelpAge India, an NGO working towards the welfare of the elderly. The task at hand was to create Gangtsoskhang (Old age home). It was a very challenging project and a great learning experience. There were many hurdles in the process, like the existing extreme weather conditions of the terrain, logistics and chain supply etc.

Intekhab Alam
While working on Gangtsoskhang, EAU received two more projects based out of Ladakh. One of these- the Dolkhar project, came at a time when Intekhab was exploring local Ladakhi architecture by visiting Monastries. It was a brainchild of Rigzin Lachic, a sensitive young entrepreneur who wanted to revive the traditional family property into a boutique resort- the brief was to design a building true to the ethos of Ladakh. The second project was the Sea Buckthorn research centre, which is adjacent to the confluence of the two rivers, Indus and Zanskar, near Nimmoo.
This was when tourism was increasing in Ladakh, leading to development. I started searching for alternative practices and methods to support and contribute to the development. In the middle of the execution of these projects, the Pandemic came. Additionally, Ladakh, being a cold desert region, does not provide an environment for construction during the winter months.

Intekhab Alam
The Pandemic brought with it lockdowns that halted construction activities nationwide. During the Pandemic, all three projects were under execution at various stages.
We would rely on postal services, emails, video calls etc., for working drawings and site updates. In Delhi, we focused on strengthening our research and publications, making maximum use of the given circumstances.

Intekhab Alam
With a line of work primarily based in Ladakh, EAU maintains a small office in the region. We asked Intekhab if he had ever considered shifting to Ladakh.
I would love to. It's an aspiring place for every youngster. And, being an architect, it's an added privilege to contribute and be useful in the development process taking in the terrain. I had the opportunity to travel to the length and breadth of the cold desert; often, I would go on bike trips to faraway places, exploring various habitats. But, being in the Himalayan region, the terrain comes with its challenges. There is concern about what to do during the winter months when construction is halted.

Intekhab Alam
Ladakh, being a cold desert region, has extreme climatic conditions- the temperature varies from -30 degrees to 30 degrees Celsius. To inculcate sensitivity in architects when building in these regions, the architectural curriculum needs to be reassessed. As a young professional and an academician, Intekhab believes there is a need to connect with the local ecosystem and architecture during the undergrad courses only.
Architecture in any place is a result of its culture, ecology and society etc.- these sensitivities are not developed in the college years. The pedagogy needs to go beyond the built environment and talk more about people and their aspirations. For instance, where I come from, a small village- many people are making pucca houses. And Pucca houses are equivalent to development and growth- the waste generated in agriculture is used to make houses. So, if agriculture stops, the house might not be made. This connection- the students won't understand until they interact with the locals.

Intekhab Alam
It is generally observed that students who have better education facilities and exposure develop greater sensitivity towards issues like sustainable living, eco-friendly designing, climate crisis, circular economy etc. To develop this contextual sensitivity, Intekhab has conducted various workshops and studios for his students in challenging environments, such as Leh (Ladakh), Srinagar (Kashmir), Nuh (Haryana), Kohima (Nagaland), Shillong (Meghalaya).
On the architectural education front, we are also carrying a lot of burdens from the past that we are unable to shelve. The curriculum is still not revised and relies on the same old pedagogy techniques.

Intekhab Alam
Working in Delhi
While Emara is majorly active in the Ladakh region, it started its journey with projects in Delhi NCR. Talking about the difference in approaches between the two regions, Intekhab says,
In Delhi, the availability of materials or whether I could get something constructed during a certain time of the year does not pose problems. But, in Leh, we need to take into account everything. Like, the mode of transportation required for the stone to be used. But, I believe after working in a challenging context, we have a better sense of working. For me, it is not just about rural vs urban or the challenging context- it is about the sensitivity and the appropriateness of what is needed.

Intekhab Alam
While most of the current projects of EAU are based out of Ladakh and other parts of India, the practice looks forward to more projects in their home city- Delhi.
Delhi is a well-connected city. Delhi is home. This is where I have grown up. We would want to work in the Delhi NCR region in the near future, and some of the projects are in the pipeline. It also provides a platform to connect with various subject experts and stakeholders from across India, providing diverse insight into the subject knowledge.

Intekhab Alam
Practice
While today, a couple of years post-establishment, the practice stands with better clarity on its ethos, there was a time when EAU would take anything and everything that came its way.
If I look back, there is nothing I would want to change in the way the practice has shaped up, though we have made many mistakes in the past, especially related to finances. I think this is one of the most important aspects when it comes to running architectural practices- it's not about a deficiency of money but a regular flow of the same.

Intekhab Alam
Talking about their initial days, he reminisces the familiar feeling of not being in the right direction because the practice's trajectory didn't seem to be following that of others.
We were on the road less taken, working in offbeat areas and would do multiple things from graphic design to Master Planning. We failed miserably in managing our finances but have learned from the experience.

Intekhab Alam
Today, the practice is slowly establishing itself in areas like Ladakh, Manipur and Kashmir. The practice seeks inspiration from local masons, craftspeople and woodworkers working in the region. Also, both the senior members have started their PhD journey- Amrita Kaur Slatch, a landscape architect from CEPT who joined EMARA in 2018, is pursuing a PhD from Aachen University on coal mines of India, while Intekhab is enrolled in Jamia University researching the traditional Architecture of Ladakh region.
I hope the people someday understand the value of our historic cities- they are neglected to the core. The regeneration of Leh Old Town is my dream project. I hope we convince the people and government of the value of the old town someday. I have followed the work of Andre Alexander- the pioneer German Architect who died in 2012, the same year I graduated from college. I feel very disappointed when all these historic cities are romanticised, but no actual work in restoration and regeneration happens.

Intekhab Alam
He also credits his learnings, which involved a lot of travelling with his father, Mr Abdul Rab Rabbani, a carpet manufacturer, explorer and history enthusiast, to his interest in local crafts.
As a kid, I was overwhelmed by the work my father did. Carpets were not made under a single roof but were spread across a vast region from Kashmir to Odisha. The weaving used to happen in Odisha- the silk came from Malda, West Bengal. The dying used to happen in Srinagar or Banaras, and the looms were in different regions- Agra, Gwalior, Morena, and Odisha. He would ensure to be well versed in the language spoken in these areas. So, my initial growing-up years also involved travelling to these off-beat areas. I was fascinated with the process- seeing the impact one industry can have on people, especially the transformation I saw in the livelihood of women in the region.

Intekhab Alam
As a practice, Emara seeks inspiration from contemporary practices and architects like biome, Hundredhands, and Renzo Piano's work. It continues to seek inspiration from local masons, craftspersons and woodworkers.
I think architecture over there (Ladakh) is a combination of different types of craft. Building per se is not a project- it is a sacred entity, the orientation, form, and everything comes from a certain degree of knowing what exactly the Earth and the mud do.

Intekhab Alam
The practice looks forward to more research-based work and expanding in PAN India.
We should not hesitate to be more open to ideas, more exploratory and experimental with our visions and ideas that we want to change in reality. This is the advice I would like to share with the young architects- to do more of what you like doing, never lose the core values and try to inculcate theory into practice.

Intekhab Alam
Highlight Project: Practice pick
Modules: Unnat Basti | Spatial Injustice in the market places
Its tagline- Unnat Basti humari- humara sheher, humari yojana, represents the approach wherein we reach out to different communities, hold workshops to understand their issues and give them the designing tools. In the process, we have learnt that people belonging to the basti are the best designers. We just need to facilitate them. We have already conducted workshops with the community and volunteers in Nagpur and Delhi.

With the street vendor project, we had documented various markets showcasing the spatial injustice between the shop owners and street vendors.

These projects are very close to us and we would like to do more of such projects in near future. 

Intekhab Alam