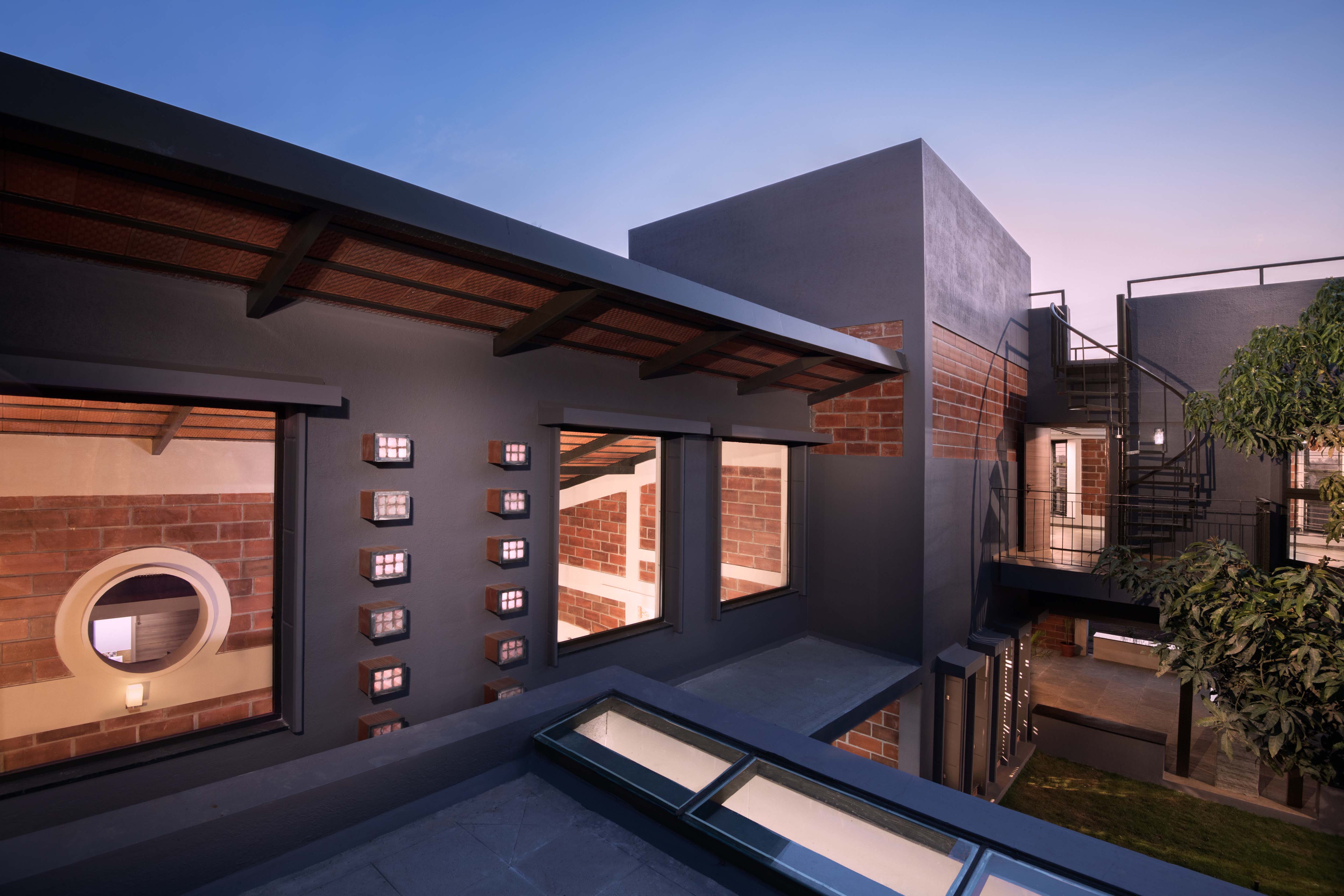 To strike an element of transparency was "THE CHALLENGE" for this house in the farm amidst the green. This farmhouse is worked on a simple linear orientation to the north with fenestrations dissolving the distinction between the interior and the exterior. The form simple in nature has a lean to roof for the main areas accentuating the north orientation and is sustainable with bricks and roofing systems all manufactured on site.
Trees that nurture and sway in the environ are retained and the footing of the structure accommodates these elements of Green.
Being a joint family, the program has been debated to eventually have two bedrooms on the ground with a Multipurpose hall on the first floor.
The Ground with the living, dining, and the kitchen come with the associated rooms and a traditional courtyard segregates the guest and the private areas. An elaborate Pooja room sits in the north eastern quadrant and is sized to accommodate four members for the daily rituals.
The Gallery, a preamble to the bedrooms, opens to the sit out on the north. This sit out is adorned with a swing , a welcoming gesture to all for that sense of ease and freedom.
The two bedrooms on the ground have bathrooms with a open to sky garden attached to it. With privacy in mind the walls on the south of these bathrooms have been raised to a comfortable height also allowing for one to dip in the rain that would pour in.
The dormitory mainly for the children has the bath and the toilets separated in a manner that would allow four to use these facilities at any given time.
Few blocks in the construction of the walls have been turned to allow ventilation and they in turn cast an interesting shadow pattern on few surfaces within the house. The dual wall on the western part of the pooja is fit with a linear skylight bringing in ample light as the wall washer on the surface that holds many idols and photographs. The stair connecting the dormitory is the simple cantilevered stone slab with railing on one side highlighting the minimalistic approach in line with the overall language of the house.
Stabilized Roofing bricks, terracotta panels and the precast beams have all been processed on site which in turn has lead to a huge reduction of plastering painting and consumption of steel and concrete.
As part of a learning curve, Architects from the firm and students of architecture have been part of this project at various stages of construction.
They have had their hands on experience right from construction of vaults to execution of roofing bricks and panels.
Drawings
Project Facts
Project : Farmhouse for Vishwanath
Location: HD Kote, Mysore
Principle Architect: Anand Chalawadi
Category: Large Residential project / Farm House
Project Status: Completed
Project Team: Anand Chalawadi, Sahana Shetty and Ajay (Design Front Architects)
Structural Consultant: Mahijaa
Photography: Adarsh and Nithin Bharadwaj