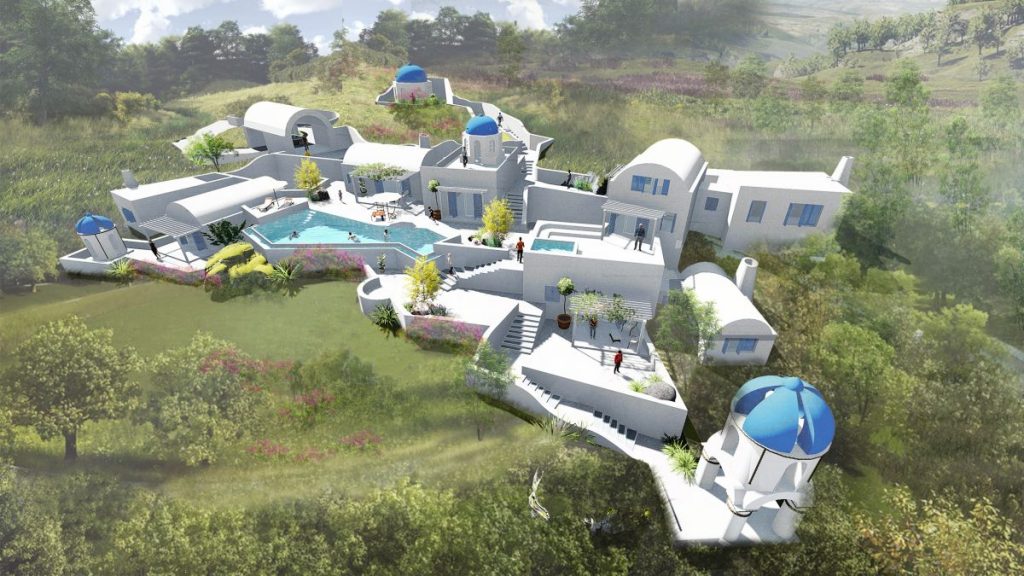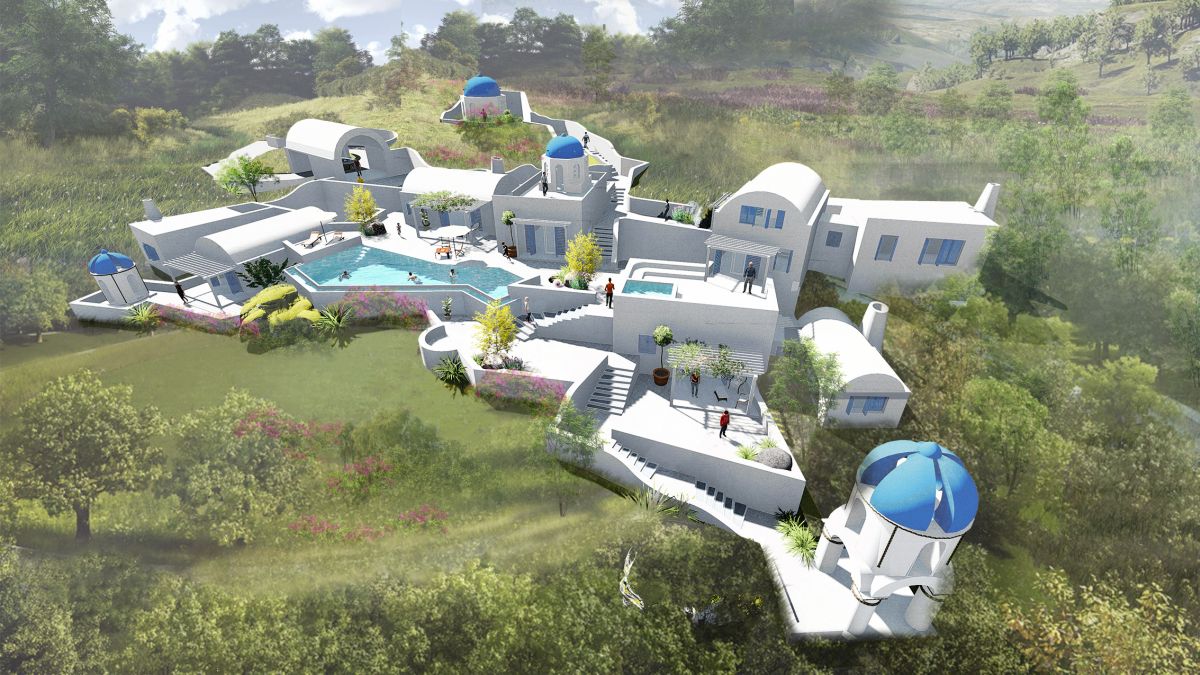 In the fringes of Nashik, snuggled in between the mountains, facing a reservoir lies Mr. Birla's site. Right since the beginning Mr. Birla was very persistent that he wanted a farmhouse based on the theme of Santorini island of Greece.
Santorini's architecture is characterized by white washed structures that are in complete harmony with its volcanic scenery, prominent levels, narrow cobbled paths, venetian arches – vaults – domes, colourful stairs, pergolas, lush pools, vibrant predominant blue, and mesmerising sunsets over the Aegean Sea.
Imitating a particular style is not usual to us at Environ Planners; thus, after many options and myriad discussions with the client, finally we were able to meet his expectations.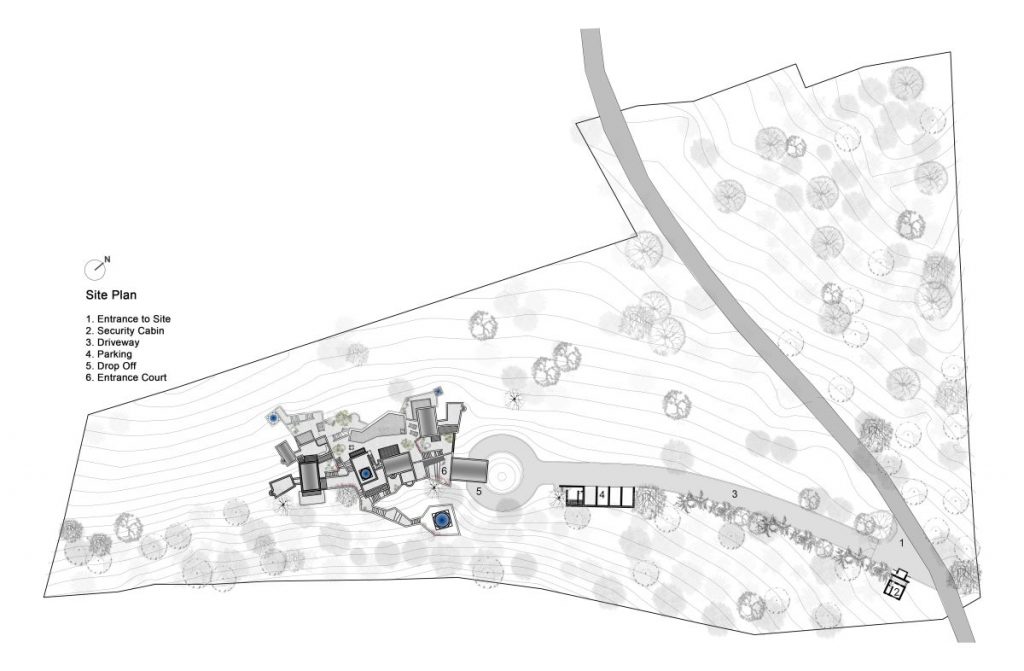 The site being contoured, the design spans over four levels. We enter the farmhouse at level two which has the common facilities like foyer, living, dining, kitchen, swimming pool and deck with master bedroom. The next two levels house guest rooms, sit-outs and gazebos; while the top most level has a meditation pavilion.
Drawings: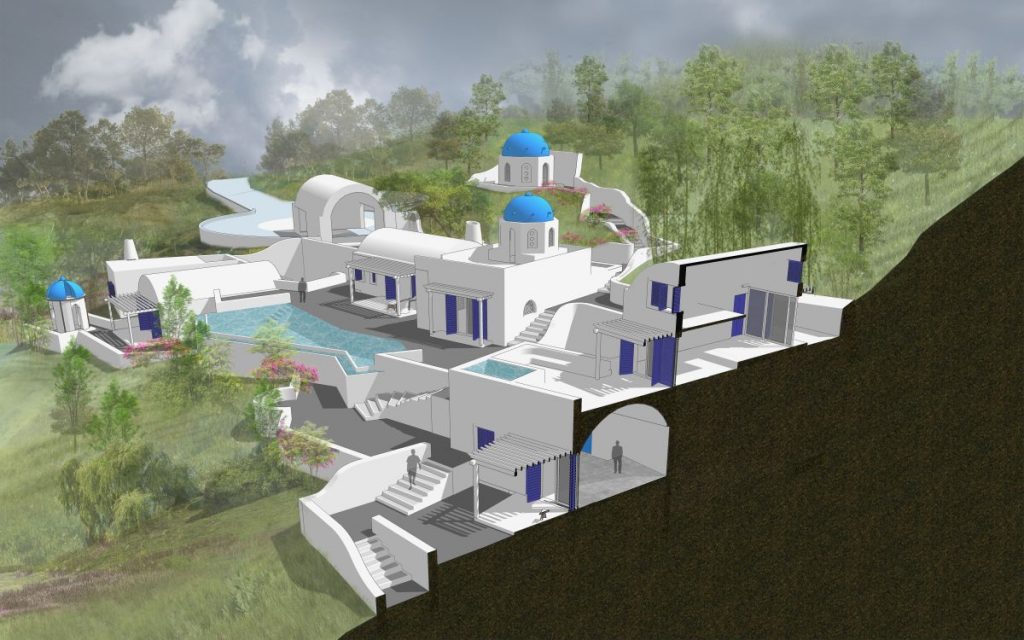 Services such as parking and staff quarters are partially nestled below the earth berm in order to blur focus on them. The pergolas create an extraordinary tapestry of light and dark, whereas the infinity pool offers a visual connection with the water and sky. Each level opens up towards the breath-taking view of the water body and the magical sunsets.
We have tried not just to emulate the Santorian aesthetics but also capture its principles of utilising systematic tools to look at architecture in relation to nature and exemplifying the influence of natural forces like fire (sun/volcano), earth (ground/stones/soil), air (warm-humid wind), water (sea) and ether (the clear sky) in shaping its architecture.
Views:
FACT FILE:
Project:Farmhouse for Mr. Birla
Location: Anjaneri Village, Nashik
Principal Architects: Ar. Anagha Patil & Ar. Sanjay Patil / ENVIRON PLANNERS
Team:
Ar. Amit Choudhary, Ar. Jitendra Poon
Site Area: 25433 sq.m.
Consultants: Roots Landscape Architects
Category of the Project:Residential
Project Status: Unbuilt