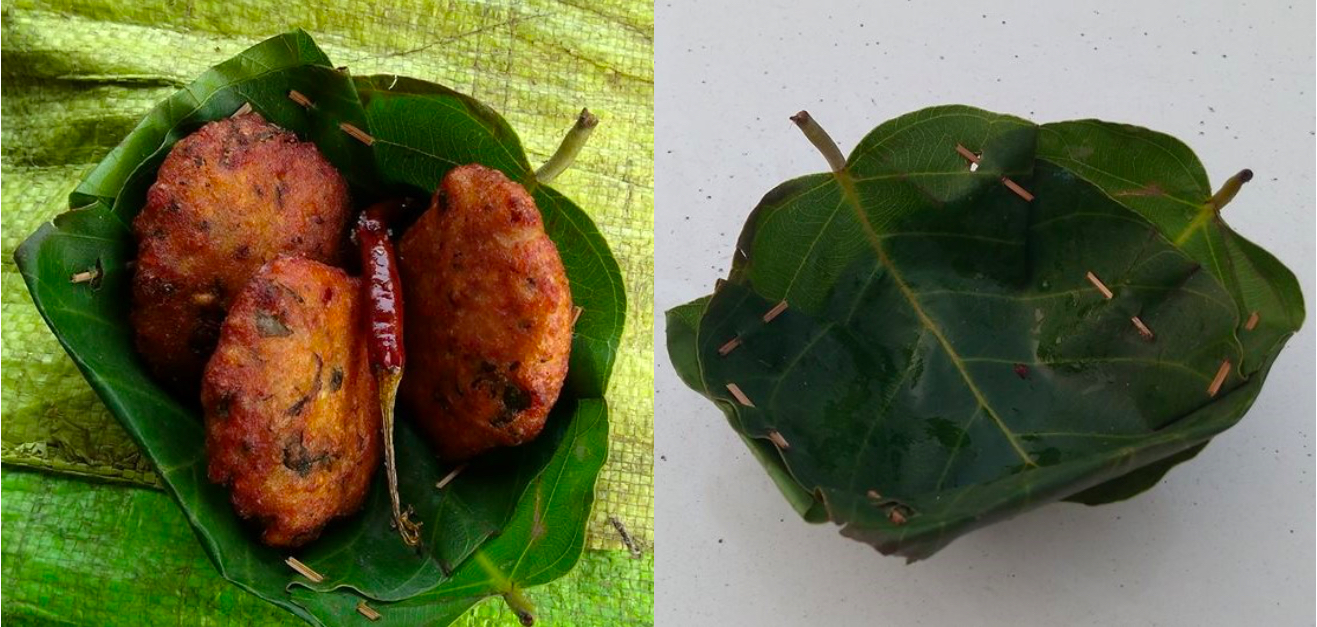 This slightly oily Chattisgarhi equivalent of the Wada/ Bonda other such found across the country was served in an assemblage of leaves called the dona or Leaf Cup. A good way to describe the importance of the 'dona' would be to say something like … "Those who have eaten in a dona are Bharat and those that haven't are well … India! (I wonder where this once super popular phrase has gone from newspaper editorials!). If you look carefully you'll see that it is made of two robust leaves of Sal (Shorea robusta for the scientifically minded), a tree widely found and well loved by tribals and timber mafia alike, dominating large parts of the Central Indian landscape, climbing up the foothills of the Himalayas, shading the wide deep expanses of the Chota Nagpur plateau, its spread and dominance only to be limited by its own regional preferences … who said there is no regional divide in India, aka Bharat! The harvest of these leaves is a source of livelihood for the original inhabitants/ the indigenous people or the 'adivasi' as we call them. The making of this dona is typically a fresh affair.
Pluck leaves in large numbers (this is the most difficult part, Sal is a tall, straight growing tree and honestly I do not know how they do it), then tie them into neat piles, carry them in headloads to the house courtyard, place 2 leaves at right angles to one another, using a simultaneous combination of a few origami inspired deft folds and pins (mostly made of thin bamboo splices or even from neem leaf stalks), the bowl shaped dona takes shape. Donas are mainly used in roadside eating places – from dry snacks to sweets.
The dona has many versions, a single leaf one, used to drink exciting local brews – mahua or handia, the four leaf one for more elaborate servings and plates made using similar techniques with 6-7 plain leaves. Sal leaves are not the only ones used, number of other species like the young leaves of Palash (Butea monosperma), the beautiful large leaves of the Siali (Bauhinia vahlii), a creeper that typically grows around Sal trees, and is commonly found in the forests of Odisha, parts of Andhra Pradesh, Chattisgarh and Jharkhand and are used for plate making.
A trade largely in the deft, hardworking hands of tribal women, neat piles are made placing one dona- leaf-plate in another, then take this forest produce to nearby towns, where they are often sold directly to sweet shops at few paise per dona, a good days work earns the woman a small insignificant sum, not even enough for the woman to buy some basic supplies for the frugal evening meal. Donas and leaf plates are often also made as a household or a group of households, a mutual-help activity when a family is feeding a large group or there is any community feast.
India's market forces are ofcourse the most powerful and disposables from India are making their entry deep into the heartland of Bharat. However, a reverse journey has also been happening, first lead mainly by the Rural tech centres of our IITs and Agriculture Universities and then by rural innovators, small entrepreneurs and the design community. The leaf plate (not so much the dona as yet) has made it fair and square to Amazon.in. And not only that, these leaf charmers have found themselves fans amongst the eco-conscious Germans. A German start up, Leaf Republic, in 2016, on crowd funding portal Kickstarter raised a cool €64,061 thanks to 684 backers. According to an article in the Indian press a single plate was selling for € 8.5 (about INR 700) and according to this video, three years of R&D led to the invention of these plates (it did cause a twitter storm when it first came out with Indian twitter handles sharing our ancient wisdom type stuff while surely eating out Styrofoam disposables).
As we grapple with ban after ban of single use plastic often announced with a plastic water bottle gracing the Minister's table, the humble Dona is likely to take us back to the future.