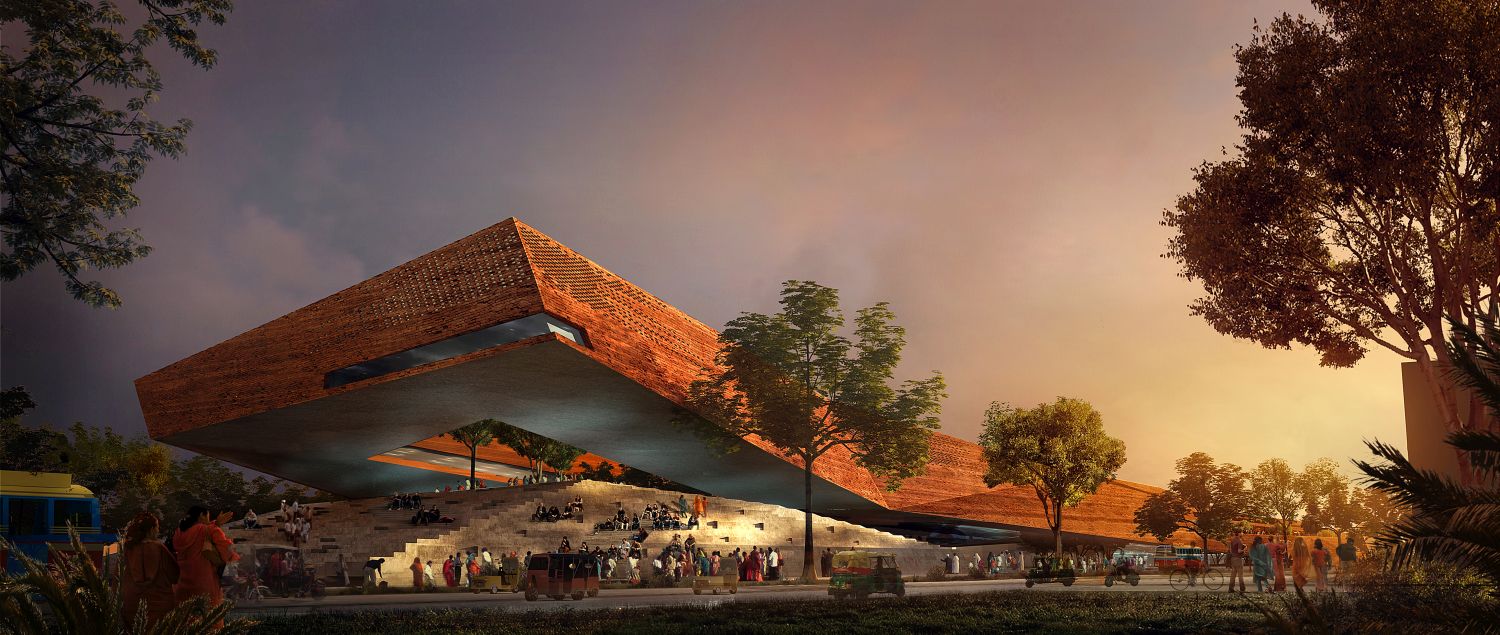 Competition Brief:
In 2011, an international competition was conducted by the Government of the State of Bihar to develop an iconic museum in Patna, which stands on the site of the capital of India's ancient Magadhan Empire, Pataliputra. This new facility would focus on the contributions made by this empire and the entire region of Bihar to the evolution of history and civilization in the Indian subcontinent and throughout Asia.
Design Approach:
The Snohetta + SpaceMatters design for the Bihar Museum is designed as an iconic setting for the invaluable historic artefacts housed in the erstwhile Patna Museum, while providing an inclusive and vibrant public domain for the city, underscoring the importance of Museums in a contemporary democratic setting. This public domain crucially promotes a sense of collective ownership by engaging a broader audience in a deeper conversation.
Starting with the common goal of creating a vibrant and democratic ethos for a public cultural space, both Snohetta and SpaceMatters brought different insights to the tables –local and global. The insider – outsider perspectives added creative value to the process and outcome. Hands on design workshops were conducted between at the two studios, in Oslo and in New Delhi, and the process benefited from interactions with many educational and cultural leaders from Bihar including renowned artist Subodh Gupta and artist-educationist Anunaya Chaubey, amongst others.

The proportions of the site, located on an important street front in Patna allow for a horizontal, inclusive monumentality to the museum architecture. Hailed as the first republic and the first democracy in Indian history, Bihar provides an apt setting for a museum that can celebrate the values of democracy by the way it engages with the public domain. The museum engages with the urban context and invites curious bystanders to the site, creating an important public edge that is flexible and spontaneous. This permeability is achieved by evoking the ghats of Ganga at the periphery of the site, a place of congregation on festivals and public events, instead of the ubiquitous 'boundary wall' that cuts off most of our public cultural institutions from the public.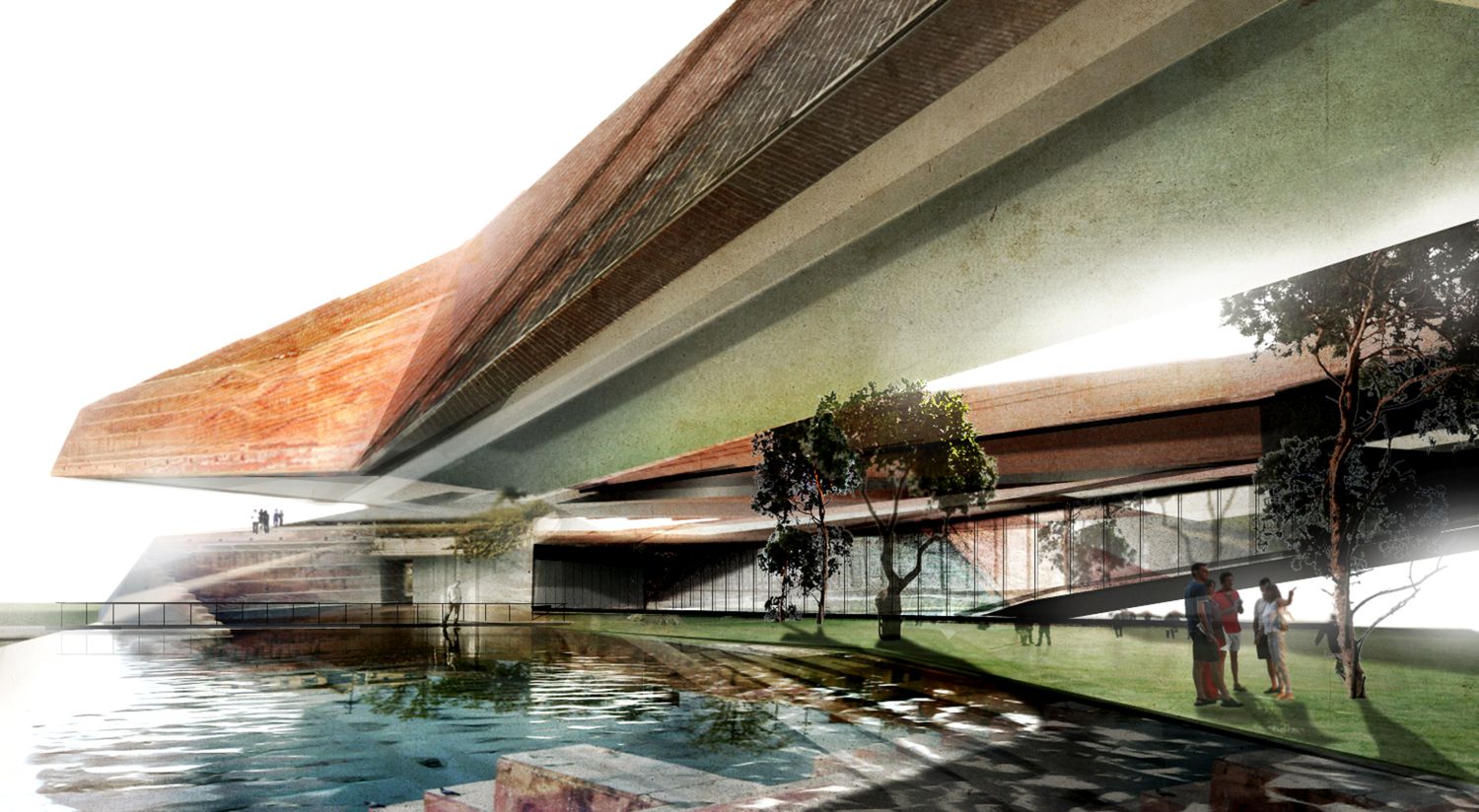 As the peripheral ghats reach out and embrace the city, the inner spaces comprise of intimate courts and galleries nestled in the existing, magnificent tree cover on the site. The enclosed central court becomes the inner public realm sheltered by the building and the foliage. The central core is activated by semi-public educational and recreational functions placed on either end, spilling onto this tree lined court that further connect to the exterior exhibition spaces. The galleries weave across the site, rising 7 meters to free the ground for public access, with the circulation spaces weaving through the play of light through the tree cover. The Museum is evocative of the word 'Bihar' resonating with both Vihar – 'an abode in nature' or Bahar – 'the resurgence of spring'. The building is clad with red terracotta tiles, a technology that harks back to the magnificent, world heritage architecture of the Nalanda University. The sheer volume of building material presents an opportunity to revitalize this construction technology, where traditional know-how that has been lost through the ages is re-invigorated through innovative use of new technologies
The design departs from an insular narrative of static distinctions between object and viewer through visual interconnections and spatial configurations open to diverse uses. The spatial hierarchy draws from the interplay of sacred and secular between public, private and transitional spaces inherent in traditional Indian architecture. Whilst the indoor galleries are inward looking, the exterior exhibit spaces reach out to the urban sphere. The museum becomes an experience of walking through the natural surroundings in an ever shifting play of inward and outward spaces connected with the environment and urban life. A visually striking presence with the red earth tones of local terracotta across its length nestled in lush green; the museum is designed as a monument to a new chapter of resurgence in Bihar's long and storied history
Project Facts:
Project name: Bihar Museum
Client: Government of the State of Bihar
Design lead: Amritha Ballal, Robert Greenwood, Suditya Sinha, Thomas Fargenes
Firm name: Snøhetta + SpaceMatters
Location: Patna, Bihar
Site Area: 13.5 acres
Project area: 100,000sqft covered area
Year: 2011
Status: Final shortlist in international competition
Master Plan and Competition Coordination: Lord Cultural Resources
Graphics credits: Snøhetta, Mir, SpaceMatters, Sanjeev Kumar