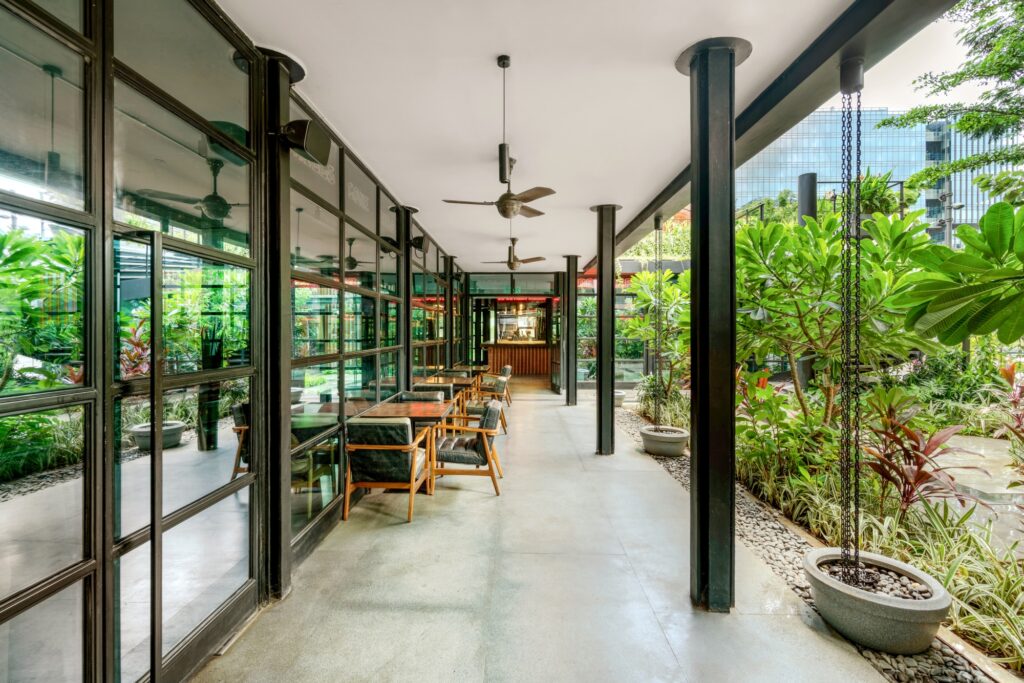 Furthering placemaking interventions at Imagine Studio
The project is designed in collaboration with Studio Vikhroli. It lies within a 34-acre mixed-use development called The Trees, which has been characterised by ongoing revitalization efforts for many years. Within the masterplan, Imagine Studio was envisioned as an exercise in placemaking. Taking over the area of an industrial precinct, the original intervention drew from the history of the site to reimagine the space as an anchor for communal activities in our ever-changing urban landscape increasingly tending towards homogeneity.
Adding onto the idea of place-making and renewal, the landscape extension planned for Imagine Studio has been transformed into the Beer Garden.
Nestled amongst other dynamic zones of the larger master plan such as the retail corridor, the residential clubhouse, Imagine Studio and the erstwhile Boiler café that is now Vikhroli.
Most of the ground level seating area connects to an intimate garden set in one of two courtyards, separated only by glazed walls. Since the requisite by-laws of the city required a defined enclosed area for a café serving alcohol, the primary court is edged with a visibly porous peripheral fence, enveloping the space. A barbeque and the extensive bar form the fulcrum of the interior seating area, which has been strategically planned so that the café can open out to the landscaping at the heart of the development.
Twin courtyards form the nucleus of the design, and enable further dialogue with nature. The first courtyard at the cafe's entrance allows guests to transition into a calm green oasis while the second courtyard with its pergolas carves out a space that acts as sculptural backdrop, filling the cafe with natural light. The pergolas cast intriguing light and shadow patterns among the trees, enlivening the courtyard. The café also offers alfresco terrace seating which is equipped with movable landscape benches that are accessed by a metal spiral staircase set in the primary courtyard.
As a natural extension to the neighbouring spaces, the cafe works with a tight palette of red brick, grey granite, micro-concrete finishes and an exposed ceiling and structural system to accentuate its industrial expression. An existing silo from the old masterplan was repurposed to be used as part of the café's kitchen and utility. This silo sits in juxtaposition to the rectilinear form of the architecture around, while new silos integrated into the design as washroom facilities appear as reminders of the site's industrial past.
The existing grove of trees also allows for minimal heat load within the glazed interior spaces, as well as making the outdoors comfortable. The spaces on the ground and the terrace meander through the landscape, blending fluidly and pulling the greens inside.
It draws from its context for a cohesive visual experience but also manages to stand apart, adding onto the original intervention as a space for recreation, relaxation and interaction.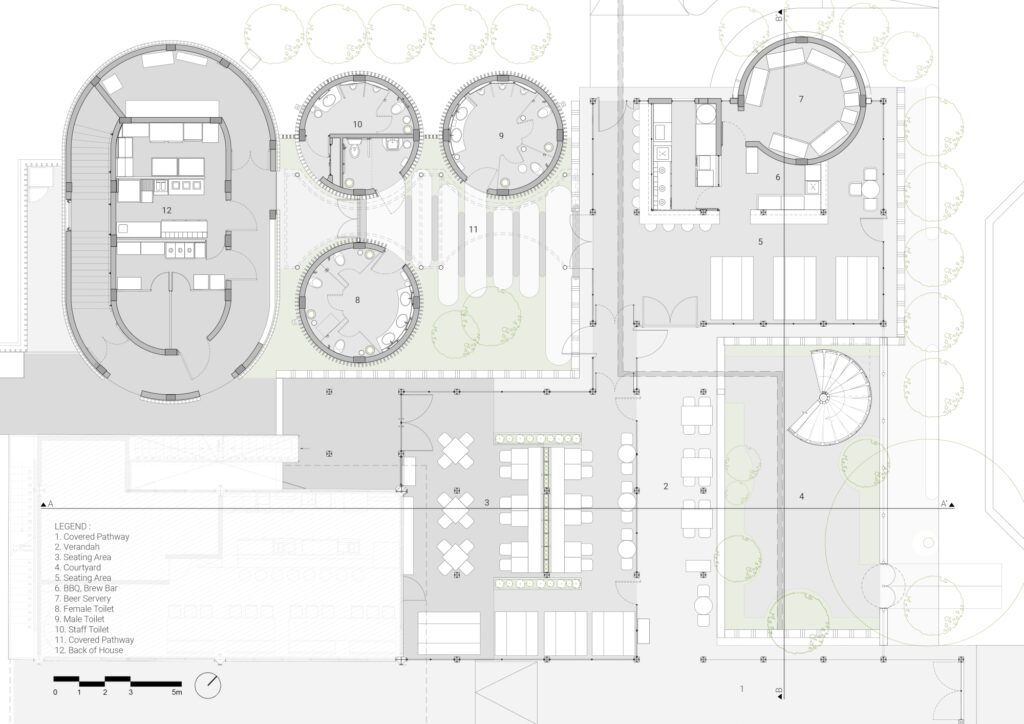 Project Facts
Typology: F&B
Name of Project: Beer Garden
Location: Vikhroli, Mumbai
Design Firm: Studio Lotus in collaboration with Studio Vikhroli
Design Team (Studio Lotus): Ankur Choksi, Subrata Ray, Shamik Chatterjee, Sharvani Upadhyay
Design Team (Studio Vikhroli): Anubhav Gupta, Namrata Mehra, Ankan Mandal, Suparna Sethi
Site Area: 0.39 Acres
Built-Up Area: 5,000 sq ft
Start Date: 2018
Completion Date: 2022
Photographer: Avesh Gaur