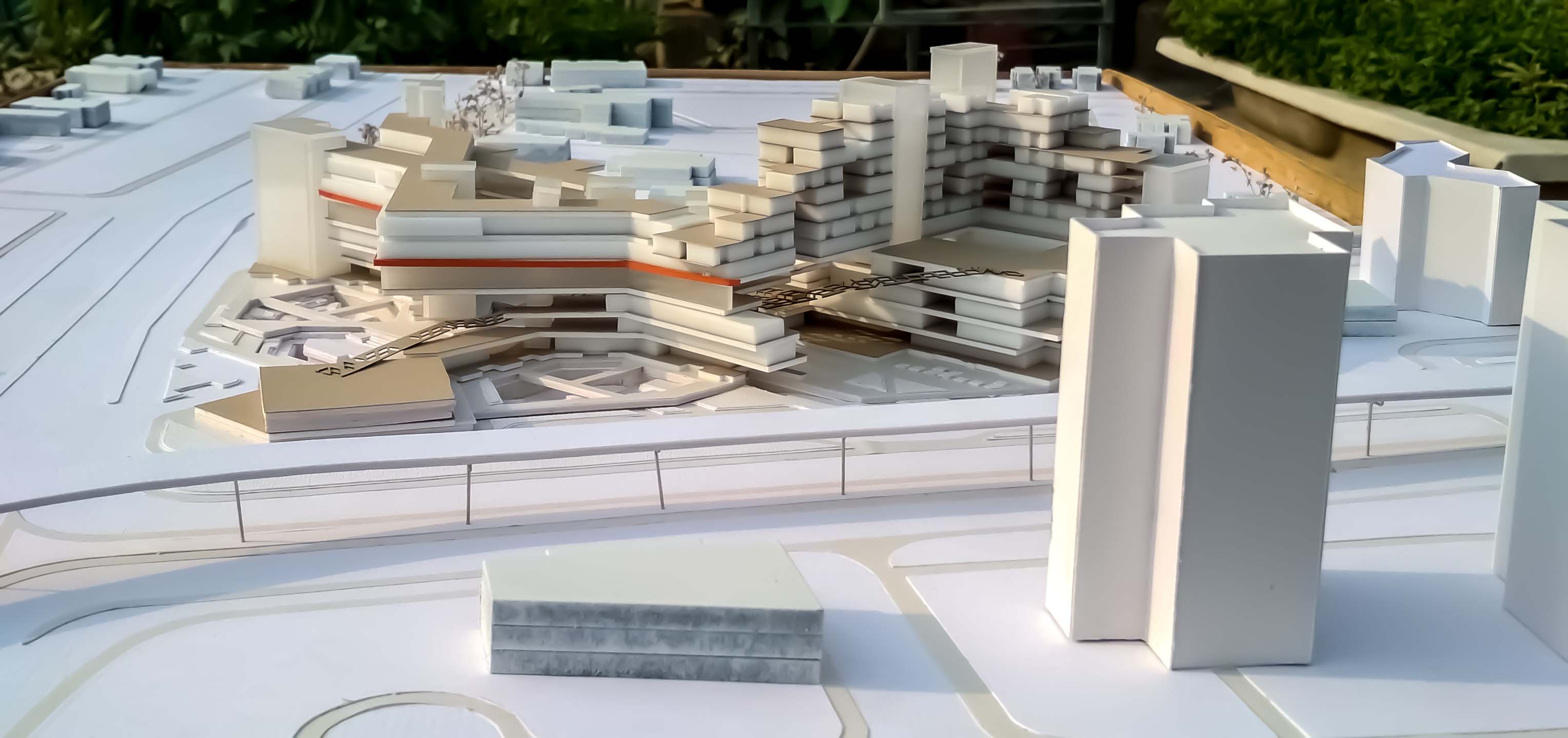 ABSTRACT
Food has been the mainstay of human interaction and defines who we are and where we come from. Keeping in mind the disconnect that has developed towards our social relationship with food as a result of urbanization, the thesis aims to propose a Socio-cultural Hub centered around food.
A unique mix of food related activities is to be explored such as incubation kitchens, Culinary Schools, Restaurants, Wet Food Markets, Informal Farmers' markets, Gastro Gallery etc and most importantly the element of Vertical Farming . This mix is proposed in an effort to rekindle the awareness of a city dweller towards food in its diverse aspects.
The Food Hub is proposed at INA,Delhi as part of the redevelopment proposal. The goal is to give a new identity to the site in an effort to make it a social Hub for all types of Culinary/Gastronomical engagements. Rather than simply being a Local Market popular for Fresh Produce and Grocery Items, INA is proposed to be transformed into a city level destination for Food.
Further the relationship between architecture, food,retail and place is to be explored. This Food hub will not be just a celebration of cuisines or Delhi Food but hopes to sensitize people about healthy eating habits through various informal events and workshops.
The Temporal and fixed programming will both help to create an identity of a food hub.
AIMS AND OBJECTIVES
To redevelop the existing INA Market and its precinct
To create a permeable urban space that is versatile and Inclusive in nature
A space to incubate small food businesses and cultivate both culinary and cultural happenings
To operate not just as a space for everyday urban life but also have a temporal programming to accommodate special events or festivals!
Augment an experience centered on food!
DESIGN BRIEF + PROGRAMME
The Site will have a mixed use development with the following components
Market will include all the retail shops as part of INA redevelopment
F & B Include existing Food kiosks and restaurants and higher end restaurant as well cafe.
Serviced Apartments serve the long time stay families going to AIIMS and Safdarjung hospital as well as the on-site culinary school and incubation centre residents.
Budget Hotel- For the three types of people expected on site. Firstly,the tourists who have come to participate in on site activities. Second, the large no. of people that come to AIIMS and Safdarjung hospital and lastly for visitors during food festivals.
Vertical Farming – This component of the program aims to look at the basic level of the food consumption cycle that is production. It aims to sensitize people about the different types of vertical farming possible.
Incubation Kitchen -These kitchens will be on lease for aspiring chefs to start a business more effectively,plug directly into public market and culinary school on site
Gastro Gallery -Flexible gallery and event space for showcasing Delhi cuisine and the work of the culinary school and incubator kitchens
Culinary school – Will support functions like the incubator kitchens, this will have a public and a private component in order to spread knowledge related to food as well as courses for those interested in a culinary career
Exhibition Spaces – These spaces will form an important part during festivals and events. However,this space mostly consists of large open air theatre spaces with the possibility of setting temporary structures during fest
APPROACH TO DESIGN/CONCEPT
The core research looks into the relationship of Food with the city, creation of exuberant public spaces and the various typologies of Food and Public markets explored over time.
The design directives try to create good linkages at an urban scale along with multi-level Public realms to foster intangible qualities such as sociability. Urban architecture that provides a variety of opportunities for meaningful social and culinary engagement will result in a stronger connection to the city's food and a greater sense of place. The design rather than creating the so called 'Mall' like spaces seen, aim to form more inclusive street spaces like Bazaars and Public Marketplaces.
Physical Models
Presentation sheets
Research+Study
Concept Sketches
Project Facts
Students Name: Vipanchi Handa
Title of Thesis: Urban Food Hub, INA
Location: New Delhi
Name of Institute along with Location: School of Planning and Architecture, Delhi
Thesis Guide: Dr. Amit Hajela and Ar. Deepak Taneje
Submission Year: 2018