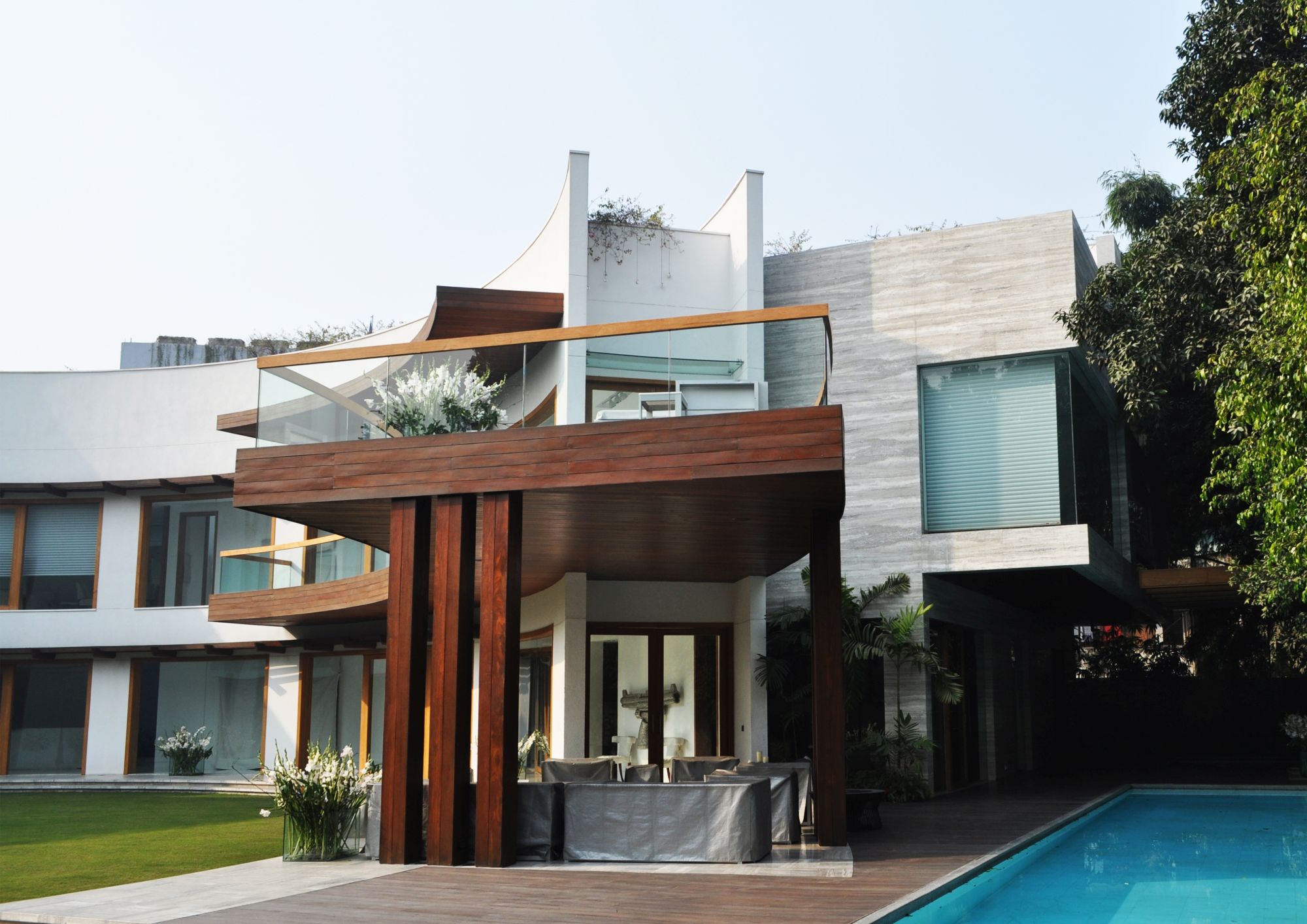 The Art House was designed in close consultation with the clients who are great patrons of art and wanted the house to be a backdrop for their art collection. The site is located in the Lutyen's Bungalow Zone in New Delhi, with considerable site restrictions. Hence, the site planning and layout proved to be a challenge.
The residence is developed on basis of two curved planes enclosing a large green space with bigger rectilinear blocks offsetting the curved lines. Keeping the initial client brief in mind, the surface treatment of the façade is predominantly with glass to facilitate transparency and visual integration of the outside greenery with the inside spaces. This enhances the view towards the artwork on clear, large walls that are lit effectively from the outside.
The glass walls also help to underline the depth of the house with the amount of daylight flowing inside through the skin. The entry foyer on the ground floor opens into a courtyard consisting of a backlit installation wall to showcase artifacts and a transparent vista runs across the house with a shallow water body to display various artistic sculptures. The living room is minimalistic in design with a customized wood wall equipping the bar with hints of foliage imparting an ecological backdrop in all the common areas. The house encompasses both indoor and outdoor dining with a private garden and an outdoor swimming pool which faces the north.
The entire design is minimal and follows a subtle pastel color palette of white, grey and brown which is also manifested in the landscape design. Stone is used for the rectilinear areas and speckles of brown are noticeable in the large deck spaces and terrace gardens on the first floor with shaded areas.
Project Facts
Location: New Delhi
Built-up Area: 17,000 Sq.ft
Site area: 2300.00 Sq.mt.
Climate: Composite
Year of Completion: 2011
Credentials:
Consultants:
Structure: Sahni & Associates
HVAC: Design Center Consulting Engineers
Plumbing: Tech Consultancy Services
Electrical: Integral Designs
Landscape Design : 1) Trevor (One Degree North landscape Architects)
2) Samir Mathur (Integral Designs): Local
Photographers: Morphogenesis
Design Team: Morphogenesis
Contractors:
Civil and Interior : CTC Geotechnical Pvt. Ltd
Electrical : CTC Geotechnical Pvt. Ltd
Plumbing: CTC Geotechnical Pvt. Ltd
HVAC : CTC Geotechnical Pvt. Ltd
Landscape : CTC Geotechnical Pvt. Ltd