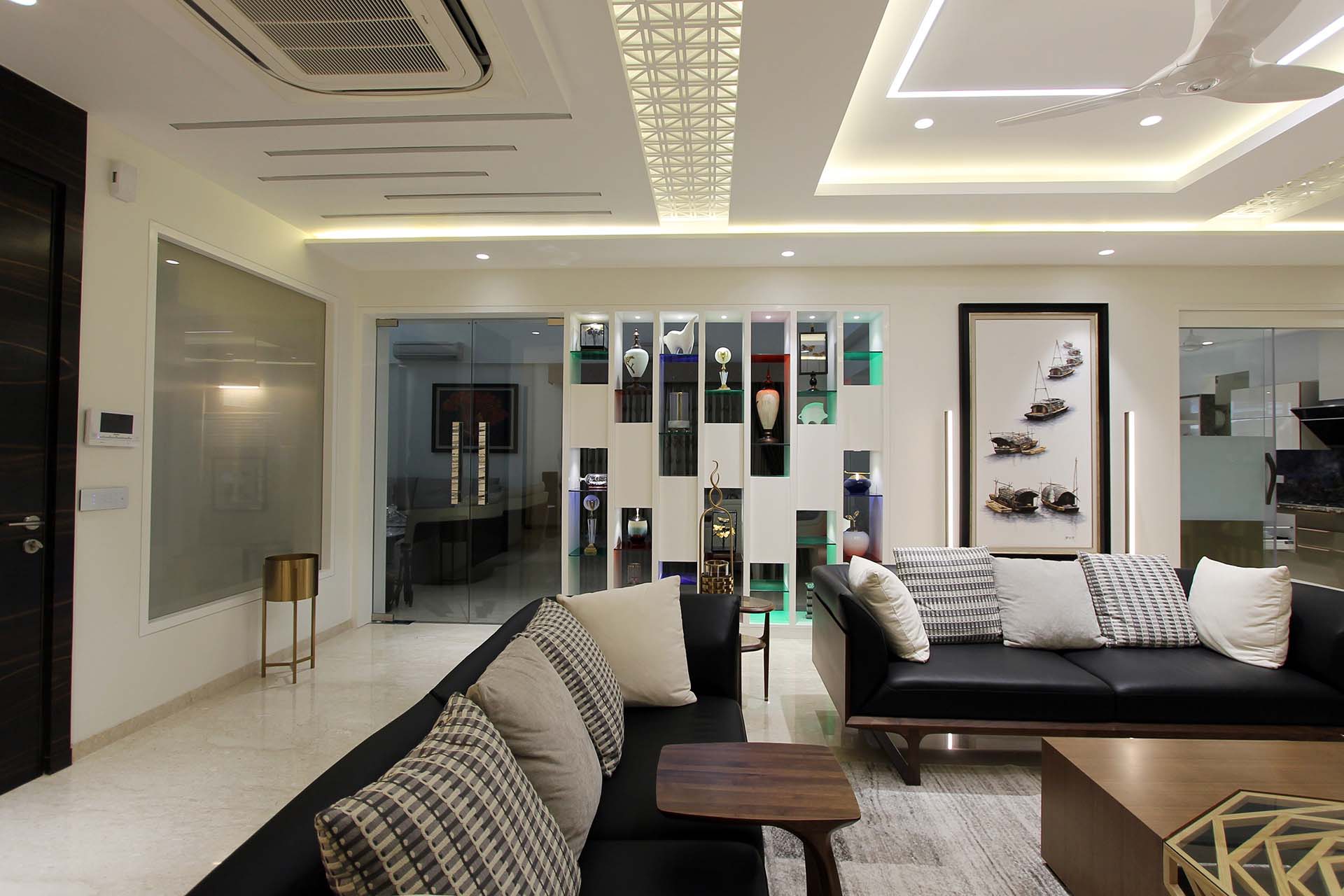 Located in an upscale Delhi neighbourhood, the project site is a consolidation of two plots designed for families of two brothers for a multigenerational living. The two equal and identical homes are a part of a unified built mass as distinct floor plates with common parking, services, amenities and other co-living areas as opposed to two disjointed structures. This early design call allowed for efficient space planning on a compact site and cost-effective resource usage in addition to fostering familial ties.
The challenge of designing for two multigenerational families was compounded by the bigger challenge of securing daylight, views and ventilation in the context of uber high dense East Delhi setting. The three-sided open access of project site to public way has been crucial to the integration of passive strategies with active cooling techniques.
The conical sectional openings (smaller on the exterior and bigger on the interior side)of the glass reinforced cement screen induce air moment for convective cooling while screening the harsh south-west solar exposure. Private spaces within the house are rationalized to meet the end user needs, while the intermingling spaces of the families have a tinge of grandiosity and design emphasis to reflect the culture of collectivism over individualism.
Living areas are strategically organised for double orientation to maximize natural lighting and ventilation through the house. Off late, the typology of urban semi-detached dwellings such as this stands transformed due to street parking problem. This issue triggered a design move- the architectural articulation of boundary wall to engage the pedestrians and activate the street as opposed to inanimate street view of parking garage.
The simple and function oriented design of the houses provides a backdrop for a quiet family life and reflects a desire for comfort, serenity and peace of mind. Material selection enhances the formal expression of the house, with the stone cladding contrasting palette and textures for its timeless and domestic quality. Detailing and choice of materials were carefully developed to imbue the practical requirements of day-to-day living with an aesthetic sensibility. As inherent in the firm's practice, this three years long project too embodies the spirit of collaboration amongst occupants, builders and designers, essential to the success of our projects.
Project Facts –
Project Name: Arhat Villa
Principal Architect: S K Goel
Name of Firm: Concarch Architects
Cateogary: Large Residential Project
Status: Completed
Location: New Delhi