The Pritzker Laureate believed that buildings are living beings and not inert, static objects.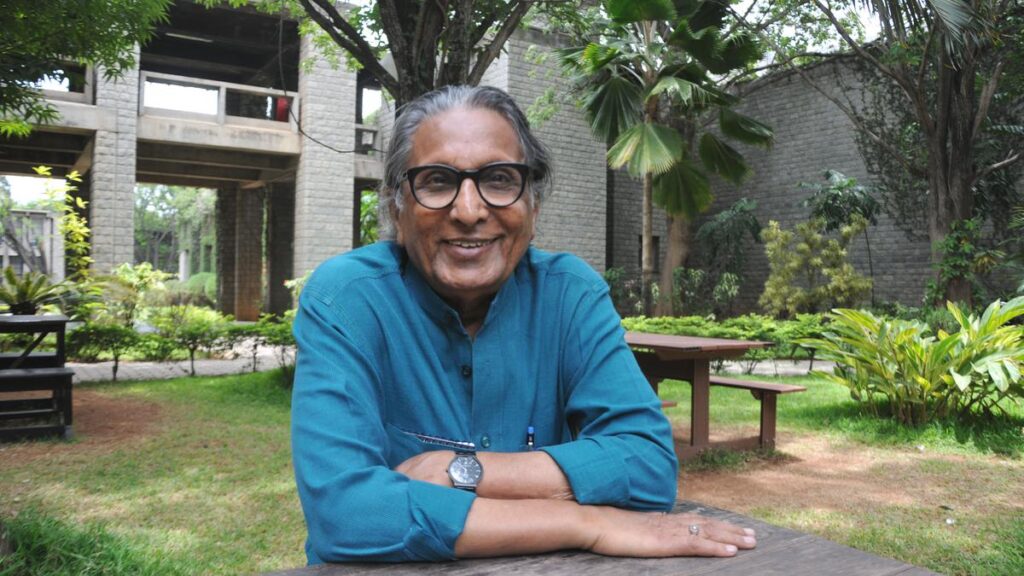 My first meeting with architect Balkrishna V. Doshi, in the early 1980s, was an inspiring moment. "Celebration is an integral part of life, Durganand," he would say.
I was a first-year student, celebrating Holi at the School of Architecture, Ahmedabad. "There are festivals all through the year — there is music, dance, people gather on streets. How can we rediscover freedom and celebrate nature?"
When I returned from Paris in the 90s, my curiosity to understand Doshi's experiences of the city in the 1950s and India revealed fascinating oral histories. "In 1951, I set sail to Paris," Doshi revealed.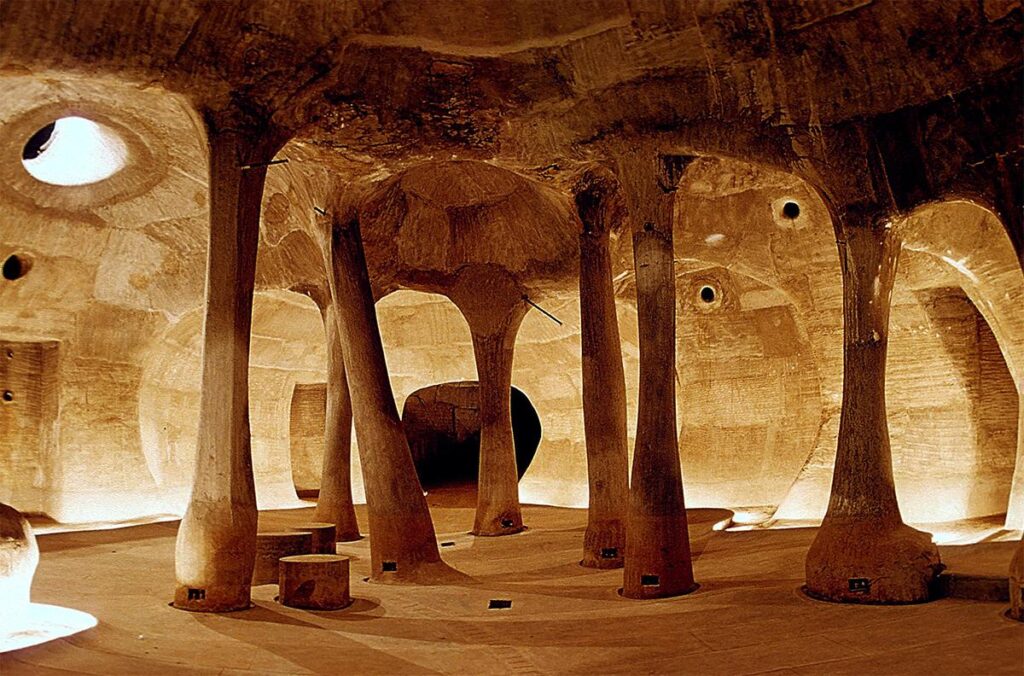 "I joined the atelier of Le Corbusier. I did not know French, but I was determined to learn architecture. When you do not know the language, the only reliable things are your instincts and visual perceptions. Corbusier had been invited to India to design Chandigarh and projects in Ahmedabad. I returned to Ahmedabad and was assigned to construction sites of Corbusier's projects," he said.
The architecture and philosophy of Pritzker Laureate (2018) Doshi, over the last 70 years, reflect the complex challenges of the Indian subcontinent and respond to universal humanistic values. Educationist, institution builder, urbanist and artist Doshi has been recognised as a visionary with a vast oeuvre of projects that ranges from dwellings, affordable housing,educational institutions, to cities and regional plans. Rooted in his own culture and context, the celebrated architect worked closely with two masters, Corbusier and modern American architect Louis Kahn, on seminal projects in the subcontinent. His intuitive search has been a constant questioning, guided by the spirit of community, paradoxical myths and sustainability. He believed that buildings are living beings and not inert, static objects. Architecture, to him, was a celebration of life.
Doshi was the recipient of the Padma Shri and Padma Bhushan, in recognition of his contributions to nation-building. He was the first Indian architect to be awarded the Pritzker Prize, the Royal Gold Medal (2022), France's highest civilian honour, Ordre des Arts et des Lettres, the Aga Khan award for Aranya low-cost housing, and an honorary doctorate from University of Pennsylvania.
The formative years
Doshi's contribution to architecture, culture, art, and philosophy remains a profound legacy. Over the last three years, he participated in online conversations with Japanese architect Kengo Kuma, and many others. He was reflective and often enjoyed paradoxical questions. The challenges of cities, ecology, energy and architecture education and practice stoked his imagination. "I hope we can meet, rather than [have] digital conversations," he would say. "My search has been of that kind: intuitive and with chance happenings, nothing has been planned, and who would expect the kind of future we need to create?"
In our conversations, Doshi would recall his life lessons to students. Born in Pune (1927), where several generations lived together, he would reminisce how birth, growth, and death were simultaneously recurring events in his childhood home, marked by cycles of celebrations and festivals. Architect Rajeev Kathpalia attributes Doshi's deep understanding of community, cities, institutions, and housing to his formative years at Pune, inspired by vernacular architecture.
It was this paradoxical simultaneity of the ostensibly good and bad, of modernity and tradition, of rural and classical, of balance and disorder, of discipline and freedom that embodied Doshi's architecture and philosophy and his search for a 'heterogenous-homogeneity'.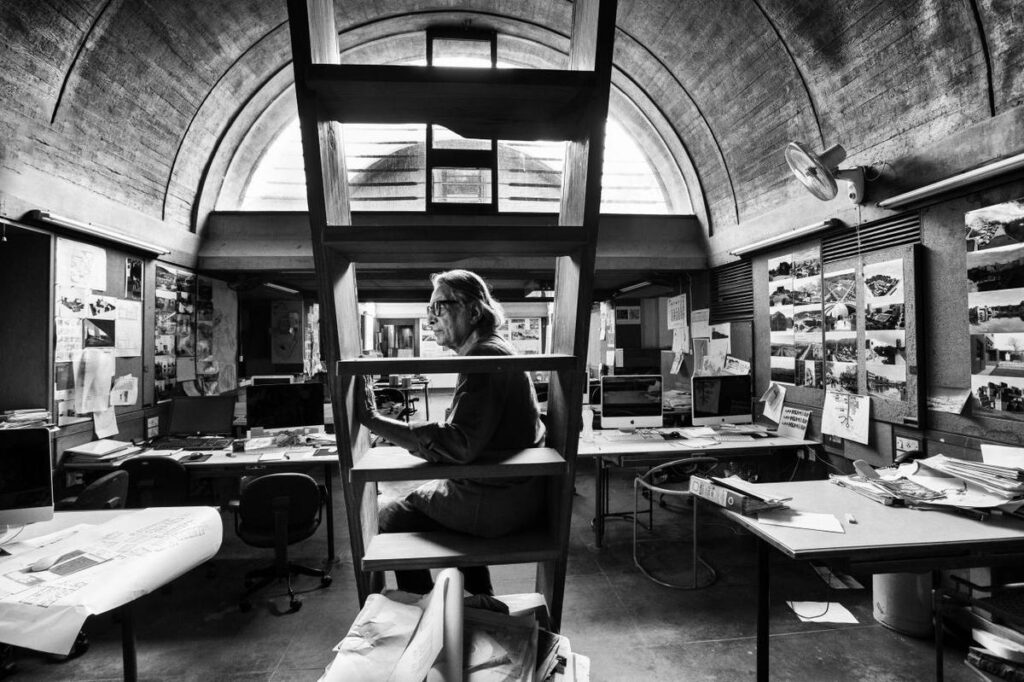 Founding the design studio, Sangath, he invited Kahn to collaborate in the design of IIM Ahmedabad. In 1962, along with French-American architect Bernard Kohn, Doshi remembered the visionary patronage of industrialist and philanthropist Kasturbhai Lalbhai and Gandhian families, while founding the School of Architecture, which grew into the Centre for Environmental Planning and Technology (CEPT).
Doshi would often visit our design studios, uninformed, with guests such as architects Charles Correa and Frei Otto, actor Naseeruddin Shah, and author Arundhati Roy. "I believe that education should have no boundaries," he would say. "It should have freedom and yet be rooted. CEPT has no boundaries and no doors. I was inspired by Rabindranath Tagore's vision of Shantiniketan."
With a spirit of constant questioning, Doshi envisioned the incredible designs of IIM-Bangalore, the CEPT campus, NIFT Delhi and the urban plans of Kharghar Navi Mumbai and Vidhyadhar Nagar, Jaipur and several townships.
Constant flux
In our site meetings with the IIM directors, he would reveal his philosophy and logic behind his design: "Buildings are living organisms that grow with the human spirit. Buildings are not inert forms. Architecture is a celebration of life itself… the chaotic streets of Indian cities, the Madurai temple, or Fatehpur Sikri, with terraces, pavilions, plinths and jalis. The buildings are porous. What does porosity mean? My whole body is porous from my skin to my heart. However, underlying this chaos is a deeper order. This order, which is in constant flux, is my source, which I constantly try to rediscover in my work, making me aware of the subtle nuances between tangible and intangible. A sthapati (holistic architect) must give life to inert matter."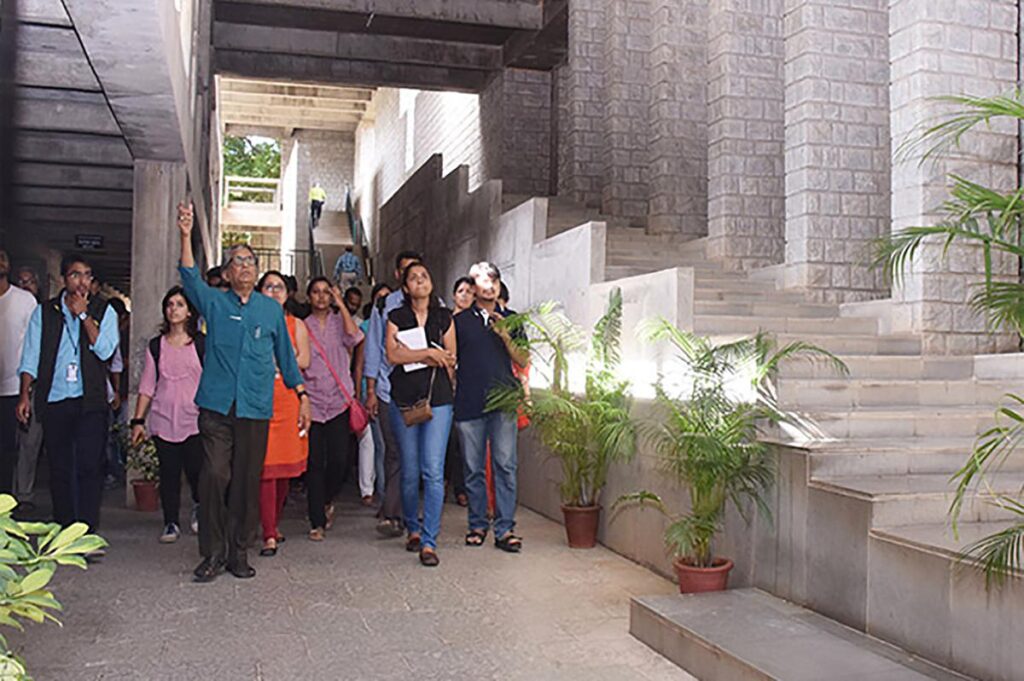 The retrospective of Doshi's oeuvre, curated by architect Khushnu Hoof, was designed like a theatre. It reveals a search. The exhibition, having travelled from Delhi to Shanghai and Belgium, is now in Boston, and conveys ideas on light and sound, about elements and experiences that constitute a building, about memories and myths, and about sculpture and painting. It talks about fluidity; it talks about chance and intermixing.
In our last few conversations, Doshi had this to say: "Life is like a river that begins from a spring and flows into a vast ocean. It is a cyclic phenomenon. Architecture and the city are a living energy force, an extension to life and is constantly evolving. I do not like rigid rules. Architecture celebrates diversity… Creativity means we need to break rules and search beyond boundaries. This way, we create our own reality and realise deep within, that life is intangible." The open-ended legacy now remains an offering to architects, students and universities to imbibe and rediscover, in their own ways.

Artes-Roots Collaborative is a think tank of architects, environmentalists , and artists based near Vedanthangal, Tamil Nadu, and South Goa. Roots is engaged in research, advocacy, and community-participatory sustainable projects that explore ecological landscapes of the future, war refugees, and climate change.
This tribute was first published in The Hindu, and has been republished with permission from the author..