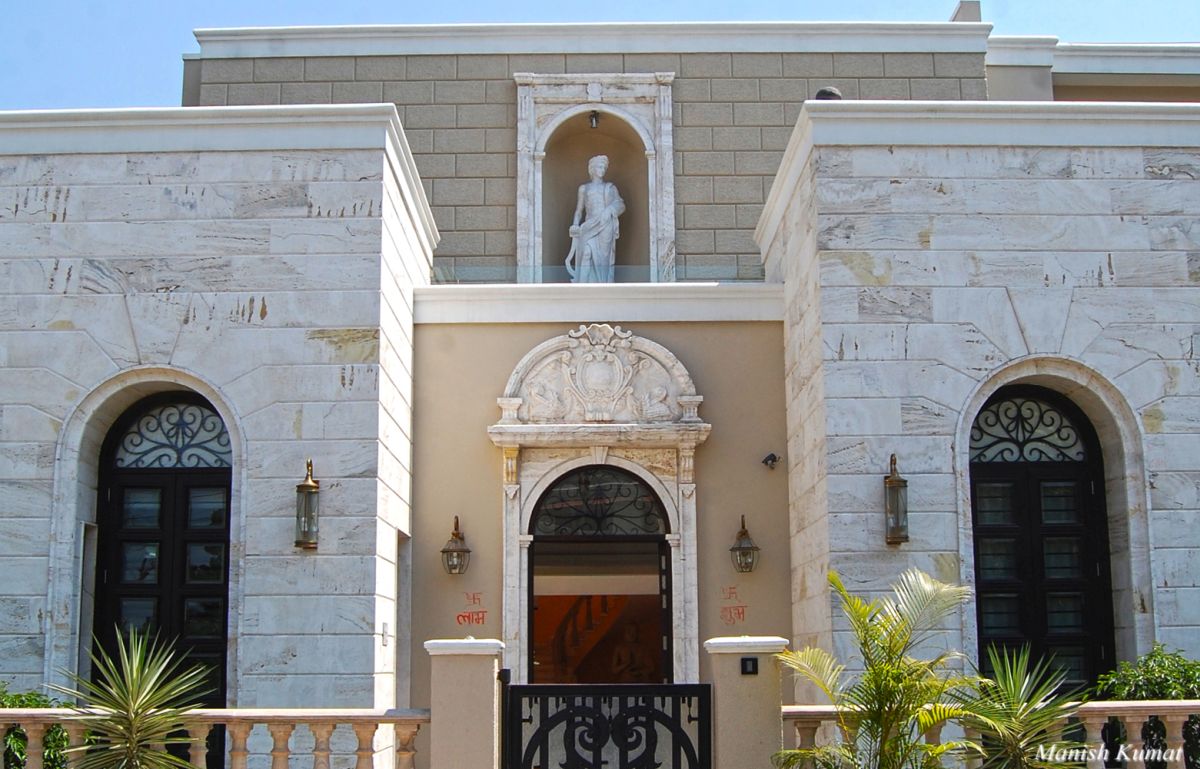 As we enter inside, a big courtyard with lots of greenery and sunlight is inviting. A huge Buddha in sitting meditation position with greenery near to court makes the whole environment peaceful and static. The plan revolves around a central courtyard open to sky. The inhabitants experience all the weathers, throughout the year. The planning theme involves, putting up all the four important bedrooms on the ground floor.  This private area of the bedrooms along with the living hall is segregated by the public area drawing room, kitchen and Puja room by landscaped courtyard. A huge volume of drawing room with tall windows and the handmade canvas painting on ceiling gives the royal look. The living room is planned outside all these four rooms with a toughened glass partition up to the ceiling to view the beautiful courtyard outside with green and the huge Buddha statue. Mezzanine floor created for playing zone in younger son's bedroom. A round staircase smoothly connects two floors, with stucco finish walls and well lit POP niches. First floor has a bar, a covered swimming pool, a recreational area which includes steam, sauna, etc. As we move towards left side on the first floor, we get surprised by a beautiful view of a huge lawn with gazebo.Intelligent usage of materials as waste glass bottles, scrap walnut pieces and mother of pearl inlay. The regular materials used are bricks, solid/teak wood, and toughened glass along with travertino stone.
Project Facts-
Carpet area: 4987.77 SQFT.
Location: Indore
Cost in Rps/sqft : Rs.4000/SQFT. (Building & interiors)
Context: Behind Bombay Hospital, Shanti niketan colony.