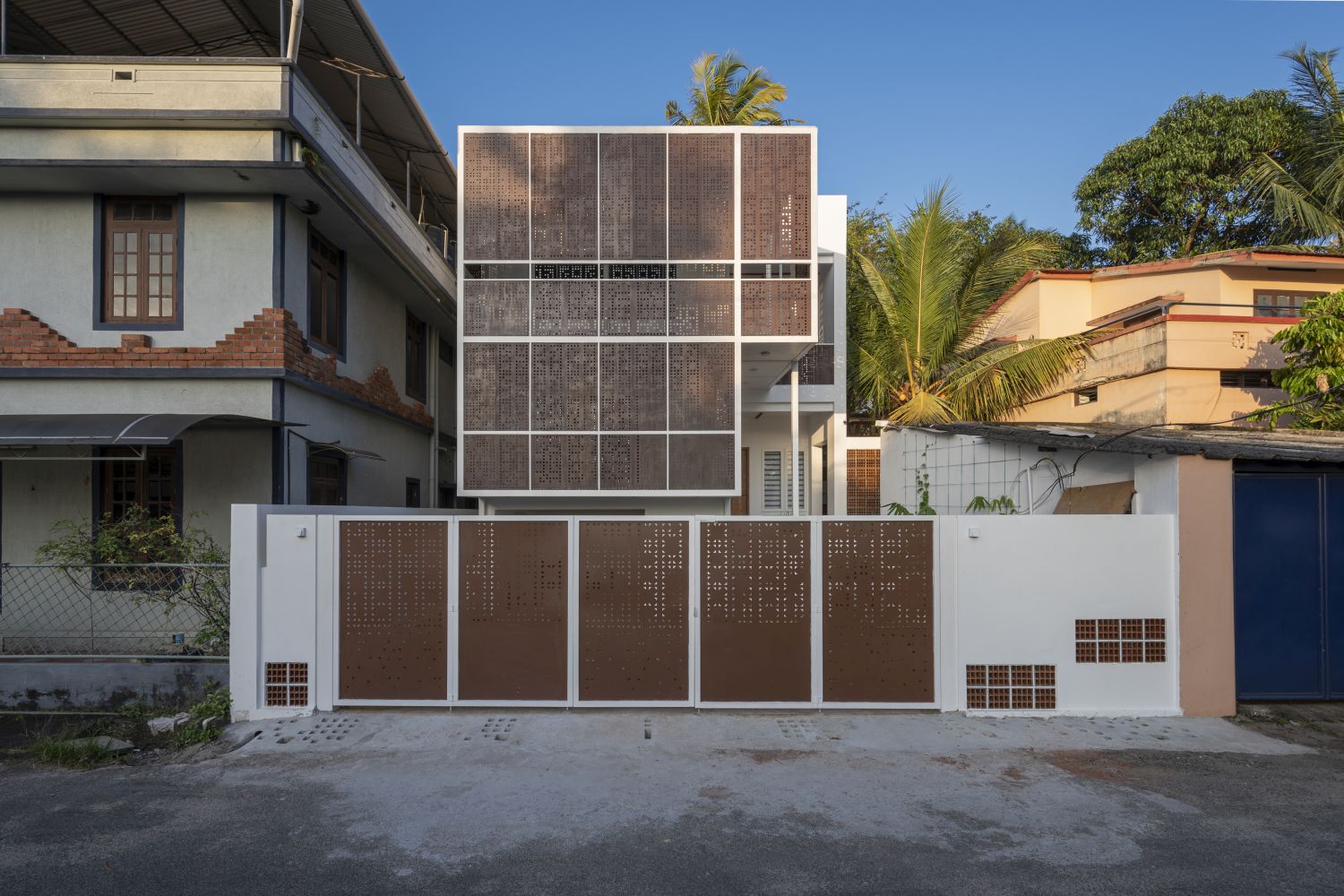 "An average city transmute (001)" by EGO Design Studio, is an exploration of a typical urban small site with existing dilapidated concrete buildings. This is an attempt to redesign and renovate existing old concrete buildings with minimum demolition
THE TASK was the renovation of a double story house in kowdiar, one of the posh neighbourhoods in the city. The client needed a signature home in kowdiar, the residential heaven of Trivandrum. The site is a 4 cents plot with an existing house in residential neighbourhood, closely packed by concrete buildings on two sides, road on front and a two-storey high retaining wall behind. The existing building could barely breathe in the site. The setbacks were dark pockets, the front yard an interlock paved parking yard and the back side shaded by the tall retaining wall. The client was a retired man, building a house for his kids and grandkids/ where he would be a regular visitor. He needed an open house with gardens around, keeping most of the existing structure in-tact.
THE DESIGN PROCESS| PLANNING: While most interior walls were demolished to open up the available space, exterior walls were altered mostly only to increase window sizes, hence converting the available setback yards to small open spill over courts. The congested old building was opened up to create democratic spaces for today's living. The demolished structural walls were replaced by I beams and the new electrical system was encased in open conduits. Most new structural and service interventions were exposed and painted in bright colours to exhibit the new additions to the old structure.
THE DESIGN PROCESS| FACADE: The south west side with high heat gain being the only side with potential views, was opened up, and a balcony attached with a porous Corten steel sunscreen. This sunscreen provided an image of the house to the city, and a pixelated image of the city to the house.
THE DESIGN PROCESS| SETBACK GARDENS: Small urban plots with minimum setbacks create pockets of building yards which turn into dump yards or unused spaces. The project tried to explore continuous spaces within an existing wall framework blurring boundaries between exteriors and interiors. The house and site is a continuous garden where each human inhabited space has its green compound wall garden. The existing building levels were respected keeping the footing intact and the porch in place, the old living room was demolished to provide for a verandah and garden opening up into the small front garden and road.
Drawings
Project Facts
Project Name:  An average city transmute (001)
Office Name: Ego Design Studio
Firm Location: Trivandrum, Kerala, India
Completion Year: 2020
Gross Built Area (m2/ ft2): 2550 sqft
Cost – 1 crore
Project location: Kowdiar, Trivandrum, Kerala
Lead Architects: Abhilash U A, Niranjan C Warrier, Aravind T,  Sudheesh S
Landscape architect – Ar Aarati Binayak
Structural Engineer – Er Krishna Gadha S J
Owners of the home – Mr Sojith Sugadan & Family
Photo Credits:        Ar Niby Thomas