Photography: Vijay Narnapatti, Dimple Mittal and Mr. Kishen
Text: MayaPraxis
---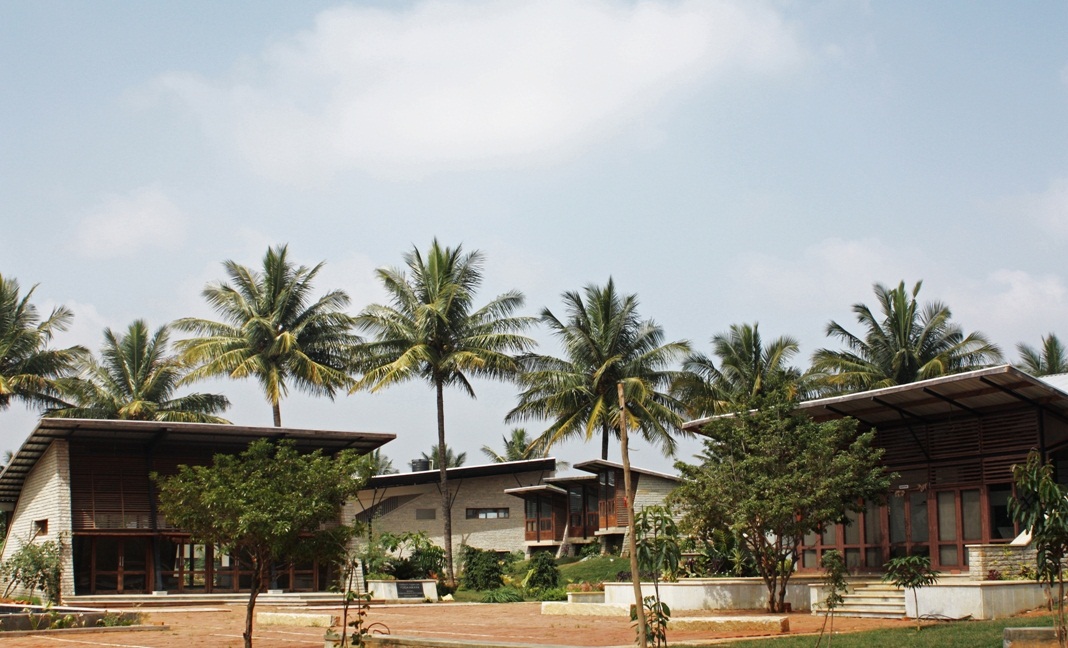 Yoga Nikaya is a place of learning and teaching, for those who share the spirit of yoga as a way of life. It provides space for yoga and meditation. Cottages, dormitories and dining facilites are provided. An observatory is also located as a place to view the space above and learn about its scientific and spiritual references. The idea of yoga as a way of finding physical and mental wellbeing has inspired a design that is in keeping with nature, through the choice of materials, form and technique. Keeping a small footprint in the agricultural land, the designed buildings are kept within 1.5 acres of the 9-acre farm, leaving the rest as orchards and farmland.
Sketches:
The entrance plaza in the form of a square is abutted by the 4 spaces that form the institutional activity – reception, yoga, meditation and performance. There are 6 types of buildings in the site ñ the Reception Lounge, Yoga Hall, Meditation hall, Dining Hall, Cottages and the Observatory. Each building sits comfortably in the landscape, with lines of structure and form composed in gentle inspiration from yogic postures of the human body – balanced but poised with a gesture of movement. In addition, the buildings respond to the moderate tropical climate of the region, situated on the natural terrain to receive daylight from the north and south as well as the prevailing wind along the NE and SW directions.
The buildings are made with composite walls of local stone and cement block , making it stronger to retain earth berms, and making them better insulated for the summer heat. The roof structure is a composite of steel and re-cycled-wood rafters sits lightly on the stone clad walls, lifted upward. The wood slat false ceiling is also made from wood recovered from packaging boxes alongwith thermal insulatation. Finishes are kept basic – polished cement flooring, wood hand polished, rough hand-dressed stone cladding on walls. Much of the wood is recycled/reused from industrial packaging available locally. The grey granite cladding stone is also sourced from a quarry within 50 km from the site.
Model images:
Site-planning: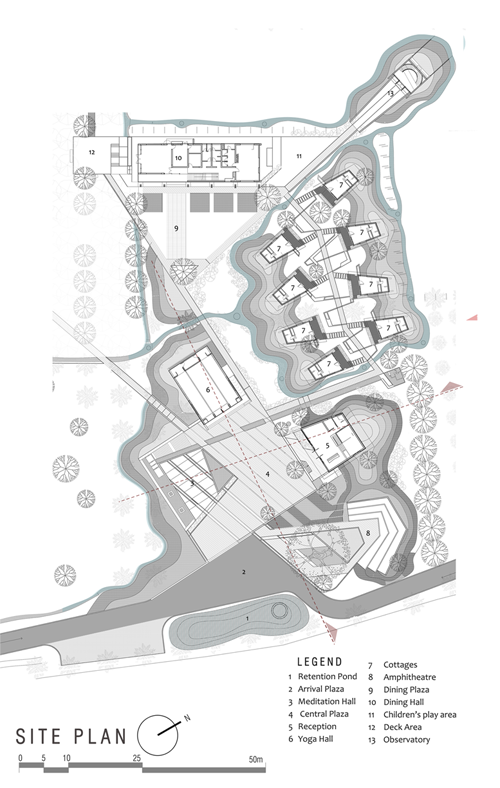 The idea of putting the buildings together in the farm, between the fruit trees, banana orchard and the flowering plants was challenging. References from site features were first identified – row of trees, swales, mounds and corners. The emerging geometry was then used to inscribe the lines of movement and siting of buildings. The buildings respond to the main square entry plaza which is oriented along the cardinal directions. with a clear reference to solar orientation for heat and light. The water drainage is integrated into the planning into a formal waterway that runs though the plaza and ends into the water pond at the meditation hall. There is also another system of swales that winds its way along the site channelizing and percolating water into the ground and ending into recharge well.
Drawings:
More Images:
---
Project Facts:
Year of completion : 2012
Period of execution (in months) :24 Months
Location (village/town/city & State) : Mathagondapalli, 55km from Bangalore, Tamil Nadu
Site area (in sqm) : 29339.7 Sq. m
Built-up area (in sqm) : 1950 Sq. m
Project cost (in Indian Rupees) : 3.5 Crores
No. of floors (including basement) : G/G+1
Client (Company/Person) : Chandramouli
PROJECT TEAM
Design Architect : Dimple Mittal and Vijay Narnapatti
Consultants ñ Liaison : None
Structural engineer : Mr. B.L Manjunath- Manjunath and Co.
Electrical engineer : McD Built Environment Research Laboratory
Plumbing, Sanitation & Drainage : McD Built Environment Research Laboratory
HVAC : None
Telecommunication & IT : None
Landscape design : MayaPraxis
Interior design : MayaPraxis
Other : Mr. Arun HS-Clientís Yoga Guru
Contractors ñ Civil work : CRV Global Infra Ltd.
Plumbing, Sanitation & Drainage : CRV Global Infra Ltd.
Electrical : Pasha Electrical
HVAC : None
Telecommunication & IT : Pasha Electrical
Elevators / Mobility : None
Facade : None
Landscape & Horticulture : CRV Global Infra Ltd.
Interior ñ fixtures, furniture etc : CRV Global Infra Ltd.
Other (Site related ñ roads etc) : CRV Global Infra Ltd.