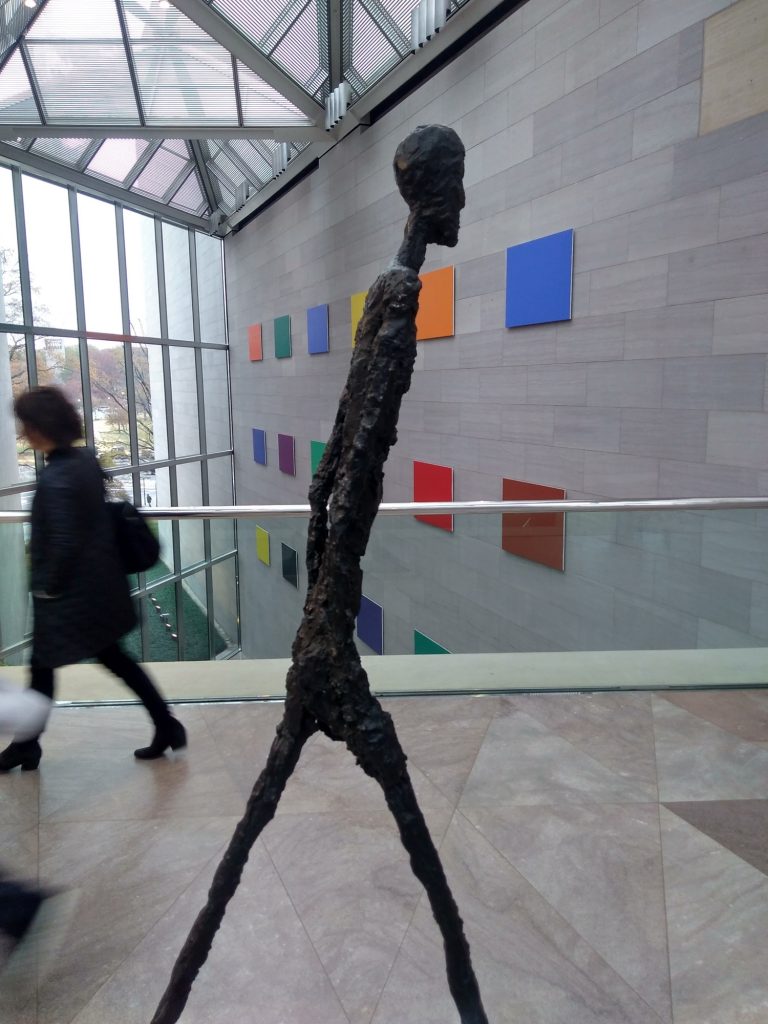 Walking Man II is part of the famous series of six Walking Man sculptures in which Alberto Giacometti (1901-66), a highly feted Swiss sculptor and one of the greatest artists of the 20th century created an epitome of the human condition. Giacometti's walking man is on his own, he doesn't look at you, he is on his way, his posture – that of a walking man, his expression – full of purpose, his gaze – fixed on the distant horizon, the future – a distant one, even a difficult one, determined he strides decisively, forward in order to discover, to understand, as if he has a goal to pursue, the rough texture – of a man of the soil, of hard work. Impenetrable yet disconcerting, this figure exalts a universal impact which exerts an intriguing fascination on the spectator.
I discovered Giacometti in photographs taken by French master Henri Cartier Bresson, two images stayed with me, in one Giacometti is walking in his studio with one of his Walking Man sculptures on his right and another more erect, static sculpture to his left and in another Giacometti is crossing a street on a wet rainy Parisian day with a raincoat partly hung over him. While I finally got to see Walking Man II, placed somewhat nonchalantly in the connecting corridor of the East Wing of the National Gallery of Art, Washington DC, I wanted to make sure that my phone captures a decent image of the masterpiece, I waited for people and clicked as they walked past, this image gave me some sense of satisfaction.
For those interested in reading more about Giacometti this link is quite comprehensive https://www.fondation-giacometti.fr/en Incidentally in 2010, 'Walking Man I' in a Sotheby auction sold at a sum of 104.3 million USD which at today's rates comes to a whooping INR 700 crore.
-Design Dalda