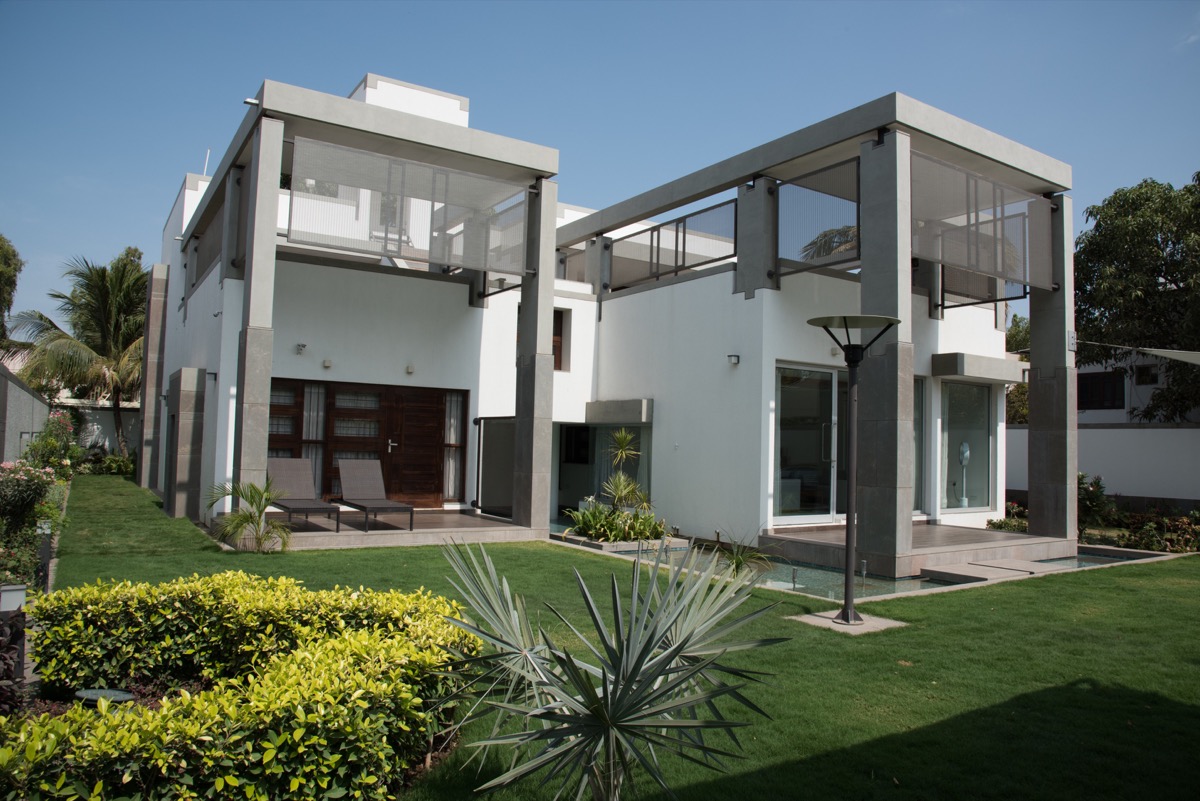 The Veiled House has been designed and built for a well traveled, successful businessman and his family. The brief was to have a contemporary family home that expresses an individual ambient character with a calm and uncluttered elegance adhering to Islamic traditions of privacy.
For privacy the house sits deep on a generous 1060 sq yard lot in a well developed urban residential neighborhood. An order of open, semi open and covered enlivened spaces created by pragmatic arrangement of parallel load bearing walls is the arrangement of the plan.
A drive way leads to entrance verandah opening into a double height vestibule that bifurcates to a garden facing formal living room to the front and f­amily living – dining areas to the rear. A water body flanks it self surrounding the formal living room further delving into the vestibule and dining area. The family living – dining areas open to their own private courtyard. Bedrooms on the ground floor are oriented to exploit the South-West wind to fullest, covered and deep set verandahs to curtail harsh sunlight. A stair in between family living – dining and bedrooms further connects to a Namaz room at mid-landing over the water body leading to master bedrooms on the first floor.
This arrangement of deep set verandahs is repeated for both the master bedrooms on first floor which further open to private landscaped terraces that have been covered with a veil of Architectural Wire Mesh around doubling up as a sun-breaker and providing much needed privacy.
Weather shades around the Mehrab like deep set windows and verandah columns clad in locally available Rajula stone slabs along with sand faced stucco plaster with judicious use of concrete render atop parapet bands help contain scale of the built form and impart a contemporary yet austere aesthetic. Polished Statuario marble floor, natural polished paneled solid teak wood doors – windows and finely crafted solid wood furniture along with coordinated linen tapestry adhere to the same aesthetic.
The Veiled House manifests itself inside out connecting to the generous landscape and the spaces within, maintaining individual ambient character of every space, keeping in mind the realities of the local climate, responding to the aspirations of the homeowner and above everything belonging to a place.
Drawings
Project facts:
Location: Bhavnagar – Gujarat.
Site Area: 900 sq mts (9600 sq ft approx) 
Built up Area (ground floor + first floor): 450 sq mts (4875 sq ft approx)
Architecture design team: Rajanikant Machhar, Nishant Machhar, Rakesh Khambhaita
Interiors design team: Rajanikant Machhar, Nishant Machhar, Rakesh Khambhaita
Structural Engineer: Atul Vora 
Civil Engineer – Site supervisor:  Jaydeep Patel
Electrical Engineer & Contractor: Aroop Engineering Services
Landscape design team: Rajanikant Machhar, Nishant Machhar, Rakesh Khambhaita
Exterior Finish: Stucco plaster, Rajula Stone cladding
Architectural Veil (wire mesh for privacy): supplied and executed by GKD India Ltd