Since the past couple of weeks (and until recently, before the NDMA issued a gag order on government institutions and officials for further interaction with media!), Joshimath, a city in the Chamoli district in Uttarakhand, has been the subject of news. Widening cracks has directly put nearly 4000 locals at risk- scared locals are seeking shelter in public buildings when the region is observing a temperature as low as minus 3.5 degrees Celsius.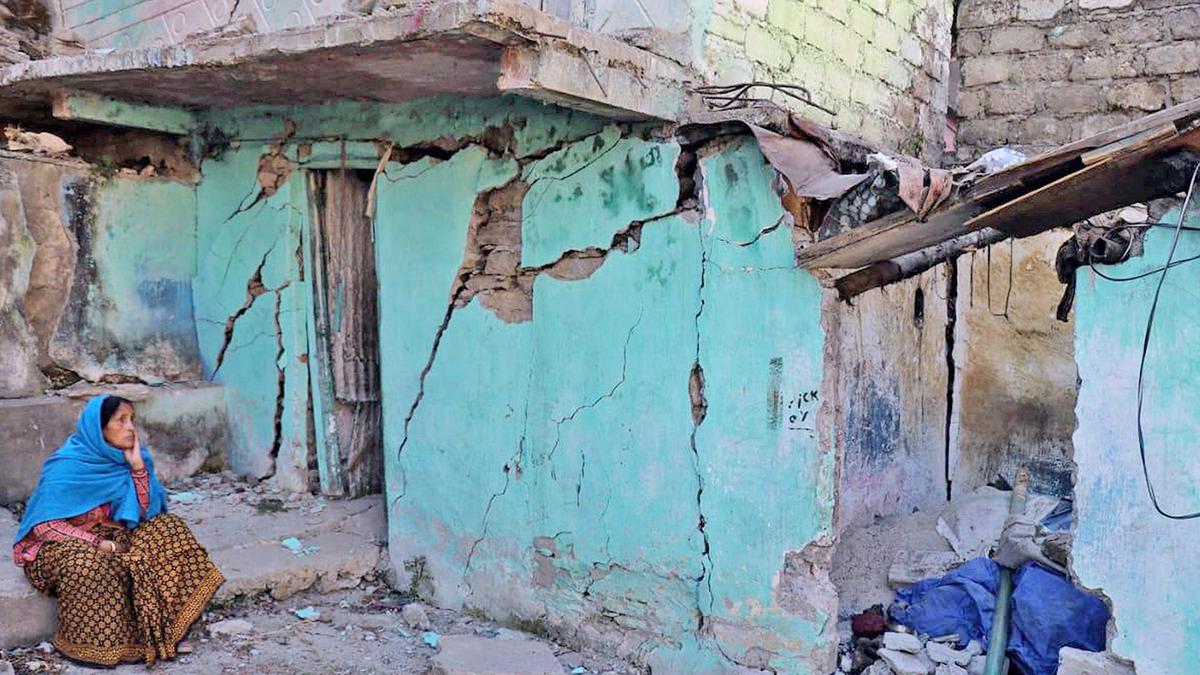 Burst aquifer, a city built on debris from old landslides, seismic activity and mindless urban development- several reasons are emerging for land subsidence in the region which in 1976 was first declared unsuitable for construction through blasting or removing boulders by a committee under the chairmanship of then Garhwal Commissioner Mahesh Chandra Mishra. This was Warning number 1.
Mindless Development! This is not the first time we are highlighting it as an abuse of our environment.
Ignoring the 1976 report and similar studies, Joshimath- the gateway to Pilgrimage sites Badrinath and Hemkund Sahib has, over the decades, continued to observe rapid construction to accommodate the growing influx of tourists in the ecologically sensitive area. Joshimath is also the gateway to Auli, a popular holiday destination which led to the construction of the second-longest ropeway in Asia. Today, this ropeway has officially been put off.
The proximity to these significant tourist and pilgrimage spots had put increased pressure on the environment of a city located on a moraine, where debris from glacial landslides accumulates.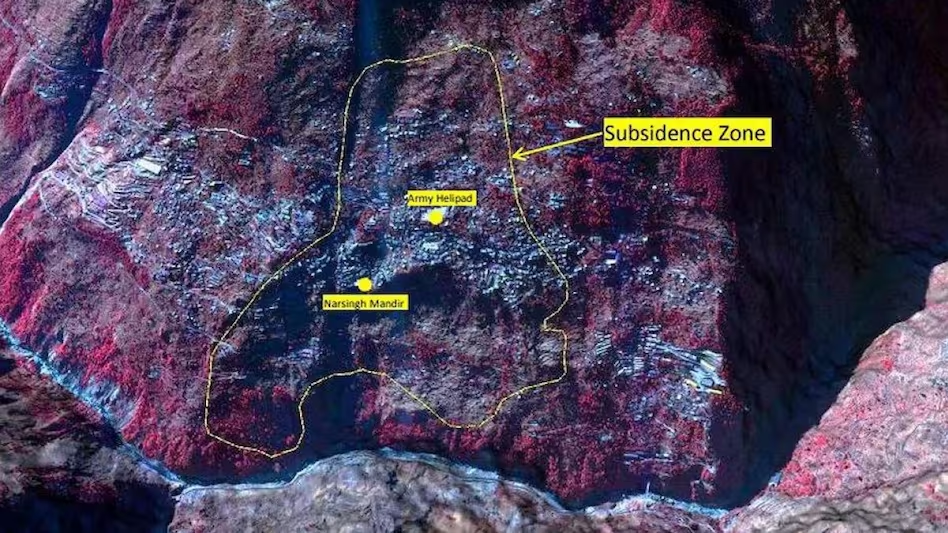 While the cracks first started forming in the 1960s, an aquifer burst accelerated the caving-in of Joshimath. According to reports, National Thermal Power Corporation or NTPC's Tapovan-Vishnugad Hydropower Project and the all-weather Char Dham road have been cited as the reason triggering this situation. Today, experts recommend abandoning these two projects- a fractured zone punctured by the tunnel is believed to have led to the percolation of water, eventually leading to land subsidence. Until it was fixed, this aquifer was releasing nearly 70 million litres of groundwater everyday. This was in 2009. Warning number 2.
This has further been aggravated by the absence of a sewage and wastewater disposal system in the region. Despite a small population, Joshimath has observed rapid urban development- restaurants, hotels, and rest areas- all done haphazardly, leading to the blockage of natural drainage systems. The already overburdened soil has further lost its sheer strength because of water forming new drainage channels.
In 2010, a paper authored by geologists MPS Bisht and Piyoosh Rautela was published in Current Science. Citing the Tapovan Vishnugad hydropower as an ecological concern, the paper pointed out the 'geologically fragile area' the tunnel's length was traversing through. Warning number 3.
A decade later, in 2020, another ambitious project became a cause of environmental concern. A scientific committee appointed by the Supreme Court of India had pointed out to the government that its proposal to widen the 900 km long and minimum 10 metres wide Char Dham National Highway was against the advice of its own experts, who had recommended a maximum width of 5.5 metres. By the time the Supreme Court limited the width to 5.5 metres, hundreds of acres of forest were already wiped out. The highway network, divided into four distinct routes, will also pass through Joshimath. This was Warning number 4.
As we write, nearly 270 families have been displaced while 723 houses (as per the last recorded data on January 11, 2023) out of 4500 buildings have developed cracks. Major and minor cracks have appeared and continue to widen on floors, walls and ceilings, while beams have been dislodged. Rooms have collapsed, staircases have given away, and foundations have bent. The town has been divided into danger, buffer and completely safe zones, while demolition of inhabitable buildings has already begun.
Time and again, we come across such news that we cite eye-openers. The question is how many more eye-openers do we seek? Do we even need them? At this point, it is just inherent conscious neglect of potential consequences.
We are calling the sinking of Joshimath an eye-opener right now, just like we did for the disappearing sparrows in Delhi (ironically Delhi's State bird) and the urban floods in Bangalore. Extensive coverage, a number of debates and several opinion pieces, yet the sparrows did not make their way back; Bangalore continues to observe instances of mindless development, and chances do not seem bright for Joshimath to take the different route.
It is the same process followed throughout. Blind urban construction strives to increase revenue, to bring people above the poverty line by focusing on rapid infrastructure, often insensitive to the context, development and then marketing it for political gains. Couple this with extreme climate change- what follows are instances of the environment giving in. This then attracts a deluge of articles, opinion pieces and experts pointing out how 'development went wrong'.
Unfortunately, when it comes to the ecologically fragile Himalayan Hindu Kush region- development often does go wrong.
Ten years ago, Uttarakhand witnessed its most devastating flooding in the form of the Kedarnath floods. Widespread coverage at National and International levels, crores of donations, and inundation of VIPs, but a while later, the consensus seemed to forget that it was deforestation and the violation of environmental laws that contributed to the intensity of the disaster in the first place. Soon enough, infrastructure projects of the same kind were being developed on the debris of the disaster.
In 2021, a glacier outburst in the Chamoli district heavily impacted two hydropower plants, including the Tapovan plant. This was after years of scientists repeatedly warning India about the dangers exposed to the region by development projects and suggesting against constructing dams in the region. But the disaster was not followed by a halt in the construction projects. Warnings reiterating the same concern.
With five decades of warnings ignored, Joshimath was a disaster waiting to happen. The consequences forced the agencies to acknowledge a few of their shortcomings.
The government agencies acknowledged the absence of geological, geophysical and geotechnical studies conducted in the region and the impending need to do it. Despite the prior knowledge of Joshimath lying in the Earthquake-prone seismic V zone, the government is proposing only now the setting up micro-seismic observatories around the region.
According to the Indian Remote Sensing Agency, Joshimath has been sinking for at least 18 months by 6-6.5 cm annually.
Joshimath may become uninhabitable sometime in the near future. Currently, unsafe houses are being marked while community buildings that are safe for sheltering the displaced are being identified. For the long term, places for resettlement are being identified. This disaster is not going to stop at Joshimath. Several parts of Uttarakhand (eight more cities have been identified at risk of land subsidence) and Himachal Pradesh (recently, the road connecting Dharamshala to McLeodganj sank) are at similar risk.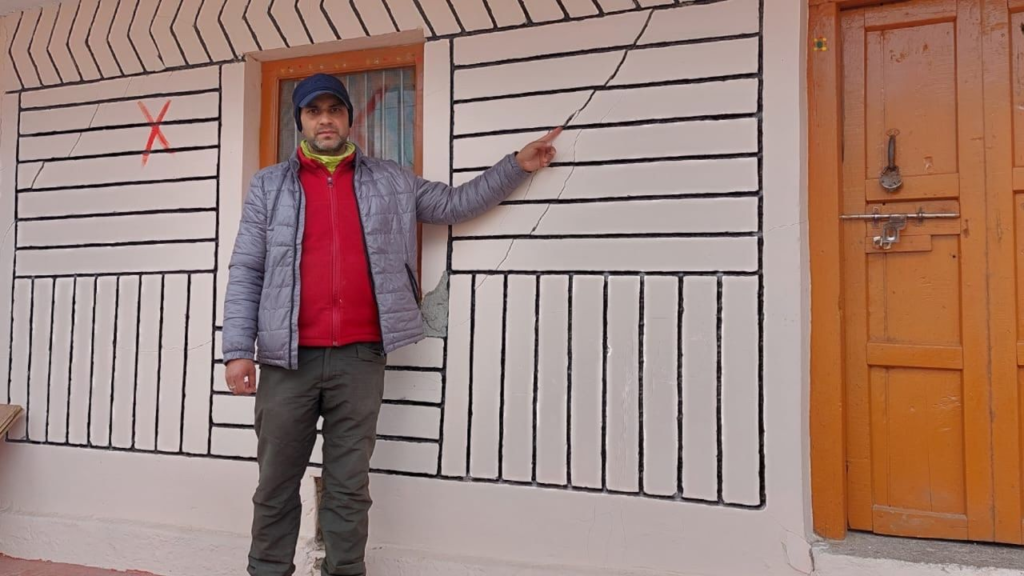 In other parts of the country as well, as we speak, construction activities, clearance of forests and removal of indigenous communities are being carried out. Top institutions continue to finance improper infrastructure development- the Aarey Forest in Mumbai, one of the last green spaces in the region, is in the news again for at risk of being cleared out to make way for a Metro shed; The 'last green lungs' of Mumbai is home to several tribal communities whose livelihoods depend upon the forest.
The Great Nicobar Islands' upcoming mega container transhipment port, part of Niti Aayog's Great Nicobar Islands Development Program, is proposed on an area of 160 km, 130 km of which is forest area. Along with this, the project will lead to massive displacement of indigenous tribal communities- 850 sq km of the Nicobar Islands (which is spread over a total area of 900 sq km) is designated as a tribal reserve. This project, which would go on for three decades, is expected to bring 3 lakh people to the island- this is roughly equal to its current population.
Looking at our past record of failing to learn lessons, someday in the future, these areas will be in the news for repercussions, in different forms, of mindless development. The concerns raised by environmentalists, scientists and activists, despite the different contexts, are eerily similar to those raised by scientists for the hydroelectric plants in Joshimath. Unfortunately, so is ignorance.
The result? The chain seems to continue. Houses and livelihoods are left behind, loss of life and infrastructure occurs, and momentary coverage calls for 'Change and Sensible Development'. Before we realize, another region caves into development and climate change.
And so, the cycle continues.