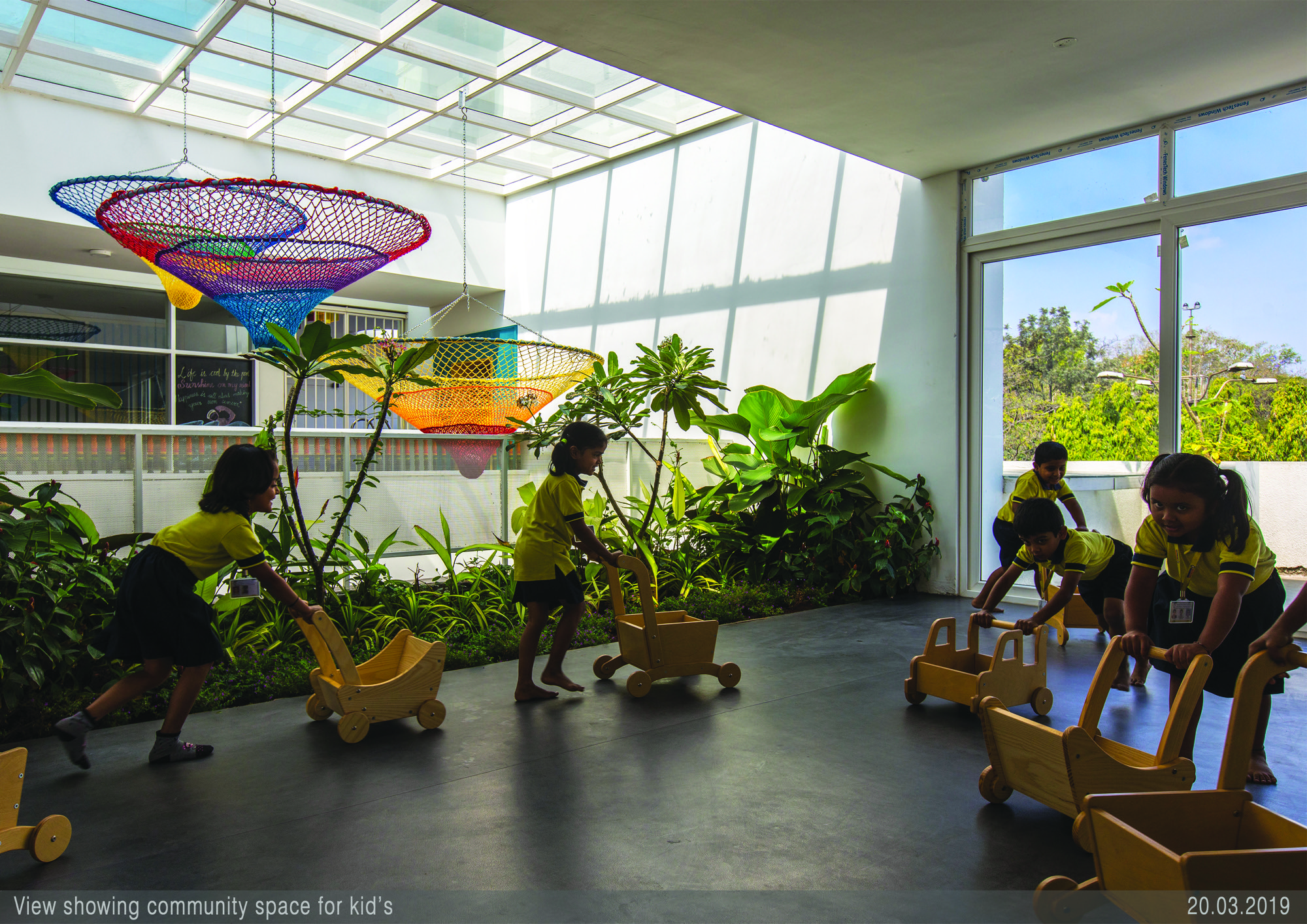 Client brief:
The client approached us with a dream to build a visionary unique pre-school, Toy Story, Play School,  which would become an epitome of the future education system. Just like a conventional school the brief demanded classrooms, but as flexible spaces, instead of four walls. Activity Zones with multiple functions catering kids between ages 2 to 5 was among the primary requirements, as they believed in creative expression. The design also called for safety as a priority, along with a combination of open spaces, interactive corridors and spaces which provide maximum transparency for teachers. Maximum efficiency was to be drawn from light, ventilation and air circulation.
Our Approach:
Our approach was to defy the idea of closed classrooms, monotonous corridors which will lock our imaginations away for eight hours every day. This inspired us to create a veritable toy house (TOY STORY) – incorporating everything that excited kids, for example; shape, colors, objects which would develop curiosity and inquisitiveness. Spaces defined by the scale of kids that allow curious minds run wild, corridors that run across every space allowing for seamless visual connectivity and a central court along with multifunctional spaces where kids can play, explore and interact. These spaces encourage the three things that kids today rarely get to do in a school environment – explore every single aspect of their surroundings, experiment with everything they learn about, and expand their horizons by creatively learning in a new and different way.
Concept:
PLAY – THINK- INTERACT – RESPOND – LEARN
Our intent was to sculpt an interior environment to nurture the untamed young mind, from the very first day the child steps into the school. Through each space he/she is introduced to concepts and ideas which they can relate to and understand with minimal effort and further induce them into a self learning and exploration process. Through research we arrived at the fact that maximum development/growth of the child both mentally and physically occur during the ages 2 to 5 and hence every space had to be sensitively curated and designed to cater to the requirements of the distinctive young minds. This streamlined our interior design intent to create a journey – new born to a responsible intelligent child.
SPACES
Activity room:
It has a theme of a toy house, along with a flight of cushioned stairs for safety and plenty of storage for toys to make it more welcoming for the kids. This space could be defined more as an extended play ground along with the amphitheatre.
Amphitheatre:
With the constraints of the site and requirements of the client, it was difficult to introduce a play ground in the school which was very necessary for kids; hence we created more transparent and open spaces on the ground floor also responding to the slope of the site. The central court opens into the exhibition on the left and the semi open amphitheatre on the right. These spaces double up as gathering spaces during events or as play ground and assembly area for the kids.
Toy library:
Toy library is a modern concept, which is an amalgamation of the conventional Montessori lab, library, and digital labs. In this space the kids are exposed to old school learning techniques with wooden toys followed by books and then digitally through I-pads. Toy Library, being one of the unique features of the school we have reflected their logo i.e a PENGUIN while designing the interiors of this space.
DETAILS
Common areas have been designed and detailed to create a harmonious amalgamation between ART and ARCHITETCTURE as it is said that Art is a place for children to learn, to trust their ideas, themselves, and to explore what is possible. Play of colour, with light, material and patterns to create a holistic composition and surprises through the building.
The colourful skylight mimics the pattern of the waves and contradicts the transparency of the water in the pool. A mural of Abdul Kalam has been delicately handcrafted with nails and interwoven threads. For the railing, Channapatna toys of various forms painted in natural colours are used to compliment the white building that acts as a canvas.
Project Facts
Category : Institution
Location : Bangalore
Site Area : 4800 sqft
Built Up Area : 14,526sft
Year of Completion : 2018
Project Architects: Swapnil Valvatkar, Prachi
Design Team: Bhavana, Shubha, Chethan (Structural)