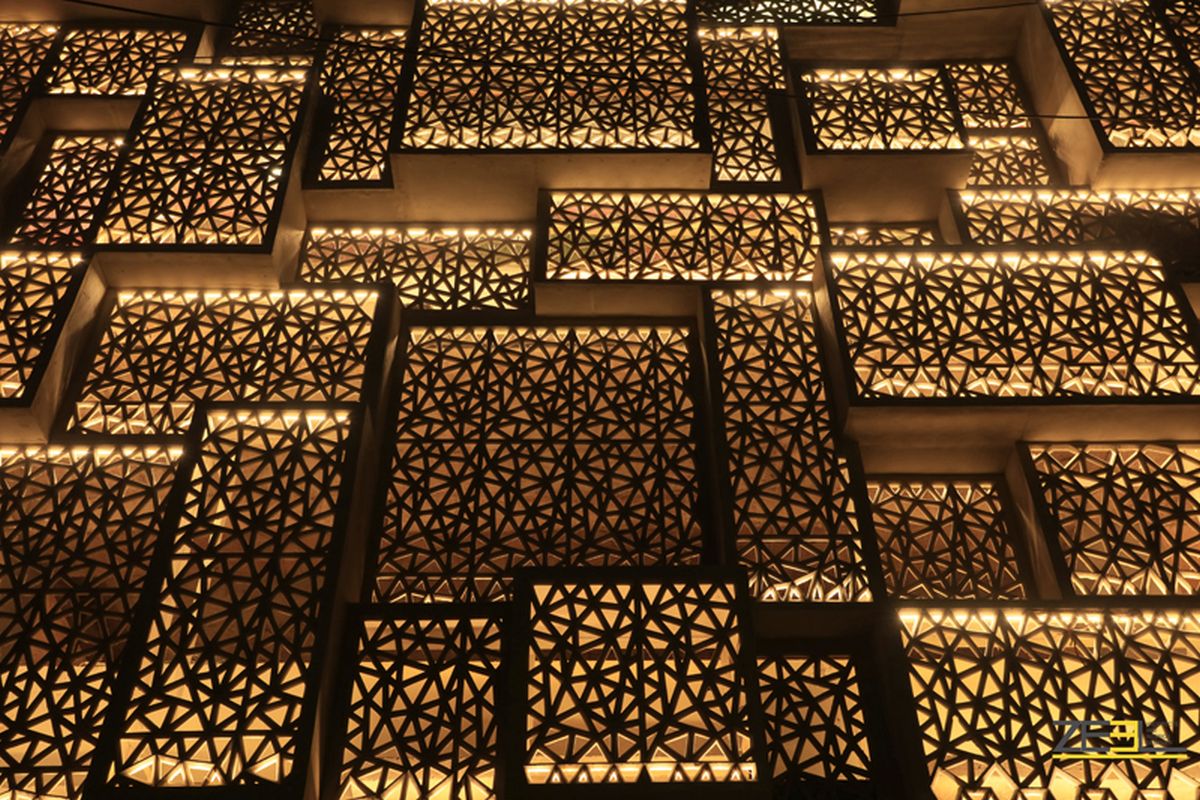 Situated on a small plot of 16.0 x 30.20 mts. And having an even smaller usable floor plate of about 13.20 x 21.60 Mts., this small building stands out from the neighbourhood, due to the geometric envelope holding jalis in it.
Located in the city of Nagpur, which has a tropical and dry climate with average temperatures ranging from 400 c to 480 c, the heat needs to be reduced or restricted from entering into the habitable spaces.
The building houses small office spaces in the 4 levels, which comprises of a Jewellery showroom on the ground and first floor, also, the second floor comprises of Kids Play Area and the third floor is a party hall with an electronic gaming zone.
There was Maximum light falling on the facade from the west side where the sunlight starts moving inside the spaces towards the latter half of the day, hence it was necessary to have internal spaces naturally cooler, for the children to play in the evening time.
To deal with the high temperatures of the Nagpur city, jalis were considered for the façade treatment of the building.
These jalis have been an integral part of the Indian rich cultural heritage, which can be still seen in the ancient wadas and palaces in the city. The blend of these traditional screens (jalis) and geometric shapes, give the whole building a look of modernism with the traditional elements imbibed in it.
The concrete screens around the building are supported by a steel framework with projections that vary from 0.3 to 0.9m. This creates an external periphery space for plants at each level that will act as further insulation from the external heat creating cooler spaces within.
The interior of the play zone and party hall were kept minimum and were made from the wastage of fabrication work used for the façade.
The concept of a jali exterior is to force the air through small openings, cooling air and increasing its force marginally. This element of traditional architecture in Rajasthan has been used to reduce heat gain, increase ventilation and reduce noise from the busy traffic outside.
Firm – Zeel Architects, Mumbai
Project Name – Topsy Turvy
Location – Nagpur, India
Design Team – Nimish shah, Priya Bafna
Plot Area – 483.20 smt
Gross Floor area – 1425.60 sqmt.
Project year – 2018
Main Contractor – Shikha Enterprise
Consultants – Arun Uttawar and Associates, Blue Star, Techno Deal Group
Client – Topsy Turvy
Project status – Completed