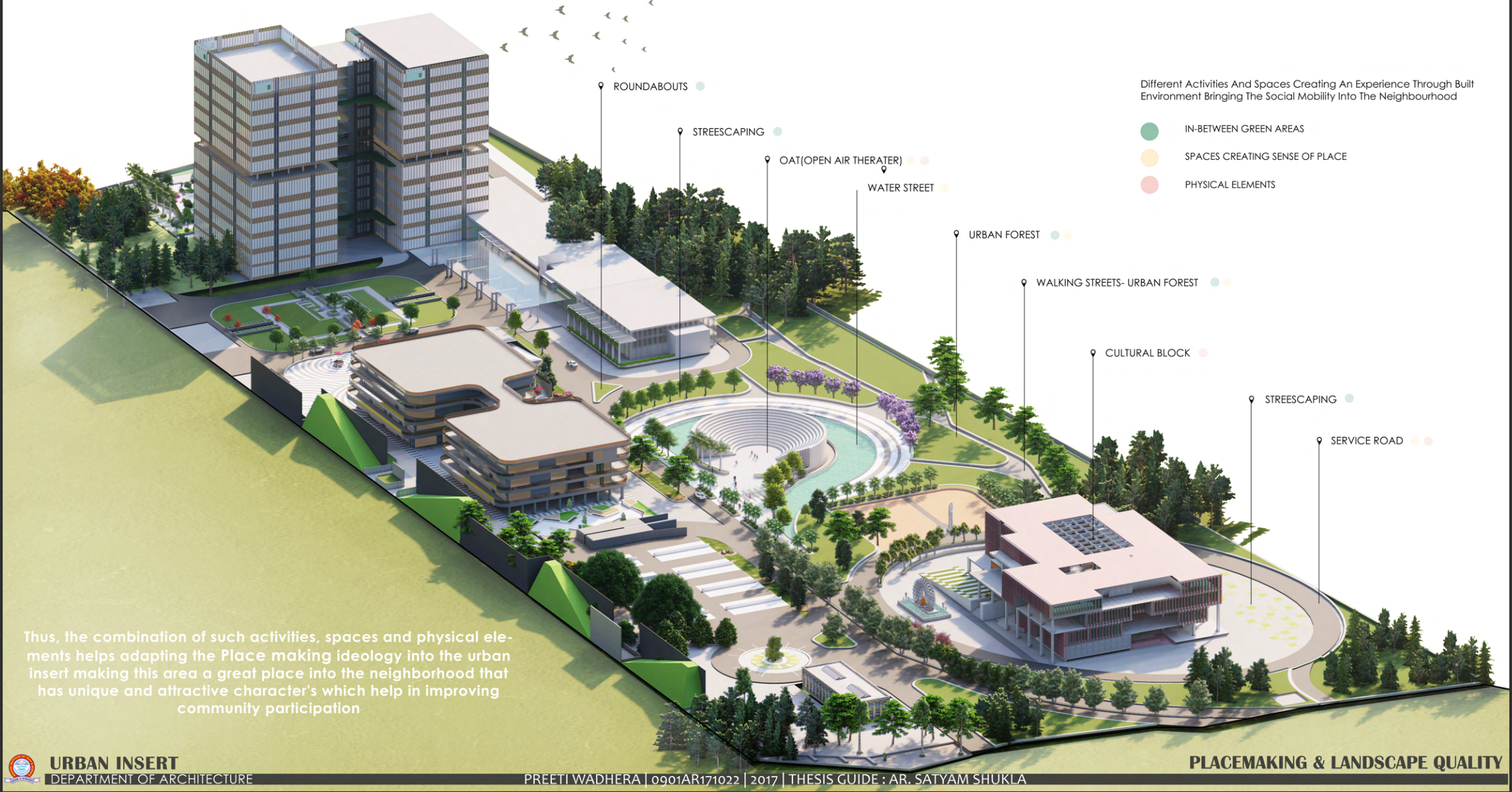 Project Overview: In India, Public places are not planned or designed for a specific purpose but evolve over time. These public spaces are mainly surrounded by the Government and private buildings. Due to unplanned and unorganized open public spaces, this single issue leads to many other sub-issues
After the Covid-19 pandemic, the situations and lockdown scenarios have taught us the importance of environment and mental health stability for all age groups of people. In today's era public spaces are also lacking in terms of social and cultural aspects due to such reasons it is critical to reimage a new public offering, i.e. planned in a way that it creates EXPERIENCE, not just FACILITIES.
The project operates at 2 levels: First, it reimagines the urban insert which comes with the process of designing and shaping cities, towns, and villages. Furthermore, combining it with the most important aspect of culture within the society along with social mobility helps in increasing the movement within the urban social hierarchy of any neighborhood. This thesis aims at investigating an alternative approach to redefining a new cultural cloud forming an urban identity that it fits today and tomorrow, by merging high-performance public spaces to form an integrated Urban insert. There is a need of seeing it with or as a public place (a place of offering, values, learning, and social interaction)
The Site is located at the edge of the connectivity of South Delhi and Noida when approached from the Kalindi Kunj. Since the NOIDA-Greater NOIDA Expressway will be one of the most important axes defining the future spread of NOIDA, it is visualized that this entry to NOIDA shall become the prime entry for traffic. Thus, widening the catchment of the proposed urban insert from South Delhi into Noida- Greater Noida. Being the first gateway of Noida from Delhi outwardly. The site for the project is proposed by the Noida authority that is spread over 22.5 acres of plot in sector 94, near Okhla bird sanctuary metro station.
Keeping the site context in mind the Facilities that create the public experience here are Restaurants, Food courts, Retail Outlets, Gymnasium, Pools, Business hotels, an Urban forest with a merging landscape, Along With Spaces to Host Socio-Cultural Events, Convection, And Conferences.
Finally, the proposal presents a design of an open public place that is designed diversely creating a sense of community and togetherness, bringing social mobility to the neighborhood of Noida sector 94 that offers significantly more to the city and individuals.
Drawings