A tranquil 'abode of peace' most suitable for meditation, Maharshi Debendranath Tagore named this serene place that had stolen his heart as Santiniketan, and founded the Brahmacharya Ashram in 1863. The legacy was successfully expedited by his son, the renowned bard Rabindranath Tagore, and in the winter of 1901, established Patha Bhavana within the ashram premises, as a residential school and a centre for arts based on ancient Indian traditions, and on a vision of the unity of humanity, transcending religious and cultural boundaries.
Rabindranath Tagore envisioned a world where man exists in perfect harmony with nature. Thus, in 1921, Patha Bhavan that had begun its journey two decades ago with five students, evolved into Visva Bharati – an international centre for excellence where India meets the world, where cultural and intellectual exchange happened between Rabindranath Tagore and his many associates, friends and followers – global pioneers hailing from progressive educational models.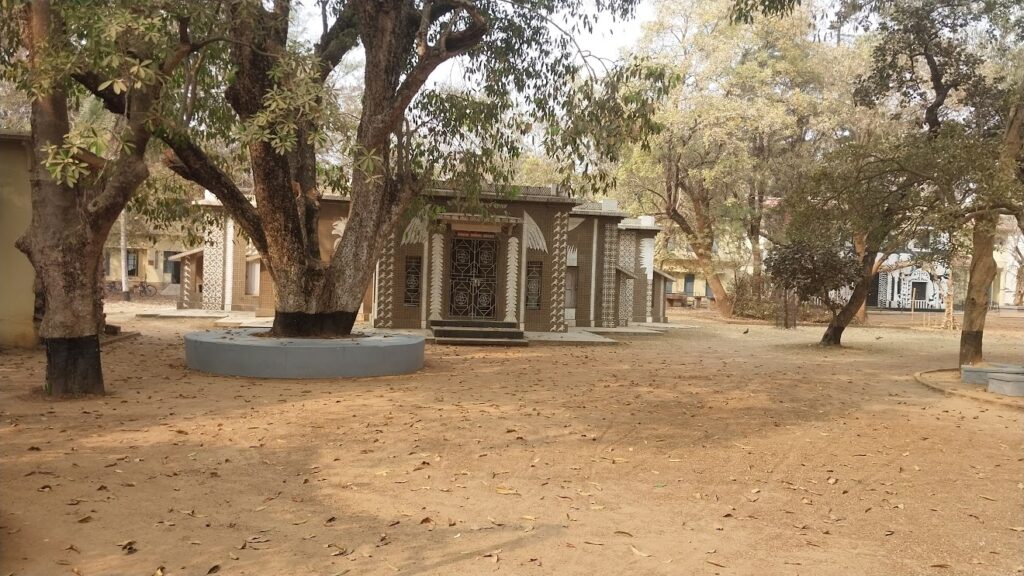 Set within a historical milieu of early 20th Century India, since its day of inception, Santiniketan reflected a counterpoint of colonial templates, influencing leaders of the Indian freedom movement. Over a century, it embodies the ideas of internationalism, and an emerging Pan-Asian modernity based upon ancient, medieval and folk traditions of India as well as Japanese, Chinese, Persian, Balinese, Burmese and Art Deco forms.
Santiniketan is therefore an outstanding example of an enclave of intellectuals, educators, artists, craftspeople and workers who collaborated and experimented with an Asian modernity and demonstrated experimentation in construction techniques, materials and designs as a counterpoint to prevailing colonial templates.
Directly and tangibly associated with the ideas, works and visions of Rabindranath Tagore and the pioneers of the Bengal School of Art and early Indian Modernism, against the backdrop of the Partition of Bengal in 1905, Santiniketan became the crucible for an artistic and intellectual renaissance in the early 20th Century. As a cultural and intellectual incubator, it had an indelible imprint on the leaders of the Indian Freedom Movement, including stalwarts like Mahatma Gandhi, Jawaharlal Nehru and Indira Gandhi. The significant influence of the ideals and philosophies represented in Santiniketan are demonstrated at other early 20th Century locations of cultural learning in south Asia.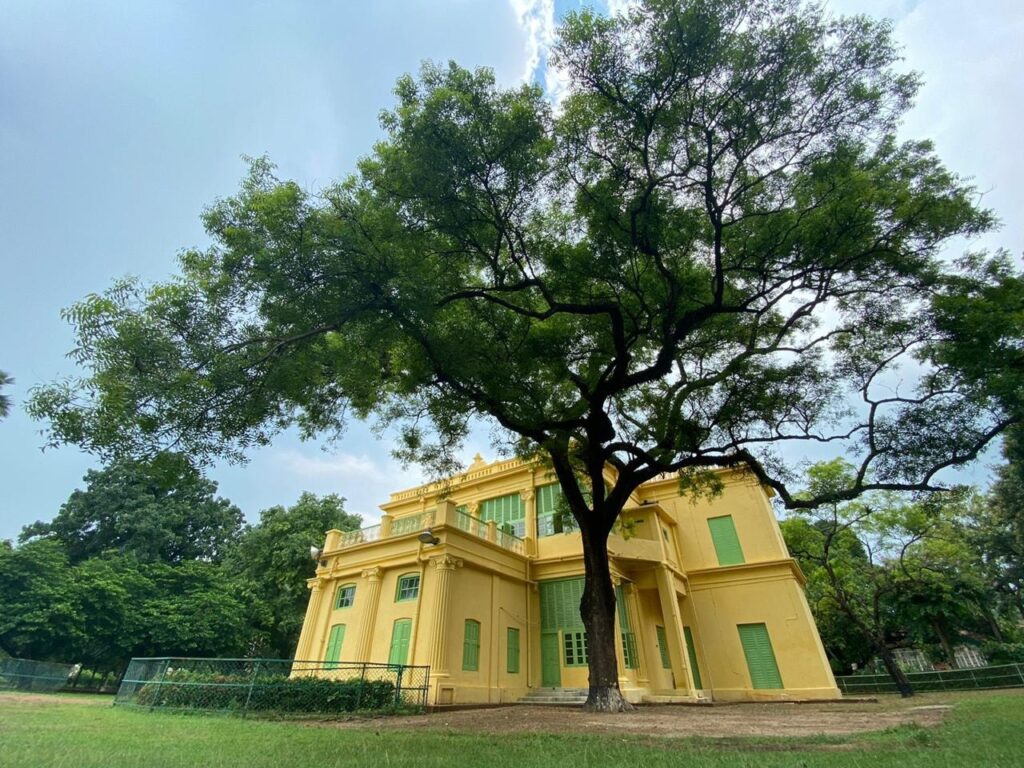 The nominated area of Santiniketan:  Continuity of Integrity and authenticity
Integrity
Part of a contemporary university campus, the nominated property of Santiniketan is an ensemble of historic buildings, landscapes, gardens and pavillions, artworks and continuing educational and cultural traditions that together express its Outstanding Universal Value. The property is of adequate size and all the attributes needed to convey its significance, are aptly included. The property includes the areas and structures developed during the life of Rabindranath Tagore, a period of experimentation and flourishing of ideas. Despite changes, building alterations and installation of some new artworks and plantings, yet the nominated area of Ashrama, Kala Bhavana, Sangit Bhavana and Uttarayan, and the elements within them are integral and largely intact.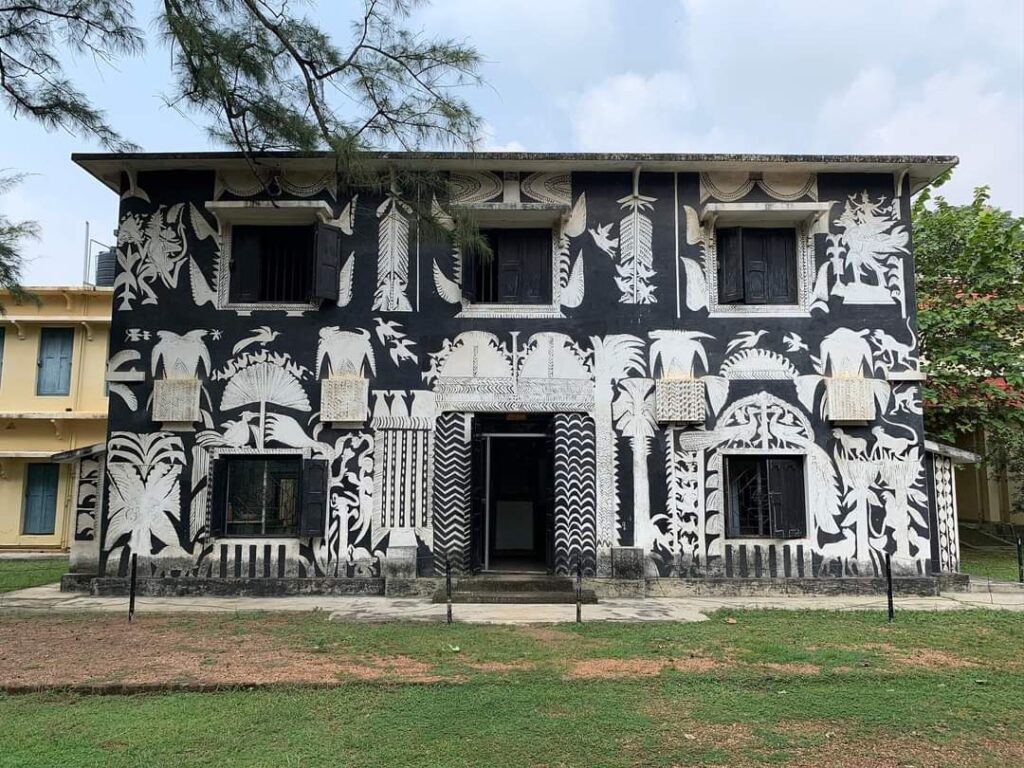 The state of conservation of the nominated property has been improved massively over the past decade through institutional partnerships.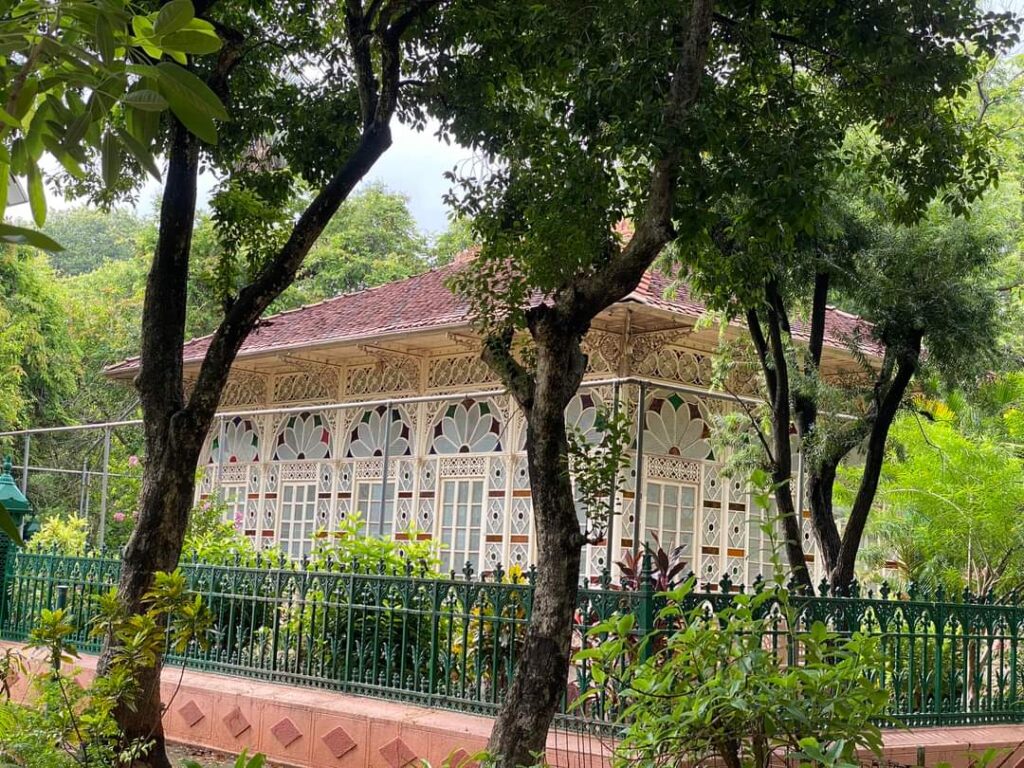 Authenticity
The nominated property of Santiniketan meets the requirements of authenticity through its ability to convey Tagore's philosophy and global learnings. There is a high degree of continuity in the spatial layouts of the Ashram, Uttarayan, and Kala Bhavana. The buildings and other attributes retain their eclectic forms based on experimentation with techniques and materials ranging from brick, mud, coal tar, living tree, sandstone, glass, cast iron, thatch, timber, bamboo, laterite, precast concrete, and reinforced concrete. The pavilions, gardens and platforms that were central to the education philosophies are in place and in continued use; and the murals and frescos, wooden windows and furniture retain their authenticity, depicting oriental influences and local indigenous plant species.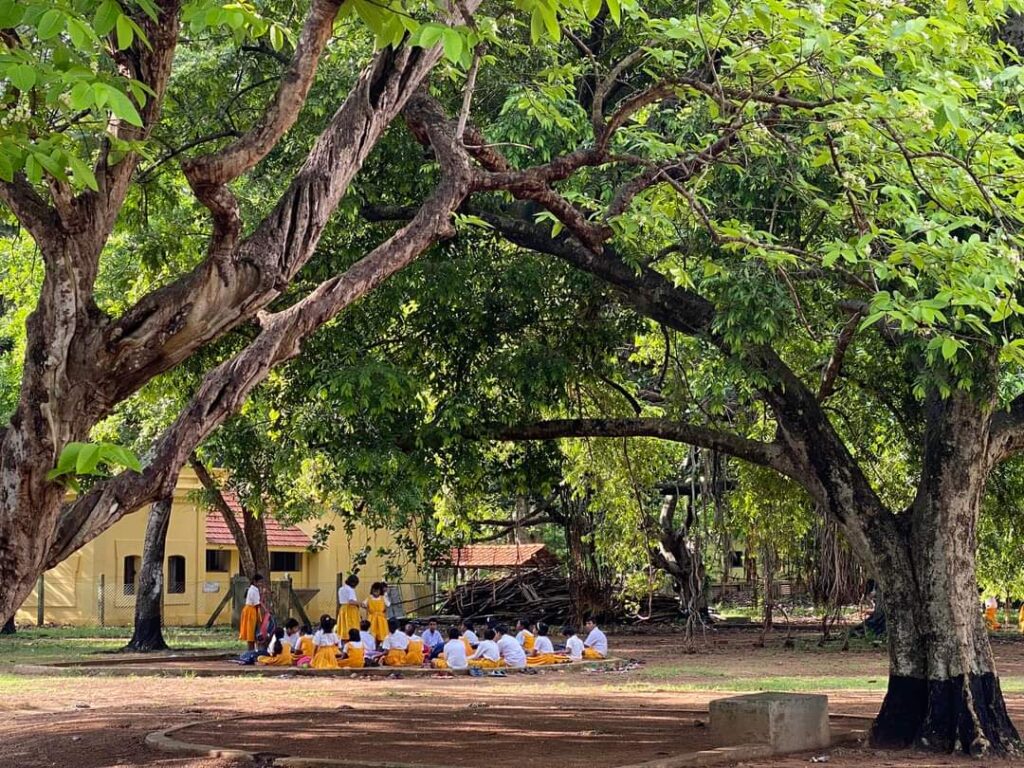 Aesthetic development of the senses went hand in hand with intellectual development at Santiniketan. The festive celebrations that have come to form a special culture of the institution, and within the local communities use traditional Indian forms and rituals, including decoration of the site, use of flowers, alpana, chanting of Vedic hymns and blowing of conch-shells.
And while many of Tagore's art and literary works bear a unique association with Santiniketan, his experimentation through education with an internationalist humanist ideology finds its manifest reflection.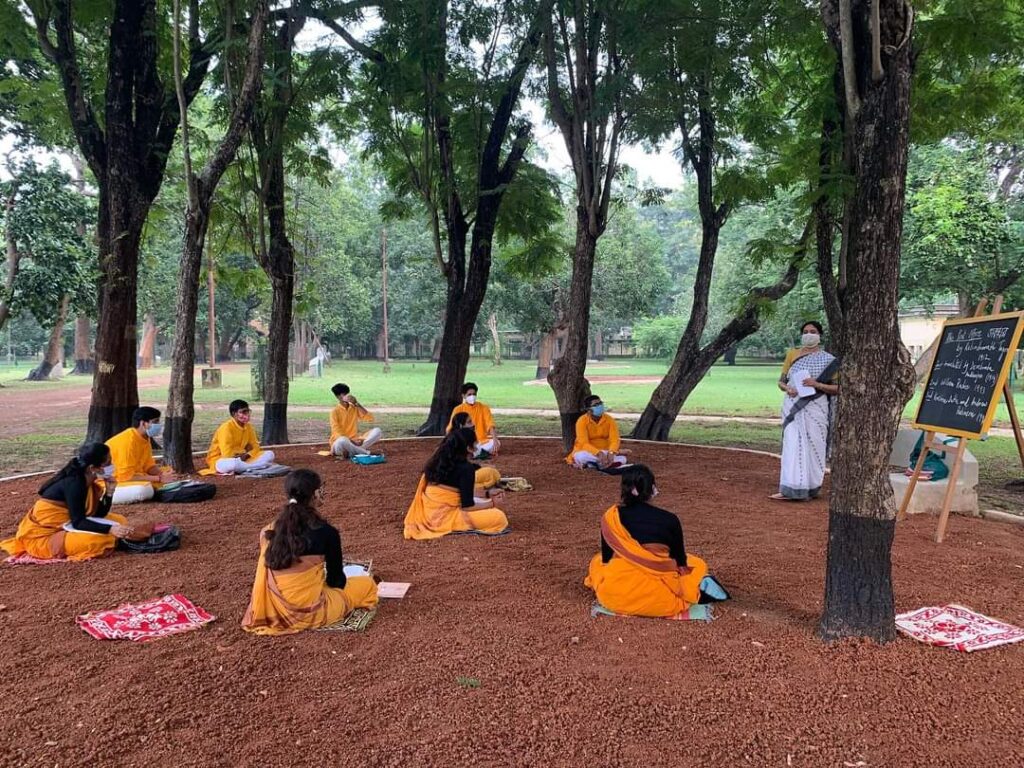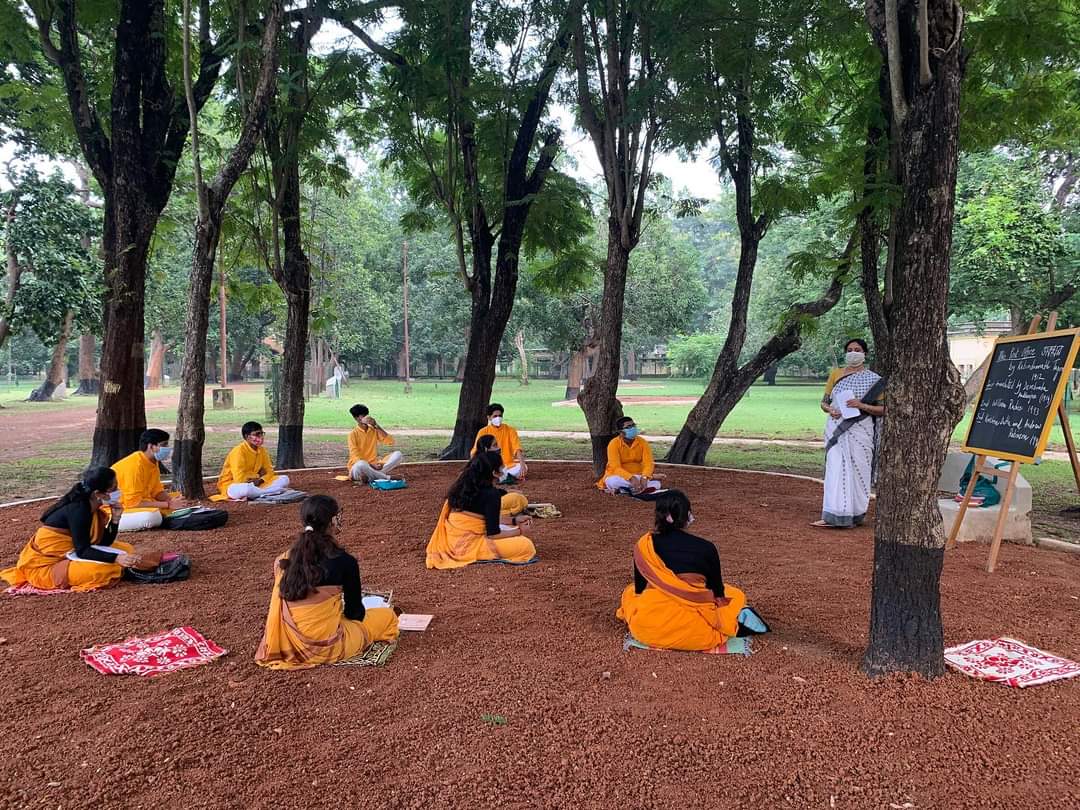 All images contributed by Author.
---
Author:
Manish Chakraborti is an architect, urban planner and Professor and Head of Architecture at Sister Nivedita University, Kolkata, and he was as a part of the team leaders for the preparation of the Unesco Nomination Dossier of Santiniketan.