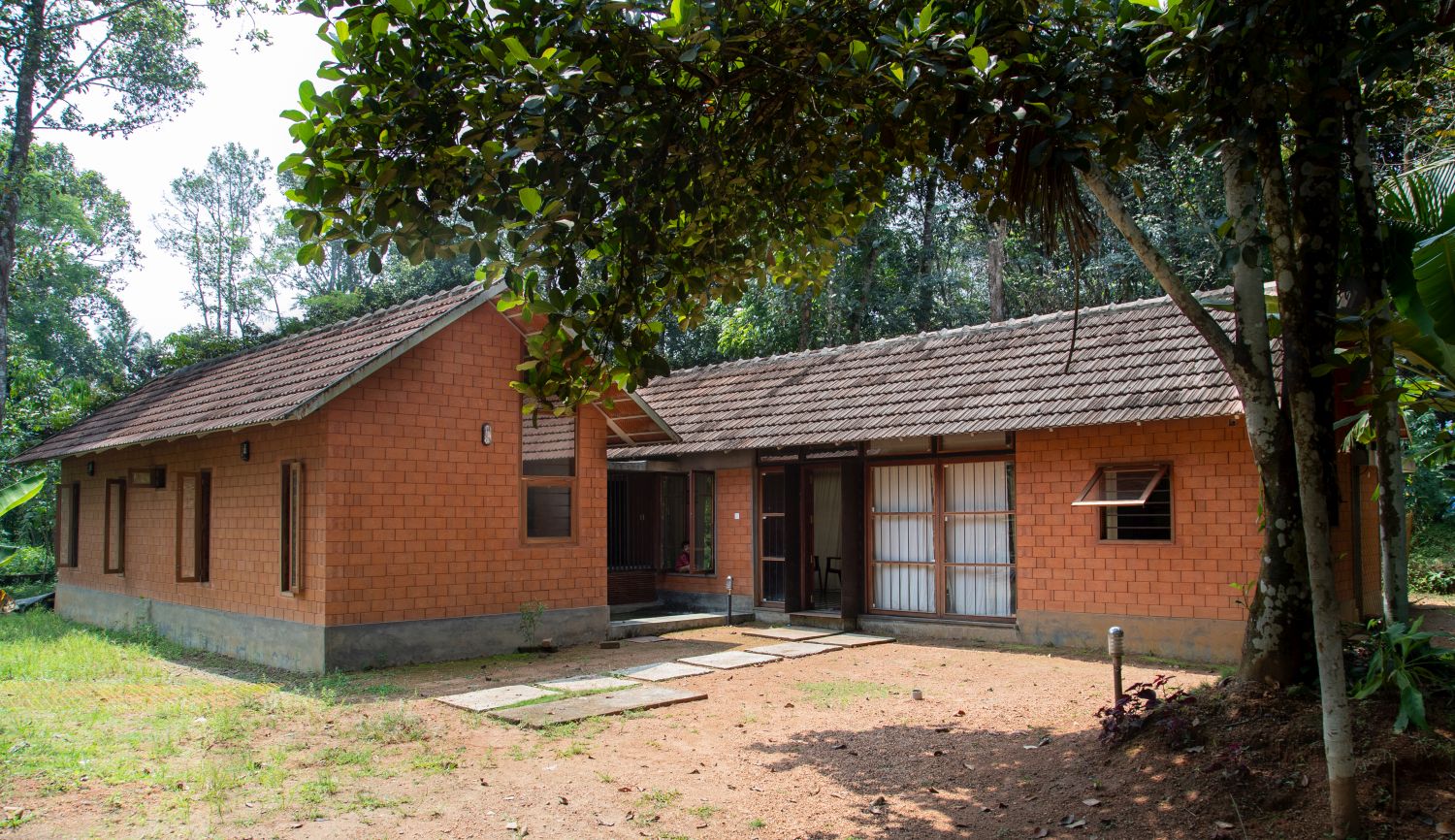 As the spirits of the ancestors watch you from the trees of the scared grove the house itself reveals to you slowly. The House in Adoor is set behind an existing house that hides it from view from the street. Your approach is marked by stone slab pavers, guiding you past the grove to a small entrance court. The structure manifests as a divided mass; separated into 2 enclosed volumes with an open to sky court fenced to provide a space that is neither fully indoor, nor fully outdoor. 
The two built parts of the house are not of same length and staggered such that the main living space gets the full view of the Sacred Grove towards the west and has ample opportunity to open out to the east to a small garden. Other than the bedrooms and the kitchen, all other functions of the house happen in in-between spaces. The narrow court between the 2 blocks of the house has a small portion of it covered by a concrete roof. The only part of the house where concrete was employed and forms a passage connecting the larger block (containing the kitchen, living, and master bedroom with a bathroom) to the smaller block (containing 2 rooms for the children with a shared bathroom).This court in-between acts as a multi-purpose space for the family to congregate that is within sight and earshot from the rest of the house. The court becomes the space where the children play, well protected, come rain or shine, the rooms open up to it providing light and ventilation. It is also a space to entertain friends and extended family.  
A typical character of houses in India is the ambiguousness with which the residents use the rooms, be it in an independent bungalow or a in an apartment. A bedroom becomes a place for the family to gather and play cards, a balcony becomes an impromptu bar to hide your drinks from the rest of the family, a living/ drawing room becomes a sleeping area for members of the extended family on a flying visit. The house in Adoor maintains this sense of ambiguousness. Other than the formal, or private, areas of the house such as the bedrooms, bathrooms and kitchen, all functions are meant to happen in parts of the house that are not formally designated with a title. This character is brought in through a material distinction coupled with the manner of enclosure provided. Rooms that are meant to be formal areas of the house are enclosed with a CSMB wall and the rest informal areas are meant to be have a pavilion-like quality brought in through the use of the openings with pivoted shutters and a connection to a piece of open sky. This form of distinction feeds right into the way the family spend their time with each other, giving the option to retreat into cave-like rooms when privacy is asked for.    
Drawings
Project Facts
Project Name – " The house in adoor " 
Category –  Residential 
Client – Sunil kumar 
Architectutre Firm – Fictional Project
Area – 1800 Sq.ft 
Year of Completion –2018 
Location – Trivandrum 
Photographer – Kiran Thulasi