This article is a part of the series- Alternative Visions: The Non-Architect's Perspective, dedicated to the non-architect's experience, perspective and opinion of architecture. We often call out the disconnect between architects and non-architects; by inviting non-architects to share their views on architecture, this series attempts to bridge the gap and make the practice of architecture more inclusive.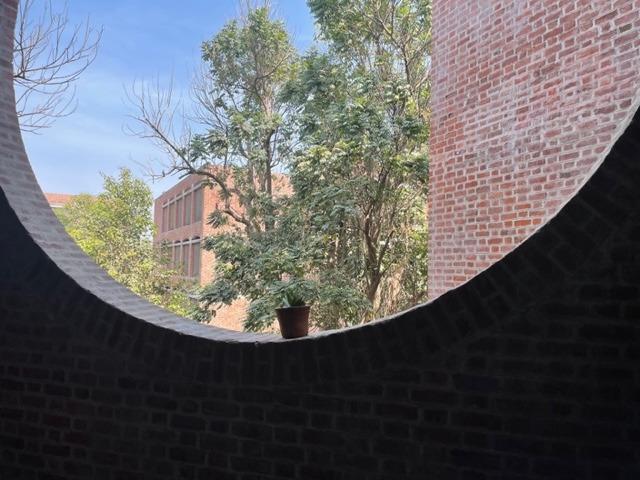 In class 10, like many students, I took an aptitude test. The verdict was that if I took up a career related to verbal ability I would shine in it, effortlessly. Should I choose to take up maths and science I would need to slog and yet be mediocre, at best. But my Achilles heel was 'spatial visualisation', meaning that I would be an utter disgrace as an architect.
So, really, I have no business writing for an architecture portal, except that, by sheer dumb luck, or destiny, I have been part of a campus where vision and mission were not just a statement on the wall but reflected in the very structure which housed it. A space that was lofty and yet intimate. For a moment in time, 'home'.
My first such lived experience was on the campus of the Tata Institute of Fundamental Research (TIFR), where my father worked for four and a half decades. Both the research campus and the residential campus next door were conceived by Dr Homi Bhabha- a man of science, but also a patron of the arts and music.
The main building stands on tall pillars that invite the wind to flow freely and fiercely, a colonnade overlooks the mighty Arabian Sea, whose waves crash incessantly upon the shore. Dr Bhabha imagined his scientists leaving their labs at lunchtime to ponder on the mysteries of the universe, in the presence of nature herself.
The environs of the institution itself are replete with artwork, acquired when those painters were unknown. Worth a pretty penny today.
The point is, none of this was 'necessary' in the strict sense of the word but it went into the making of an institute which stands head and shoulders above the rest. No shoddy construction please – Dr Bhabha got the venerable Shapoorji Pallonji to execute. Even the super-silent, super-powerful central air-conditioning was a marvel, much ahead of its time.
As kids, one of our favourite haunts was atop a giant baobab, a weird tree, unlike any other. But only much later did I realise it was rare and special, brought all the way from Africa. Living on the TIFR campus was something like that – you never realized how special it was until you left. Or compare it with some other 'gorment calony'.
I recalled the 26th of June, 1991, when I stepped into IIMA's Vastrapur campus for the first time and stood in front of the Harvard Steps. It was a moment of shock and awe.
The initial confusion I felt in a class with the 'brightest and best' of the country was reflected in my lost bearings. The campus felt like a bhool-bhulaiyya, as did the course itself. What helped me settle down was the kinship of fellow lost souls. The dorm culture of IIMA – all for one and one for all.
My batch had 30 girls, double the number the previous year. This posed a unique problem – there wasn't enough space to accommodate us in the only dorm for girls on campus back then– D1. A new dormitory – D5 was allotted to us. However, our seniors refused to shift, saying that D5 – adjacent to D4 – had no privacy.
'Dunking' was a ritual on campus. As you walked past a dorm, a head would pop up from one of those giant LK 'circles' and chuck a bucketful of water on your head. The victims, as you may guess, were mostly girls.
The girls of D5 decided there was no reason they couldn't join in the fun. While D1 stood in splendid isolation, we had plenty of people passing below us. So we too stood in wait and took them by surprise. This created quite a stir on campus – arey ladkiyan to kaafi bold ho gayeen hain. I bet Louis Kahn himself never imagined his design would aid such antics.
The common area outside our rooms was a hangout space, with a carrom board, chairs and a physical blackboard (used for PWMU – please wake me up – messages). The residents of the first floor had the additional responsibility of picking up the incessantly ringing telephone and screaming 'top floor – girl so and so – call for youuuuuuu!!!'
The common area was also the place where birthdays were rung in at midnight, by smearing Black Forest cake and giving 'bumps'. More ambitious celebrations like dorm parties were held on the terrace. This, in the past, had been an excuse to 'meet girls' – we decided to change that by hosting our own party, with mood lighting created from lamps and dupattas!
Most awaited were the DJ nights – dance parties held at the Stanford ramp. I am sure any gaggle of young girls and boys would generate excitement but I do remember there was something magical about grooving to the beat of 'We don't need no education' at India's premier educational institute.
All in all, you're just another brick in the wall, goes the song. Yes – but remember it's what you do with that brick which matters.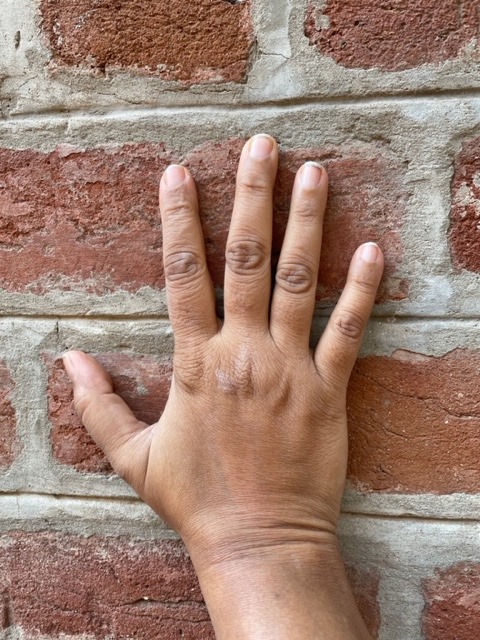 In the year 2004, I visited IIM Calcutta for the first time and that's when it hit me- How special the Louis Kahn campus was! I had heard that IIMC has its 'own charm'. What I saw with my own eyes were PWD-style buildings in the midst of stagnant lakes which breed mosquitos.
Over the years, numerous educational institutes adopted red brick, inspired by our campus. So it came as a shock to see a whole new campus come up in 2004-5. Made of grey concrete, with a few bricks thrown in as decoration.
We were told that Kahn had made buildings of concrete and that this material was 'more practical'. But where was the design philosophy? This conglomeration of concrete could be Any Campus, Anywhere- like Usha Uthup on stage minus sari and bindi, forced to sing a Lata Mangeshkar song…
In February 2021, in the midst of the dorm-demolition controversy, I stayed on campus – in the dorms – after three decades. It was the basement of D9, and it felt so secure and familiar. The bathrooms were (thankfully) upgraded but the furniture in the room – complete with a creaky Godrej cupboard – seemed to be from pre-liberalisation India.
I remember waking up each morning in D5 to the chirping of birds, even today the old campus is intertwined with nature.
Students living there confirmed – they don't even know their neighbours. You could go a week without even stepping out of your room, thanks to food delivery. I shake my head thinking, had it not been for friends I could lean on, I would have dropped out of the course in the very first term.
The IIT Roorkee report shared in Jun 2023 with IIMA alumni indicates that Dorms 1-18 cannot be inhabited anymore, as they are structurally unsafe. The consensus reached is that the dorm complex must be rebuilt as an exact replica of what it is today. While not ideal, we feel this is a fair compromise.
As a lived experience, great architecture is one where built space speaks to its residents in quiet whispers.
Like the humble red brick.
All images © Rashmi Bansal