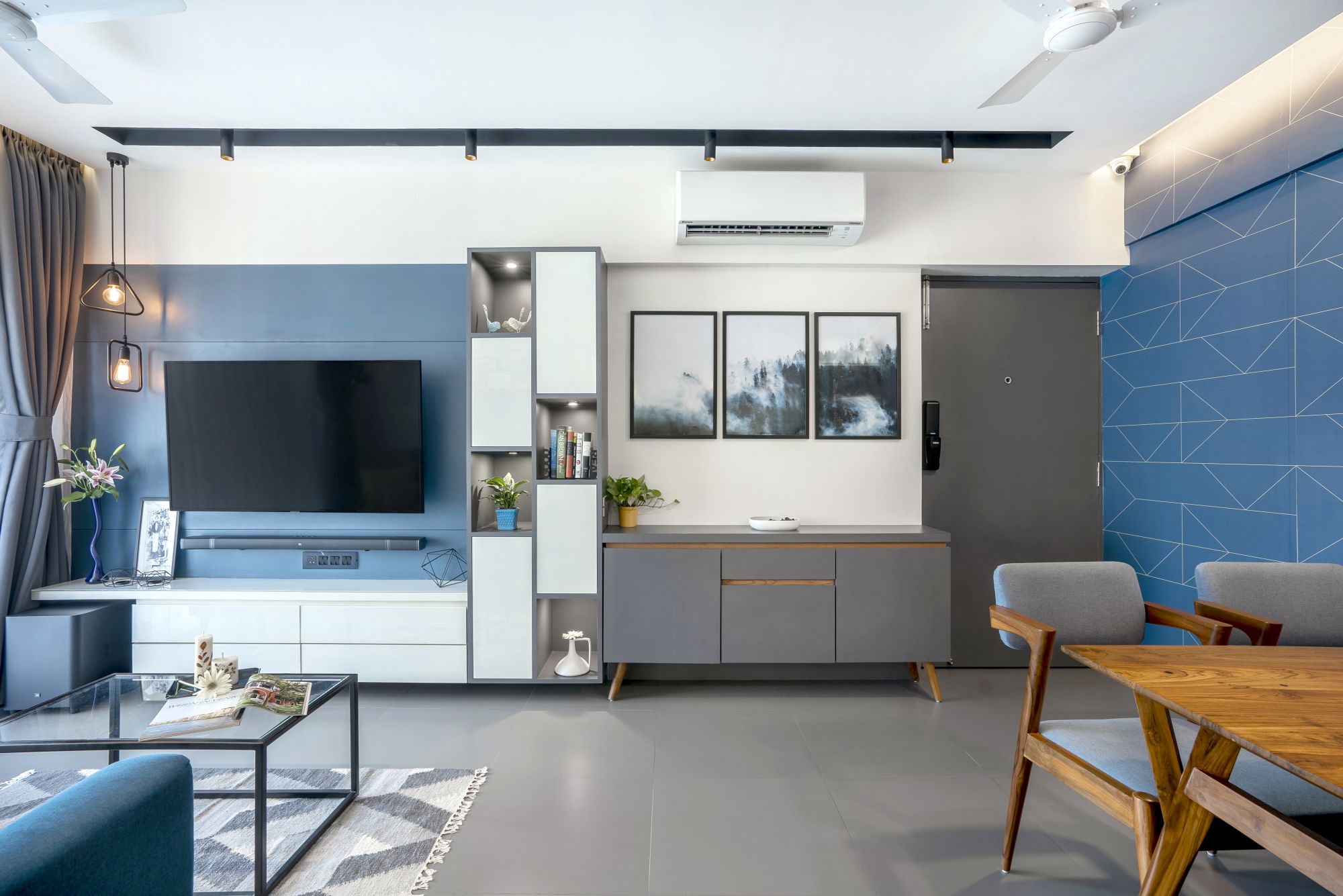 'The Bali Residence' for Mr Vivek Bali, has been a great exercise in establishing a strong clear design concept and following it through to create a pertinent spatial aesthetics. When the clients approached us for the complete overhaul of their newly bought 2BHK residence, we decided to explore a conceptual and a contextual design process where every decision gets governed by a robust underlying design language which here was a Scandanavian Aesthetic.
Designed for a young couple, this minimalistic apartment combines casual living with Eastern European aesthetics. The clients being great admirers of the Scandanavian style, we decided to bring Norway to their doorstep. Scandanavian aesthetics are defined by simplicity of form and importance to functionality with a clean, bold, fuss free design semantic. The focus was to make this space a haven for the well traveled couple's spontaneous lifestyle, with friends dropping in for cocktails, easy, lazy weekends or quiet evenings.
Our idea was to make the tight spaces in the 2BHK look spacious and open by using a uniform colour palette which envelopes the entire house. This made the house into a calming sanctuary where occupants feel relaxed and at ease. Grey flooring runs throughout the house with furniture in wood, white and grey. Teal blue is the highlight colour here which appears in the wallpaper, cushioning, curtains and artwork. The 2 bathrooms and the kitchen are bold monochromatic spaces with black and white subway tiles, black granite counters and glossy laminates taking one straight to an east European Airbnb. The ample use of mirrors reflects the small space creating illusions and depth.
The neutral palette that is used throughout the house keeps the interiors subtle and tasteful. Materials like pine and birch wood, pale colours like white, teal and grey with lean, leggy furniture makes the room look expansive allowing ample amount of light to flow through and reflect.
Scandanavian aesthetics does not include a lot of patterns except a few geometrical ones and encourages lack of fuss and open, clean designed interiors which one will not grow tired of. We have created small cozy corners in the residence to curl up with a cup of coffee on rainy evenings and spaces where one can distress, watch Netflix and chill after a long day at work.
Project Facts:
Project Name  – The Bali Residence
Principal Designer – Preshita Shah Gupta
Clients – Mr Vivek and Adit Bali
Design team – Kajal Kamath, Dhvani Parekh
Location – Mumbai, India
Carpet Area – 750 sq. ft.
Project year – January 2019
Photo Credits – Biju Gopal