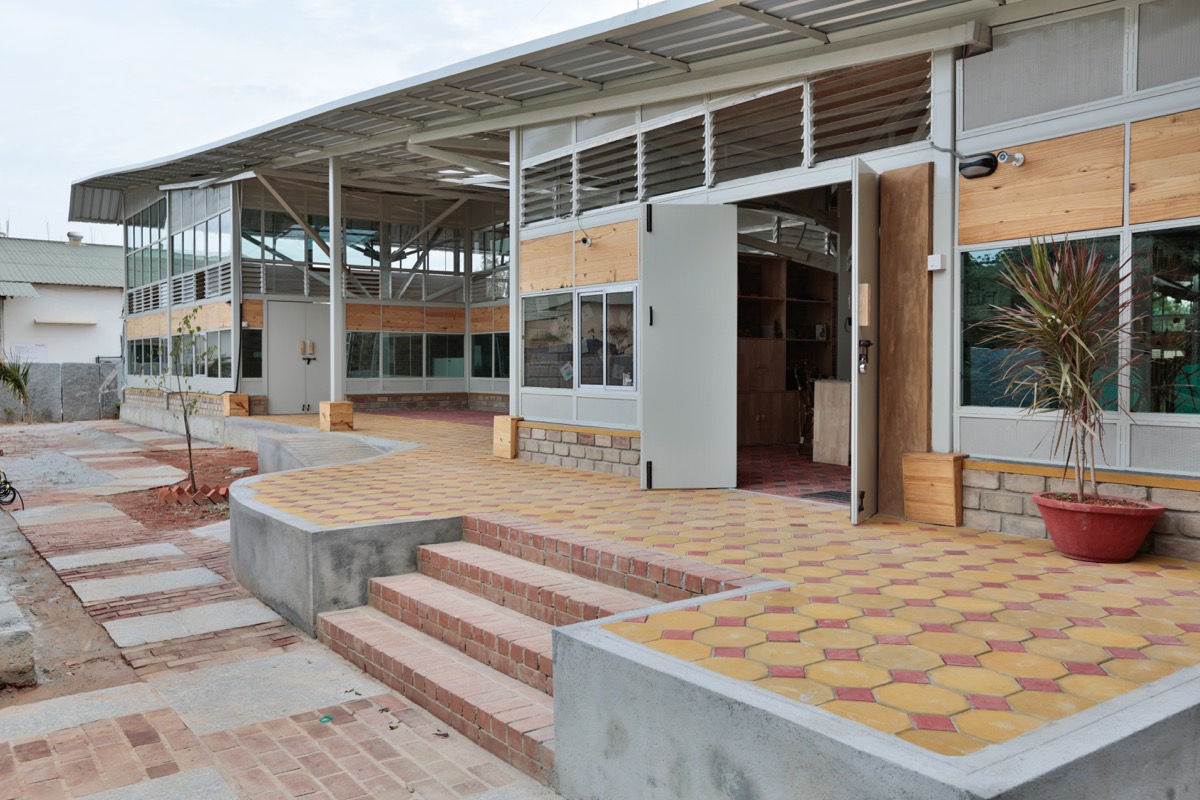 The school sits in a neighborhood with constant construction activity and a godown is in its immediate vicinity. Creating a learning space for a young age group on such a site required that the school be an enclosed and protective space. The site factor played a key role in the design, along with the Reggio-Emilia education approach itself, on which the school is based.
Unlike the longstanding notion of everlasting buildings, it is not uncommon to see built spaces being renovated or redone entirely to keep pace with people's changing needs. The permanence of a building may no longer be a prerequisite in its design. This being accepted, it is necessary to allow material recovery and recycling, or reconstruct the same building elsewhere – anything but create debris that will occupy landfills.
Various building techniques make the design economical and recoverable to the maximum – chappadi granite stone slab foundation, paver block flooring, paper tube partition walls, and bolted steel supports – creating a structure that can be transposed. The external fabricated facade is a tack-welded mild steel frame with panels of perforated metal sheet, pinewood, reflective glass, operable louvers and sliding windows, planned with regard to light and ventilation. CSEBs made of soil from different sites in the locality create pleasing patterns which harmonize with the floor colors.GI sheet is used in consideration to the roof slope, with a false ceiling of bamboo mat plywood for thermal and sound insulation, which further imparts a sense of warmth. Preference of a hand-crafted material such as bamboo mat over the conventional plywood allows a valuable skill to be preserved.
Exploratory learning is encouraged through a permeable design of the interiors – walls of varying heights enclosing curvilinear classrooms and common spaces under a skylight-dotted roof. The roof is supported on eight columns, each in the form of a branching tree. This tree form, while being a structural element, allows the roof to be perceived from a height that children can relate to. It is also a reinterpretation of learning under a tree, a common sight in rural parts of the country. The building consists of four classrooms, a studio and a childhood stimulation centre around a central piazza, with filter spaces allowing transition between the rooms and the piazza.
The toilet is designed with consideration to the young age group, cubicles scaled appropriately for children as well as their need to be supervised. Open drains in the wash area and urinal walls are incorporated for ease of use and maintenance.
Light durable furniture made of honeycomb boards and paper tubes further encourages kids to explore and play with the environment. The versatility of the material permits a variety of configurations.
Rainwater is harvested from the entire roof area, filtered and collected in the sump tank which overflows into a groundwater recharge well, effecting water security. Solid waste from the school is disposed of in twin leach pits which are effective in returning nutrient to the soil.
Facts:
Project Area:

 985 sq.m.

Climate: Composite