New Gourna, the name had remained ingrained deep inside me, sensual forms of mud brick domes; an architecture of the people; for the people; by the people and by Architect Hassan Fathy. Much before Fathy reached international stardom through his seminal book, "Architecture for the Poor" he was brought in to help plan 'New Gourna'. Why and how Fathy landed the commission is not clear, however Fathy, born in 1900, with his deep empathy for the land, its people, clearly was known well enough to have been invited for this prestigious commission.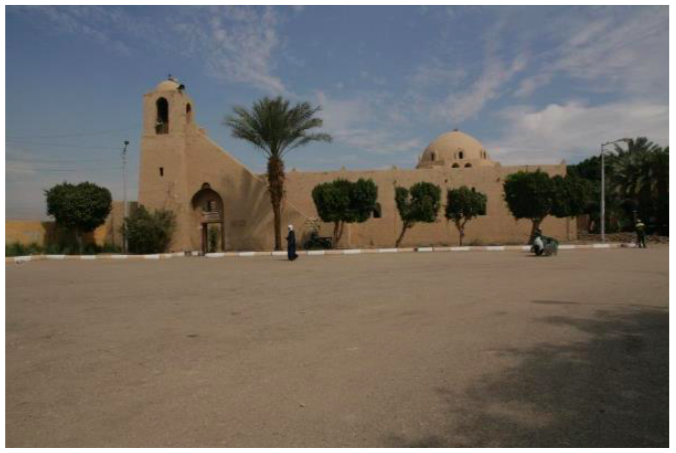 In this project dated to the 1940's, the Egyptian government wanted to shift the village Gournii. Gournii at this epoch was a large village that had grown around and over a rich archeological site, in Upper Egypt near Luxor, involved in clandestine tunneling to philander ancient artefacts. For this reason the Government wanted to shift Gournii to New Gourna
I am travelling with a group of journo's, on a journalistic assignment of sorts through Egypt. I leaf through the heavy Lonely Planet I am carrying and find a little box on Fathy and New Gourna. I wasn't expecting that we would actually be this close to New Gourna. Tourist folks don't die for a poor mud-brick village especially when compared to the magnificence of Hatsheput and other similar. I meekly put the idea forward to my co-travellers and to my pleasant surprise they only exhibit much enthusiasm, journalistic enthusiasm! I ask our guide whether he knows Hassan Fathy, "Ofcourse!" he responds, a bit offended, he cautions me that much has changed.
We decide to do it 1st thing in the morning, we swing into narrow lanes of New Gourna, multi-storied houses built like Lego gone slightly awry, this is like in any urbanised Indian villages I tell myself. Just as I am losing hope, a beautiful mosque that retains all the original traits comes into view. We park and enter, huge airy mud domes, arches and courtyards charmed by fiery red bougainvillea, a woven red carpet adds to the ambience. With its serenity, simplicity and wonderful sense of space this mosque feels close to the spirit of Hassan Fathy. We thank the caretaker and step out.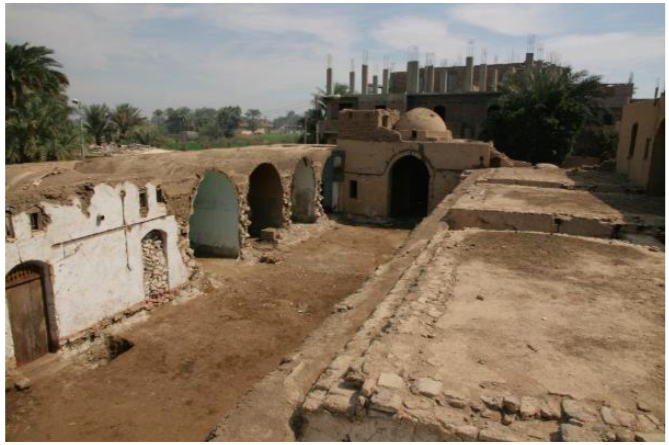 The village is mostly in abandon and part ruins, on the left there is one original Fathy house that proudly displays a sign board saying 'First House to be built in 1946', which while being lived in has been turned into a museum and study centre. A grand man in keffiyeh with a gentle smile welcomes us, his daughter, also a tourist guide shows us around. Her grandfather was a master mason and Fathy's righthand man and this house is their tribute to that legacy. One room serves as a library with books by and on Fathy neatly placed on a central table lit by skylights, another yard has shovels, trowels and other construction material which they use to carry out workshops and there is a small reading cum café space. Students of mud architecture from all over the world and all ages come here in small numbers to learn and help maintain and rebuild whatever remains. It is a small effort but very elegant and moving.
We step out, kids engaged in an intense football match on the road side get distracted and pose for photos, but they soon lose interest in this unusual band of tourists and the beautiful game takes over.
A project to kick start the restoration of New Gourna, (which though located within the UNESCO World Heritage Site of Ancient Thebes was not included in the nomination), took off in 2009 only to be stalled in 2011 mainly due to the uncertain political situation. We meet the Governor of Luxor later in the evening, hanging around with journalists has its advantages and we are requested to share any suggestions. I raise my concern, telling him that New Gourna is an international pilgrimage site of the same stature as the works of Corbusier or Frank Lloyd Wright and with some effort could become a revenue generating asset. He is aware of its importance and is hoping that a partnership with UNESCO and others works out, some money has already been allocated, but more is needed, he tells us with certain sincerity.
People for whom the village was built did not really move in and with time as their needs and aspirations changed, even the few that moved in modified and even broke down the homes to rebuild. Why New Gourna wasn't really occupied, isn't very clear to me, the original site of Gournii continues to be occupied even today. There is at least one paper that discusses this comparing Fathy's failed 'New Gourna' to another recent proposal, that too the research paper predicted is likely to fail, for the same reason, that of the approach being too top down. It seems what was Fathy's dream for Gournii, wasn't the dream of the people for whom it was designed.
You can read more on UNESCO Website.
(Fathy is also credited for the revival of the ancient Nubian vault construction techniques. These vaults standing in the Nubian desert for over 3000 years used a woodless construction technique, a bit like building a vault in thin air, without the slightest need of supporting formwork, but that story for another day)