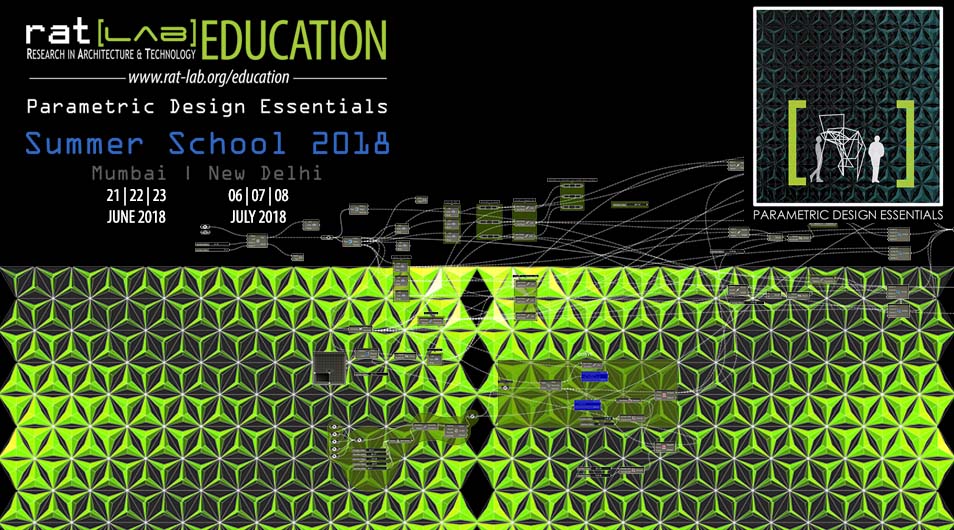 After a successful completion of 40+ design workshops worldwide, rat[LAB]EDU (Educational subset of rat[LAB]-Research in Architecture & Technology) is organizing PARAMETRIC DESIGN WORKSHOPS for design students & professionals. Summer School 2018 ::Parametric Design Workshops (3-day design workshops) run across 2 cities in India – Mumbai & New Delhi and is the 3rd iteration of Summer-Winter School programmes carried out by rat[LAB]EDU. The larger objective is to change the way we conceive spaces within art, architectural & urban systems through use of advanced architectural tools like Computational Design. This thereby changes the way architectural education is imparted in the country by inculcating an independent studio culture in India.
//Summer School 2018 :: Parametric Design Essentials
The 3 day intensive workshop for design students & professionals will delve into computational & parametric methods (using Rhino3D & Grasshopper3D) to create systemic design models for architectural and interior spaces.
SS18 will run across Mumbai & New Delhi (and may be extended to a third city later) and investigate the agenda of Parametric Design Essentials for participants to experience a hands-on experience of correctly using the digital tools through computation and parametric methods.
Studio is designed as a 3-day event in both cities comprising of technical tutorials, teaching sessions, design critics & presentations culminating in a critical discussion about computational design and its future potentials.
// Teaching Methodology // Tools
//Studio is structured to teach participants the use of computational techniques through Grasshopper® (Generative modeling plug-in for Rhino®) and ways to integrate it with architectural & interior systems.
//No previous knowledge of Grasshopper & Rhinoceros is required for these workshops as basic technical knowledge will be provided on Day 1.
//Pre-designed customizable tools will be provided by rat[LAB]EDU on Day 2 for design explorations & experimentations.
//The studio is flexible to basic, intermediate & advanced users of computation.
//The workshop is planned like a design studio with collective learning than mere software sessions.
 // Technical Sessions
Technical sessions will be provided to give an insight to computation, algorithms and parametric design methodologies to students & professionals. The idea of designing parametrically and use of computational methodologies is new to Indian context and has great potentials across various design disciplines. Digital experimentations using computational techniques (primarily Rhino3D + Grasshopper) will initiate the discourse, followed by technical sessions, theoretical discussions and presentations.
// Cities & Dates
 MUMBAI:  21st, 22nd, 23rd June 2018 (Thursday to Saturday)
INIFD ANDHERI
4th floor, Trans Avenue building,
behind Versova Telephone Exchange
Andheri (west), Mumbai – 400053
NEW DELHI: 6th, 7th, 8th July 2018 (Friday to Sunday)
Startup Tunnel, VIHARA INNOVATION CAMPUS
 D-57, 100 Feet Rd, Pocket D, Dr Ambedkar Colony,
Chhattarpur, New Delhi, Delhi 110074
// Software & skills 
Basic modeling skills in Rhino are preferred (but not obligatory).
Participants should bring their own laptop with pre-installed software.
NOTE: Grasshopper does not fully function on Rhino for MAC. A windows-enabled laptop is necessary.
// Software Downloads
Rhino 5 (90-day evaluation) can be downloaded for free here.
Grasshopper free-version can be downloaded here.
Additional software & plug-ins will be provided in the workshop.
 // Registration Dates
All Registrations end 4 days prior to workshop start date (Or till seats last)
There are limited seats available.
 //PARTICIPATION FEE
Student and recent graduates *- INR 8250 + 18% GST
Professional – Jr. **- INR 9750 + 18% GST
Professional – Sr. ***- INR 13750 + 18% GST
*(Graduated from B.Arch. or similar programme in 2017 or later)
**( Graduated from B.Arch. or similar programme between 2012 to 2017)
***( Graduated from B.Arch. or similar programme in or before 2011)
Valid ID Proof required; Nominal Platform service charges applicable.
// Schedule
DAY 01 AGENDA / TOPICS
Presentations / Lectures on Parametric Design & Computational Thinking
Introduction to Rhinoceros 3D – GUI & Basic Use
Installing Grasshopper & plug-ins
Grasshopper GUI & Basic Functionality
Points, Lines, Surfaces.
Parameters, Inputs, Numbers.
Simple & Referenced Geometry, Locally Defined Geometry, Baking, etc.
Lists & Data Tree Management
Data Manipulation & Visualization
Surface Tessellations
DAY 02 AGENDA / TOPICS
Patterns & Geometric Explorations
Releasing of pre-designed tools (Grasshopper scripts) to all participants
Functionality of tools for art installations
Surface Manipulations & Grids
Design development (in teams or individual)
Documentation
Visualization
DAY 03 AGENDA / TOPICS
Documentation
Presentation of work by participant groups
Presentations on works by Studio Head. (And guest speakers, if any)
Discussions on future scope of computation in India
// About rat[LAB] EDUCATION
rat[LAB] EDUCATION is an initiative by rat[LAB]-Research in Architecture & Technology (www.rat-lab.org) to start a new discourse in architecture & parallel design disciplines with the use of 'computational design' & it's various subsets. Spread across various cities / countries, we are establishing a global dialogue in the domain of computational design by actively organizing and participating in workshops, lectures, presentations & symposia. While rat[LAB] has taken a top-down approach of exploring computational design through industry, a parallel, bottom-up approach is also in-line to involve students of all levels, from design & related backgrounds.
//Glimpses of work carried out by participants of previous workshops by rat[LAB]EDU