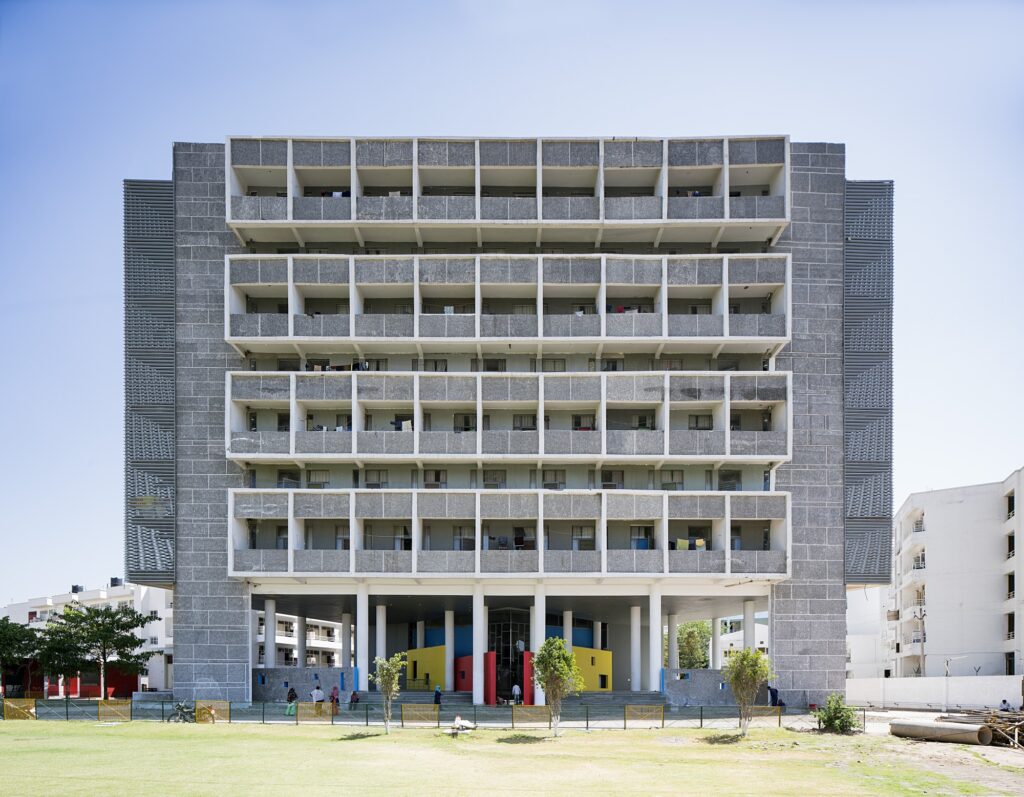 The student hostel for the Chandigarh Group of Colleges, located within a twenty-five-acre campus in Landran, a semi-urban area close to Mohali, Punjab, draws from Le Corbusier's modernist legacy. The 10-storey building occupies the campus' bus yard in place of the initially proposed greenfield site. A simple triangular plan makes the most of the oddly shaped site while playing with levels to create multiple interactive volumes.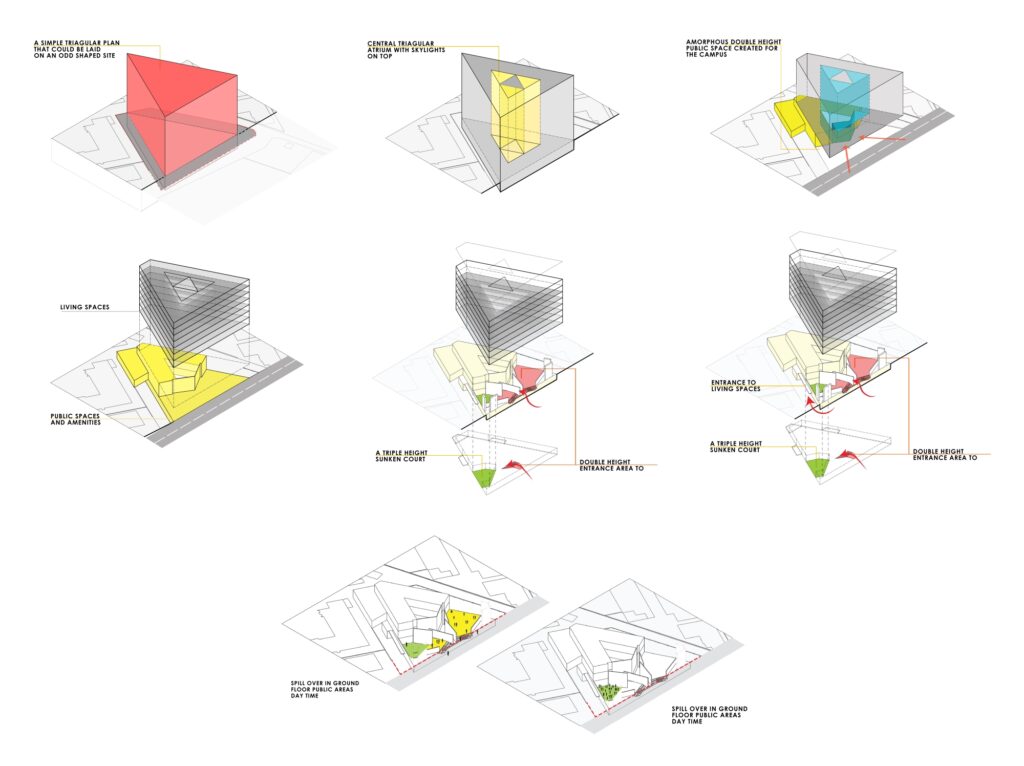 One of the primary ideas was to step away from the enclosed vocabulary of the existing campus buildings by freeing the new building of boundary walls, in an attempt to create shaded recreational spaces. This idea manifests in the form of a triple-height, sunken public court situated at the core of the hostel's basement, which can be accessed by a wide flight of steps leading down from the approach road. The court shapes a central atrium intersected by bridges at multiple levels and terminating in large skylights. The lower floors, including the sunken court, are open to public access during the day, and to the hostel occupants after closing hours. TV rooms with individual sunken courts, a gym, a multipurpose hall, and other ancillary facilities are arranged around the main courtyard.
The ground level houses the reception, the dining area and an adjoining kitchen, while a reading room, administration spaces and the warden's room make up the first floor. The sky-lit atrium is flanked by student accommodation spaces on the floors above, with the bridges creating spill-over spaces as well as ensuring seamless circulation between corridors. A covered balcony is attached to each room, with a grey grit finish over the building envelope to ensure that the built fabric sits in harmony with the other buildings on the campus.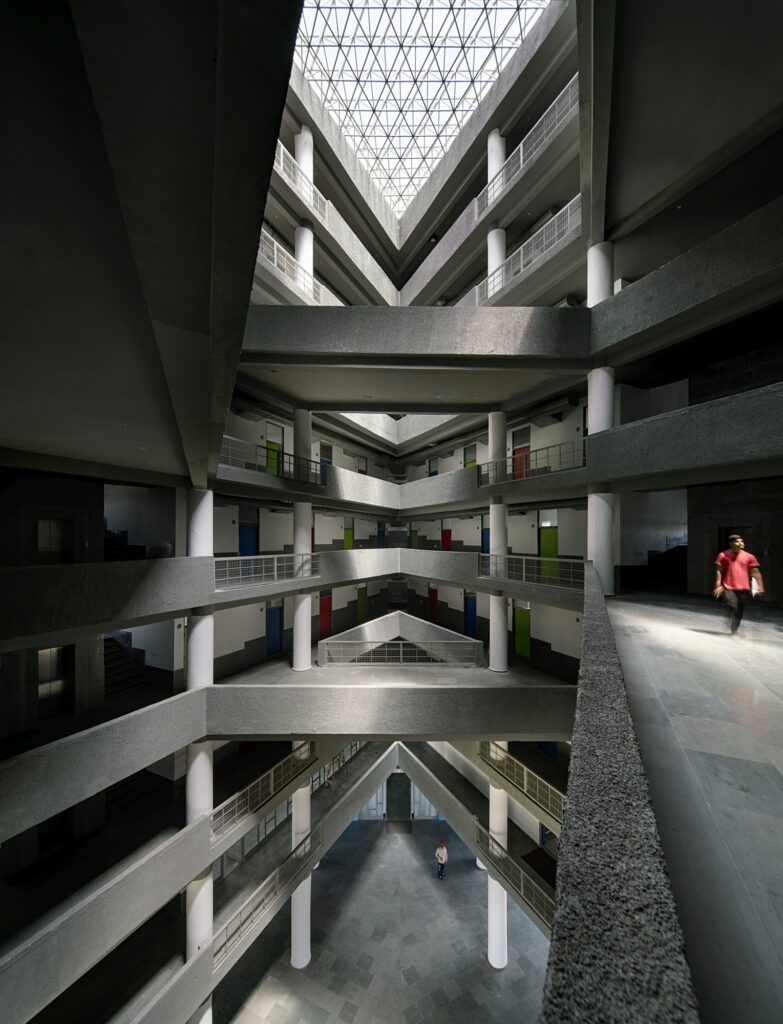 The floor plans are simple, but the resulting volumes are lent a dynamic character through the interconnected levels and naturally and abundantly lit interior spaces.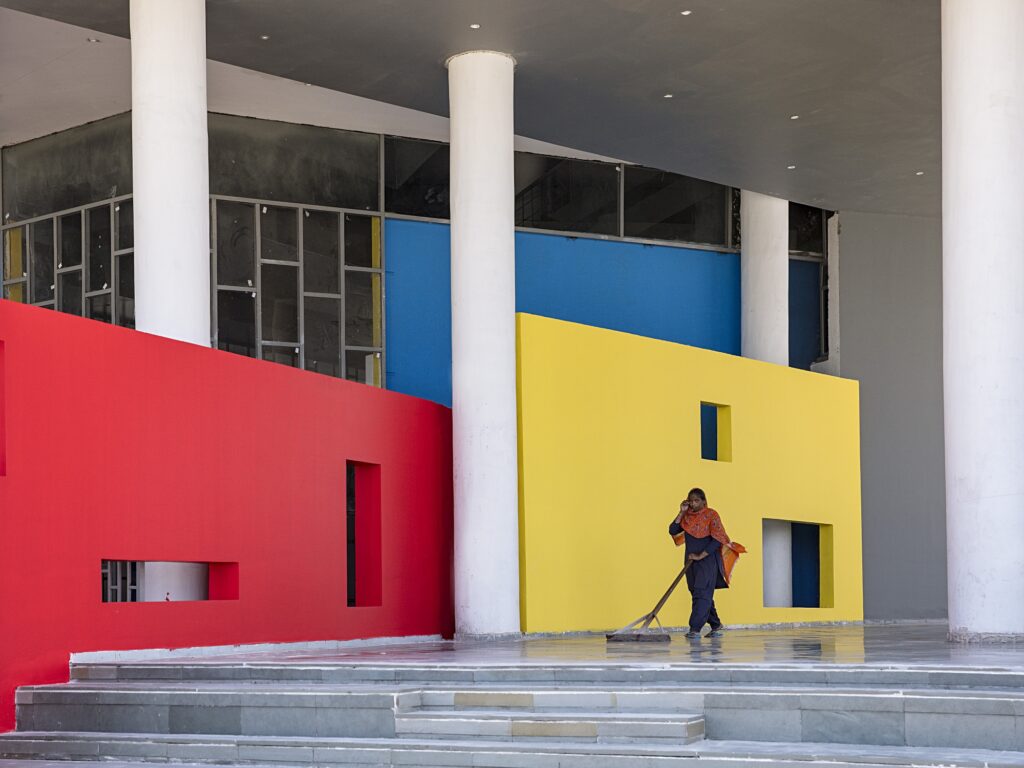 Dappled daylight admitted through the skylights into the interiors is a key factor in determining the sensorial experience of the hostel, lending it a palpably spiritual identity.
Gallery
Drawings And Diagrams
Project Facts
Typology: HOUSING/ INSTITUTIONAL
Name of Project: CGC STUDENT HOSTEL LANDRAN
Location: LANDRAN ( PUNJAB )
Name of Client: CHANDIGARH GROUP OF COLLEGES
Principal Architect: Aman Aggarwal
Design Team: Rahul Vig , Sugandha Wadhawan , Javed Akhtar Siddigui
Site Area (sq ft & sq m): 27,400 sq .ft. ( 2545.54 sq.m.)
Built-Up Area (sq ft & sq m): 1,35,000 sq .ft. (12542 sq.m.)
Start Date: 2018
Completion Date: 2019
Photographer: JAVIER CALLEJAS
3D Visualiser: HANEET KHANNA
Products / Vendors
ACP / Glass / Concrete: Glass – Saint Gobain
Sanitary ware / Fittings: Hindware , Jaquar
Flooring: Kota stone flooring
Furniture: Punjab Trunk House
Air Conditioning: Techno Vel Aircon ( Air Coolers )
Lighting: PHILIPS
Paint: ASIAN PAINTS
Elevator: OTIS