WHAT HAPPENS WHEN YESTERDAY BECOMES TOMORROW?
Curated by Amit Gupta & Pramiti Madhavji
Installations
• Time Tested! Time Tasted! by Paola Navone (Studio Otto) Sumant Jayakrishnan (Scenografia Sumant)
• Hyper Dhyaan by Matteo Cibic (Matteo Cibic Design Studio) Rooshad Shroff
• Holding Water by Samira Rathod (Samira Rathod Design Atelier) Niveditaa Gupta
• Hope by Sandeep Sangaru (Sangaru Design Objects) Soumitro Ghosh (Mathew and Ghosh Architects)
• Saurashtra by Hanif Kureshi (St+art India) Shiva Nallaperumal (November)
• Our Time in the Sun by Ankon Mitra (Hexagramm) Sachin Bandukwala & Melissa Smith (BandukSmith Studio)
Apostrophe Communications | Baxter | Gervasoni | Glenfiddich House of RARO | Jaipur Rugs | Jakob Schlaepfer | Josmo Studio KLOVE | Le Meridien | LOCO Design | Sunil Sethi Design Alliance Tectona Grandis Furniture
Venue STIR Gallery @ vis a vis, 2 North Drive, DLF Chattarpur Farms, New Delhi for a guided walkthrough, write to us at [email protected]
CONCEPT NOTE
Materiology
What: A STIR forecast on what's next in design
A term coined from the idea of taking a diverse palette of materials and expressing through them a tale that transcends the boundaries of current trends.
Material being a tool, designers being the time-travellers, and partners being the presenters of the expressions.
The first edition of Materiology, held in 2019, interpreted an important inquiry–What Happens When Tomorrow Becomes Today?
Taking the narrative forward, Materiology 2.0 embarks on a quest into the future–What Happens When Yesterday Becomes Tomorrow? Presented by STIR and curated by Amit Gupta and Pramiti Madhavji, Materiology 2.0 re-imagines the past and takes us back to the future.
It is a unique platform where leading architects, designers, artists and brands from across the globe come together to share their learnings from the yesteryears as they connect the dots and nuances of the applied nature of material using sustainable methods and procedures, and what it can predict ahead.
Was YESTERDAY an easy game to play? And living TODAY, what is it that we can we learn from the bygone, and hope for TOMORROW? Standing for the truth and acknowledging the reality that stares at us, in tomorrow we express those questions that face us today.
With this fast-changing world, are we forgetting those basic values that we had imbibed when we were young? There were things we did that were simple and productive, that were educational, made us think, made us learn, made us treat these as activities for a better living. These activities and games have now assumed a new avatar, but it is still important to address them and their need in our lives today and the questions of tomorrow.
This exhibition is a fun interplay of narratives that tie in yesterday's memories, today's actuality and tomorrow's dreams.
International and Indian designers team up, using a specific material to create an expression of what the past could have been with elements and designs of the present and the future. These expressions, which would convey a narrative, will be influenced by:
• Changes in the past impacting the ecological environment today
• Human behaviour impacted over the years
• Psychological-physiological adaptation of the built-environment
• Socio-political environment
• Senses
• Intervention of technology such as Artificial Intelligence, Human Decoding, Augmented Reality etc., and its effects on yesterday's built environment, highlighting either the process or the potential end result
CURATOR-SPEAK
"At STIR we believe in quality content, enabling collaborations and providing a platform to the creative community at large that blurs the fine line between art, design and architecture. Materiology is one such initiative towards that STIR manifesto."

– Amit Gupta, Founder and Editor-in-Chief, STIR
"Collaborations, connections, creations and curations…For me, as an influencer, it is important to share new ideas and thought processes with the design community at every given opportunity, especially when it addresses the future, as is the intent with Materiology 2.0."

– Pramiti Madhavji, Founder, The Blue Pencil Design Company; Content Advisor, STIR
INSTALLATIONS ON DISPLAY
1. Time Tested! Time Tasted!
Designers: Paola Navone x Sumant Jayakrishnan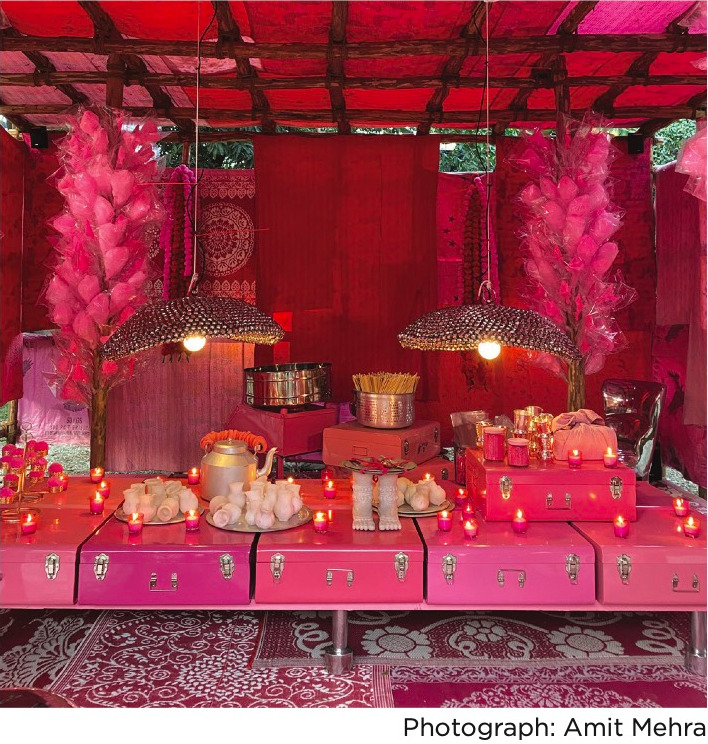 Concept: The flavour of salt. The smell of spices. The pleasure of a sweet taste. These simple emotions linked to flavours are universal. Through centuries and continents. They bind together people of all latitudes. They have beautiful colours and shapes.
The SPICY, the SALTED, the SWEET
They express a journey full of suggestions and poetry where everyone can find a piece of themselves.
Because the future of design is FEELINGS.
Installation partner: Sunil Sethi Design Alliance The installation's message for the future:
The message of the installation looks to the future of our job in a positive and universal way. It encourages a new way of thinking about design related to emotions, to the sensations given by the wonders of nature, such as colours and flavours. Because design will be increasingly a matter of feeling.
2. Hyper Dhyaan
Designers: Matteo Cibic x Rooshad Shroff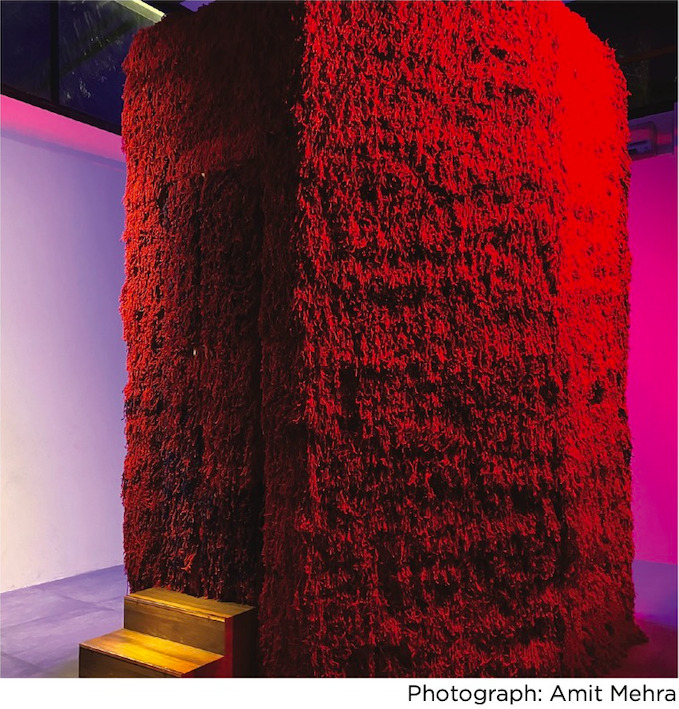 Concept: The installation explores new ways of meditation for the people of the future. In the past thousand years, humans spent most of their time engaging in physical activities. In the future it will prominently be a sedentary lifestyle, engaging the mind in multi-tasking, creating a state of stress and lower body oxygenation.
The trans-meditation room is a place to dig into a repetitive activity to train attention and awareness, and achieve a mentally clear, emotionally calm and stable state, by jumping, looking at interactive colour-mix and touching the rugs.
Installation partner: Jaipur Rugs
The installation's message for the future:
We are a country of languages and scripts, but many scripts and languages have disappeared and that will continue to happen in the digital world. We would like people to realise the importance of these scripts through this installation.
3. Holding Water
Designers: Samira Rathod x Niveditaa Gupta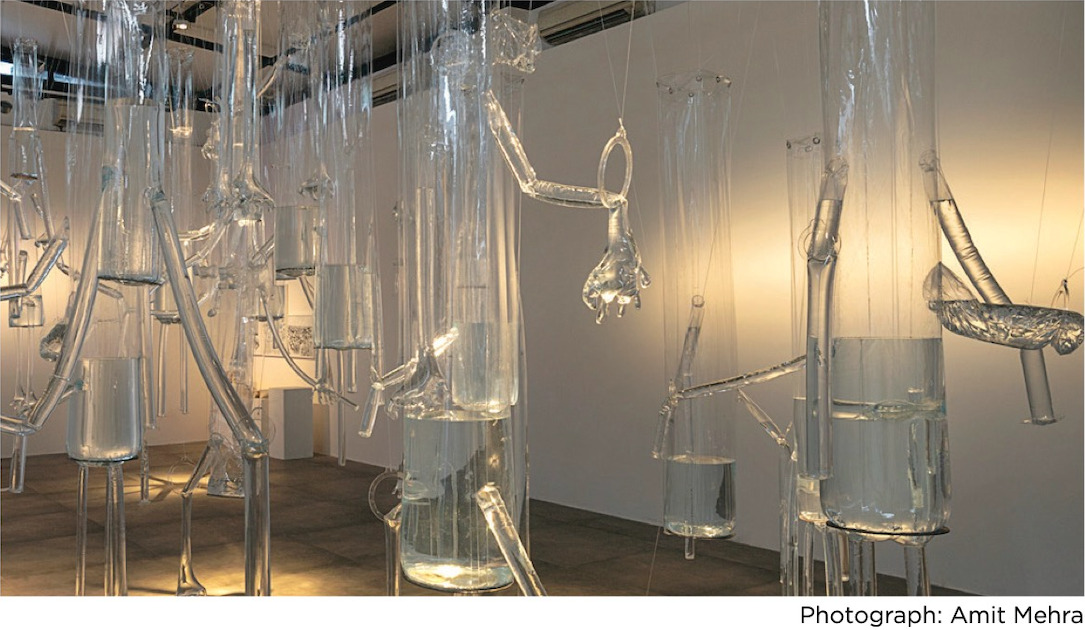 Concept: Water camouflages itself with its container. It is transparent and anomalous, finding its own balance. Water escapes us; it is ethereal, and yet an elixir for life. Water insulates; it is versatile.
With depleting water resources, to hold water has become imperative. Holding water; in ways that it is natural and integral to our being; unresisting and innate. How does architecture, the built form, integrate water in design?
The first settlement was made around water. For years, communities have settled around water bodies, growing organically, relying on water as their primary resource. With this resource dying at an unfathomable pace, a designed system could allow for communities to collect and hold water within, in various forms of storage – as tanks, reservoirs, ponds, lakes; celebrating its flow as it trickles, springs, pours and inundates. The architectural experiment looks at water and its attributes as a building material, building houses and communities, bringing water from the past into the future.
The installation is designed to ignite the senses and is a pause; to think of, 'being water'- transparent and pure, when we are, as they say, made of water.
The installation's message for the future:
Stop the runoff; hold water: water is dying; resurrect it.
4. Hope
Designers: Sandeep Sangaru x Soumitro Ghosh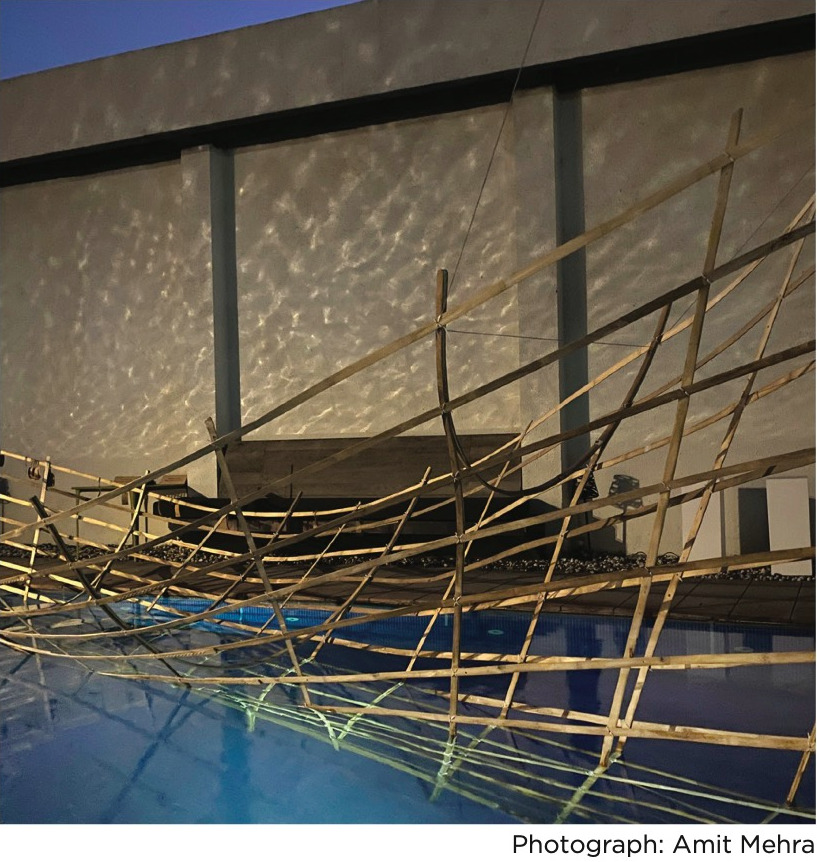 Concept: The passage of time is the beautiful inevitability which holds much happiness and sorrow, hope and despair, and much of simply the mundane in between. Its linearity has great meaning to individual lives, its cyclic-ness only perceived over generations of cultures and humanity.
The idea of the passage of time, movement and change as a pattern is what we connect through the boat as a symbol of travel across time and place. Made by hand with bamboo, it is but a structure of a dream in its bare bones of construction.
Much joy and remorse lies in all lives, that's what we intend to capture by having the spectator participate, much like the tradition of the wish tree, in making a choice of what each would like to imagine to have panned out differently, by either hanging a paper boat from the boat's skeletal structure, or floating a boat in the pool like what we all did in the jubilant moments of childhood monsoons.
The installation's message for the future:
Then, now, and again, flow relentless We are in it, we are around it, and… .
6. Saurashtra
Designers: Hanif Kureshi X Shiva Nallaperumal (November)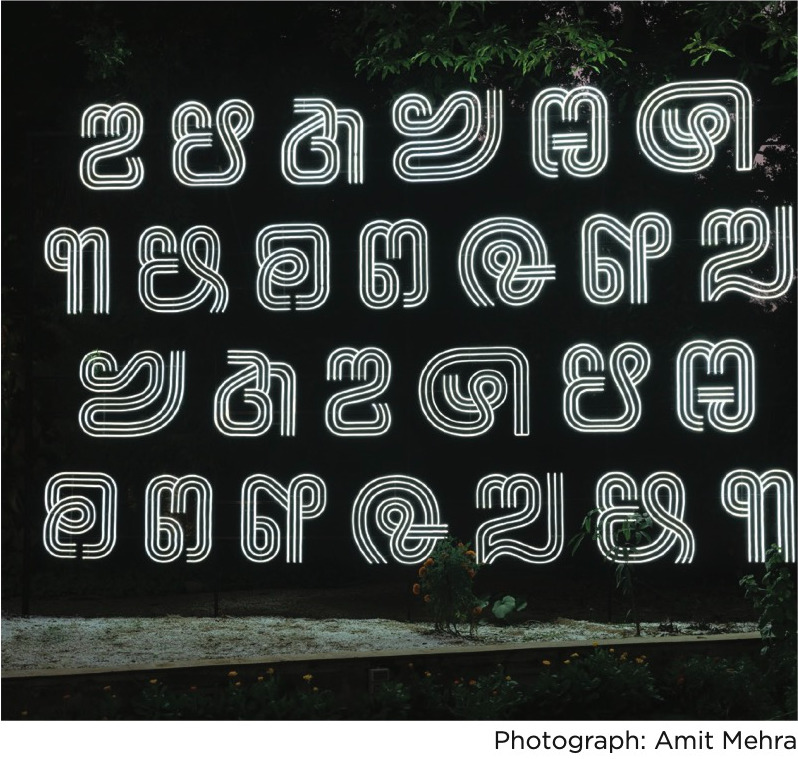 Concept: Saurashtrian Letterforms designed for Neon
The idea is to work on an endangered script and bring it alive through a new medium. In this case, we have worked on the script called Saurashtra. The Saurashtra language of Tamil Nadu is written in its own script. In contrast, the inhabitants of Saurashtra utilise the Gujarati script. Because this is a minority language not taught in schools, people learn to write in Saurashtra script through voluntary organisations such as the Sourashtra Vidya Peetam, Madurai.
Saurashtra refers to both the language and its speakers; Saurashtra is also an area in Gujarat, India which was the home of the Saurashtra community prior to their southward migration. Vrajlal Sapovadia describes the Saurashtra language as a hybrid of Gujarati, Marathi and Tamil.
The installation's message for the future:
We are a country of languages and scripts, but many scripts and languages have disappeared and that will continue to happen in the digital world. We would like people to realise the importance of these scripts through this installation.
6. Our Time in the Sun
Designers: Ankon Mitra x BandukSmith Studio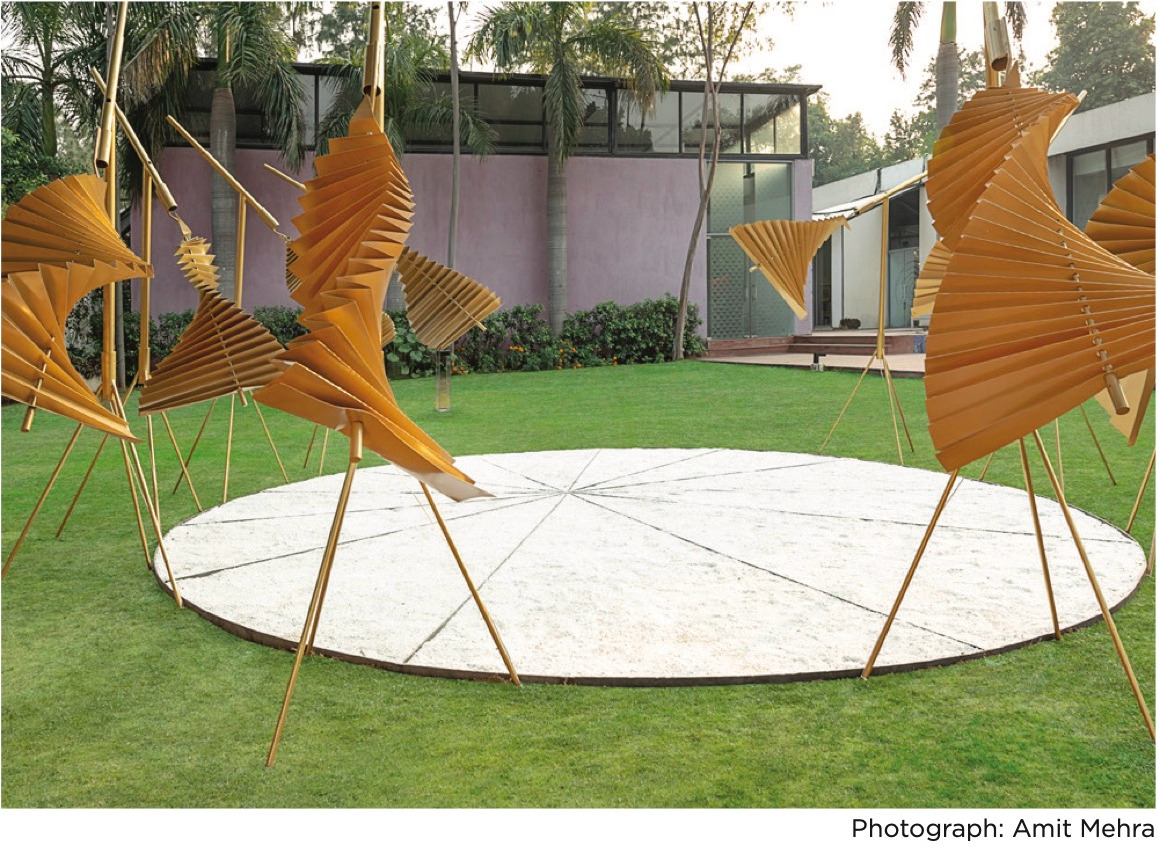 Concept: A playful sun dial reflects our time in the sun…
From past to future, the sun is a constant, yet how we interact has evolved from observation to meticulous precision of measurement, and to manipulation for our means.
An interactive installation manifests, hour by hour, the extremes of the sun's incident throughout the year. By mounting a folded plate abstraction of an analemma onto a rotating axis, we put the movement of the sun, while still tethered to the limits of the real sun, into the hands of the observers, who can manipulate the assembly to create their own sets of shadows.
At night, an additional set of 'suns' light the pivoting analemmas and can be turned on and off to uncover new combinations.
The installation's message for the future:
We will need more, not less, understanding of the sun and its movement as we chart our path to sustain future societies. We can draw on past knowledge and integrate it with current technology to creatively synthesise solutions to the problems we face.
ABOUT THE CURATORS
AMIT GUPTA | Founder and Editor-in-Chief, STIR
A designer, thinker and conceptualiser for things creative, provocative and challenging, Amit Gupta traversed into promoting design and architecture by establishing the first Indian design management company–vis a vis, in 1997. vis a vis curated highly acclaimed architecture and design events, being the first such gallery in the country.
In 2003, Amit established the first conceptual lighting solutions company under the same name. Following years of expansion and innovation, 2016 saw the launch of lightandyou.com–a first of its kind online high-street for lighting solutions from the world over.
In 2014, Amit also introduced STIR (See. Think. Inspire. Reflect), a platform for the dissemination of ideas, knowledge and innovations in the field of design, architecture and new media art, along with arenas for cross-disciplinary collaborations, industry connects and community building. STIR went on to publish the Indian edition of mondo*arc journal, and after 20 printed issues, evolved into a global digital platform–www.STIRworld.com, with content generated by a network of professionals across the world.
PRAMITI MADHAVJI | Founder, The Blue Pencil Design Company Content Advisor, STIR
Owned by Pramiti Madhavji, Blue Pencil is an independent brand strategy and design consultancy, that was started in Mumbai in May 2018. It provides creative and tactical expertise to brands in the home decor space. With an involvement of over 30 years in creative and brand advertising, editorial, concepts and ideation, with the studio, Pramiti addresses creative solutions for product launches, builds new IPs and strategises to create unusual one-of-a-kind events besides being an influencer for the category.
Combining her art direction skills with her second passion—home decor, she was the Founding Editor of the Indian edition of ELLE DECOR launched in the winter of 2000. She was also a Founding Member of Ogaan's new initiative, India Design ID, before branching out to start Blue Pencil. @the_blue_pencil_design_company.
ABOUT STIR
STIR is a design centric organisation that offers itself as a media house and curatorial agency. Instituted in 2014, STIR was founded to promote, propagate and foster creativity and innovation in the fields of design, architecture and new media art.
STIR today manifests into a global platform specialising in Architecture, Design & Art—www.STIRworld.com.
ABOUT STIRworld.com
The digital arm of STIR is an extension of what STIR has always taken pride in doing:
• Offering exclusively curated, carefully analysed and meticulously presented content
• A platform that connects industry to professionals
• A medium that enables collaboration between professionals and allied industry
• A destination that engages the community in dialogue, debates and discourses
• A platform where the community finds products for operational efficiency, merits critical acclaim and generates business opportunities