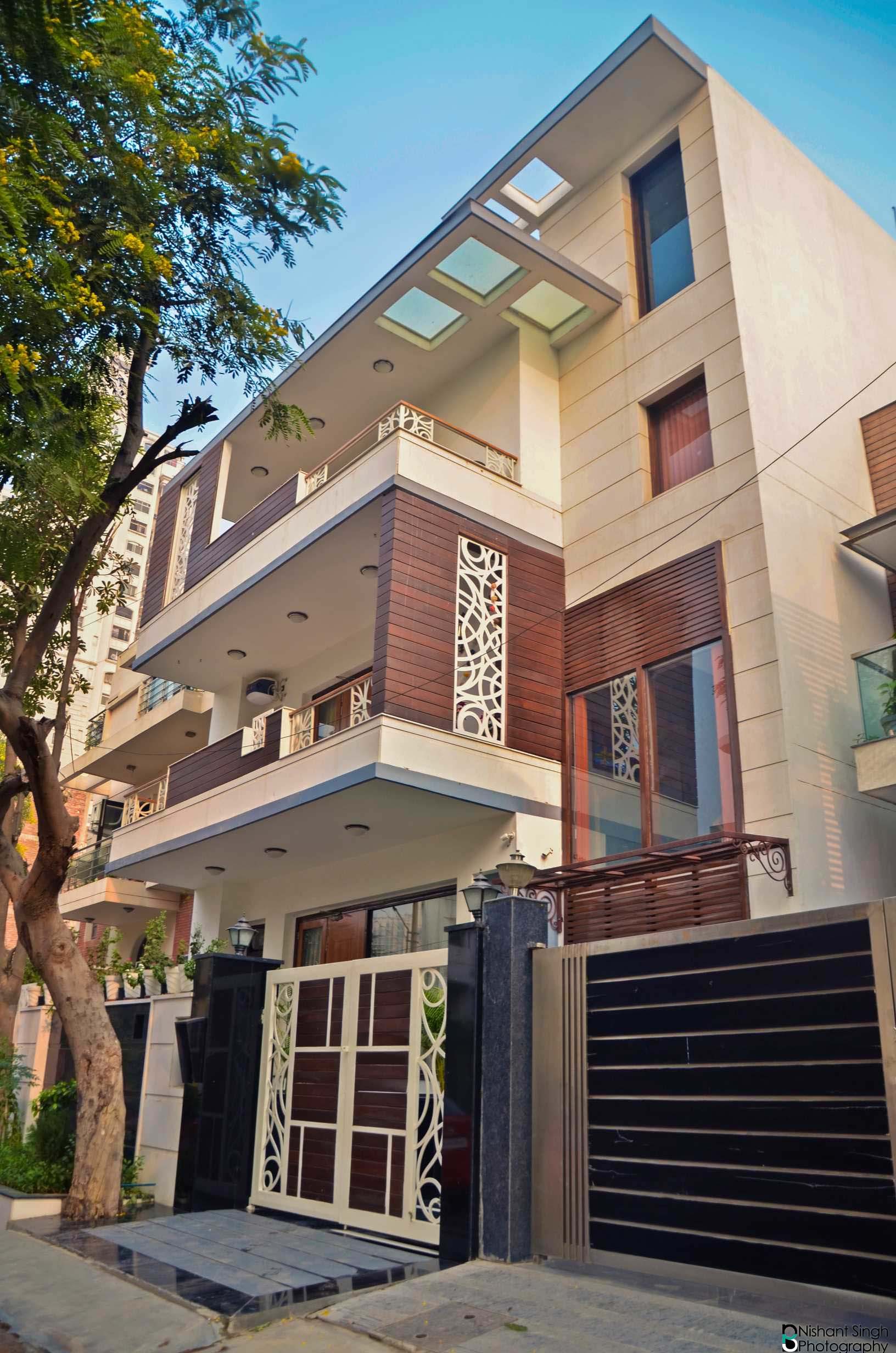 The requirement of three nuclear families living together in one house with few common spaces was met by understanding the cultural background of the families, their family composition, living habits and their aspiration and providing a solution that balances out the complex Architectural requirement of spaces, bye-laws and services yet providing every space a separate identity for the Inhabitants personalization.
The major challenge was to break away from the apparent elevation of three independent floors to a single family residence; which was achieved by staggering elements of the façade, having different railing styles yet unifying the entire look of the house.
In the Interiors, similar spaces on each floor were given different treatment but utilizing similar materials, elements & textures; for giving inhabitants a feeling of individuality and personalization and at the same time imparting harmony in the design across all floors.
Basement a common space for all the families is well lit with a sunken courtyard at the rear and houses a formal drawing room, bar and a home-theatre along with three separate rooms utilized as separate storage spaces for each family.
Ground, First and the Second floor each, houses a master bedroom and kids/guest bedrooms that occupy the external front and rear spaces and a central courtyard imparts natural light and ventilation to Kitchen-dining and lobby. All the spaces are interconnected with a L-shaped lobby which is accessed from entrance foyer at each floor. A level difference at each floor physically segregates the formal and the in-formal areas. Terraces houses two Servant's Apartment and an open terrace at two levels to be used primarily for social gatherings and parties.
The spaces constraint and the ambitious requirements of client pushed the designers to try some unconventional designs that satisfied the space requirement and addressed well to the requirements of the inhabitants. The kid's room in this house exemplifies this aptly; where the beds were pushed embracing the walls and arranging storage, wardrobe and study units in a wrapping around manner leaving the centre space for kids to utilize as per their whims. Kids could perform dance, or play music or have small gatherings with friends in the same room that is otherwise used primarily for only sleeping purposes.
Project Facts
Project Name: Staggered House
Location: Gurgaon
Name of the firm: MC+CF Architects
Category: Small Residential Project
Project Status: Completed
Principle Architect: Sunny Thakur, Shashank Arun