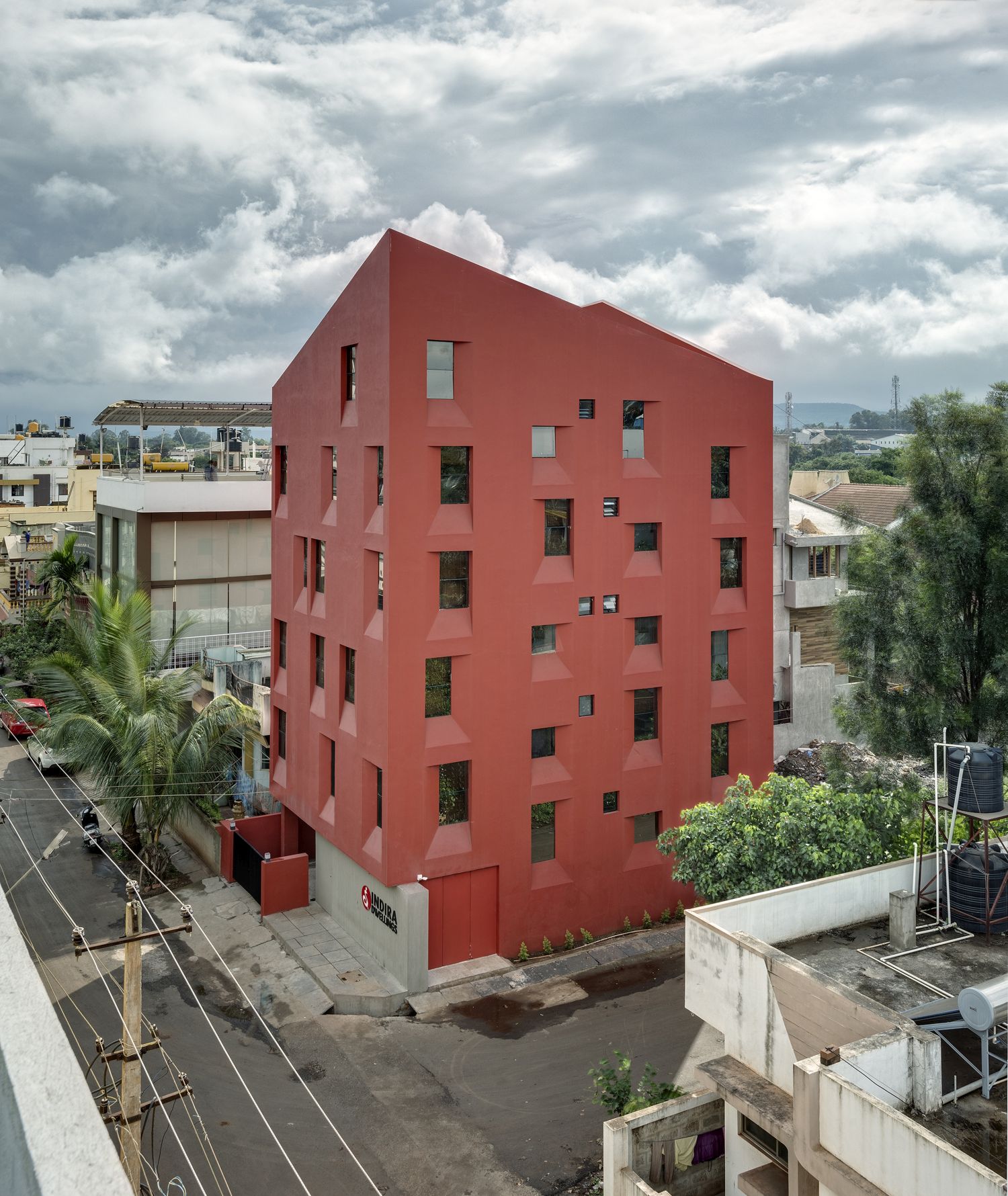 The design for a small student housing project in the town of Belgaum India explores the section as a device to layer a series of semi private living spaces vertically. What seems like a straight forward division of space in plan is a complex layering of self contained living units to achieve maximum density yet maintain comfortable living standards for the occupants.
The site is a minuscule parcel of land barely measuring 100 square meters on which the building was proposed.
The number of students to be accommodated is more a result of the economics of scale and return on investment rather than a careful engagement with what such a site could traditionally accommodate. In all, the building of about 225 sq.m accommodates 29 students in semi-private triple and double occupancy units.
With such a small site, the building would have to be stacked vertically, but the building had to be below the stipulated 15 meters above which stringent high-rise building regulations for fire safety are required to be met. Thus, the buildings envelop is fixed by the side margins and the height restriction.
To make the rooms less claustrophobic and more interconnected, a strategy was evolved to develop the rooms in section with a floor to floor height of only 2400mm. Semi private spaces for the occupants are nestled around a small common area consisting of an entrance lobby, pantry and toilet facilities, all of them strung together by an internal staircase.
There are two types of room configurations that sectionally dovetail into one another, like in a jigsaw.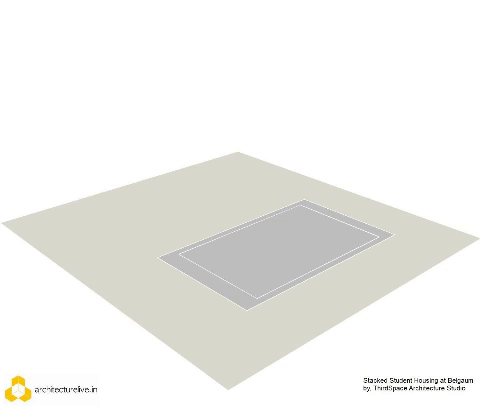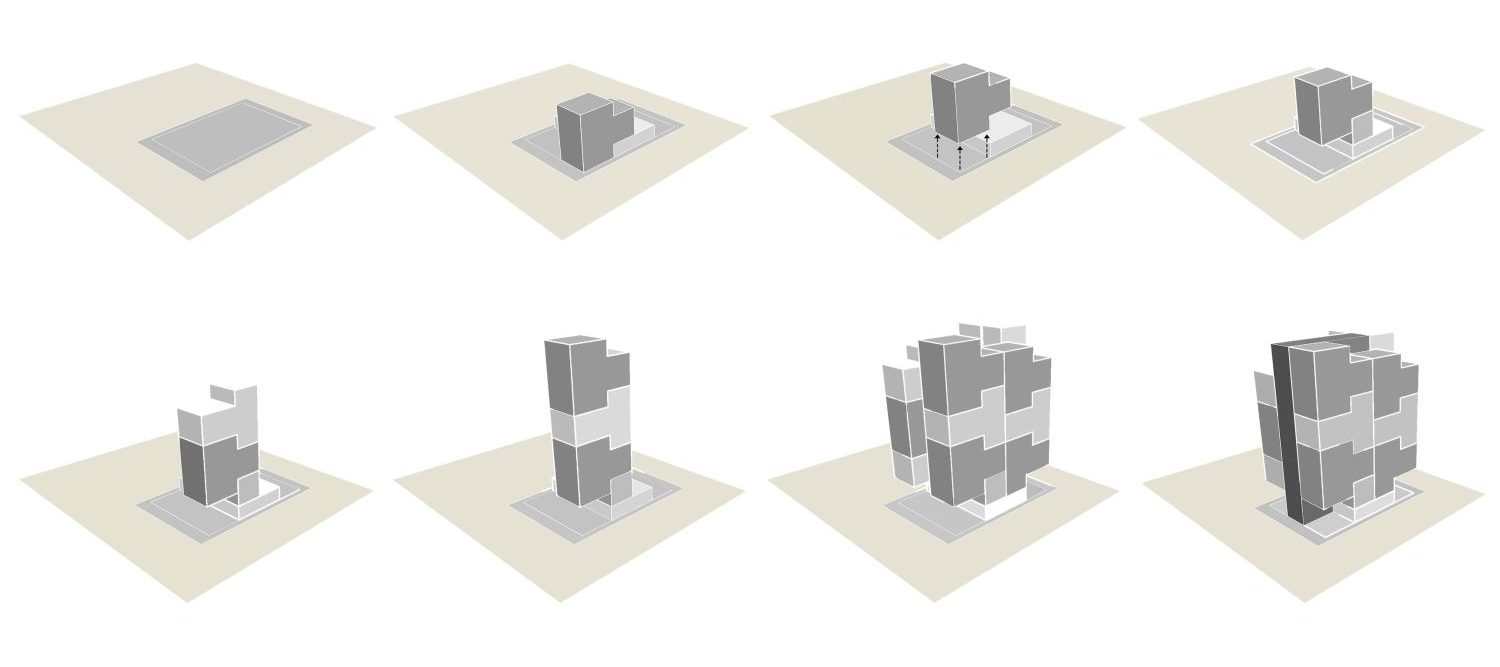 Considering that this is a cost-effective project on a small site, everything is pared down in this design. Every millimeter of space was debated upon. If the walls of the toilets were thought to consume too much space, they were replaced by 40 mm kadappa stone slabs, a detail that also eliminated the need for tile work in wet areas. Plastered surfaces are kept to a bare minimum, with even the brick walls being unplastered and just painted white to visually open up the space and also allow for regular upkeep.
The individual spaces of the students are designed to have the bare minimum space with minimum furniture. The individual living spaces are interconnected visually as well as physically with the shared areas.
The elevation is a sum of small strategic decisions to sectionally displace the room units. The window fenestrations just about hint at the sectional complexity within but also add to the monolithic nature of the facade.
The staggered section creates a dynamic roof profile that dominates the skyline that is otherwise littered with small accretions that are emblematic of the suburban sprawl all around.
The building is painted in a deep red to accentuate its dynamic roofline as well as its almost monolithic form. In the colorful cacophonous milieu that is mofussil India, it still dominates the neighborhood, yet displays an irreverent playfulness that is characteristic of student life anywhere.
---
Project Facts:
Project: Stacked Student Housing
Location: Udyambag, Belgaum
Site Area: 5382 sqft
Built Area: 4000 sqft
Project Year: April 2017
Project Estimate: INR 80 Lacs
Collaborators:
Principal Architect: Ar. Praveen Bavadekar, Thirdspace architecture studio, Belgaum
Design Team: Praveen Bavadekar, Madhuri Gulabani
Civil Contractor: Ajay Melge
Structural Engineer: D L Kulkarni, Belgaum
Fabrication: Technofab
Photo Credits: Hemant Patil, Pune