"Uncertainty is an uncomfortable position. But certainty is an absurd one."

-Voltaire
There comes a time when memories fade into a distant past; the forgotten becomes a figment remaining with the people. The fragility of such realities brings forth an intervention dwelling on the threshold between memory and eternality; a ruined state may always exist yet not have been part of the timeline simultaneously. The installed structure represents this dialogue between uncertainties of memory, bringing awareness to a fragmented presence. A visitor can envision a dual reality abstracted through completion and the permanence of progress. The idea of rebuilding becomes a visionary act, one of remembering and looking forward to new experiences. One of splintered images of the past. One of fragile reflections.
The construction of the structure lends itself to a beauty in simplicity and use of the natural material. The intervention is a square planned diagrid, of CLT post constructions to be built through two standard sizing posts. The peripheral rows of posts along the ruins will be 14x14cm with isolated foundations, while the internal posts remain at 10x10cm with pinned to the earth to remain minimal and light in nature. The posts are reinforced laterally with tensors to allow for movement and wind swaying, reminiscent of the material's nature. The effect of varied sizing aids in the structural integrity and lightness of the project, while adding a layer of depth to the striated image one will see approaching the site. Due to the cleanliness of the modular posts, the units may be reused to rebuild the ruined site or others of proximity following the one year installation. The lifecycle of the project contributes to the idea of rebuilding the salt pan houses.
The project becomes a visionary seed for rebuilding Piran's ruined salt pan houses, one which may become an icon for outsiders to reflect upon. Scales of experience are in dialogue with the ruins, landscape, water and atmosphere. A visitor can envision the duality between decay and restored, in a composition of archetypal elements. As visitors approach the site, they can only understand the culmination of volumetric lines protecting the ruin in a reconstructed scale. Once a visitor is within the sculpture, there is a refined clarity of the relationship between the ruins, the house and the human scale. Visitors may move in and through the sculptural grid as they inhabit their own interpretation; there is no way and all ways one can experience the installation. Layers of perception are manipulated in such an intervention; one may read this as an object, a protective shell, an early stage of reconstruction perhaps preparations for scaffolding or simply the lines of a future projection. Such dialogues of uncertainty are the catalysts for curiosity and change.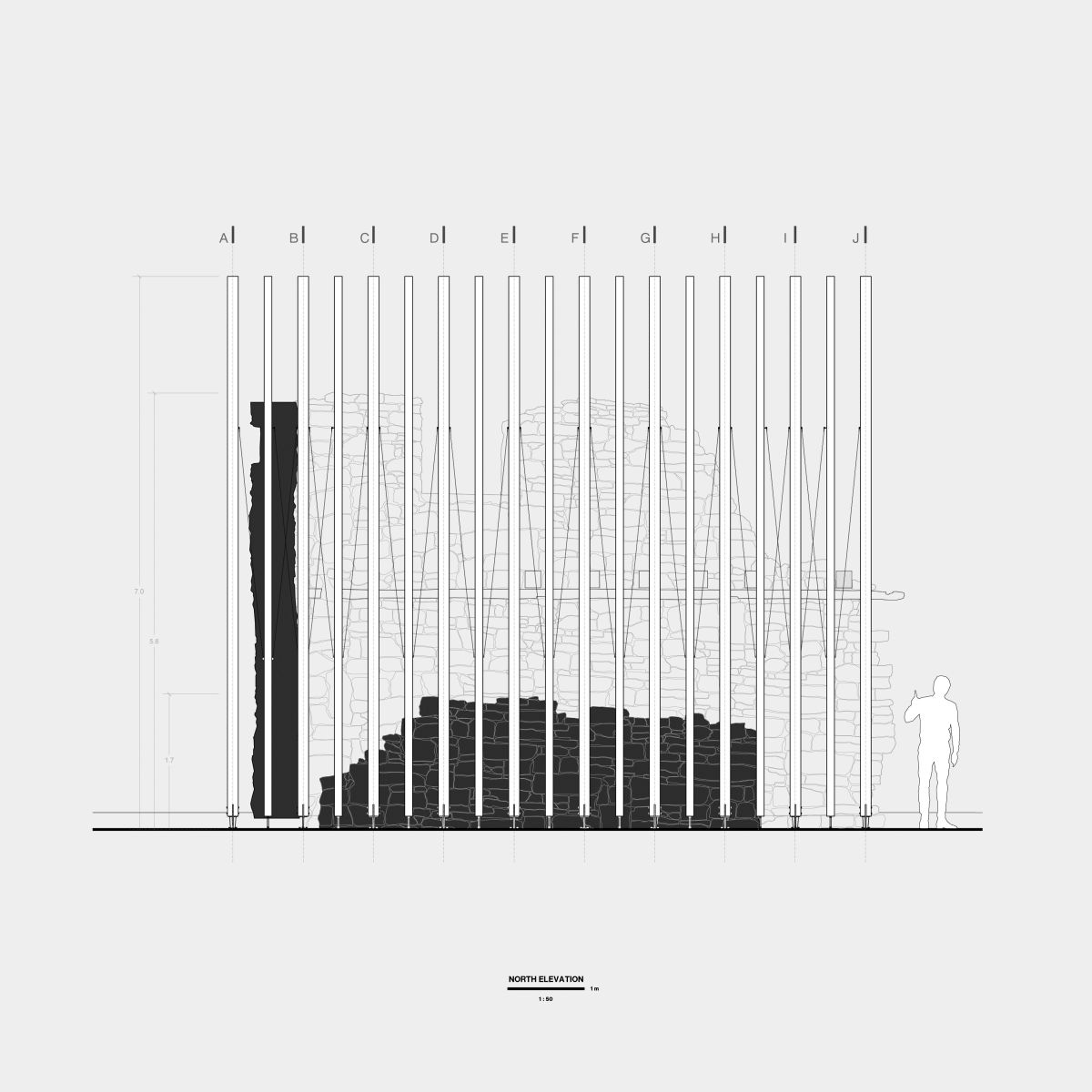 BASIC DATA
Location: Sečovlje Salina Nature Park, Slovenia
Authors: Claudio C. Araya, Yahya Abdullah, Chemhao Ma, Yutan Sun
Design Year: 2020
Area: 16 sqm
Status: Competition
GPS Coordinates: 45.4761117,13.5948182