Studio Meraki is a design studio led by Ar. Shweta Kaw, an architect with 12 years of experience in the industry including a successful role as a Sustainable Design Consultant in Singapore after completing her post-graduation (M.Sc. Building performance & Sustainability) from the prestigious National University of Singapore as a gold medalist. The Studio's practice is diverse and ranges from architecture, green building design, interior & furniture design as well as graphics. As the name suggests, Studio Meraki intends to build happy and healthy spaces for a man to dwell in its habitat and nurture for him an improved sense of well-being by paying attention to psychological & physiological comfort, hence garnering fewer distress levels in our society.
Shweta was introduced to the Genius Loci by Norberg Schulz, which talks about the 'spirit of the place' in the third year of her B.Arch. It was during the course of a studio design project and it completely mesmerized her, modifying her entire perspective towards spatial design. As the text says, "Genius Loci is a Roman Concept which means that every being has a genius or a spirit which guides his existence and determines his character and remains with him from life till death. Similarly, every space needs to have a character or a spirit which man can identify with and thus can dwell meaningfully."
Her intense affair with this statement and utmost determination ushered her to delineate the contours for Studio Meraki, and her further research in cognitive architecture led her to set this organization up.
The direction of my predilection right from my college was towards going in for an individual practice to widen my horizons on this vast subject and overwhelm myself with the interconnected interactions. This was the reason for me garnering my acumen from my post-graduation studies which were supplemented with sufficient years of practical experience so as to start my establishment with the basic ethics of this trade and come up to the expectations of all concerned.
Ingress into any area of activity at an incipient stage is really a hard nut to crack in the prevailing market practices. Comparing the journey to a fruit, Shweta says that proficiency helps in peeling the skin, but it actually takes much longer to actually reach the edible nut!
My practice is still in its nascent stage and I believe that there is a lot of struggle to cut my way through. In a field full of ambiguities arising due to a plethora of unskilled tasks performed by non-professionals and contractors at stumpy rates, we the qualified professionals are taking the brunt of it all. Also, the psychological impacts of aggression and absence of trust in the society dampen professional relationships and interrupt smooth workflows. The personal journey of any person representing a company and trying to fulfill the daily challenges comes with a fair deal of self-realization. It goes much beyond sole creativity and narrows down to pure inter-personal skills.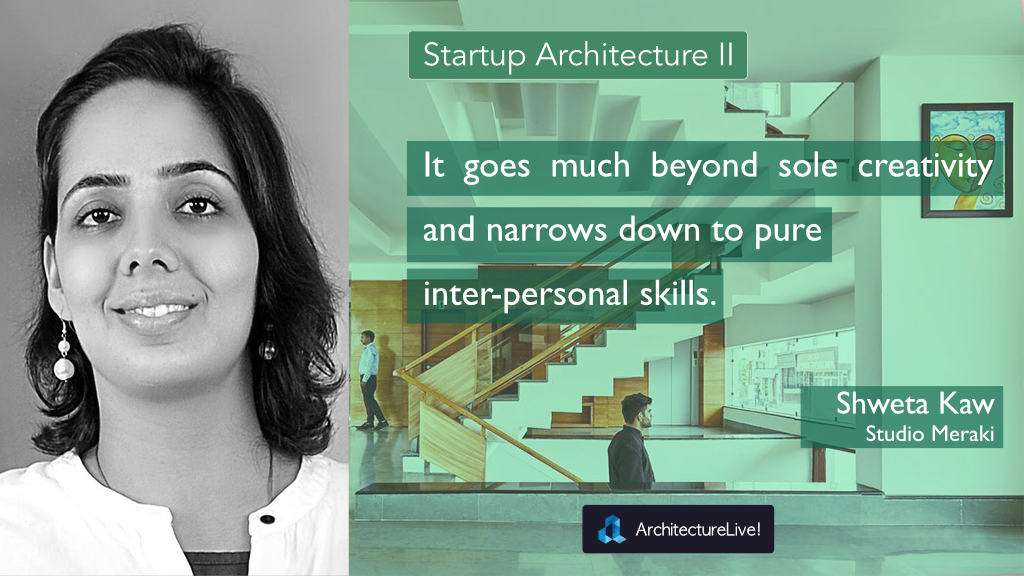 She strongly believes that female entrepreneurs need to go an extra mile to carve a niche in this male-dominated field of construction.
Females are automatically embossed as a 'species meant for decorating' with minimal or no understanding of hardcore engineering sciences and their inability to deal with on-site activities is sketched profoundly in the so-called progressive strata of the society. But ultimately, I strongly believe that the vital challenges diminish with your sincerity and attitude, which is complemented by efficacy in work area.
Commencing a new line of activity amongst the existing players is really a masterstroke, Shweta says. "The chances of failure to accomplish the objective always walk with you, but when a project is mirrored in reality as envisioned and you get a sense of having a momentous impact in changing the lives of people using that space, it's exhilarating. This motivates you further to take a deep plunge and walk that extra mile again the next time."
"My first project took 8 years to find its ground due to client related and municipal issues and delays, but it honestly has emerged as a thriving venture in that area and its ecstatic!"
Discussing her plans for her office in the future, she goes on to outline the tremendous potential in the infrastructure and construction sector that a developing nation like India provides. This helps the industry survive, both existing and upcoming, by paving the way for architects ab initio. Further, the new generation technocrats are generally fuelled with energy and zest to meet the competition and therefore do not let any stone unturned till the accomplishment of objectives, she says.
Creating healthy and holistic spaces has always been the jackpot to hit for us and I certainly foresee a lot of value addition that can expect to happen.
She advised the younger generation to be Patient. "Patience is a virtue that is becoming rare and finding the roadmap to your dreams cannot comprise of hastiness. Wise decisions in choosing the correct projects are invited but failure should be welcome as well.
All in all, I would conclude by saying that this is not a profession that bombards you with money initially but contentment can surely be on the platter if one is up to digging for it."