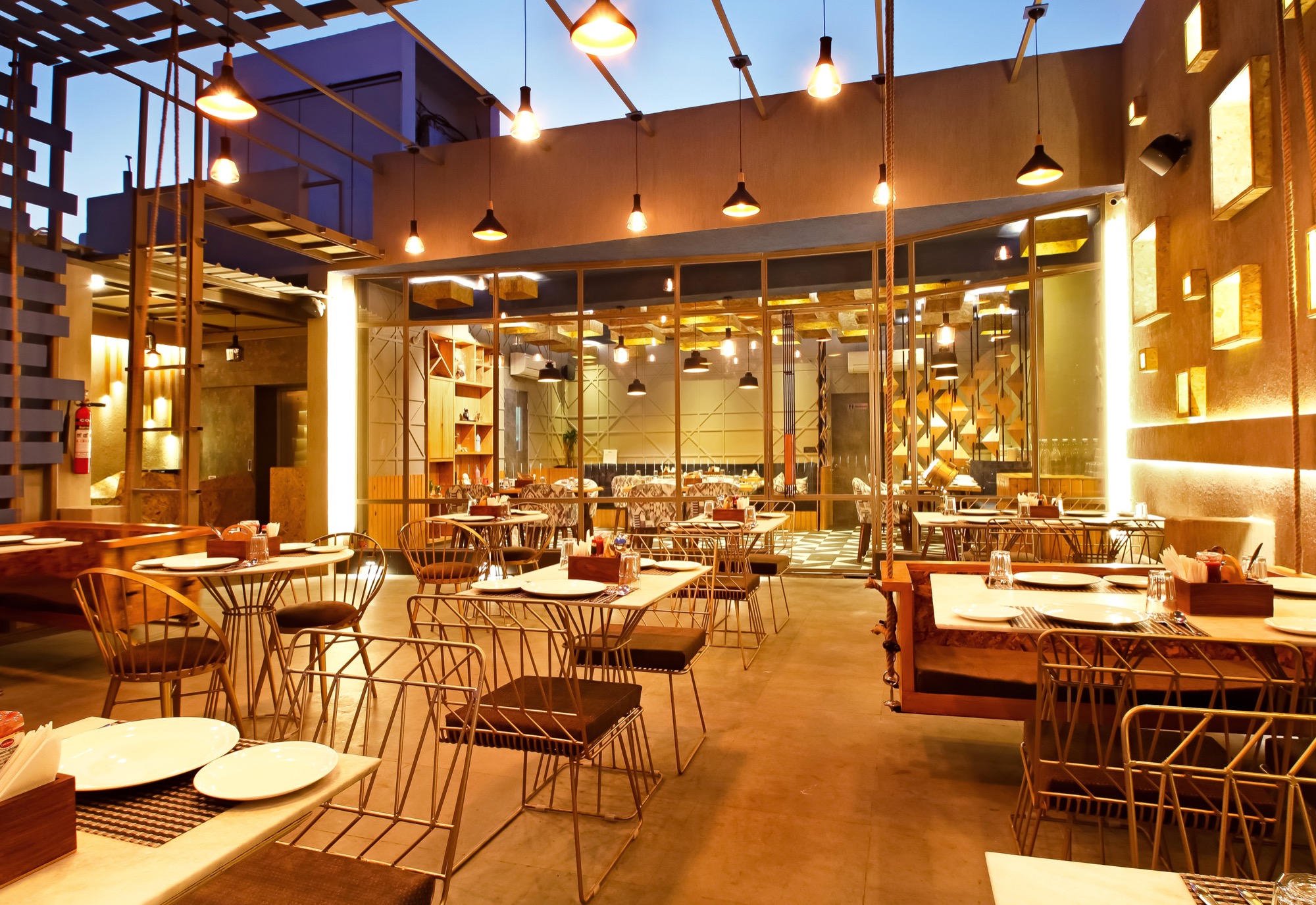 Client's Brief
Our client being new in the restaurant industry was looking for a place where he can cater clients of all age groups, be it a young 10yr old kid or a 65 yr old retired grandfather. The cuisine they were to serve was purely vegetarian, that covered the basics of any restaurants food menu. With regards, to design of the space, they were looking for a space that breathes within itself and gives visitors various choices of seating to rest in, be it indoors or outdoors.
Concept Note
Initial ideas were towards designing a raw and rustic cafe, but with time after discussions with the client and getting clarity over the brief that they had for their space, we suggested them to go with interiors that are crisp and finished with intricacy infused with a play of abstract design into the elements that will make the space. Abstract being a very strong and sensitive design element, it was used in multiple areas to work out the interior designs in a balanced composition such that it renders a space that is soothing to a commoner's eye, and becomes a space that befits a human while he/she is having a peaceful morning breakfast or a serene dinner.
Design Process
The design process being directed towards abstract art was varied and experimental in its very own way. Abstract Interactions for multiple elements of space from the false ceiling to flooring to furniture, to even placement of lights, were developed to be eventually clubbed together to form a space that becomes soothing and calm for occupant be it from any field or any age group. Similarly, abstract was carried from indoor to outdoor spaces, wherein we started our designing with semi open shaded area, and then turning the same shade towards one side and reciprocating it with a wall again in abstract openings though regular in shape on the other side, clubbing in with the wireframe furniture that is modern and contemporary in style.
Fact File : 
Project – Scroll Up (cafe n more)
Location – Jaipur, Rajasthan
Architect – Ar.Shivang Agarwal
Team – Ar.Kannan Ram
Site Area – 2500 sq. ft.
Built-Up Area – 1750 sq. ft.
Project Category – Commerical
Initiation of Project -October 2017
Completion of Project – January 2018
Photographs – Studio Bluora