A glimpse into Samar Ramachandra Associates' work ethics and their efforts towards creating conscientious corporates:
Text: Anupriya Saraswat
Photographs: Samar Ramachandra Associates
---
Nothing quite captures the spirit of accountability and altruism in architecture as this Stephen Gardiner quote – "Good buildings come from good people, and all problems are solved by good design."
We contacted Samarendra M. Ramachandra as part of our discourse with Hyderabad-based architects about 'Architecture – Disconnected?', a conversation which revolved around the various factors causing this dissociation, and how the social conscience seems to be lacking in current architectural practice.
There are different departments for different problems – there's urban design, planning, etc. – but the architect only thinks independently, focussing on the small patch of land he has to work with. Perspective is what is lacking here – that if you give me a bigger site, then I'll make a bigger statement about my ego, or the client's ego. Look at a city like Jodhpur, or Rome –you don't see anybody's ego, you just see a beautiful fabric of the city. Any city worth its salt has a character. Architects need to know that there are certain places where they aren't ego planters, but fabric creators.
Ar. Ramachandra's sentiment resonates particularly well with the contemporary quandary of individual artistic expression vs. social conformity and coherence. It's a delicate issue, one which requires a degree of sensitivity and responsibility that is often side-lined in the current curriculum.
In France, for example, urban design is part of the first year course. They have departments of sociology and human geography – why are these core to an architect's education for them, whereas we provide them as an elective in the later years, allowing students to even opt out of them? How will then the young architect become sensitive?
Samaredra points out thoughtfully, a firm proponent of imparting values, and not just technical skills to architecture students, as part of their education. It's an ideology he firmly believes in, as reflected in the philosophy of his own firm – Samar Ramachandra Associates – 'To recognize that the role of an individual is to serve with empathy towards humanity, in an attitude that places people first, and that it may require humility, integrity, sensitivity and accessibility all coming together.'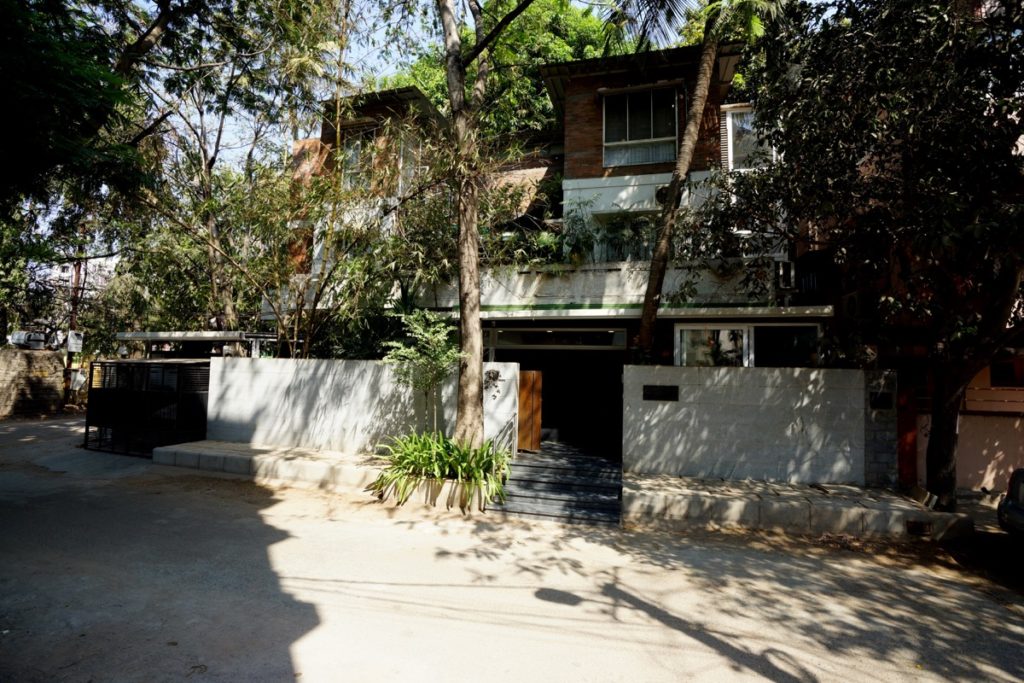 In congruence with these ideals, Ar. Ramachandra cultivates the same spirit in his employees and interns through tireless mentorship, a process which deals not only with learning to provide sensitive solution to architectural problems, but also cultivating responsibility and entrepreneurship skills necessary to sustain this process.  "What is lacking in education today is passion. What we value are people who are passionate – whether they have their own firm or are a part of an office. At my own firm – the team leaders are more involved in the project than I am, even though the entrepreneur and proprietor and pay their salaries. Why is that? Because they have the spirit of entrepreneurship – that sense of ownership – that comes in when they feel completely responsible. This is what I learned from Neeraj Manchanda when I worked with him – he put me on the field and said, 'You are the boss now, so no SOS calls.' What I learnt from him is this – you give people a task and they'll put their life into it; you empower people, but you do so responsibly, and you stand by and watch them fall and falter and eventually learn, but you never take away that spirit of ownership."
But his philosophy isn't restricted to compounding the efficiency of his employees for his firm alone – he further expounds upon how he inculcates credibility and understanding with a larger goal in mind, one of imparting capability, "We have always felt that the person who drafts is the person who really needs to think about what he is drafting, not just follow instructions, because he knows that it has significance. So we have moved from efficiency to effectiveness – if the intern is working on a drawing and he makes mistakes, and the time on the projects gets stretched, it is compensated by the senior who works with him to make sure that the drawing is perfect; we have three level checks to ensure its quality. If you give the task to an experienced draftsman, there'd be no errors but we give it to somebody who makes errors to groom them to grow out of their errors. Not all architects stay with us – they come in as interns or young architects work for a few years and move on – and by that time, they are capable."
He talks about how this translates in the structure of his firm.
We prefer to pick them up young, because they absorb the philosophy of the firm and are willing to work with it, and vice versa. We pick people who don't just have ideas, but somebody who really puts in an effort in his work, who think of architecture as a career, and not just a job… Our firm at any point is about 20-25 people. This might include a few interns, might not, but it kind of floats. The idea of having only architects is because learning leads to the ability to create something new. So if you want to create something completely new, you need to learn the basics thoroughly, and move further.
SRA is a design consulting firm which focuses on providing holistic solutions to its clients. The architects work in tandem with their consultants, to whom technical tasks and service engineering – be it electrical, mechanical, or automation – is outsourced. "We are giving the client the benefit of an expert consultant, not somebody who's in house for optimizing our cost, but actually bringing in people together from different offices, and coordinating the work here. Our own people are groomed to be leaders, in charge of all aspects of a single project. We handle about 40 projects at any point of time – when young architects take a role of ownership of the different projects they are working on, then the head architect can enable them, and the work is carried out efficiently."
However, SRA doesn't identify itself as a corporate team, but a family – one which focuses on propagation of principles and maintaining a network of like-minded professionals which share the same roots and work ethics. "Our website doesn't say SRA team, it says SRA family. Everybody who has worked or trained with us will always be a part of us in a very real sense. They may have moved on or setup their own offices – but they're still considered a part of SRA. The beginning years are their formative years, so we look at them as an extension of us, as they have been nurtured here. A part of our culture is that we may work together in the future, or separately, the learning continues."
This setup is a testament to his dedication towards disseminating knowledge and cultivating social responsibility, a goal which he works towards tirelessly, not only in his own firm, but with the student's community at large as well. He helms SRA Edu – a non-profit offshoot of the firm that conducts workshops and handles publications about pertinent discourse, an informal setup which ensures that there is teaching outside of classrooms and beyond collegiate level, as a part of personal and professional growth of an architect. A notable example of this is the archxplore, an initiative which conducts study tours to different parts of the country, and even overseas, promoted and sponsored by the firm, keeping in mind that first hand exposure is the best way of learning.
The video below sums up the philosophy of Samar Ramchandra Associates:
Ar. Ramachandra is a highly driven individual who is striving to create a self-perpetuating network of socially conscious professionals, a drive, he is certain, will help the community overcome the current disconnect. "You can talk ideas and ideologies all you want, but what can they do for the common man? I'm not saying that every architect should become a builder", he says, referring to Samar Ramachandra Associates Build – the construction wing of Samar Ramachandra Associates, which offers ALDB (architect lead design build) services – "but if you have the perspective of the simplest aspiration, then you will be able to address the simplest need. And you'd be able to look past ideologies and theories and actually communicate with the builder, go beyond what is being asked of him, and meet the needs of the client – of the square feet and the fancy elevation – and deliver value as well." The message is clear – in order to remain relevant and intellectually accessible, the architect must harness all the skills in his arsenal and not just express his individuality to design as an exercise in delivering square feet, but create a product which directly connects with the end user and satisfies the needs of the individual, as well as the society.
Samarendra, eloquently puts, "A successful salesman does not sell the product, he sells the value."