What is a slum?
UN-Habitat refers to slums as contagious and informal settlements, where the inhabitants lack at least one or more of the following: durable housing with adequate space, access to services (water and sanitation) and social security against eviction and crimes¹.
The five biggest slums in the world- Khayelitsha in Cape Town, Kibera in Nairobi, Dharavi in India, Neza n Mexico, and Orangi Town in Pakistan, are together home to around 5.7 million people². Most of this population consists of an informal urban workforce who move to the cities looking for livelihood and opportunities for work. The rapid population growth and the trend of migration from rural to urban areas indicate that, by 2030, about a quarter of the world's population would be living in slums or other types of informal settlements³.
Slums are neighbourhoods that are born out of a combination of necessity and helplessness. One of the best examples of this is the Favelas in Rio.
---
As Theresa Williams, Executive Director of Catalytic Communities said in her (now popular) statement from 2017, "Favelas are unregulated. They're poorly serviced. But don't call them 'slums.' That's a lazy translation and it's unfair to the people who live here. The word 'slum' implies that all favelas are the same. The word 'slum' ignores 120 years of improvement that these residents have made to their communities. And the word 'slum' makes it easier to ignore these communities. That's exactly what the government wants. Because if favelas aren't viewed as real neighbourhoods, then their residents don't deserve real services. So please don't use the word 'slum.' Because it only helps to encourage that narrative."
---
The notion of slum should not be romanticised. Everyone deserves a home that is adequate, safe and secure.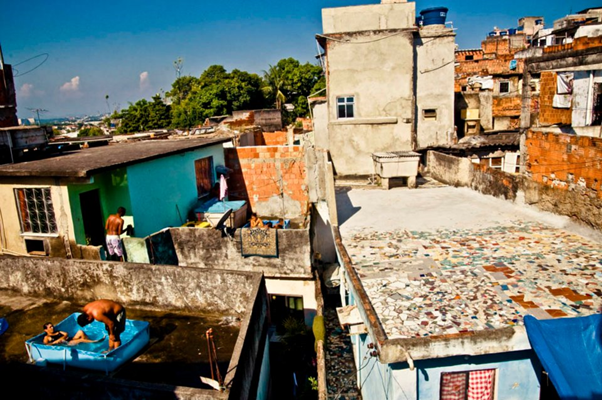 Slums are home to vibrant and resilient communities
Slums consist of a large number of temporary homes, often made of sheet metal or other such material which is not thermally efficient and is also at risk of getting dislodged under the extreme wind. The population living under such conditions are exposed to poor air quality, extreme temperature fluctuations, urban heat island effect and sound and water pollution. Already highly vulnerable, these communities are among the first to face the wrath of climate change events. Under such uncertainties, the communities living in the slum have built a level of resilience and social cohesion unlike any other. Slums are home to businesses and the narrow lanes of Dharavi are home to businesses generating revenues to the tune of a billion dollars⁴.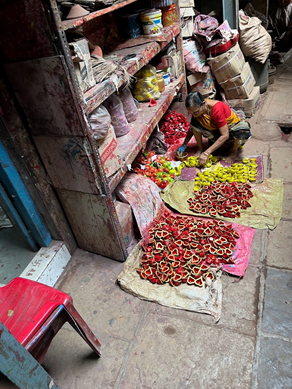 When faced with a major life event human beings rely on their immediate family or a trusted community for support to return to normalcy. This is true for any strata of society, and more so for slum dwellers, who consist of people who have migrated from their hometowns without an accompanying support system. The network and the "family" that they have created are extremely valuable to them and are often more important than their own families back home.
Dharavi in Mumbai, which is one of the largest slums in the world is home to a large number of industries which operate in harmony with places of worship, homes, playgrounds and schools. What they lack in infrastructural resilience is compensated for by social resilience. As an example, during the Covid-19 pandemic, the slums were expected to be hotspots for spread and with businesses shutting down and operating remotely, the support staff were the first to be laid off. Many families lost their only source of income and were devoid of any assistance.
This is a prime example of the importance of social resilience during tough situations. Building inclusive, adequate and safe permanent homes for slum residents is a major challenge faced by Governments.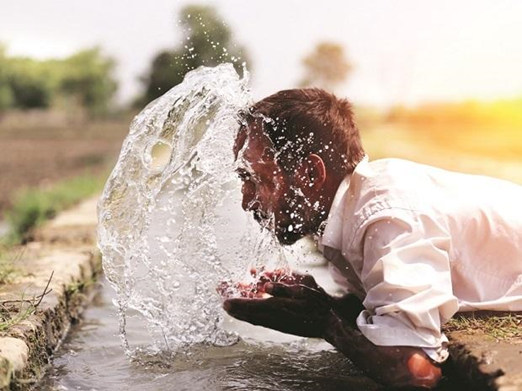 Building resilient housing for low-income communities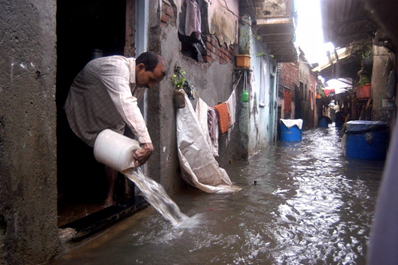 The dictionary definition of resilience is the "ability to withstand adversity and bounce back from difficult life events".
Climate change events are a test of social and infrastructural resiliency. This is also different from the traditional definition of sustainability. Traditionally sustainability consists of reducing the impact on existing resources but resiliency takes it one step further.
Communities on the margins and those living in slums and other unplanned settlements are often overlooked by the city. This is the population that is first in line for any natural disaster- be it flooding or heat waves.
Housing programs around the world are aimed at housing the urban poor and curtailing the ever-expanding urban sprawl but the question that needs to be asked is "Are we addressing the right problems by just building living spaces?"
What defines a resilient home for a family living under such conditions?
Ann Francis, Asst. Prof, TERI SAS, believes that while human beings have the ability to adapt to changing climatic conditions, economic situations and other conditions over a period of time, the built infrastructure does not have this ability. She urges modern-day researchers, designers and engineers to design and build to accommodate foreseeable climate change events.
Slum rehabilitation and rehoming communities and families on the margin are always looked at as providing shelter.
Often overlooked are other aspects of what makes a living space a "home". For a space to feel like home, the residents should feel that they have an adequate amount of living space and are surrounded by a community where they feel cared for.
Designing homes that are thermally efficient, with good ventilation and using a robust and resilient structural system is the starting point for the design and construction of a resilient neighbourhood. Once these aspects are taken care of, the secondary, more energy and sustainability-related aspects would be optional value add to the social system, making the residents less reliant on resources provided by the city.
Designing and building homes with the active participation of the communities also ensures that there is a sense of responsibility and ownership. This would also ensure that livelihoods are not lost in the process of rehoming. Including women in both home ownership and decision-making forums are also important to ensure participation and would allow families and communities to settle faster in the new residences.
---
Ann Francis (Asst. Prof. TERI SAS) mentions how accessibility and ensuring livelihoods are not affected are key to ensuring success in rehabilitation efforts. If the new neighbourhoods are in locations far from opportunities for livelihood, there is a high likelihood of residents moving back to the slums. A lack of opportunity, combined with scattered social fabric during relocation is enough reason for communities to seek familiarity and comfort back in their slums. A lot of what comprises human survival is made up of a feeling of safety in the community.
---
A little thought goes a long way
The key to building homes and not "a roof over the head" is by incorporating an inclusive approach. In all major housing and rehabilitation projects, there are multiple stakeholders: the city, housing authority, town planning team, designers, and engineering and construction teams. Thoughtful planning, while keeping the communities at the centre goes a long way to ensure that the voices of the people who would be living in the spaces are heard at every stage.
---
Swathy Manohar (Asst. Prof., IIT Bombay) believes that building resilient homes for vulnerable communities should be a collaborative effort by the industry, academia and NGOs supported by the Government. She also believes that a key element is also to introduce policies which allow for "context-based construction" by incorporating local technologies and materials which are more familiar to the communities.
---
As cities continue to expand, it is essential to ensure that marginalized communities have access to safe and healthy living environments that provide adequate infrastructure and services. The built environment plays a crucial role in shaping our physical and social surroundings and can have a significant impact on community health and well-being.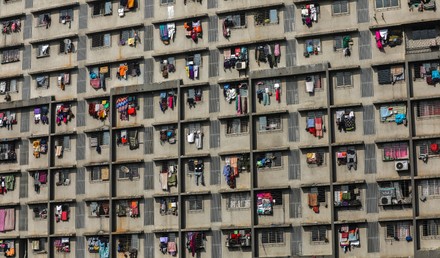 Design of homes should address grassroots-level planning to incorporate active ventilation and passive cooling aspects through the provision of openings at the right locations and of the right sizes. In India, low-income housing rarely has temperature control systems such as heaters and air conditioners since the residents cannot afford the cost to power them. A well-ventilated home is cooler in the summer, retains heat during the cooler months and also provides relief from air pollution and stagnant carbon dioxide.
Additionally, integrating green infrastructure and sustainable technologies can reduce the carbon footprint and enhance the resilience of the built environment to natural disasters and climate change. Building resilience through the built environment, especially homes, for low-income communities on the margins is critical for promoting social equity and sustainable development.
Furthermore, policymakers and decision-makers must recognize the importance of investing in resilient built environments for low-income communities. This includes providing financial resources, incentives, and regulatory frameworks that support the development of sustainable and resilient infrastructure. Public-private partnerships can also help mobilize resources and leverage the expertise of the private sector to support community-led initiatives.
In conclusion, building resilience through the built environment for low-income communities on the margins is a complex process that requires a long-term vision, strong partnerships, and community empowerment.
---
Bibliography
[1] UN-Habitat, State of the World's Cities, 2006
[2] https://www.habitatforhumanity.org.uk/blog/2017/12/the-worlds-largest-slums-dharavi-kibera-khayelitsha-neza/
[3] habitatforhumanity.org.uk
[4] https://en.wikipedia.org/wiki/Dharavi
Image Source
Featured Image: Sistak, CC BY-SA 2.0 https://creativecommons.org/licenses/by-sa/2.0, via Wikimedia Commons

[1] https://catcomm.org/favela-facts/#prettyPhoto
[2] Author
[3] The Wire
[4] https://www.google.com/url?sa=i&url=https%3A%2F%2Fwww.business-standard.com%2Famp%2Findia-news%2Feconomic-cost-of-heatwaves-higher-in-india-than-the-rest-of-the-world-
[5] Author
[6] Shutterstock
---
All the opinions expressed in the article are the contributors' own and do not represent any institute or organisation.
About the Author
Vandana C Padmanabhan is a Civil Engineer by profession, who uses her 15 years of engineering education and experience to build climate resilient communities. She holds a Bachelor's degree in Civil Engineering, followed by a Master's in Construction Technology and Management from IIT Madras. Her Doctoral Dissertation from IIT Delhi is in the area of durability of cement based materials.
She works at Community Design Agency with architects and designers to build well engineered and safe homes, while addressing issues of social, cultural and economic marginalization of some of the world's most vulnerable populations. She works towards providing spatial equity and access to engineering and technology services, to address larger systemic issues, such as gender, climate vulnerability, livelihoods insecurity and identity. This work is creating new benchmarks for housing for low income communities. As a materials researcher, Vandana also works on developing durable and energy efficient construction materials to support the construction of better buildings