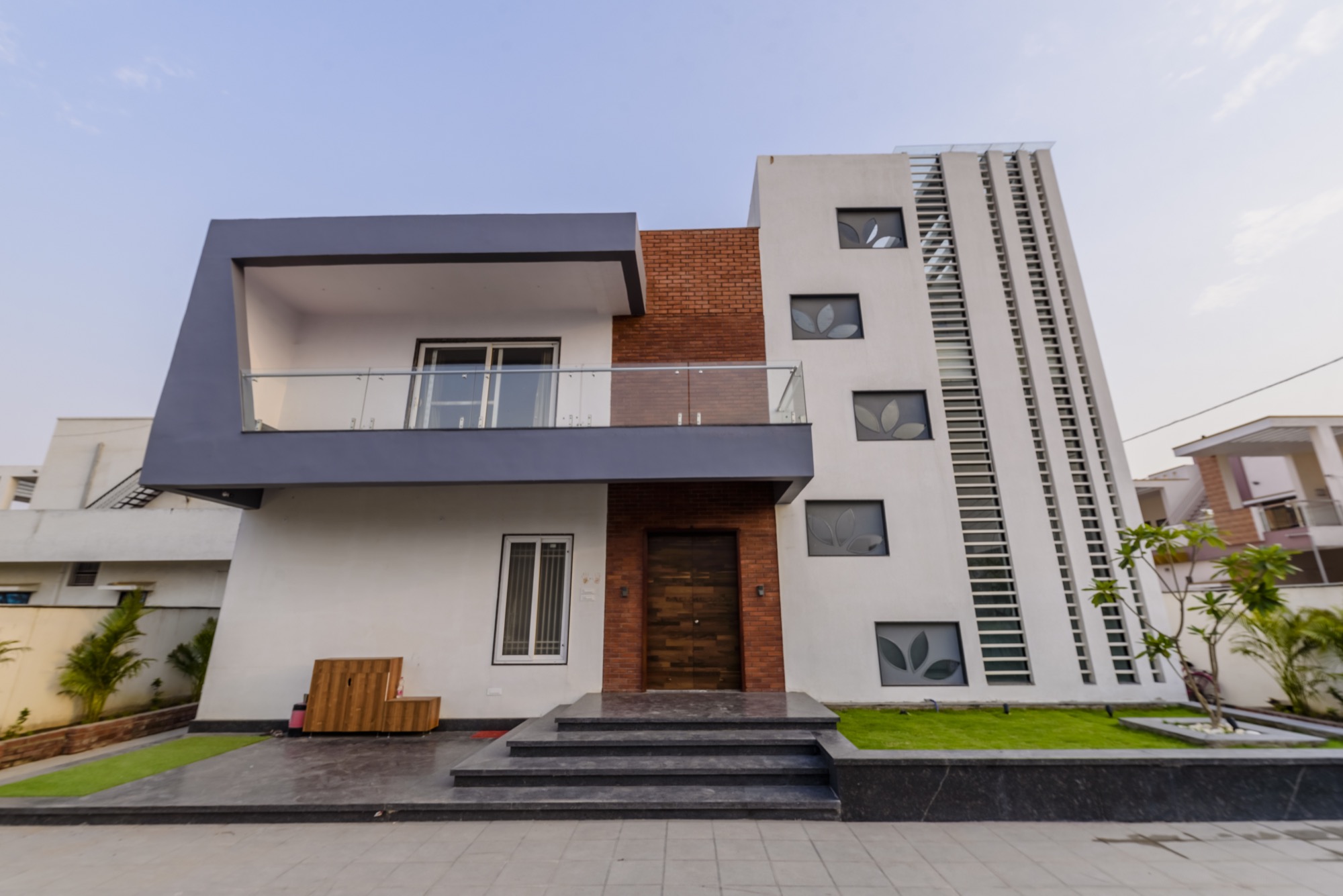 'How one responds to the built context' has been the central search of many design practices. In Chnadan Villa, RLA stumbles upon a more interesting challenge to initiate the built context on a relatively neutral environment where external forces do not offer much content for an architectural response, beyond climatic concerns, yet the need for an 'identity' is asserted.
The design intent revolves around the courtyard..the vital element of a traditional Indian inward house. This courtyard forms the heart of the two storey house where all public areas of the house notionally celebrate 'coming together' yet it is surrounded by a private edge on the west, accommodating more private functions such as bedrooms which are not very active in day time. Climatically this spatial organization work effectively as these private edge store the western heat in the day time releasing it at night and protecting public areas from the harsh light/heat of the day time.
The carefully created central axis offers a movement spine with the main entrance at one end and the staircase at the other. This beautifully integrates the vertical and the horizontal movement offering a buffer between private and the public spaces of the house. This spatial organization also achieves desired structural clarity that helps the building visually as well as economically.
The architectural response to 'all sides open' plot scenario is carefully optimized in an interesting play of light and shadow, may it be the central courtyard or the staircase block or the skylights in the house.
The double height volume in the drawing room strategically balances the other double height volume in the courtyard at the same time maximizes the desired northern light with the help of liner strips of natural lights accentuating the verticality of the volume adding a grandeur to the first impression of the Chandan Villa.
Another crucial consideration for this project from RLA was to respect an ancient traditional Indian science of' Vaastu Shastra'. The building, with its modern aesthetics seamlessly incorporates vital vaastu principles regarding the positions of various functions as well as clarity of the built form.
Add this to the sensitive choice of traditional materials and contemporary finishes, right choices of accessories and some playful colors; you have an eclectic interior space at Chandan Villa.
Chandan villa is an interesting exploration of the 'duality'.. the traditional and the contemporary, the public and the private, the horizontal and the vertical .. yet it does not limits itself as an carefully crafted architectural edifice but extends itself into memorable, comfortable and alluring home that every client desires and deserves too !