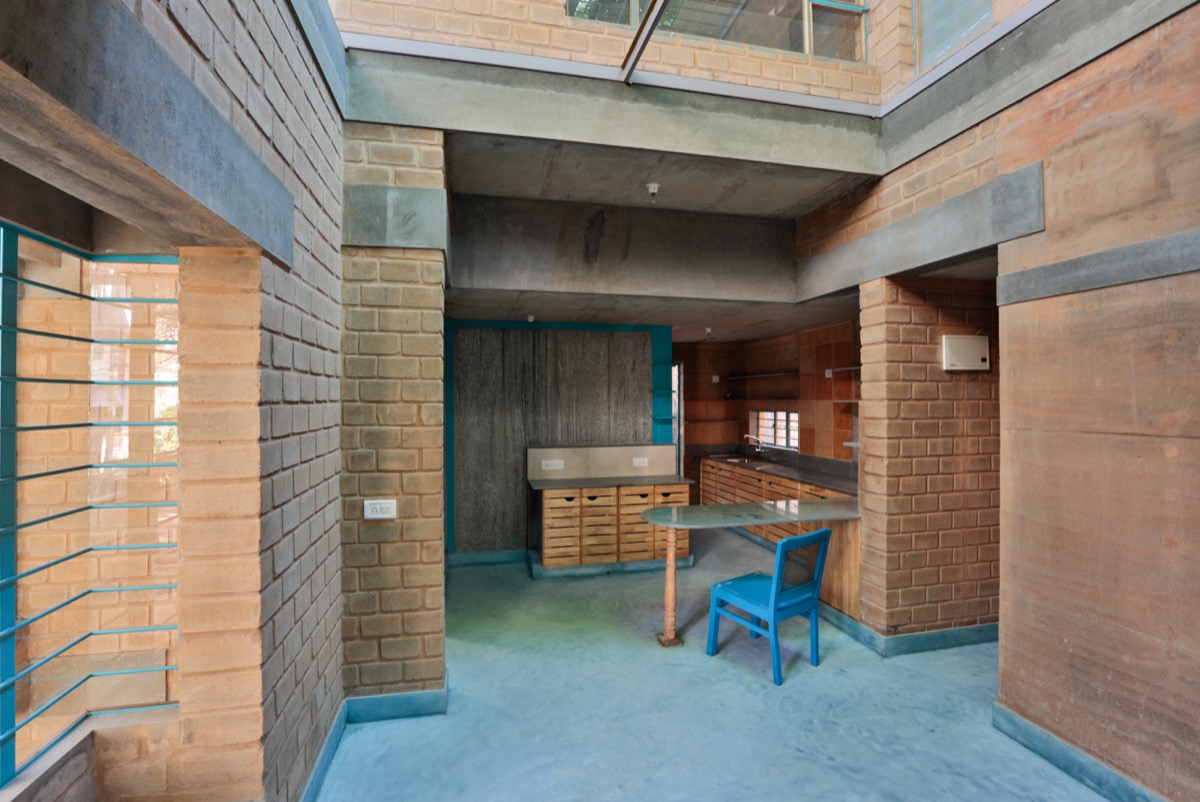 Project facts:
Name of the project: Arvindh and Priya's house
Location: Sahakaranagar, Bangalore, India
Site Area: 111.52sqm
Built up Area: 119.61 sqm
Status: Built
Year of completion: 2016
Design Team: Sharath Nayak, Maitri Dore, Ramya Ramesh, Sayan Chaterjee, Sukhraj Singh Sehgal
Consultants: Mesha Structural Consultants
Contractors: Ranganath.L
Photo Credits: Vivek Muthuramalingam
Text; Soujanya Krishnaprasad

---
The house sits in the context of a densely built residential area in North Bangalore. A substantial area of the plot along the road edge is occupied by the expansive canopy of a beautiful African Tulip.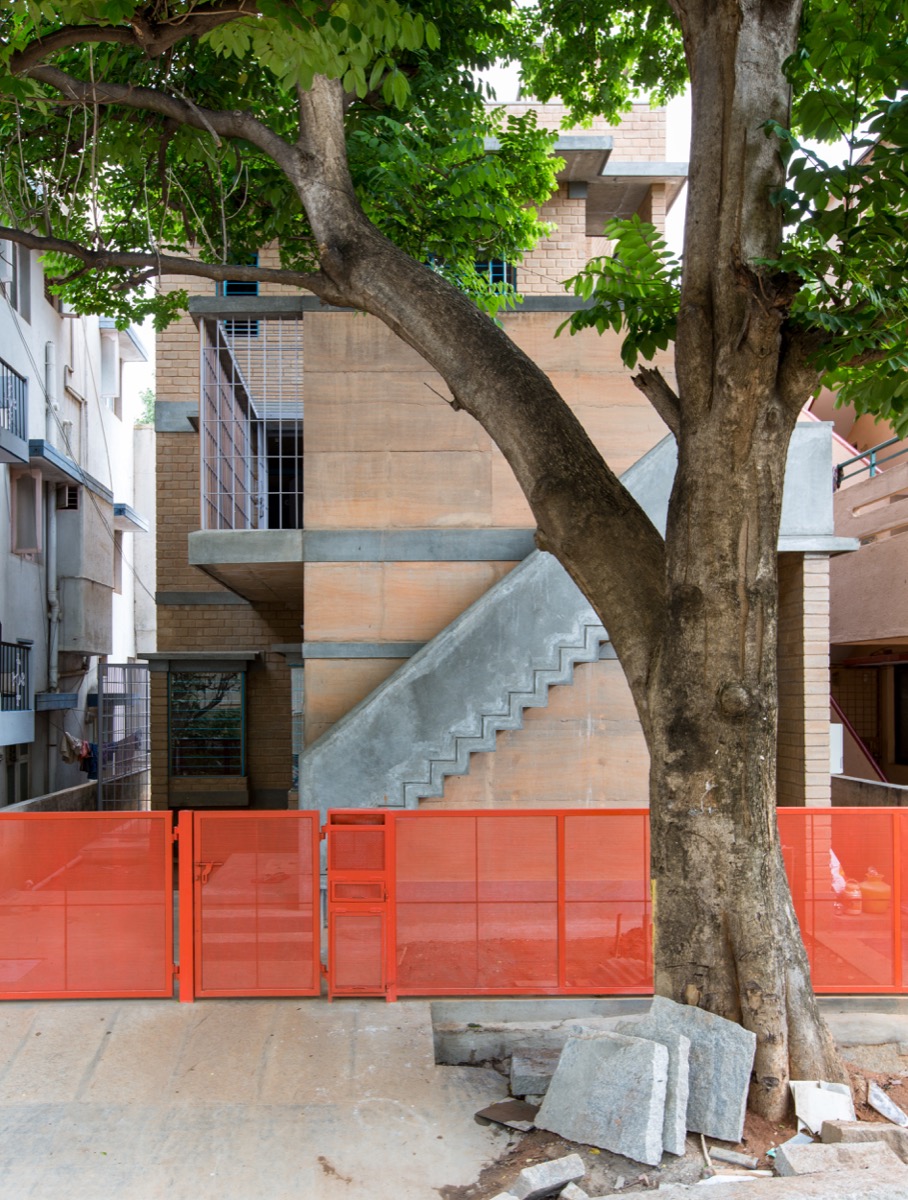 The design takes the tree into consideration at every stage in an attempt to unite it with the built space, factoring in daylight and ventilation. The resulting home is marked by a sedate atmosphere, hints of the tree and the sky mingling with sober earth walls, which then contrast with oxide floors and painted steel windows.
Upon entering indoors, the tree is perceived beneath a skylight that roofs most of the living space on the ground floor. An open kitchen sits adjacent to the living area while a bedroom is tucked away on one side. Two walls of the kitchen shared with the toilet are made of granite slabs placed vertically in a metal frame, reminiscent of homes built entirely with stone slabs, ubiquitous near quarries. Workers involved in this part of the construction were noticeably aged – perhaps a reflection of a technique that is fast fading.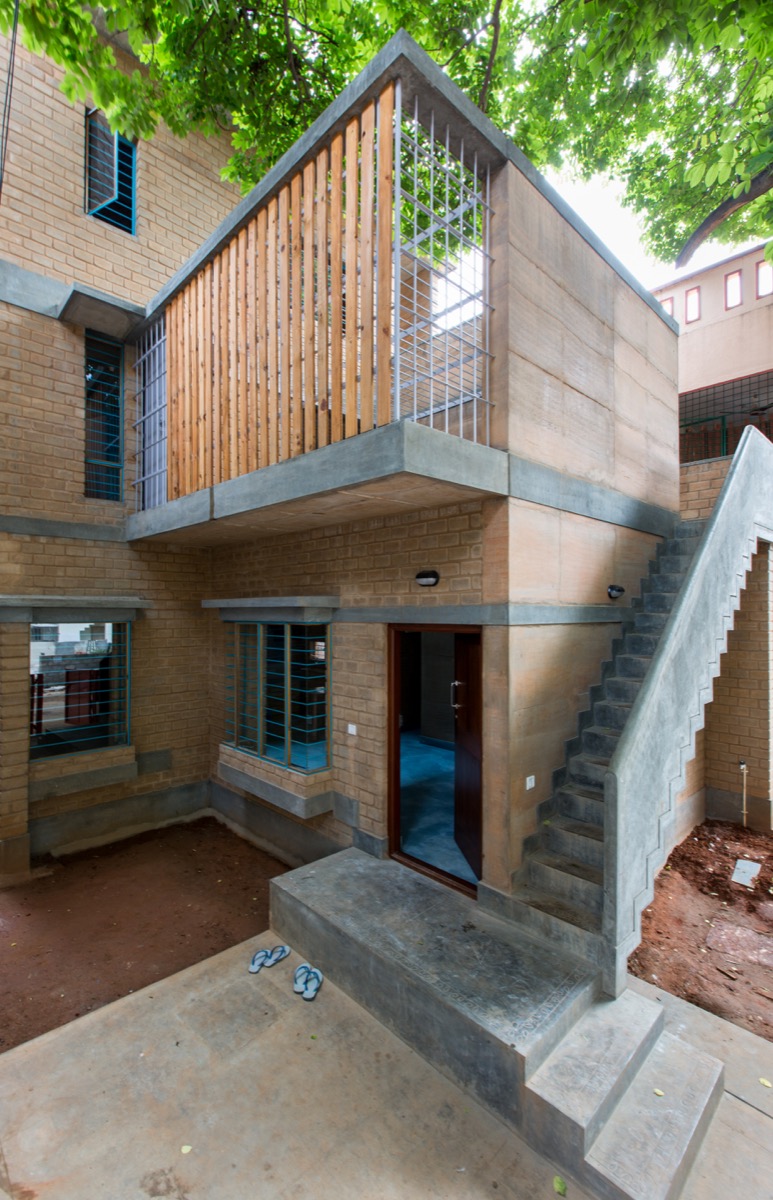 The first floor consists of a bedroom in two levels, the lower of which is pronounced by a rubber wood seat along a large window framing a terrace and the tree canopy above it. The seat is cast in concrete, raising the slab above the floor and allowing the kitchen below to relate to the skylight. The upper level leads to the terrace which is a relief amid closely built houses on either side. A shower and a toilet are built similarly in granite slabs. This material can be recovered in entirety and eliminates the need for tiling, while its metal structure replaces the need for door frames.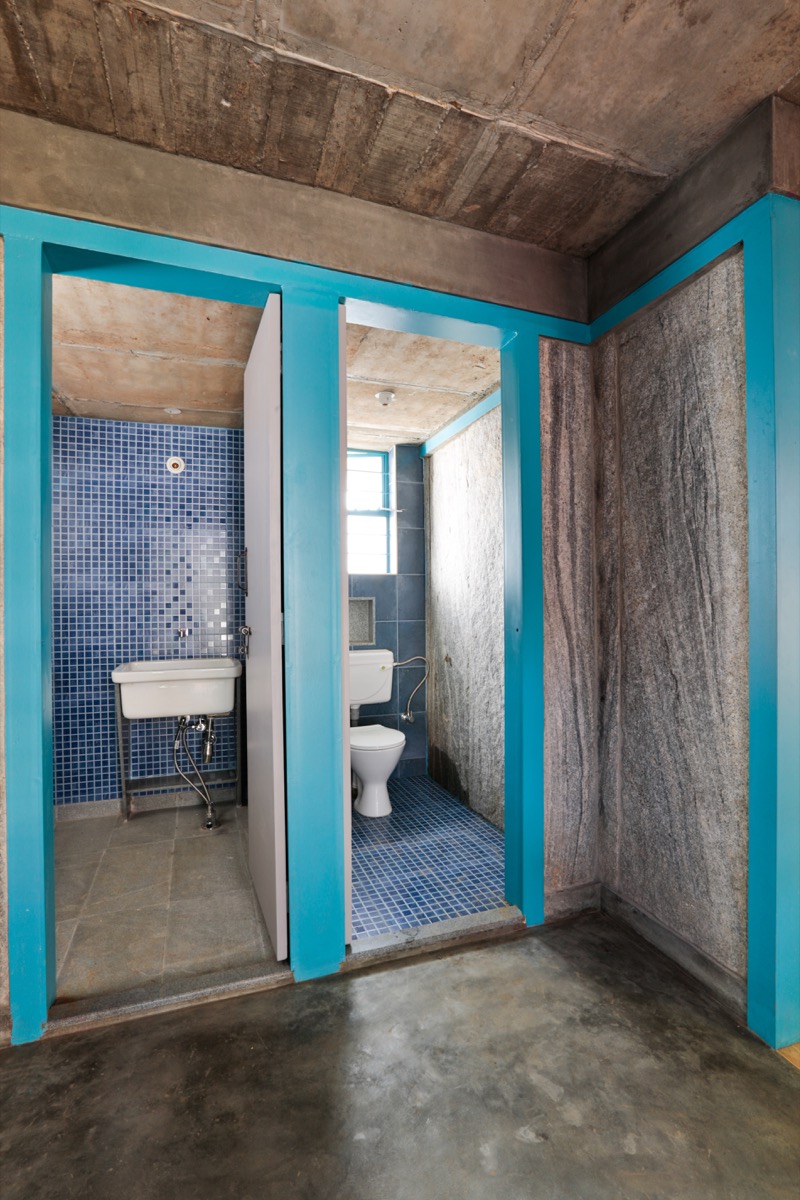 An external staircase on the ground floor leads to the terrace and continues up to a studio apartment on the second floor. This space commands direct views of the branching canopy and the sky above. Granite slabs for the toilet walls here are placed horizontally for the relative ease of lifting shorter slabs to the second floor level.
Moving through the house, the definition of inside and outside spaces feels blurred. The skylight effects that the indoors change with changing light and colours of the sky through the day. The glass roof emulates a blank canvas on which flowers shed. This open roof and the terrace under the tree effect a reinterpretation of a courtyard on a small urban plot.
Drawings:
For more works of Biome Environmental Solution, VISIT THIS LINK: