We will straight away come to the question:
"Do you think architecture education in India could do with some re-invention?"
If your answer is Yes, there are more questions.
Who should do it? How? When?
A lot of steps have been taken by the fraternity to consider what the various forms of re-invention of education can mean. Although a beginning has been made, measures to usher in change are yet to be taken.
Christopher Benninger in his note shared:
We must move from Artists to Technologists. We have projected architecture as an artistic act of creation, rather than an act promoting the useful arts, through rational procedures and scientific methods.
Manoj Mathur, then HoD at SPA, in his presentation emphasized upon bringing professional experience in the classrooms and lack of teacher training programs.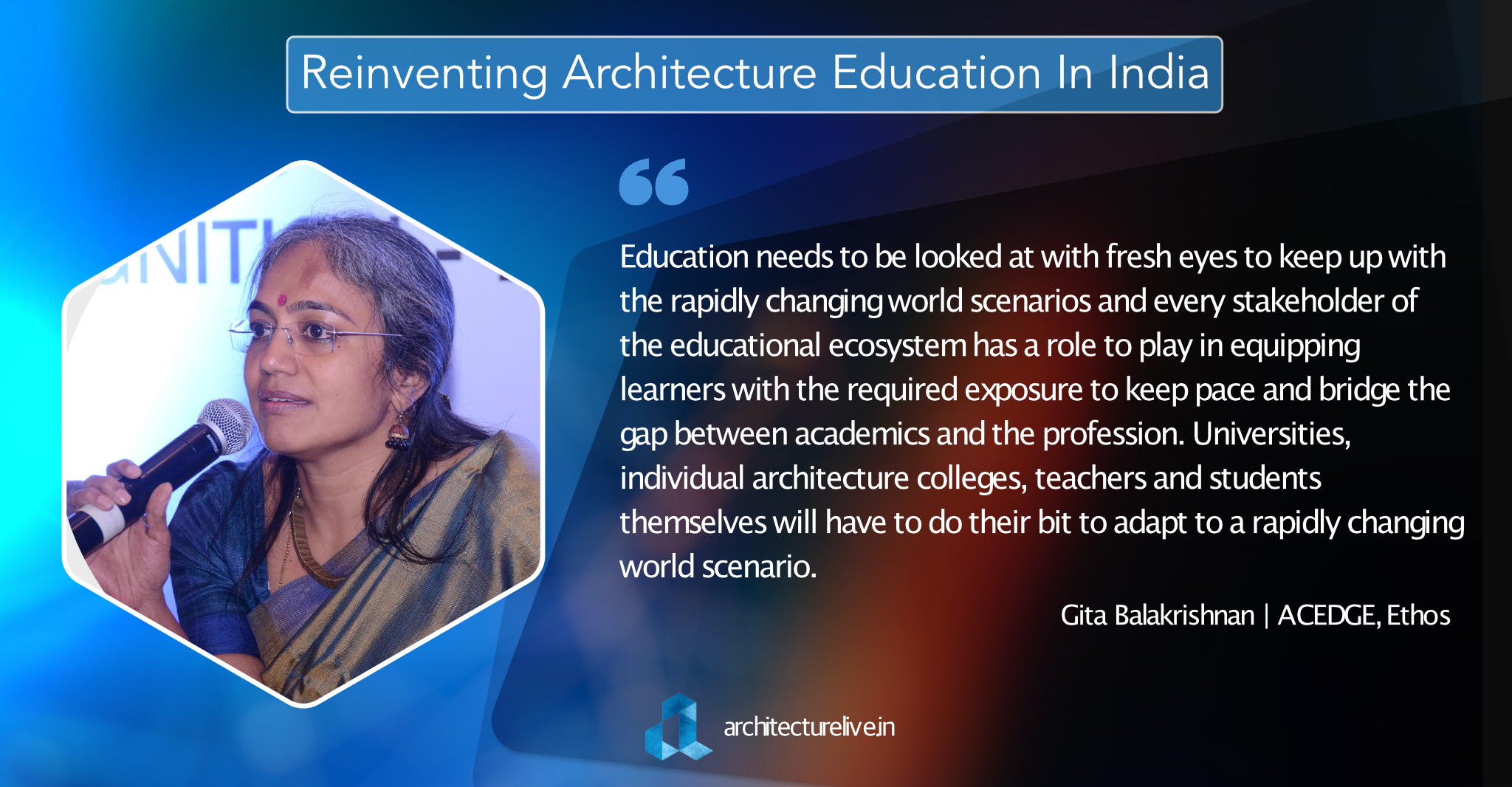 Education needs to be looked at with fresh eyes to keep up with the rapidly changing world scenarios and every stakeholder of the educational ecosystem has a role to play in equipping learners with the required exposure to keep pace and bridge the gap between academics and the profession. Universities, individual architecture colleges, teachers and students themselves will have to do their bit to adapt to a rapidly changing world scenario.
We are reaching out to experienced and young professionals, educators and students to know from them about the ways in which architecture education in India can be made more relevant to the current times and easily accessible to all – irrespective of the location of the college.
Gita Balakrishnan, the founder of Ethos, who has been at the forefront of creating a wide variety of out-of the classroom experiences for architecture students and young professionals opines that we must embrace advanced technologies to make good education more accessible to all, students and even teachers. Ethos, through Transparence, Archumen, Bending Moment and several other events and initiatives, has taken numerous efforts to bridge the gap between the architecture education and the profession.
On India's 72nd Independence Day, Ethos launched  ACEDGE (EDucation designed to give an EDGE in the field of Architecture, Construction, Engineering and Design) an online platform a few weeks ago with an objective to complement and bolster a learner's regular college education through the medium of convenient online learning. ACEDGE, with the help of peer reviews, webinars and online studios, will provide a holistic experience of learning for architecture, design and engineering students and young professionals.
""
Gita shares:
The first online studios presented by ACEDGE, 'Building without Concrete' with Ar. Sanjay Prakash and 'In Search of an Experience' with Ar. Mahesh Radhakrishnan were received with a lot of enthusiasm and excitement by the entire design fraternity. Learners range from architecture and interior design students to professionals and pedagogues from universities across the country. ACEDGE also works with institutes for electives and other online lecture series that are tailor-made to suit the needs and requirements of Institutes of Design and Architecture.
With this, we initiate a new dialogue – Reinventing Architecture Education in India. We invite views from professionals, students and academicians on ways to make the profession more relevant and meaningful to all by improving architecture education in India.