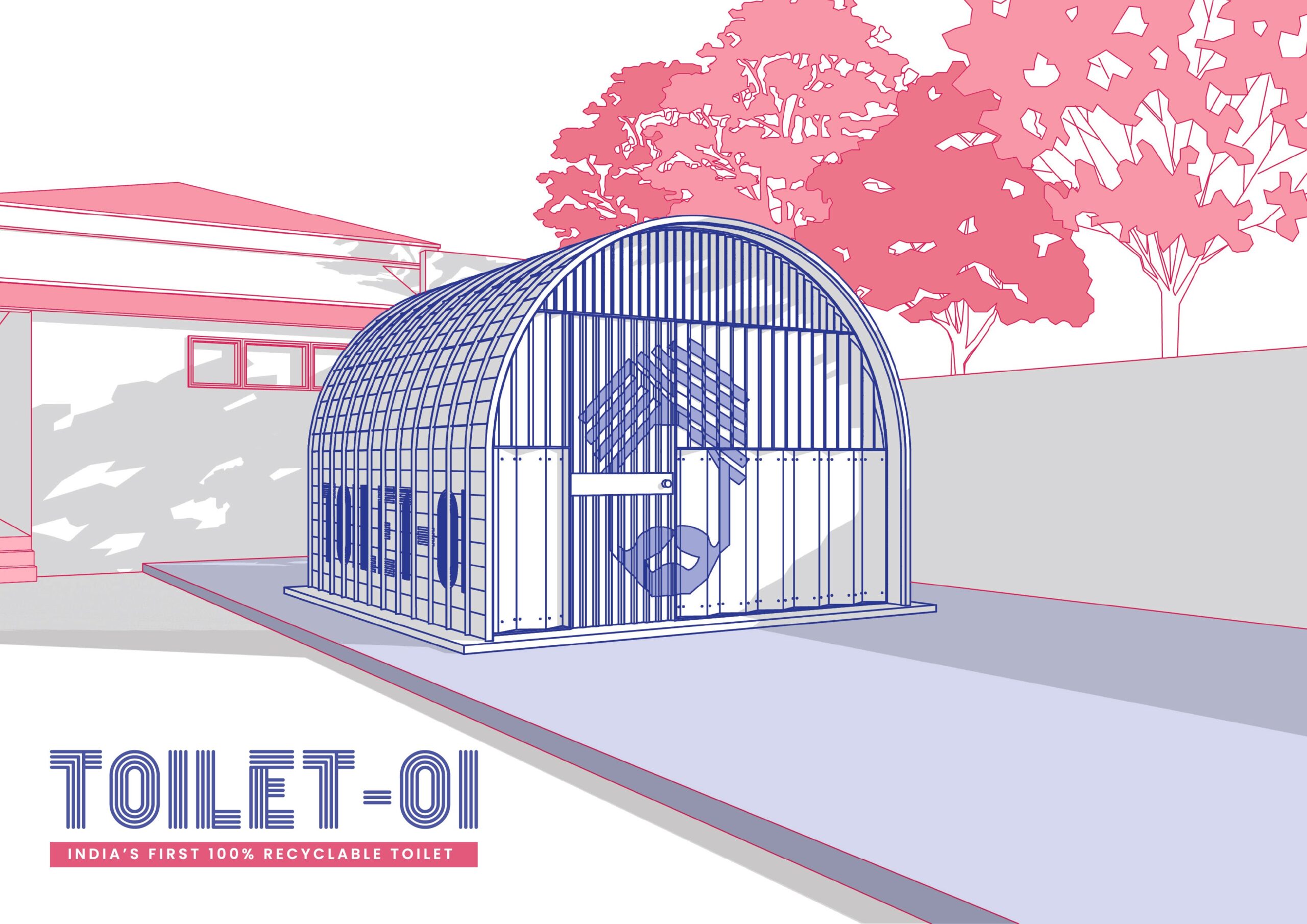 The construction industry at large holds immense power to reshape and provide sustainable solutions to the world's needs at achieving a decent living standard. One such example is India's first toilet, made with 100% recycled sustainable building blocks, at Amritsar.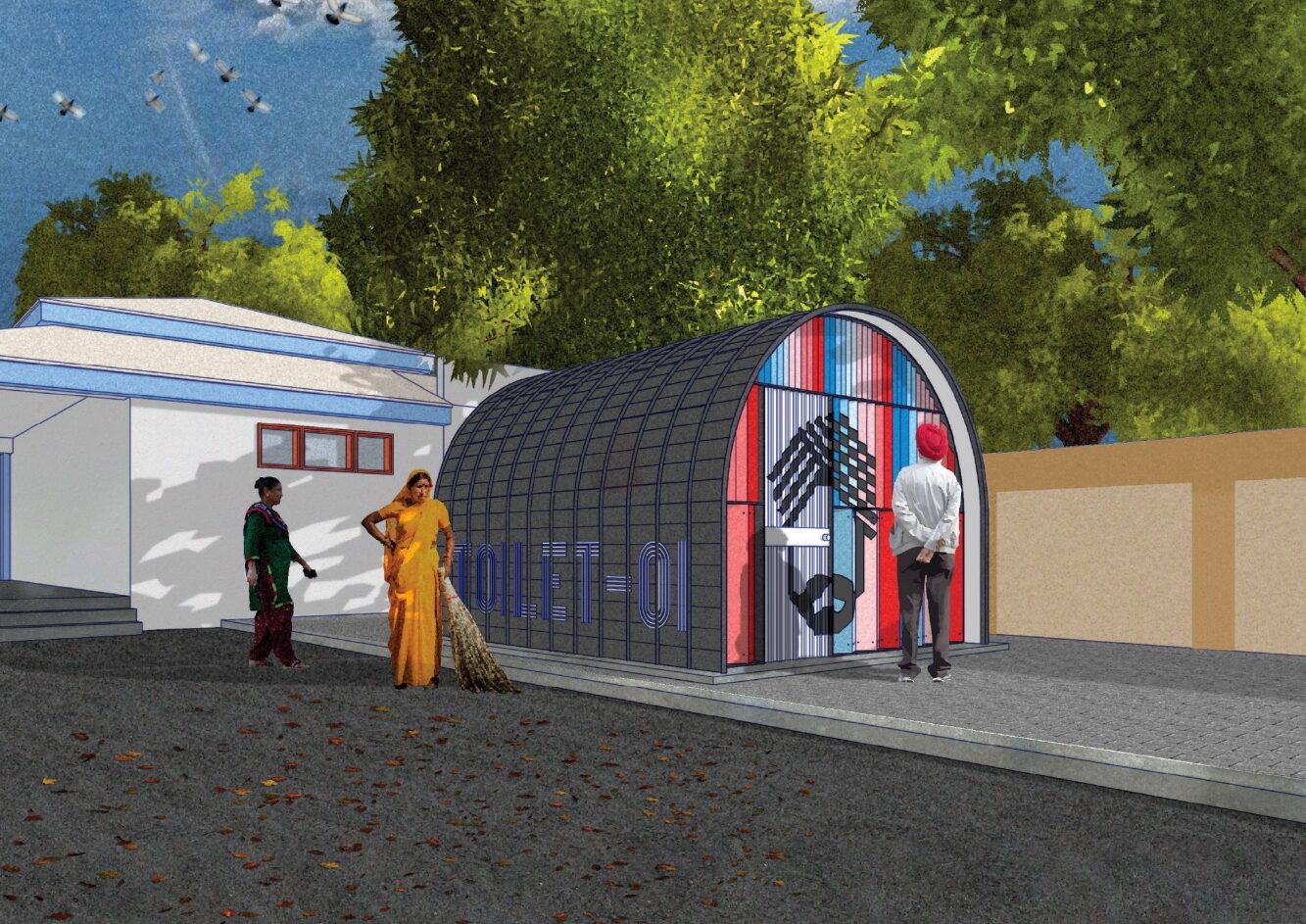 The city of Amritsar, like many others all over India, has struggled with adequate amenities like public toilets. The measures taken by the government to install facilities have been in vain due to misuse and abuse of the already scarce public toilets. These amenities need to be available sufficiently to create a balanced use among the inhabitants. To combat this issue, an initiative was funded by Ruhani Verma, a student of Jayshree Periwal International School, Jaipur to construct a sustainable toilet module, in order to solve this problem.
The design of the toilet was conceived by making use of 100% recyclable materials such as Silica Plastic Blocks, PVC pipes, MS angles, HDHMR Boards etc. The Silica Plastic Block is a sustainable and recyclable building material that is made from plastic waste and harmful foundry dust. It takes the two major wastes – foundry dust, and single-use plastic- and makes them into a product. The unique property of the block is that it can be brought down and then sent back to the SPB Unit, to be shredded back and re-extruded to make a brand-new block. The mechanism of the product justifies all the requirements to become a stronger and quicker aid to facilitate this initiative.
The toilet was constructed using two products made of SPB, namely, flat planks and lego bricks. A total of 1000 flat planks and 150 lego bricks go into making a single unit of the toilet. These blocks are completely customizable and reusable, thus increasing the efficiency of this toilet as a sustainable solution to the problem.
The modular unit is made on a framework of MS T-channel and MS flat plates in the walls and ceiling. All sides are then aesthetically covered with 15mm thick SPB planks and the inside partitions are made with lego bricks. The planks are painted from the outside with a Tin sheet door on the front. The construction system is simple yet elegant to be used as a module, and can quickly be assembled or dismantled as required. One module of size 3500mm x 4150mm x 3000mm is made up of 31% Silica Plastic Flat planks, 27% concrete, 16% Mild steel, 11% Silica Plastic Lego bricks, and smaller quantities of HDHMR Board, PVC Pipes, and Recycled marble chips.
Construction requirements, either massive or minuscule, offer an opportunity to use efficient alternative materials that can change the way we view the industry. This project thus proves to be the ground-breaking movement that triggers a major transition that we desperately need.
Images
Project Facts
Programme: Public Toilet
Location: Sri Guru Ram Dass Jee International Airport, Amritsar
Site Area: 4.1m x 3.5m at the Airport Parking
Built-up: 155sqft
Month of Commencement-Completion: Nov 2022
Design Team: Shikha Doogar, Shridhar Rao, Rana Sarkar, Manavi Dixit
Graphics: Abhishek Singh
Structure Design: Design Roots
Execution Team: RD Connexion– Pawan Batra, Manikant Sharma, Pancham Yadav
Photography: Suryan/ Dang