Facts:
Name of the project: Re Modelling 540
Status: Built
Year of completion: 2013
Design Team: Henri Fanthome , Aayushi Goel , Bhavesh Wadhwani
Location: Asian Games Village , New Delhi
Built up and Site Area: 1500 sft
Photo Credits: Andre Fanthome
Project Details
A balance between the articulated and controlled and the plain, a space that is filled with light and air and the everyday lives of its owners, a refuge and celebration that is warm and tactile, welcoming and peaceful.
About two years ago we were asked to redesign a ground floor duplex in the celebrated Asian games village designed by Raj Rewal. Over the years these houses have developed a reputation for dampness, dark and gloomy interiors and room sizes that feel cramped and are too small for comfortable living in.
The entire design process revolved around making openings, removing the unnecessary and forming connection between spaces and functions. Thus establishing a visual unity and continuity, and at the same time giving the illusion of more space than actually exists.
INSIDE-OUT and LIGHT
The Ground floor Duplex sits facing east, and over looks a lushly wooded patch of park on the edge of the Asian Games village. As originally built a thick and five foot high stone wall, and very badly planned entrance door-window assembly completely negated this advantage. Somehow the house never looked like it had space or light. So that is where we began – the front had to go, the wall of the front yard was removed and slight grill in mild steel replaced it. The front wall was removed till the beam soffit, and replaced with floor to ceiling collapsible doors in laminated safety glass and rich teak wood.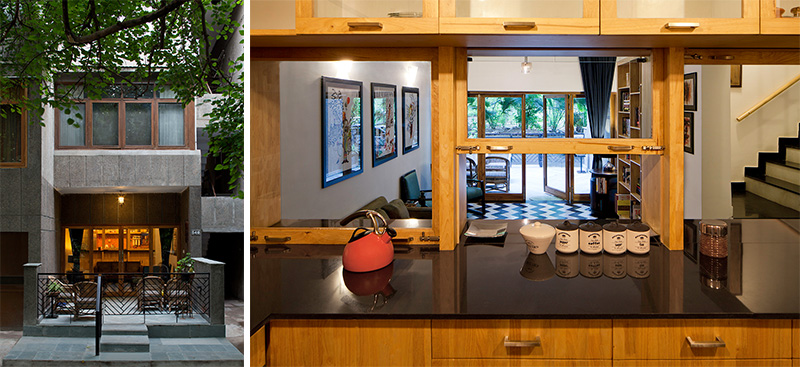 Another key point of intervention was the kitchen, a level up from the living room was treated as a hinge, taken from being a cold and dark and damp corner of the house and opened – to both the living room and the dining space with a transparent connections that allow one to look out through the living space, into the yard and further out to the trees in the east side park.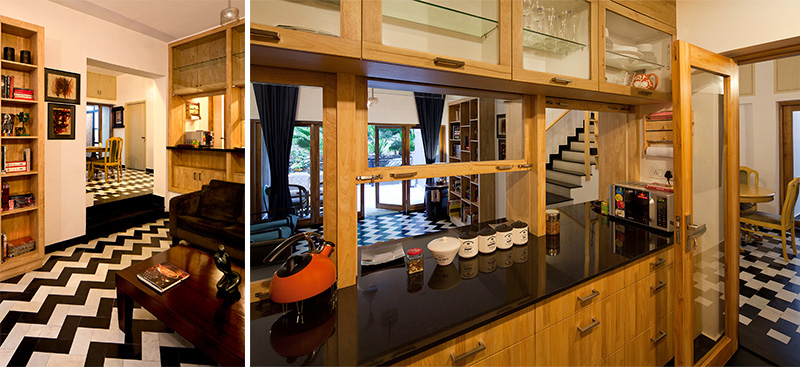 We did away with all that was extraneous – like balustrades and unwieldy sliding partitions. On the staircase a neat lattice in engineered wood, weightlessly provides safety, disguising itself as display, while a solid wood handrail is pinned onto the wall.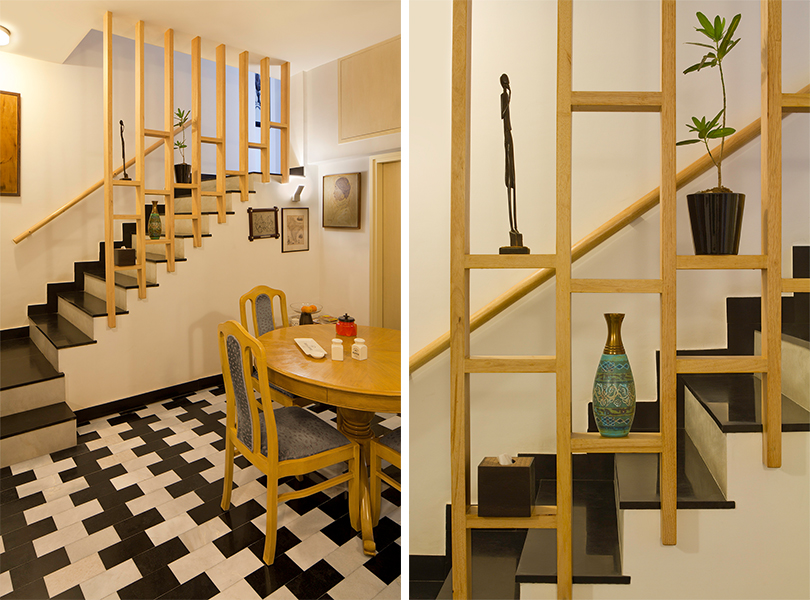 MATERIAL AND PROCESS
Design decisions for the project were based on a clear tactile understanding of materials and surfaces of human contact. A pallet of wood, white, off white, black and grey permeate the entire scheme enhancing a spatial continuity.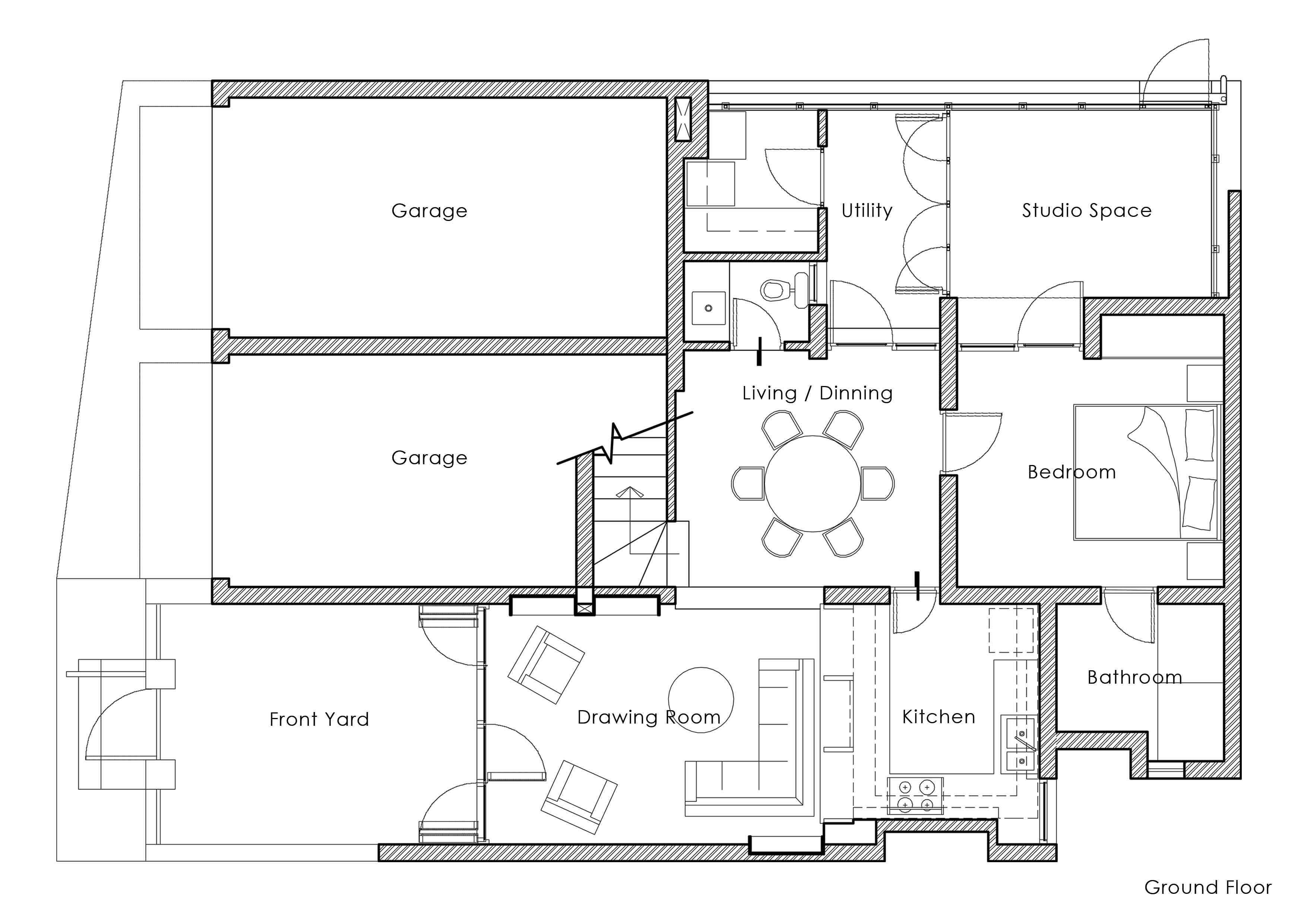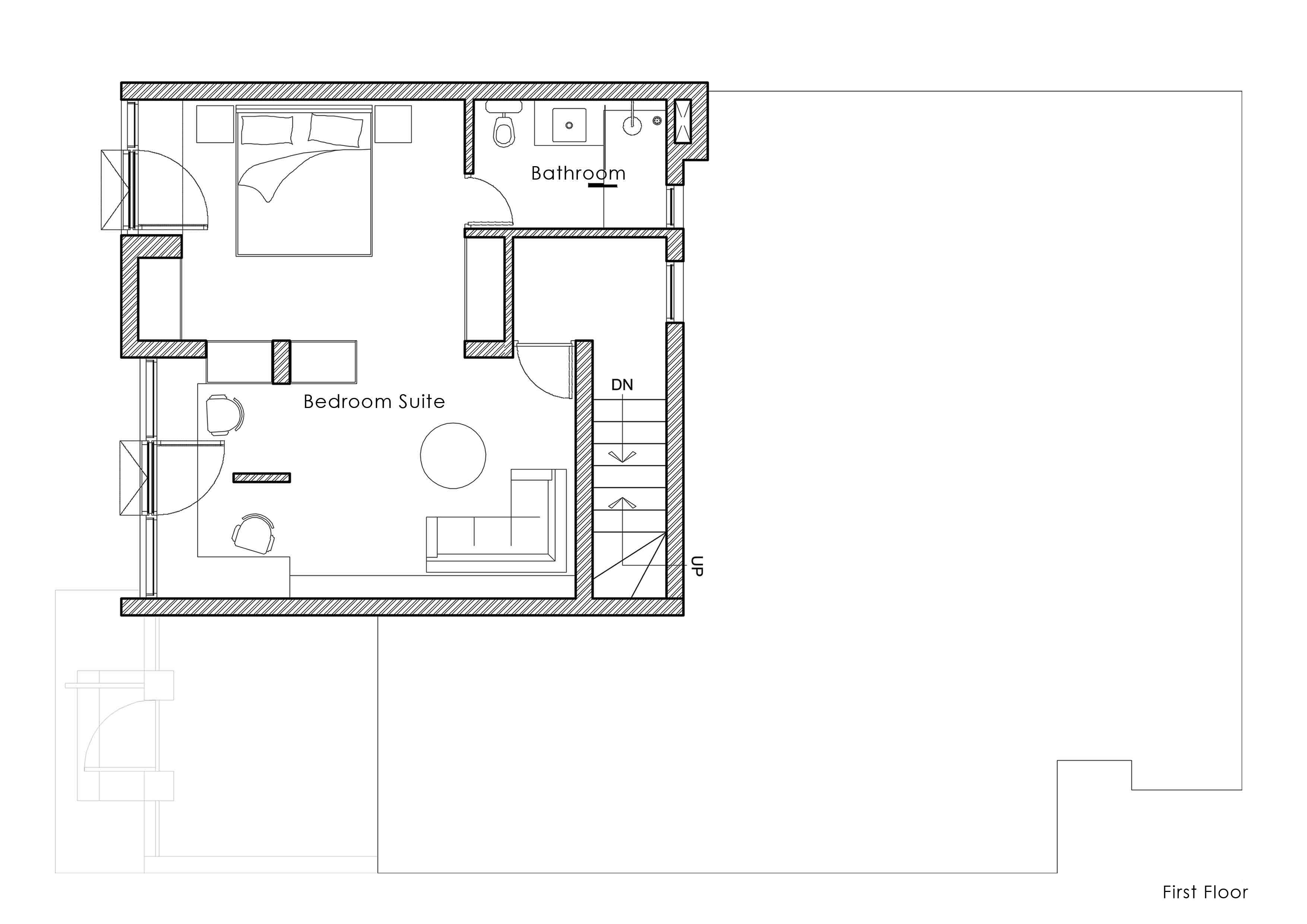 The Flooring was a great triumph, designed to tie the entire scheme together all of which is done in black kadappah and white marble tiles of 4.5" x 9", each space is a variation from a formal herringbone to a much more playful gradation on the upper floor.
At the upper level, which is the pad for the young Graphic Designer – Psychologist Couple we became more playful. The flooring that gradually changes from all black to all white much like tetras, avoiding any space defining geometry and the teak strip covered wardrobes as walls helped enlarge and re imagine this space.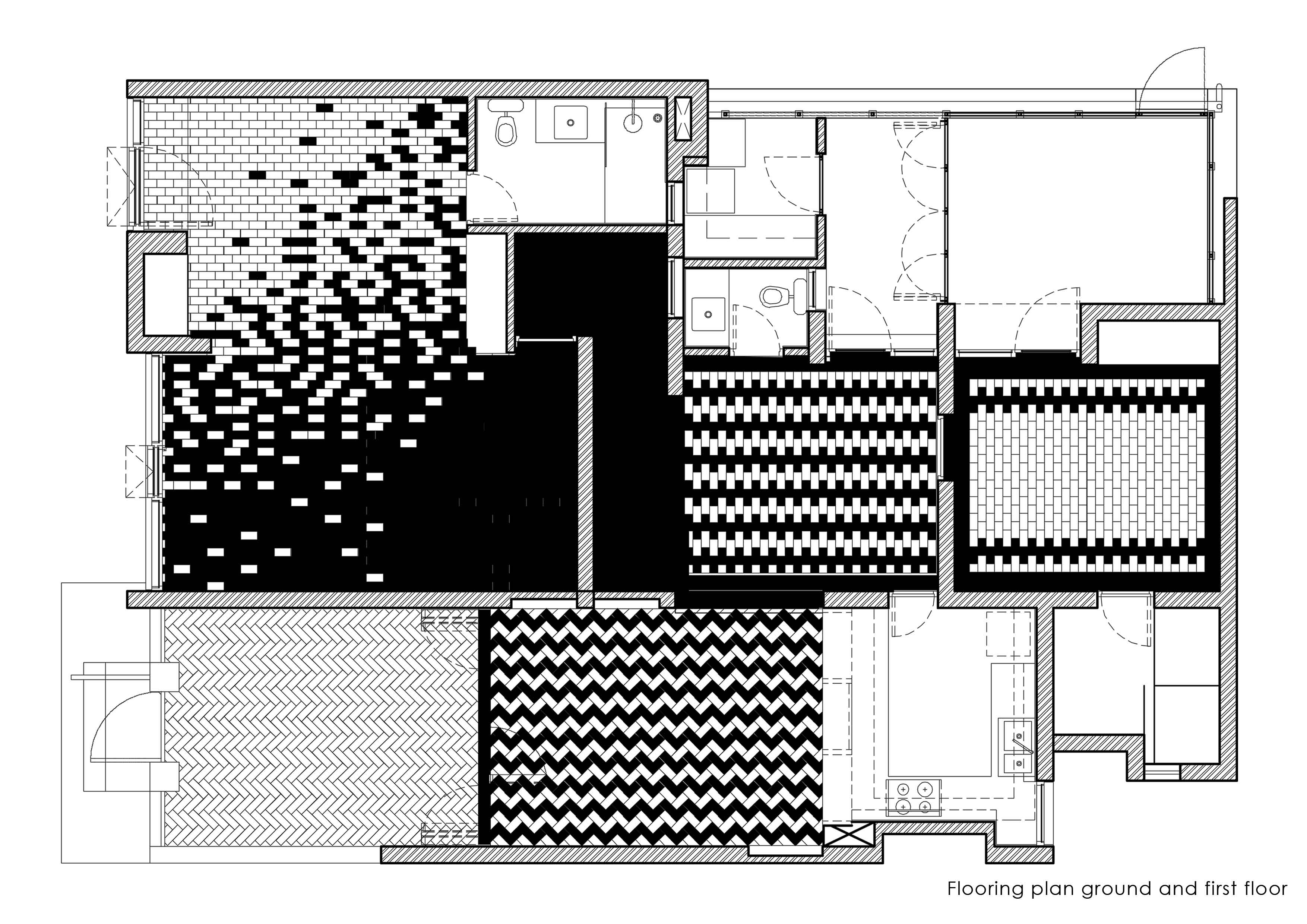 The size was chosen to effect an economy both of material sourcing and cost, allowing the stone for the entire project to be sourced in a single shipment, and was pre cut to ensure accuracy as well as affecting a huge economy in terms of material choice, procurement, and execution. The size and twin color thus forced a linking thread through the spaces, and added that certain playfulness that that found its way into the rest of the spaces, adding that one special touch to each space that takes it from ordinary to suddenly perfect and special.
CONNECTIONS and CONTINUITIES
Where ever possible between spaces, connections were created, either as physical opening or glass panel partitions that allowed access when needed.
From the Gate and grill of the yard, to the yard flooring, to the flooring of the inner spaces there is clear continuity of design and pattern. A simple but articulate progression that defines each space as distinct and yet knits them into one narrative. The connections from inside to out and outside to in determined the openings and their control of both light and view.
UNCLUTTER and SIMPLIFY
The unnecessary was removed adding precious inches to already small space. And even where necessary such as wardrobes or railings they were visioned to perform a visual and stylistic functions that only added to the character of each space. Thus layering onto and adding interest within an otherwise fairly straight forward layout.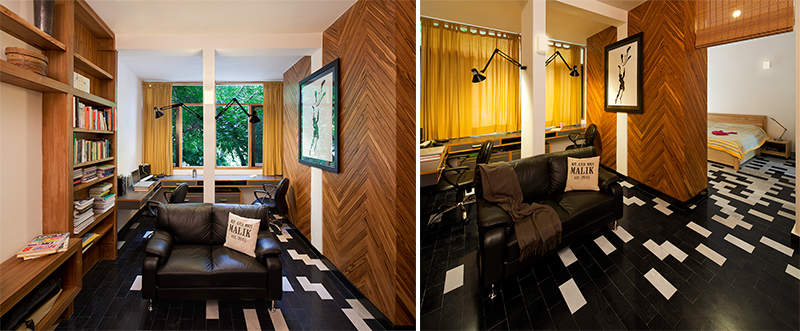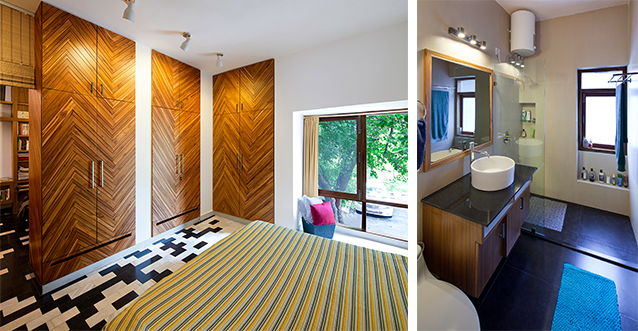 In some ways the project is representative of our process of design that addresses each site as unique and a custom design is evolved to fit its specific requirements, while at the same time allowing space for those who will live in it, letting them blend their personalities into the space and own it while we try our best to create spaces that are truly fulfilling.
We like to keep things to the bare essentials that define the experience. UNCLUTTER and SIMPLIFY, and then RE- IMAGINE!