Prashant Pradhan Architects, a firm based in Gangtok, Sikkim, has designed Rangeen, a restaurant in Ahmadabad that seamlessly blends the traditional experiences with the contemporary in its interiors. Prashant Pradhan shares his experience below: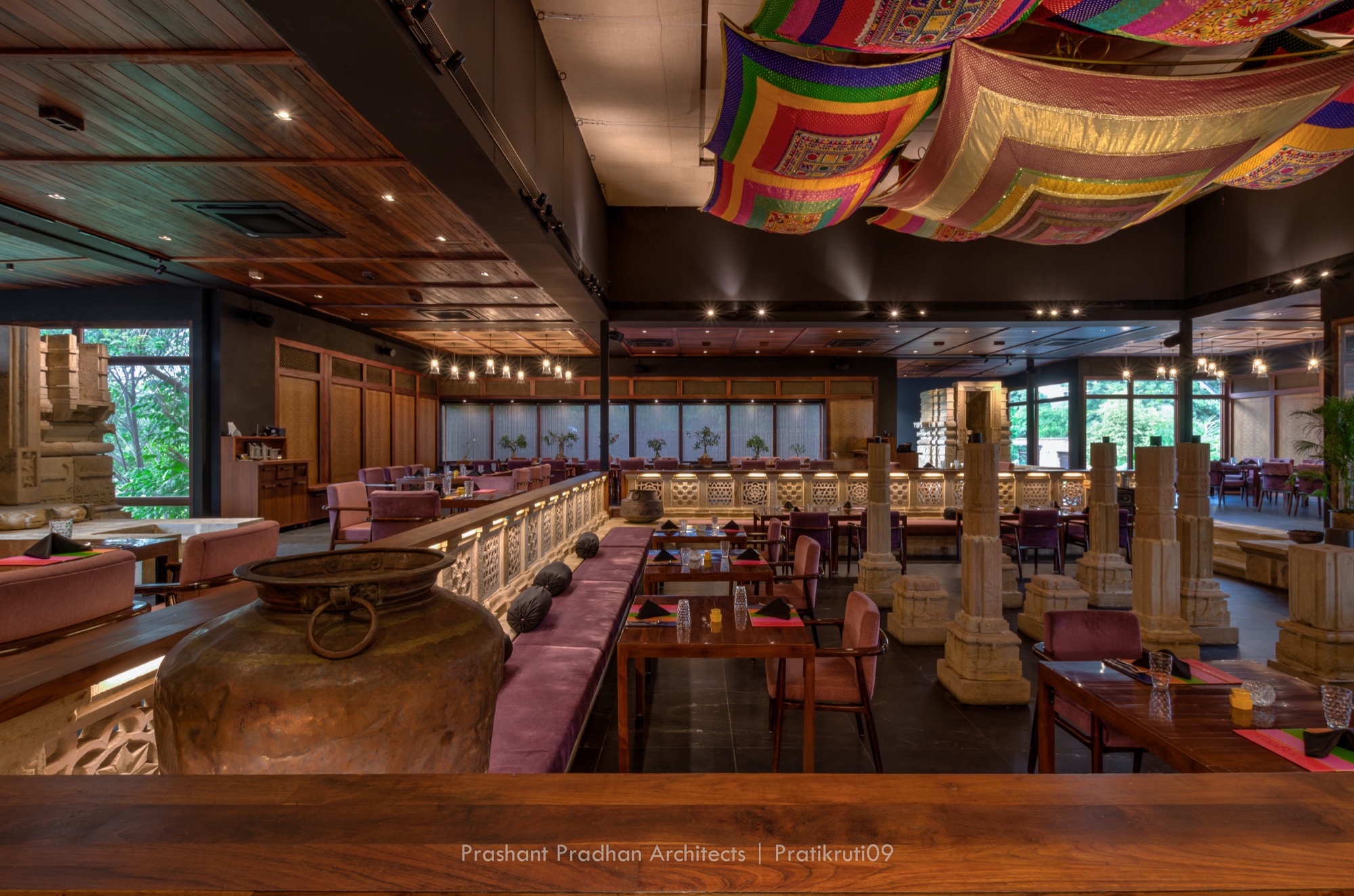 I was approached by Pareshbhai regarding a fine dining restaurant in Ahmedabad in 2013. This was after having spoken at length on numerous occasions about his concept for it. He had been working on trying to give shape to his vision, but no design had emerged. His concept was to create a fine dining experience in an environment akin to eating amidst the ruins of Polo in North Gujarat.
We at Prashant Pradhan Architects, began working on the design and the concept stage was quickly approved. The approach was to create a sharp contrast between the traditional heavy stone masonry and temple carvings with a contemporary design approach. The use of natural materials and a minimal colour palette was chosen in order to highlight the beauty of the temples. The floor and parts of the upper ceiling were monochromatic black and the parts of the structure at eye level were designed to have CNC etched veneer on a plywood base – further accentuating the contrast. We also sought to use traditional screens (jalis) and incorporated them into the design in order to delineate the different areas in the restaurant.
Finally we were responsible for designing the entire interior of the restaurant – the look and feel, the finishes – floor, walls and ceiling, designing all the furniture as well as all the lighting for the place. It was an altogether enriching experience to be able to work in such detail with artists, artisans, craftsmen, carpenters and others involved with the project. It was also clear to us that such a project – could not have been possible without the unflinching support of the clients – Pareshbhai, the man with the vision and Prajeshbhai, his nephew who is responsible for getting the restaurant built. It was also clear that it was something that would be very difficult to rebuild, replicate or plagiarise. So, some architects have claimed that it was designed by them. 😉
CREDITS:
Accessories design – Unnati Saraf / Photography – Pratikruti