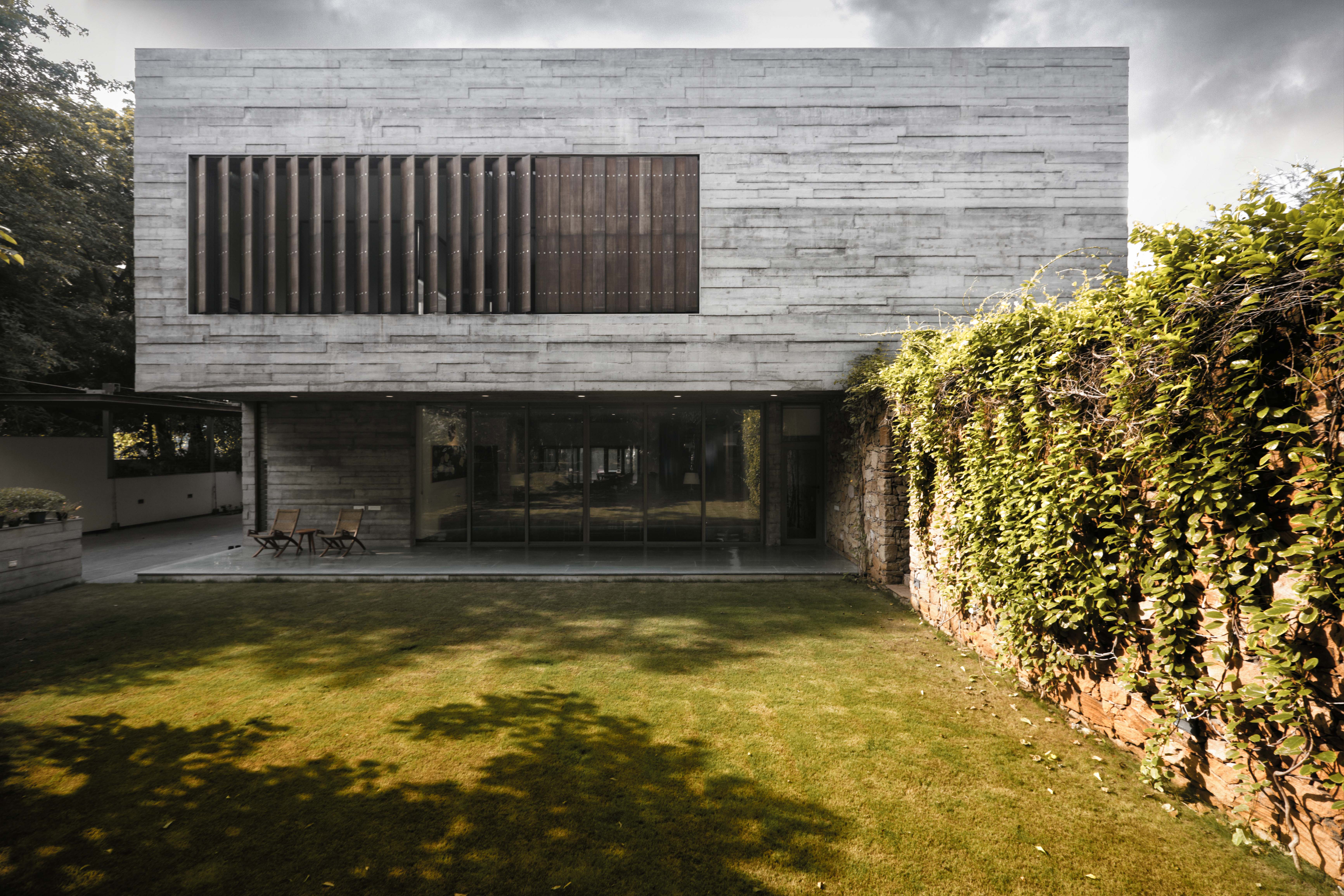 The house, dubbed as the Private Residence No. 7 is located in the middle of a neo-posh locality of the city. The exposed-concrete residence shows how architecture can be used as a tool to give expression to human mind through clever play of open and closed spaces. The house is crafted for the family of four keeping with their love for nature and keen desire for accommodating immense greens in the spaces such that it mingles with the daily life of the family through elevated garden and roof top courtyard.
The residence demonstrates programmatic and experiential continuity through a complex interlinking between the solid and the void. Its interior spaces adorned with a mix of wood and other urban fabric create an interesting contrast with the concrete exterior enhancing the exterior views.
The building responds to the local climate which is typically hot for a major part of the year while it brings in plenty of natural light and ventilation in every room. The openings are oriented to pull in more light from the north and east facades and to significantly reduce heat gain from the south and west.
The interior voids, facade openings, roof top courtyard, elevated garden and extended walls work together with light, shadow and the landscape to create a powerful influence of nature while keeping the identity of that of the monolith intact.
The ground floor houses a large living room extending towards the dining area at the south, a family room at the west and the entrance at the east, all of which look onto peripheral gardens. The living room is oriented on north-south axis to attract northern light inside the residence, and the kitchen and dining spaces extend into southern dining patio and raised garden. The approach way to the entrance provides one with a view of the roof top garden and a hint of a secret tree court. The bedrooms and entertainment room at the first level extend along the eastern side of the roof top courtyard capturing a cinemascope view of the green spaces and a skyline of the trees and screening landscapes.
Drawings
Project Facts
Project Name: Private Residence No. 07
Location: Ahmedabad
Name of firm: FLXBL DESIGN CONSULTANCY
Status: Completed
Principle Architect: Cunal Parmar
Category: Residences