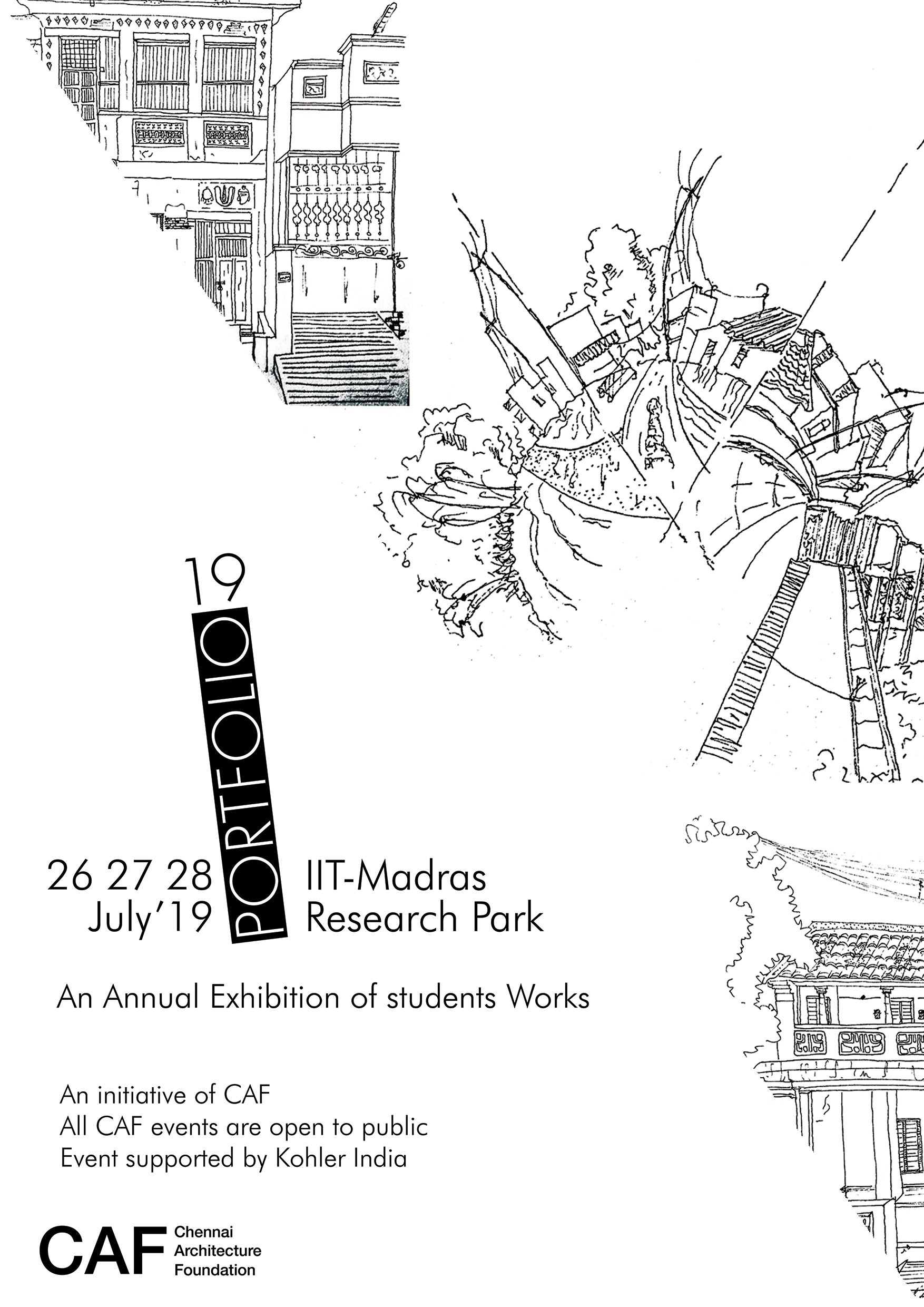 Portfolio19 is the second edition of an annual exhibition of colleges of architecture in Tamil Nadu. It is an initiative of Chennai Architecture Foundation.
There are 83 colleges of architecture in Tamil Nadu alone, most of them started in the past decade. The implications, concerns and possibilities of such a sharp increase has been discussed privately by different stakeholders in various capacities – practicing architects, academicians, other building construction professionals, students and their parents, well meaning (and sometimes misinformed) relatives and friends. But this conversation has remained speculative because of lack of information and understanding regarding
architecture and architecture education among the larger public,
the ground reality of academic institutions among practitioners
the nature of work produced and experiments undertaken in academic studios across the state among all stakeholders
And especially because of the disconnect between students and faculty of different institutions (which are located mostly in the peripheries of the cities) .
While established annual traditions like the NASA Convention (National Association of Students of Architecture) seek to achieve much of the same objectives, the highly competitive environment does not leave much space for collective introspection.
With Portfolio 19, we wish to create a public platform where students, faculty, institutions and practitioners can share their experiences and thoughts.
The event is on 26, 27, 28 July 2019 at IIT Research Park, Taramani Chennai, and consists of  four sections.
EVENT 1: 
The Pin Up is the exhibition of the academic work of 13 prominent colleges from Chennai, Vellore and Trichy, and will be open to public from 11 AM – 7 PM on all three days of the event. It is the pivot of the whole event.
EVENT 2: 
College in Focus is a segment where every college has an opportunity to share their ideas and approaches to education, and speak of their unique institutional cultures.
EVENT 3: 
Two, 2 day Worshops aimed at faculty and students of architecture, which will include lectures, joint work-sessions, discussions, making of models and a presentation ,all aimed at generating a critical discourse on the below areas:
1) How to teach the subject of structures to students of architecture in a way that's engaging and enriching. .
2) Reading architectural works, translating the visual stimulus into structured observations and develop critical insights in dissecting, understanding appreciation and criticism of architecture.
EVENT 4: 
The primary aim of  Architects Clinic is to facilitate a channel of open communication between the academic and professional realm. The Architects clinic shall be an ongoing event through the 3 days, where various architects from the city shall be available in 2 hour slots at the venue between 11am -6pm, for students and faculty members to approach them, talk, consult, take advice, debate and discuss on any issues that concern them.
The architects shall be from various young and established practices, and some who have ventured into other related fields like Landscape Architecture, Project management, Photography, Contracting, Furniture and product design etc. A full list of architects and their time slots will be circulated soon.
The event will be of value to all students of architecture and design, citizens interested in built environment and public spaces, high schoolers (and their parents) interested in pursuing an education in design, and certainly to the larger fraternity of architecture and design.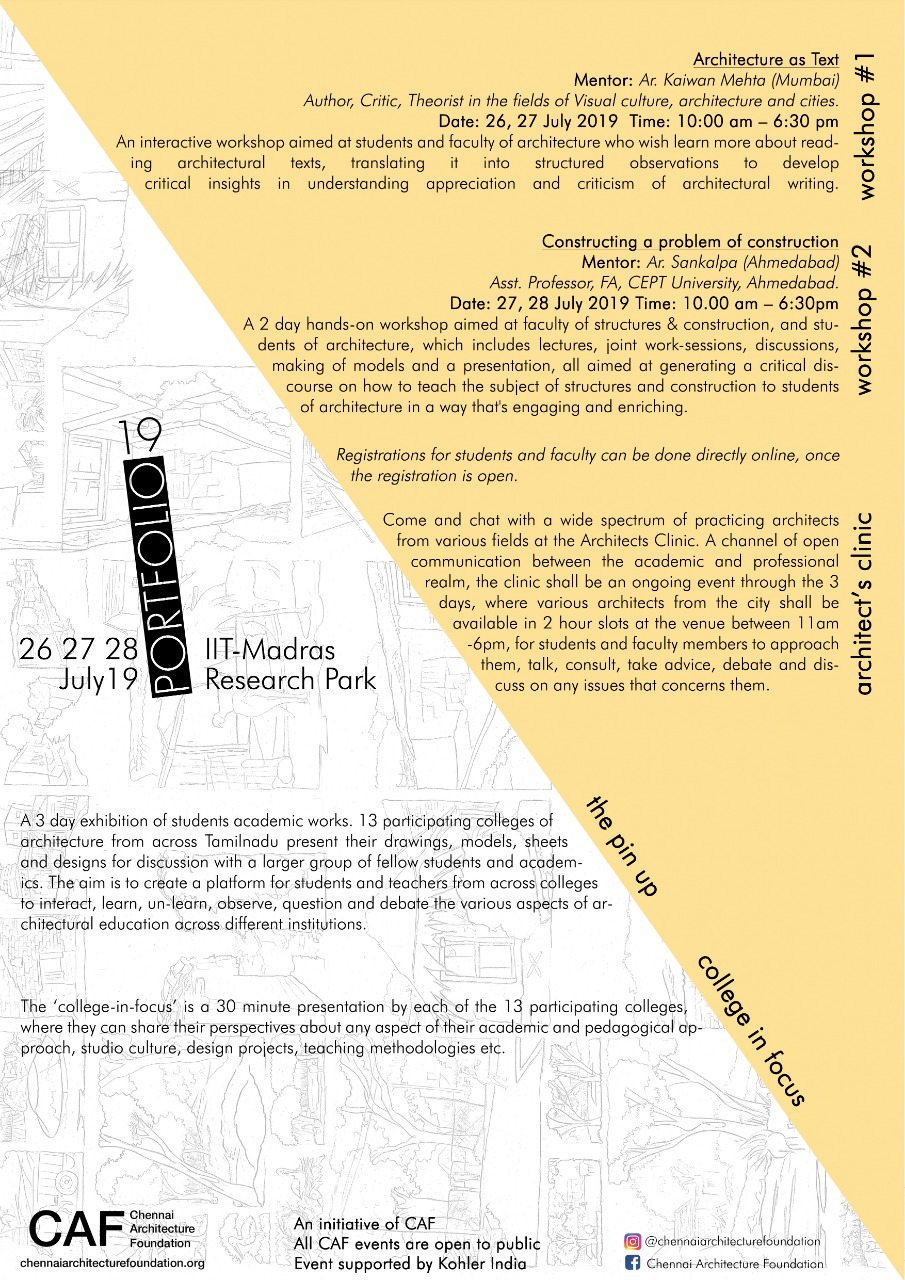 CAF is a not for profit organization established in 2007 to promote architecture, urbanism and education. It facilitates and promotes critical public engagement with built environment issues by organizing lectures, discussions and events. CAF addresses professionals, city mangers and public alike and spotlights the importance of design in enhancing the quality of cities and life in them.
Our typical programme for a year includes:
Talks by eminent practitioners in the field of architecture and allied disciplines from the country Exhibition accompanied by debates and lectures
Design Workshops for students of Architecture
CAF is one of the strongest professional community that engages with the city. All CAF events are open to public.