Architect Poonam Verma Mascarenhas is engaged in unraveling and reviving the inherent wisdom of traditional building technology as she believes they offer a generically green option. A Charles Wallace Fellow- P.G. from University of York, U.K. in Conservation of Historic Buildings, she has over 20 years of pan India work experience in building with alternative technologies at Auroville, conservation and development of 22 government-owned Listed Heritage buildings at Jaipur- Amber as consultant to Intach Jaipur and PANIKA. Her listing was published as the 'Kerala Heritage Guide' in 2001 and has researched and authored 'Silent Sentinels, Traditional Architecture of Coorg' for HECAR Foundation, Mumbai. Since 2004 her firm 'Archinova' which has environ sensitive design as the guiding force, has conserved couple of privately owned palaces in Rajasthan along with revival of several old houses at Goa. Currently the team is designing for bioclimatic 50 unit energy efficient housing at Bangalore for Samskruti Builders.
Her projects:
Samskruti Hoysala – a 50 unit climate responsive and energy efficient housing project at Bangalore.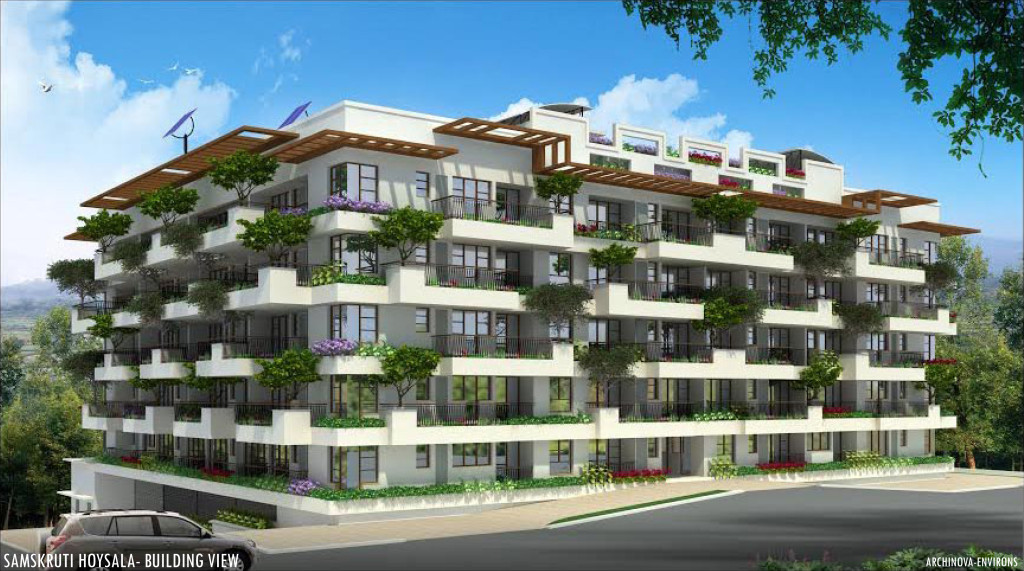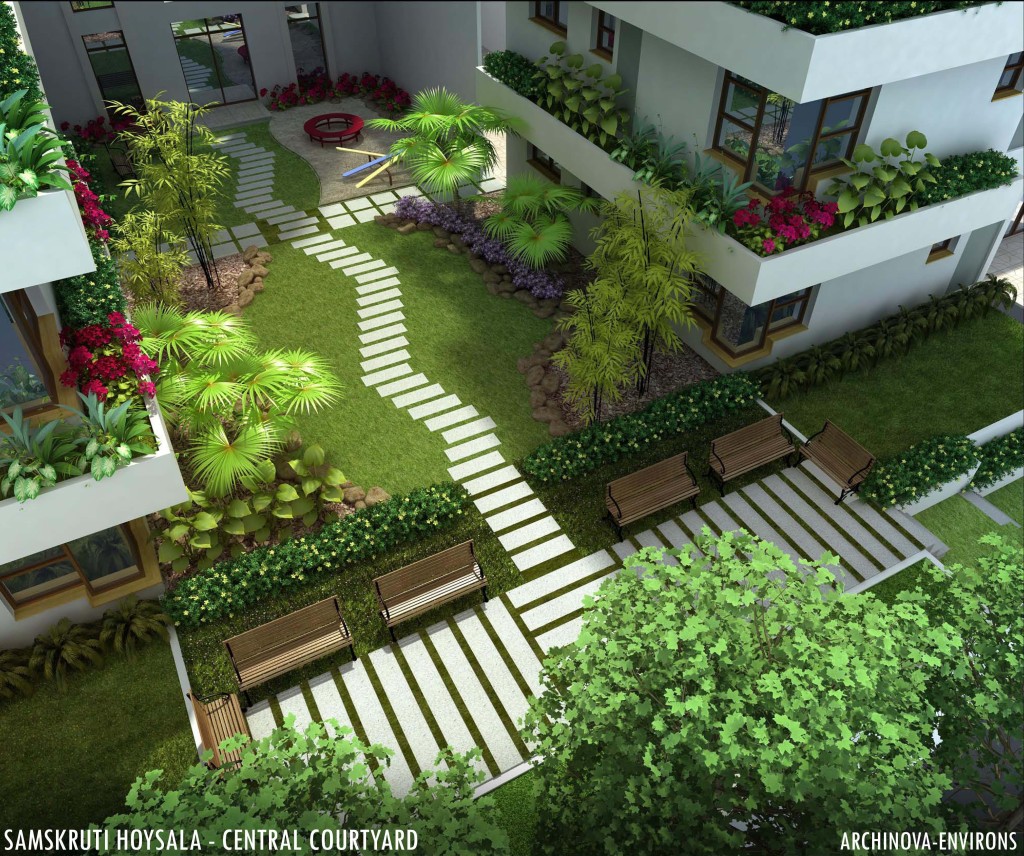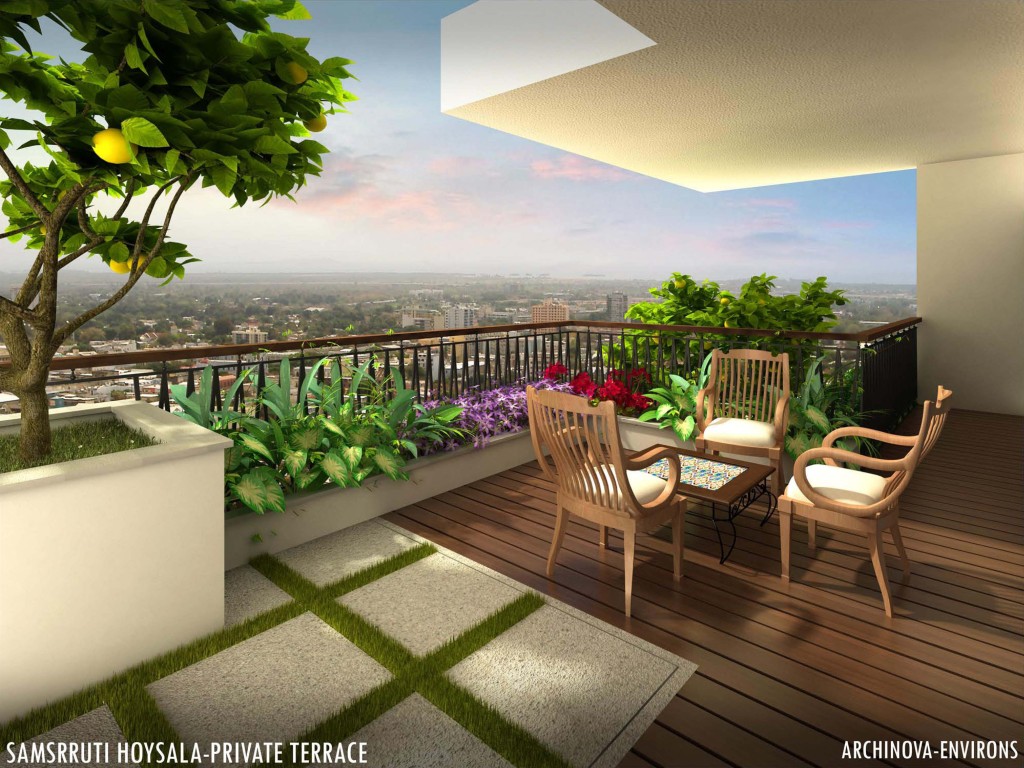 Mission Statement Samskruti Builders:
"We at Samskruti believe in a greener tomorrow. Our philosophy is to build: climate responsive and energy efficient in both resources and functionality employing appropriate materials and technology for secure and contemporary comfort living that is rooted in the local context while being interactive within and without for a wholesome experience of blissful co-existence with nature and its bounty.
Each project is conceived as a 'smart community' that has the inbuilt possibility of experiencing 'responsible living', 'nodal connectivity', 'social cohesion', 'ecological sensitisation' and a 'participatory' existence. Our aim is to facilitate a generically green-comfort living-through designed indoor and outdoor – spaces that cater to the present needs with mindfulness for the future through eco-responsiveness."
Site Overview:
26Guntas with 2.5 FAR (71,000 sqft – max SBA)
Location
http://maps.google.com/maps?ll=12.913813,77.699446&z=14&t=h&hl=en
Doddakannahalli. Bangalore.
Clientele
End Users in the mid income group (IT professionals, Double income single kid, single professionals)
Vastu sensitive site plan and Units as far as possible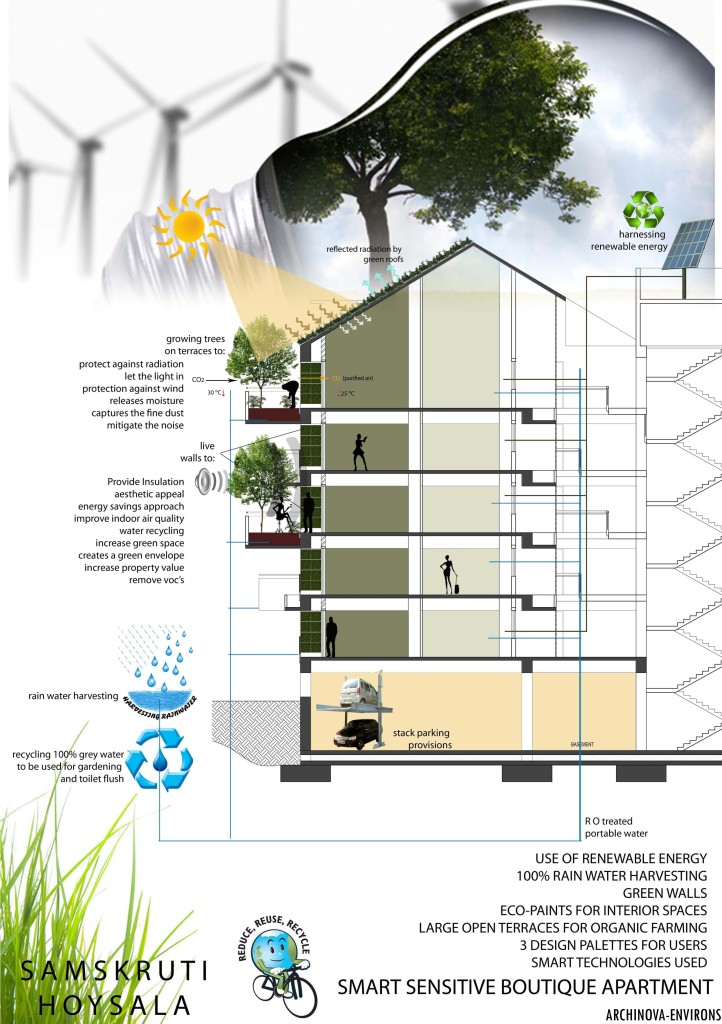 Design Highlights:
Basement+ Ground plus 4 story building has total height of 15 m. total number of units is 49. Alternate floor plates are similar in design. But not same. Each unit is unique due to the factor of cantilevered terracing. All units have vastu sensitive placements of spaces other than 5 units- where entrance could not be in the preferred location.
Energy Efficiency:
Vehicular and pedestrian accesses defined and efficient for users.
Designs of units are functionally efficient.
Quality detailing: for speedy construction and easy maintenance while aesthetically appealing. Standardisation of toilets, kitchens, fenestrations and projections. Variation achieved through staggering.
All glazed openings recessed for appropriate shading.
Ensured cross ventilation with combination of openable windows while using the Aluminium frames.
Clubbing of services: for efficient plumbing, water management etc.
Solar water heater for every unit (a centralized system)to ensure hot water availability at each point in units.
Solar lighting for common areas
24 hr Power Backup system.
Use of appropriate building materials and finishes while bearing the recurring maintenance cycle.
Water Management:
Rain Water Harvesting, filtering and purification for reuse for flushing and irrigation.
Drip irrigation for all green areas for efficient use.
Drinking water from each tap: Centralized softening and filtering reducing each unit based water purifiers and longer life for all fittings and fixtures.
Garden Space
Every unit has space for softscape / garden in the balcony for growing organic vegetables or hydroponics.
Terrace level planting gardens for food growing as well as two green houses for hydroponics and seedling; which then becomes community green space while also presents possibility of better heat insulation.
Ground level common green court as visual delight and interaction space and for toddlers and elders of the family.
Lifestyle
Club – Gymnasium( small 6 station, Multi-purpose Hall, Swimming pool / Toddlers pool and allied facilities, Table tennis, Community Kitchen and allied storage for the produce and processing, Dance and Music space with open air amphi-style interactive space.
Caretaker/in-house help unit,
Property management office housing servers, electronic surveillance and security equipments.
Common Areas /Amenities/ Parking
Back-up power provided for each apartment.
Center supply of water & piped gas.
Smart card access to parking and building and common areas
Other smart solutions (centralized cable, internet, wifi etc) to make the campus contemporary and secure.
1 cover slot per unit. Provision for 2nd car park made as in form of stack parking and hence the double height basement.
Recharging points for electric vehicles
Finishes and Detailing
Lifecycle of materials studied for making informed decisions. Natural limestone: Tandur Shahabad Yellow used for unit floorings; laminated wood for bedrooms, Betamcharla Black and grey limestone with river finish for lobby and common areas flooring:
Aluminium Shuco Windows/ Doors on external facades. Custom designed appropriate open-able windows for cross-ventilations provided considering climatic aspects.
Provision provided for AC's in design with reference to outdoor units to ensure that in case the buyer wants to install it does not mess up the aesthetics and the structure.
MS Grills designed for safety and security.
Building made user safe against accidental falling from higher levels. All balconies also made safe and minimum room left for the users to feel the need of adding grills. Windows made safe against intruders.
Special attention given to the service areas and drying of clothes so as to avoid the unaesthetic appearance that it gives to the apartment buildings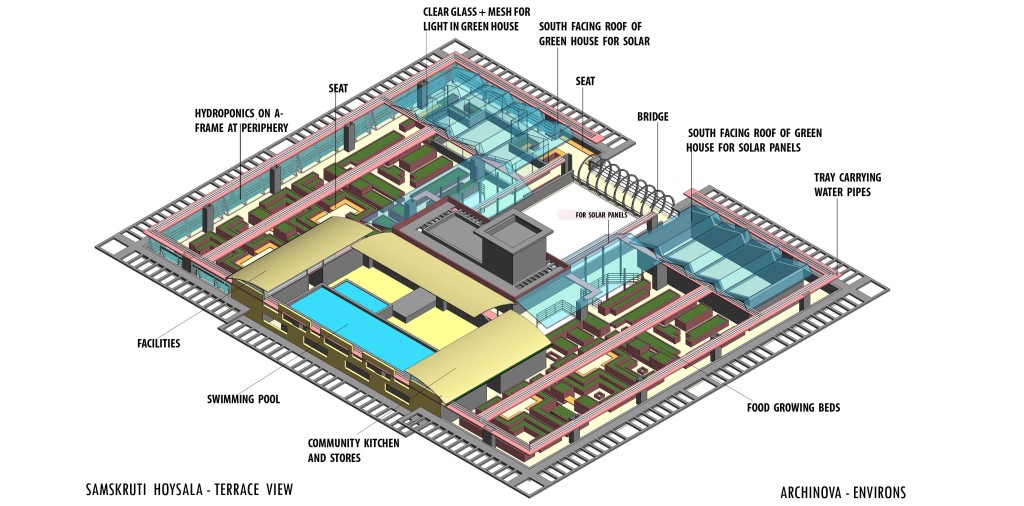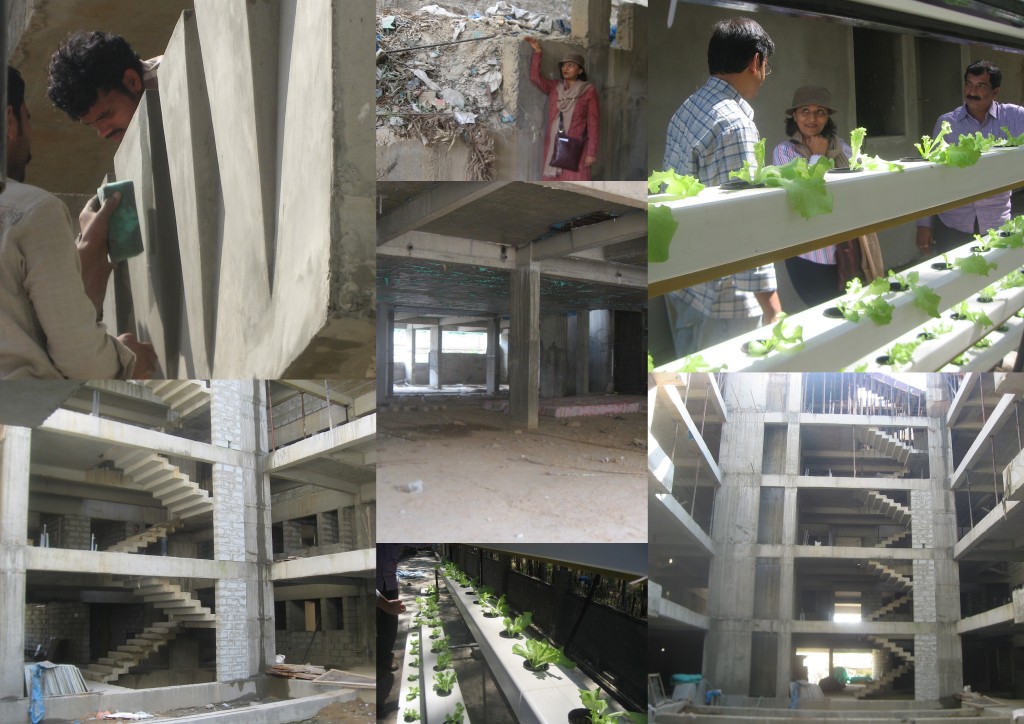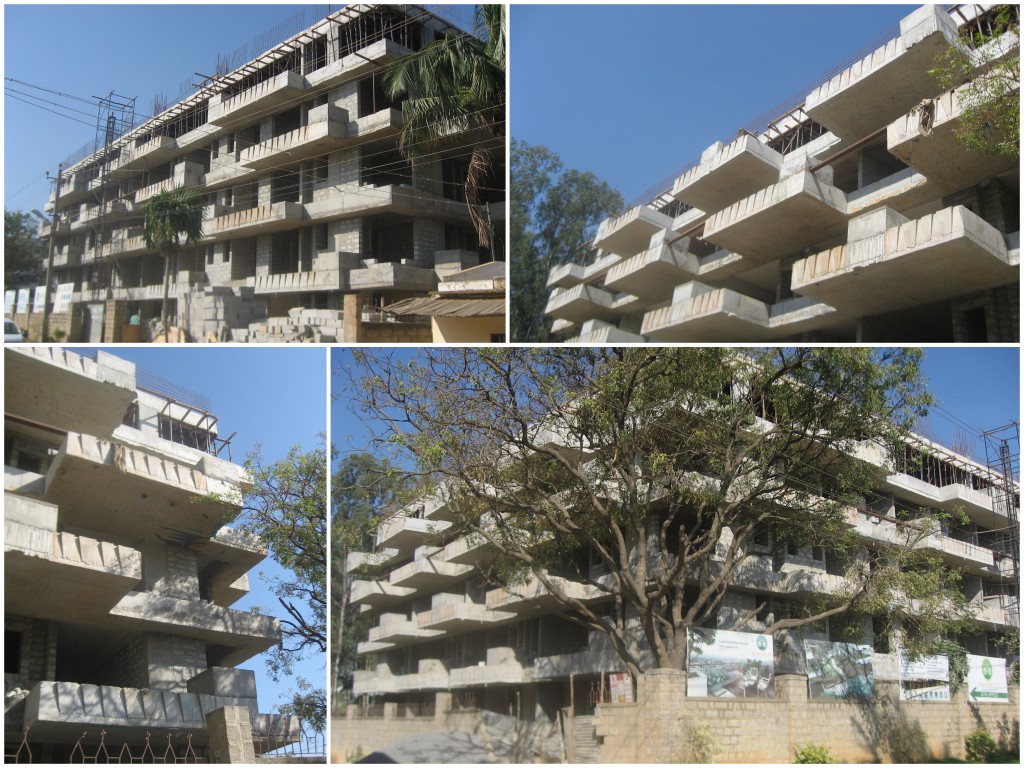 Project Status – In Process
Area (Built Up and Site):
Site area: 2,684 sq.m.
FAR: 2.25
Total Built up: 6,039 sq.m + cantilevered open to sky terraces.
Ground Coverage: 1,337 sq.m (50%)
Basement (double height):  1,691 sq.m
Roof terrace Total area: 1306 sq.m

Roof – Swimming pool: 88 sqm Deck: 82.25 sq.m
Community Kitchen, facilities and storage: 77 sq.m.
Green House: 597 sq.m
Unit Areas:
 3 BHK – 20 nos @ area of 136 to 150 sq.m. inclusive of open to sky terraces
2 Bhk   – 28 nos. @ area of 100 to 114 sq.m inclusive of open to sky terraces
1 Bhk – 1 no. @ 52 sq.m.
Client : Venkat Chalasani and partners of Samskruti Builders
Climatic Zone : Moderate Climate
Materials : RCC frame structure, aerated concrete blocks for external primary walls and Siporex blocks for secondary walls. Gyproc gypsum plaster, Saint Gobain laminated and toughened Glass for Glazing, Schneider Lifts- medical (for emergency stretcher) and 5 persons.
Consultants :
1. Architectural  Design:
Feasibility stage: Poonam V Mascarenhas, Amit Parashar, Vinita Gothoskar, Himanshu Raj, Harshada Bapat, Vivek Devarde;
DESIGN and Construction Stage: Poonam V Mascarenhas, , Himanshu Raj, Vivek Devarde, Anjelika Vaz, Shreya Bhosale, Pranav Vashisht. Email Poonam at [email protected]
2. MEP, Energy, Water Management:  McBERL Bangalore (www.mcdberl.com)
3. Structure: M.K.Sridhara, DESIGN Inc. NO.71/2, 2nd Floor,R.V. Road, Basavangudi, BANGALORE-560004, E-mail: [email protected]
4. Horticulture: Geekgardener Greentech, Bangalore- Manikandan Pattabiraman www.geekgardener.in