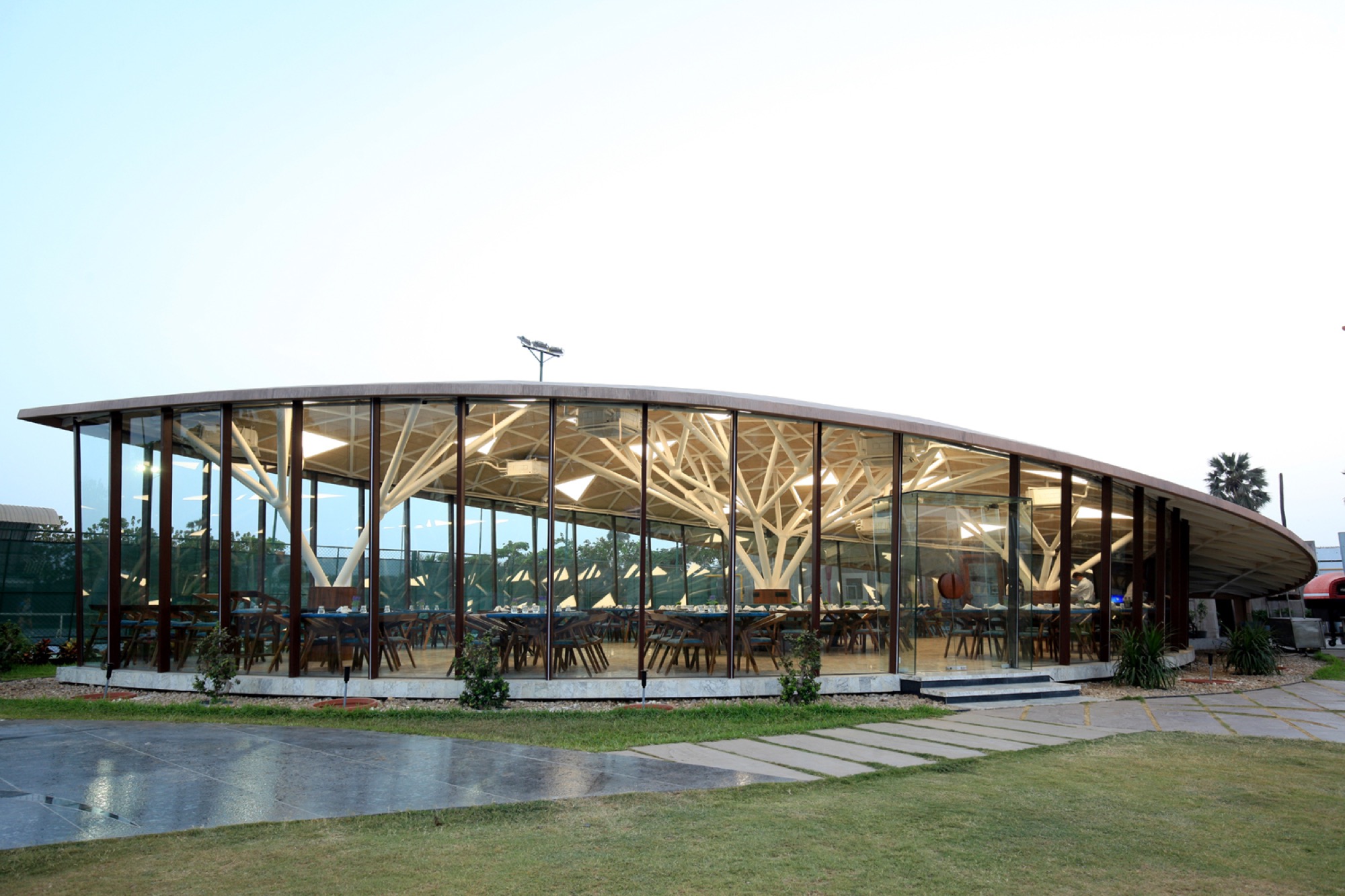 Pavilion – Garden of spices
A multi cuisine restaurant located in fringe area of Surat city. A restaurant is a part of a CB Patel sports club, which is very well known for having keen interest for providing a better sports & fitness facility for the city. A total campus of 150000 sq.mt having a facility of cricket ground, celebration ground, CBP developers office, fitness club, swimming pool, Tennis academy with four play courts and pavilion for 250 spectators. Restaurant is the last but very important addition for the campus as it was a dream project for client to facilitate the campus with a restaurant which should just not serve the purpose of providing hygienic and good food but it should also be an iconic structure and unique food destination for the food lovers of Surat city.
We were really fortunate to provide Master plan, architecture, interior and landscape design services for entire CB Patel sports club campus.
It was really a challenging task for us to incorporate the restaurant in such a campus where all buildings were of unique identity and character as per their functions. At the same time it was also an opportunity for us to have one more unique structure in the campus.
The Concept
The idea of restaurant was conceived as a garden restaurant which can sustain need of today's context where food loving people of Surat need a place to have food with a natural ambience which can be enjoyed in all weather conditions.
Semi circular water wall enclosure with ambient lighting forms an entrance plaza for the restaurant. A sound of water will make connect to the nature and you make you are away from routine urban life.
In large water walls there is a small glass vault, which allows you to get a glimpse of two leaflike pavilions and it also forms an interesting transition from plaza to garden restaurant.
For restaurant pavilion we wanted to have a very light & open sculpture like structure which can subtly merge with surroundings. Idea of restaurant form is conceived from a tree which is the best example for sustainability in all weather conditions. Two leaf formed structures rising from the ground with treelike columns has been derived as a final form of the building which has fulfilled our expectations.
The Built Form & context
Buildings were oriented in such a manner that it can enjoy the openness of nature with a view of surrounding activities like swimming pool & tennis courts and a large lawn. Form & orientation of the building follows a climatic need of the place. Challenge of making such a huge & dynamic form with minimum supports and thin roof is solved by using metal as a material for structural and roofing system. A huge leaf resting on a three treelike columns with all sides open to views has been conceived to serve the purpose of connecting inside and outside.
We wanted to have very subtle interior experience so people can enjoy outside views & food. The idea of false ceiling to hide all services has been denied as the real beauty of the structure lies in its structural member web which is like veins of leaf. All services are hidden under the roof insulation which was must to reduce heat gain and power consumption for air conditioning. Lighting fixtures were also customised to the shape of roof fabrication.
Interior of the restaurant has been planned in a manner that it allows all dining tables on the periphery of the structure so everyone is well connected with outside. A rustic shade of blue in interior has been chosen to get an eye soother and subtle experiential quality.
Building exterior was kept more open for surrounding views. Surrounding landscape elements were minimized to gravel edge, paving stone with lawn pattern, huge lawn and colourful flowerlike customized light fixtures. The building with thin roof & glass façade is so beautifully merged with surrounding that it looks like a leaf sculptures rising from ground.
"Pavilion" – is in real sense a pavilion for dining within nature. A form & structure of restaurant is a unique to have a memorable and unique experience for visitors.
Location: V.I.P. Road, Althan, Surat, Gujarat, India. Climate: Hot & Humid
Client: C.B.P. Developers, Surat.
Site Area: 35000 Sq.ft.
Built up Area : 8,500 Sq.ft.
Scope of Work for Van sthapati Associates: Master planning, Architecture, Interior & Landscape Design
Principal Architects:       
Ar. Dushyant Thaker, M.Arch ( Landscape)
Ar. Nirav Shah, M. Arch ( Landscape)
Design Team:
Ar. Pearl Parmar,
Ar. Jinal Boricha
Ar. Radha Kapadia,
Mr. Pritesh Gamit, Asst. Architect
Mr. Nikhil Vekariya, Civil Engg & Site supervisor