// Winter School 2017 -18
The 3 day intensive workshop for design students & professionals will delve into computational & parametric methods (using Rhino3D & Grasshopper3D) to create data-driven art installations and building facades.
WS17-18 will run across 3 cities in India (Bengaluru, New Delhi & Mumbai) and investigate the agenda of Decoding Parametric Design through Art Installations & Facades with the use of computation and parametric methods.
Studio is designed as a 3-day event in 3 cities comprising of technical tutorials, teaching sessions, prototyping & presentations culminating in a symposium / round-table conference / open discussion with leading / emerging professionals that demonstrate computation, parametric design or alternative techniques in their work / practice / academia.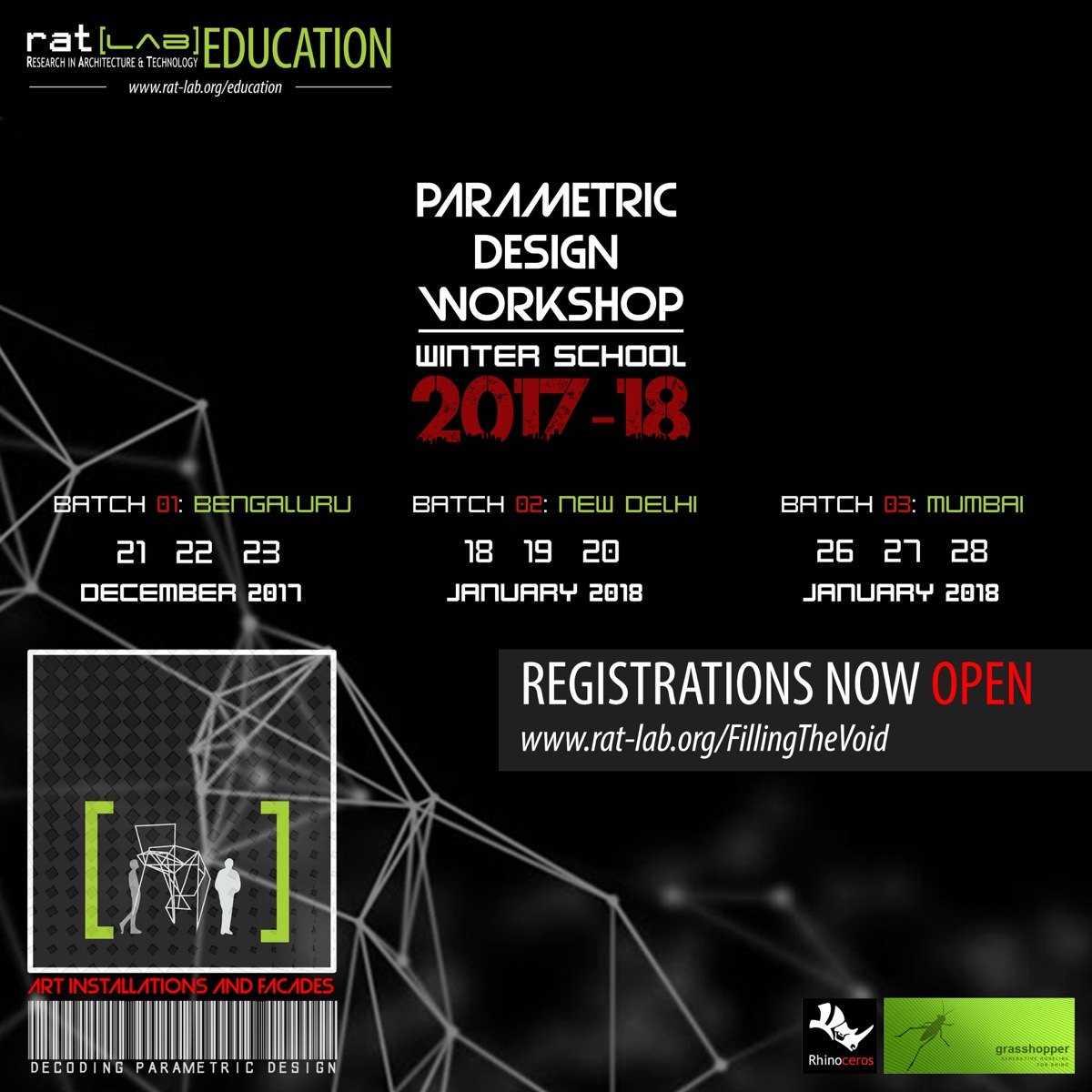 // Teaching Methodology // Tools

//Studio is structured to teach participants the use of computational techniques through Grasshopper® (Generative modeling plug-in for Rhino®) and ways to integrate it with architectural & urban systems.
//No previous knowledge of Grasshopper & Rhinoceros is required for these workshops as basic technical knowledge will be provided on Day01.
//Pre-designed customizable tools will be provided by rat[LAB]EDU on Day02 for design explorations & experimentations.
//The studio is flexible to basic, intermediate & advanced users of computation.
// Technical Sessions
Technical sessions will be provided to give an insight to computation, algorithms and parametric design methodologies to students & professionals. The idea of designing parametrically and use of computational methodologies is new to Indian context and has great potentials across various design disciplines. Digital experimentations using computational techniques (primarily Rhino3D + Grasshopper) will initiate the discourse, followed by technical sessions, theoretical discussions and presentations.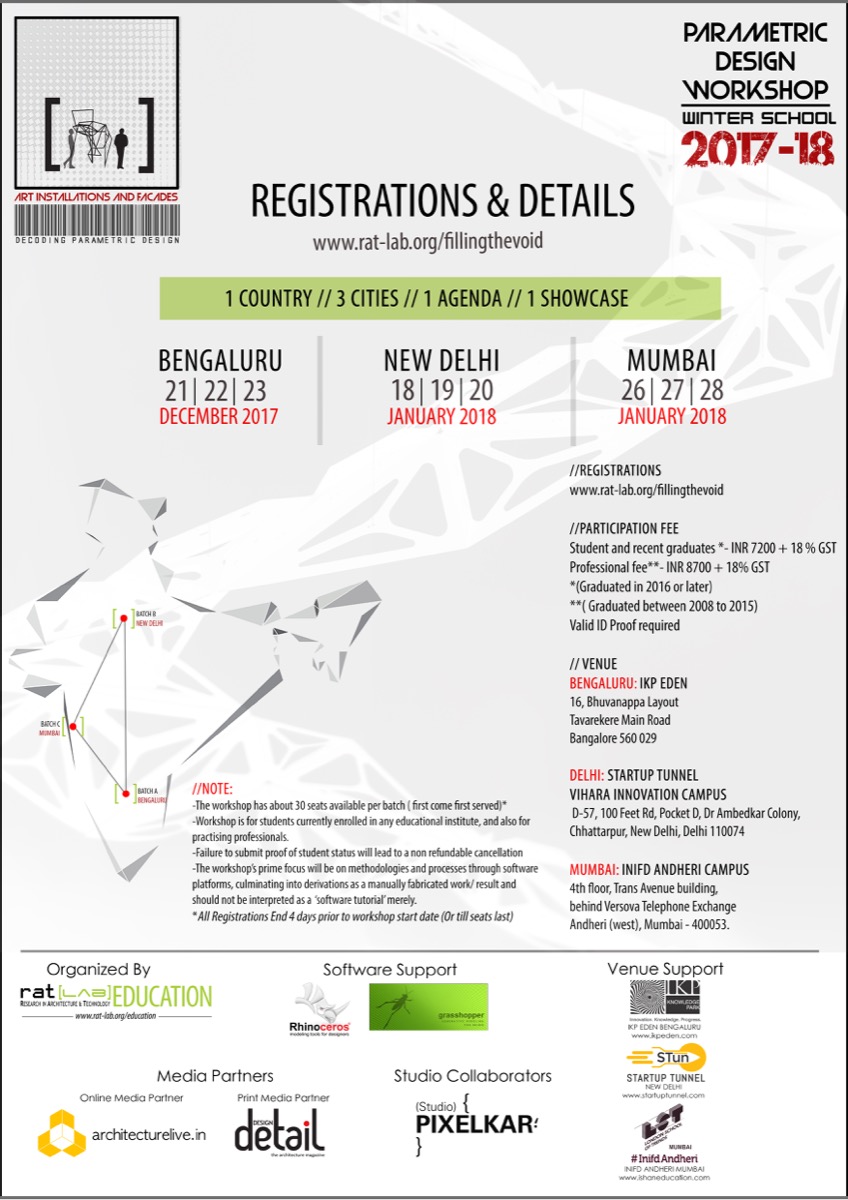 // Cities & Dates
BENGALURU: 21st, 22nd and 23rd December 2017
IKP EDEN
16, Bhuvanappa Layout
Tavarekere Main Road
Bangalore 560 029
NEW DELHI: 18th, 19th and 20th January 2018
Startup Tunnel, VIHARA INNOVATION CAMPUS
D-57, 100 Feet Rd, Pocket D, Dr Ambedkar Colony,
Chhattarpur, New Delhi, Delhi 110074
MUMBAI: 26th, 27th and 28th January 2018
INIFD ANDHERI
4th floor, Trans Avenue building,
behind Versova Telephone Exchange
Andheri (west), Mumbai – 400053.
// Registration Dates
All Registrations end 4 days prior to workshop start date (Or till seats last)
// Schedule
DAY 01 AGENDA / TOPICS
Presentations / Lectures on Parametric Design & Computational Thinking
Introduction to Rhinoceros 3D – GUI & Basic Use
Installing Grasshopper & plug-ins
Grasshopper GUI & Basic Functionality
Points, Lines, Surfaces.
Parameters, Inputs, Numbers.
Simple & Referenced Geometry, Locally Defined Geometry, Baking, etc.
Lists & Data Tree Management
Data Manipulation & Visualization
Surface TessellationsDAY 02 AGENDA / TOPICS
Patterns & Geometric Explorations
Releasing of pre-designed tools (Grasshopper scripts) to all participants
Functionality of tools for art installations
Surface Manipulations & Grids
Design development (in teams or individual)
VisualizationDAY 03 AGENDA / TOPICS
Documentation
Presentation of work by participant groups
Presentations on computational design by Guest Speakers
Discussions / Round-Table / Q&A Sessions
Discussions on future scope of computation in India
Images from the past workshop
---
// About rat[LAB] EDUCATION
rat[LAB] EDUCATION is an initiative by rat[LAB]-Research in Architecture & Technology (www.rat-lab.org) to start a new discourse in architecture & parallel design disciplines with the use of 'computational design' & it's various subsets. Spread across various cities / countries, we are establishing a global dialogue in the domain of computational design by actively organizing and participating in workshops, lectures, presentations & symposia. While rat[LAB] has taken a top-down approach of exploring computational design through industry, a parallel, bottom-up approach is also in-line to involve students of all levels, from design & related backgrounds.