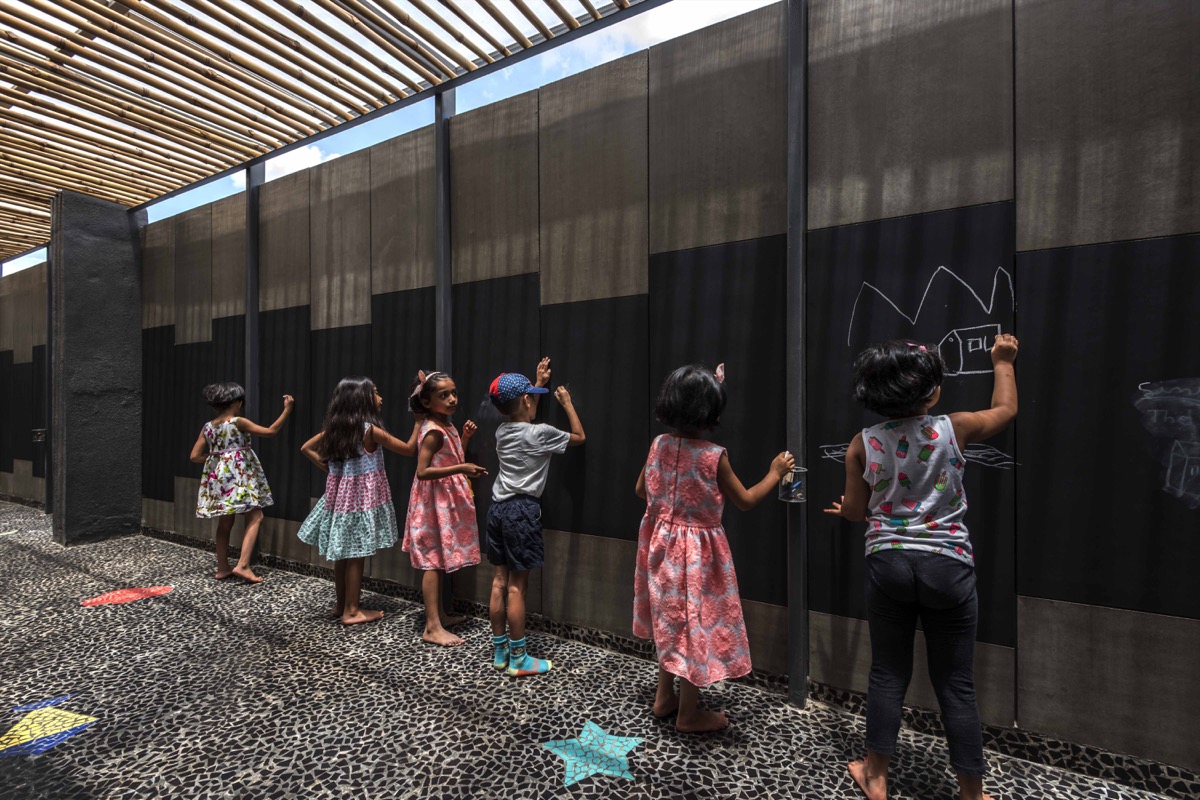 Client Brief:
The client came to us with a requirement to design a pre-primary school for about 100 students on a site, which was part of a commercial building abutting a large residential colony. The client already having two operational schools, had a very clear brief for this new addition. She wanted a school that will stand out from the other preprimary schools in the vicinity, so that number of admissions increase. She also wanted maximum utilization of the space available across 3 floors. Having a child friendly premises was her prime requirement.
Initial Thought Process:
One of the first challenges was to deal with a total area of 3000 sq. ft. spread across 3 levels. Secondly, out of this total area, covered space was just 50%. During our initial discussions with the client, we made an attempt to understand their new ways of teaching and conducting classes. We also visited other similar schools in the vicinity. What we noticed is that a very new system of conducting classes has evolved over the years. It is not only about lessons taught in the class, but also about learning activity based learning. We also noticed that most schools catering to this age group between 2-5 years are very similar in terms of look and feel and space aesthetics.
Another important aspect that we explored was to understand behavioral pattern of kids around us. At the age group that we were looking at, we realized that confining them in four walls of a class room for a long time is not an idealistic scenario. Their energies have to be left free, so that learning happens as a part of their natural growing process.
This was our cue for design development. We decided to create a space that offers opportunities to learn and grow, not only in confined classes but also outside. Idea was to create an environment for a kid to absorb, explore and learn right from the point he / she enters the school premises. Thus evolved 'The Open Classroom'.
Design Development:
The main entry is from the ground floor, which is a semi covered walkway from the bus alighting point to main door. On one side of this space is a customized shoe rack for kids while on the other side is seating for students waiting for their pick up after school. As one enters from the main door, on the right, below the staircase is a small play house for kids. This element helps worthy utilization of the otherwise wasted space below staircase soffit.
Further inside is a small open office and a library. The library space was earlier used as an open veranda to access the toilet at its far end. We closed it and designed the furniture to facilitate stacking of books as well as inbuilt seating space for kids and teachers to read. A series of punctures on this newly built external wall, allow light to gush in thru' major part of the day.
As one moves up to the first floor, the staircase room is designed to serve as a wall of fame for the kids. We created a series of pin up boards, on which the teachers can put up works of their students and can change them easily whenever required. A design intervention of this sort was to motivate other kids to perform better by seeing their peers work while moving up & down the stairs.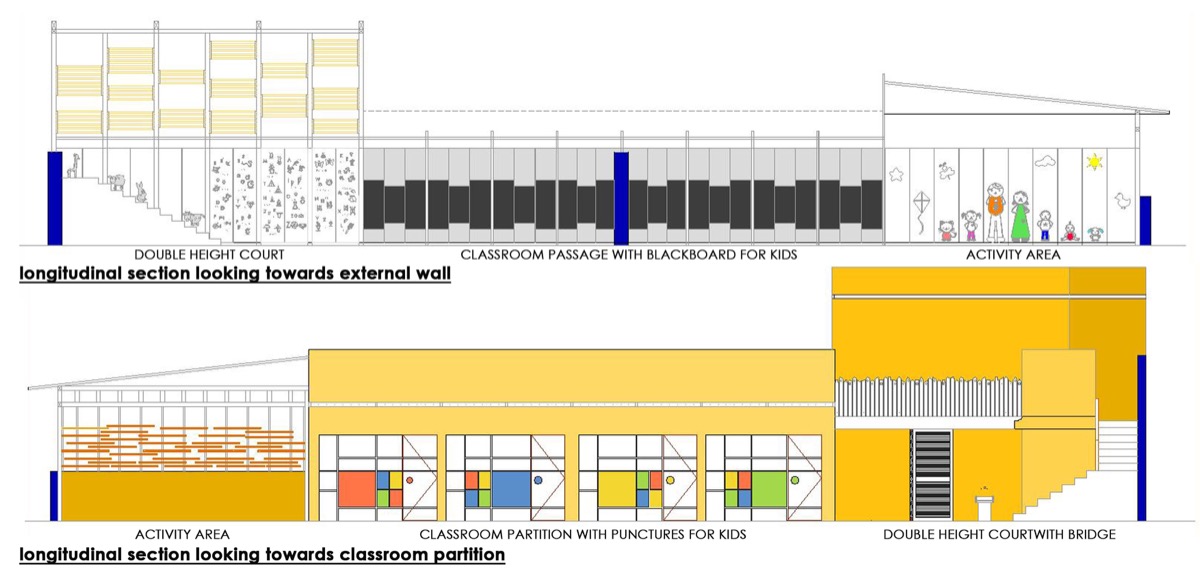 The first floor has maximum usable area out of the 3 floors and is the heart of entire premises. From the staircase, we enter into a double height space that tends to overwhelm the visitor. It is semi covered and is highlighted with bamboo sections along the roof and vertical surfaces creating a central court. The flooring here is designed to have an inbuilt marking of the 'tipri-paani' game that kids of this age love to play. The front wall which actually is the back side of shops in this commercial complex, is covered with cement boards. A graphic was derived in our studio depicting transformation of alphabets a-z into forms which kids can relate to. These graphics were engraved into the cement boards and hand painted to highlight a few elements. This becomes one of those elements which facilitates learning while the kids are not inside their respective classrooms.
On one end of this double height court, are the washrooms and pantry. Segregated by a bamboo screen, is the hand wash which has been customized for kids. The old fabricated staircase that leads to the second floor was re-designed to also act as a small amphitheater, where group activities such as storytelling or poetry recital can happen.
From here, as one turns towards the classrooms, the corridor is again designed to engage the kids into instinctive learning. This long passage with a bamboo pergola, on one side has a continuous black board where the kids can write, draw or doodle even while just passing by this space. Detailing is done to even provide space for chalks & dusters along this corridor. On the other side, is the classroom partition which doubles up as a seating cum reading cum storage cum pinup board. The material palette is earthy so that the kids and teachers feel a more homely environment against a very formal prototype. Effort has been made to include artwork appealing to the young eyes wherever possible, like colorful inlay work in the 'kavdi' flooring or the door handles having hand painted pictures of birds or the family depicted in the activity area.
There are four classrooms, each defined with a color and segregated from the others with a glass partition. The whole idea behind using glass between classrooms was to make the otherwise tight space appear larger and at the same time retain the visual connect between adjoining spaces. Inside the classroom, the furniture is minimal and designed to abide by the overall aesthetic vocabulary followed thru' out the premises. It was planned to place the youngest kids i.e. the play group class next to the semi covered activity area, as they are very small and usually don't like to be confined in a room. So, they get this additional space attached to their class.
The material palette is governed by bamboo, 'kavdi' flooring, cement boards and agro wood. Splashes of color and play of shadows cast by various pergolas, helped us create a more interesting space which keeps changing its aesthetics as the day progresses. On the whole, the entire project focuses on creating opportunities for the kids to keep learning and exploring in all the surrounding spaces that they will use thru' out the day. All these spaces are multifunctional, have kids' centric graphics, black boards for them to draw, pin up panels for them to display and elements inbuilt for them to sit, read and play with the focus to eventually help they grow happily…!!
Project Facts:
Principals: Tushar Kothawade & Chiranjivi Lunkad.
Project Name: The Outdoor Classroom
Typology: Pre Primary School
Client: GG International School, Pune.
Stage: Completed.
Location: Pune, Maharashtra.
Area: Approx 3000 sq.ft. Across 3 Floors.
Design Team: Ranjana Nachare, Gorvee Karnany & Radhika Bangad.
Project Head – Mahesh Talekar
Execution Team: Arun Developers
Site In charge – Kishor Magar
Photography: Atul Kanetkar, Pune