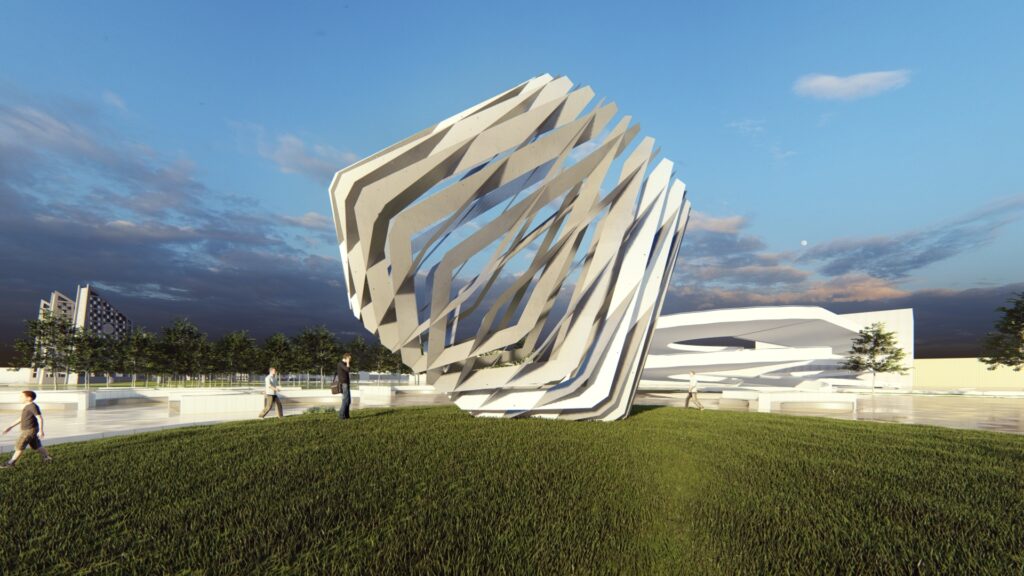 These seem over-simplistic rhetorical questions, but sometimes it takes an architect or a designer a lifetime to understand what it is that they really do and the meaning and rationale of the work that they do.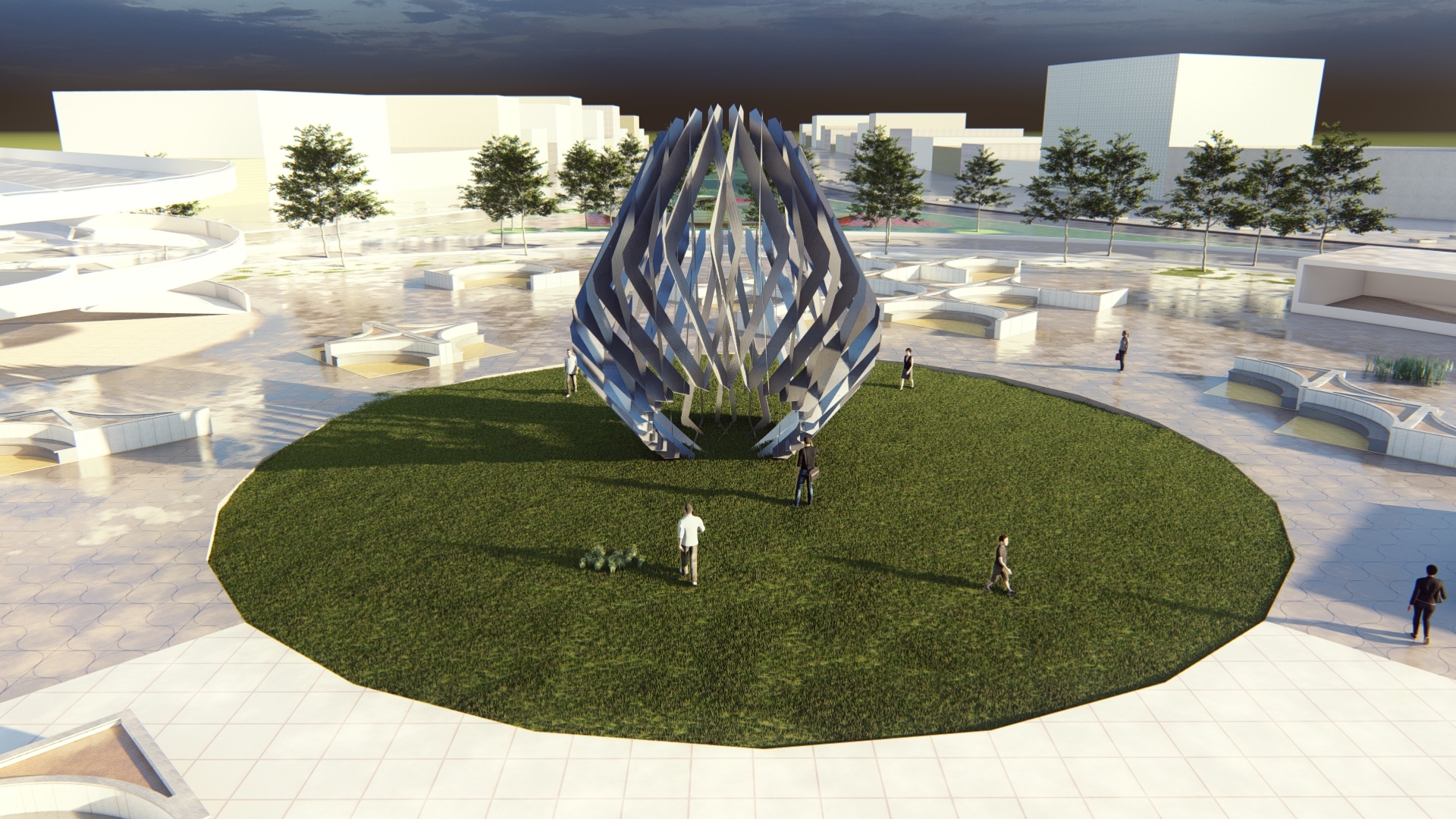 Why Origami?
Architects, Builders and Interior Designers (ABID) of Kolkata hosted the 2023 annual exhibition of architecture and interior design at the Biswa Bangla Mela Praangan between the 16th and 20th of March. They chose to challenge the paradigm of art and design in public spaces by building a focal element/jewel at the heart of the ABID Exhibition 2023; ABID members hoped to start a design and art-driven trend in Kolkata with this first-ever pavilion as a much-anticipated element of innovation and lateral thinking, inviting different geometry/architecture/art experts every year to collaborate with ABID to co-create a new expression of innovation every subsequent year moving forward.
They invited Delhi-based architect and artist Ankon Mitra to create an architectural scale 'slice-form' Origami sculpture/pavilion at the axial centre of the exposition, a lattice of interconnected and flap-folded aluminium sheets – signifying the connections that ABID wanted to forge between architecture, interior design, art, trade and the common man.
Spearheading this collaboration on behalf of ABID was designer and engineer Anjan Gupta. Working tirelessly to bring innovation to the design scene for decades, Gupta has played an instrumental role in breaking the silos that exist in thinking, to unshackle creativity in the built environment from the narrow definitions of 'this is architecture and that is not architecture' and even more from the dictums of who is 'qualified' to work (and think) like an architect and who is not (Gupta himself does not have a degree in Architecture, but can teach many architects a thing or two about architecture).
It was at his behest that ABID invited Mitra to come to Kolkata to create a never before seen metal Origami work at such an unprecedented scale and size. Once considered only a child's craft, the world over an Origami revolution is taking place at the moment and this ancient art from Japan is now being used in disciplines as diverse as Space Technology, Nano-Medicine, Robotics and Bridge Construction. ABID wanted to forge this kind of multidisciplinary thinking in the design community – where the artificial barriers between architecture, engineering, design and art are broken down.
Mitra, a trained architect who fell in love with the principles of Origami 16 years ago, has built a successful and critically acclaimed art/design/architecture practice with his immersive Origami installations – often scaled to architectural size, a part of major public and private spaces and collections in four continents of the world.  
The Process
Visualized as an elliptical basket-like shape, the entire sculpture / pavilion was pre-planned by Mitra over two months in his Studio in Delhi with his two teammates – architect Kushagra Gautam and Aarohi Sayare – who made a scaled cardboard model and sent it to Kolkata to Gupta for approval by the ABID members. 2mm thick sheet aluminium modules / components with dash-cuts and folds were pre-cut in Kolkata – ready to be folded and locked into place with nuts and bolts.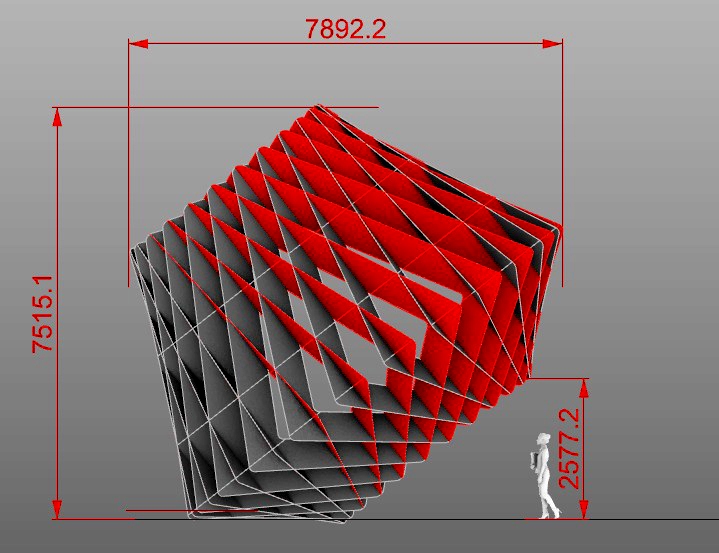 The ambition was to assemble and erect the whole pavilion in a 4 day workshop format. It was a very ambitious and uphill task and Mitra was eventually only able to achieve building half of the sculpture in the designated build-time of 4 days. But it was still a magnificent success for another reason altogether.
The Naming and the Role of Students
When the scaled model reached Kolkata earlier in the process, the idea of the sculpture/pavilion was inaugurated by Debashis Sen, the Managing Director of WBHIDCO (West Bengal Housing Infrastructure Development Corporation) – which is the instrumental agency developing the sprawling Rajarhat 'New Town' of Kolkata. He named the Pavilion – Oishi.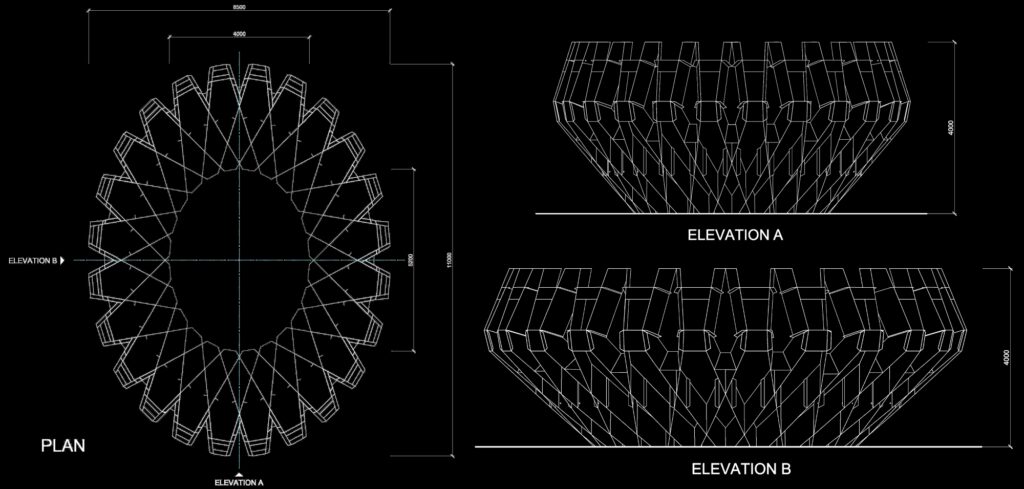 ABID had the vision of bequeathing the sculpture/pavilion to one of the main parks/focal landscape spaces of New Town.
Gupta who has been teaching and mentoring students of design for decades now, wanted the entire pavilion building exercise to be a student-led and student-driven initiative. Rarely do students of architecture and design get this kind of opportunity in college to build something for real at this scale. Mitra, who conducts workshops on folding techniques for students at architecture and design colleges was immediately excited by the idea of the student-led build.
Along with the support of ABID members and some construction and scaffolding labour, Oishi was born by the real physical and intellectual labours of over seventy five students – from various colleges of Kolkata – INSD, GIFT, Dreamzone, The Bhawanipur Design Academy, The Perfect Institute of Design, EXIN, INIFD Salt Lake and ESEDS School of Design.
Speaking to some of the students weeks after the opening of the exhibition, Anjan Gupta reported back that it was an eye-opening and life-changing experience for many of them.
Perhaps this was the most significant takeaway for ABID from this whole exercise.
The entire sculpture (or the half that was actually erected) has now been dismantled and flat-packed into a storage space with ABID. All the stakeholders are very hopeful that this temporary pavilion can become a permanent sculpture in the skyline of New Town in Kolkata, not half of it but the full sculpture as originally visualized by Mitra, tilted eccentrically at that, a citizen led art intervention in the 'City of Joy'. The city is already known for its UNESCO world heritage renowned citizen-led Durga Puja art, sculpture and pavilion design extravaganzas. This would be a continuing link in that tradition of art created for the people and by the people.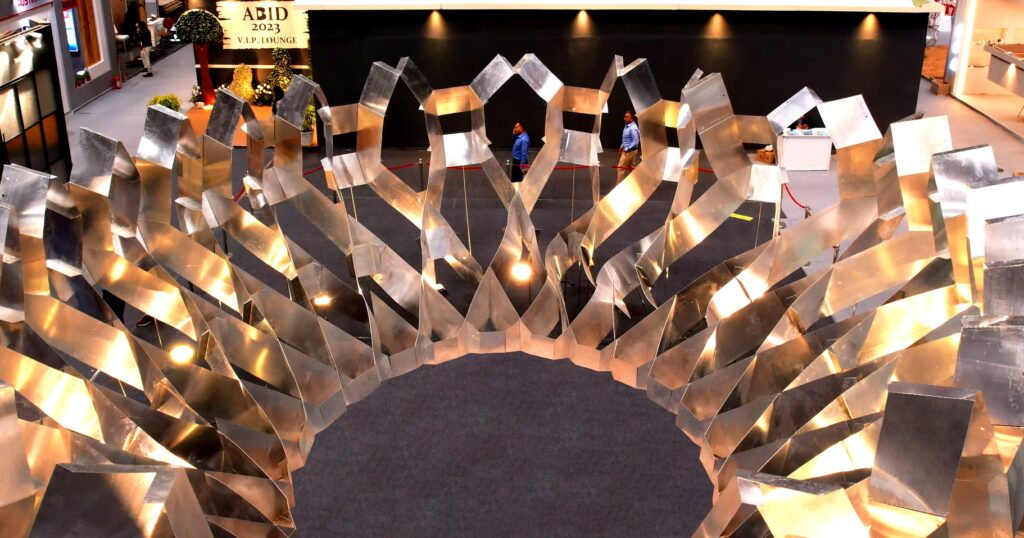 Ankon Mitra says –
Materials traditionally thought to be worthless, can thus become viable by using the folding technique. The Pavilion itself was incredibly light and minimal in structural detail – for its large size, and the folding and slice locking made the 2mm thin sheets very strong.
For ABID, Gupta, Mitra and everyone who toiled to make this vision a reality, the hope is that such initiatives will become institutionalized in the process of city-making in Kolkata and elsewhere in the country.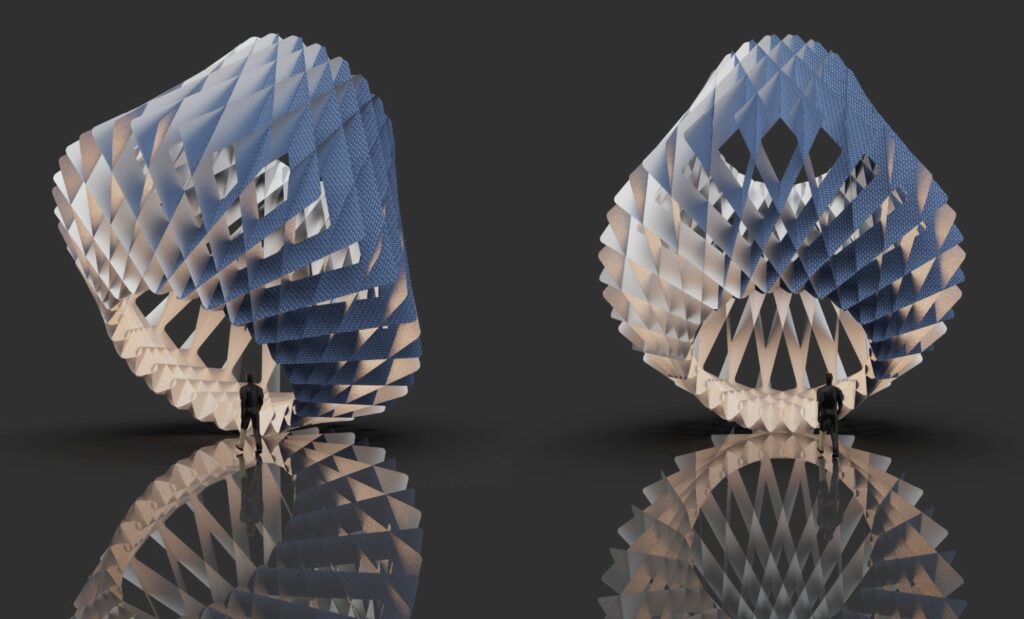 Anjan Gupta optimistically concludes by saying –